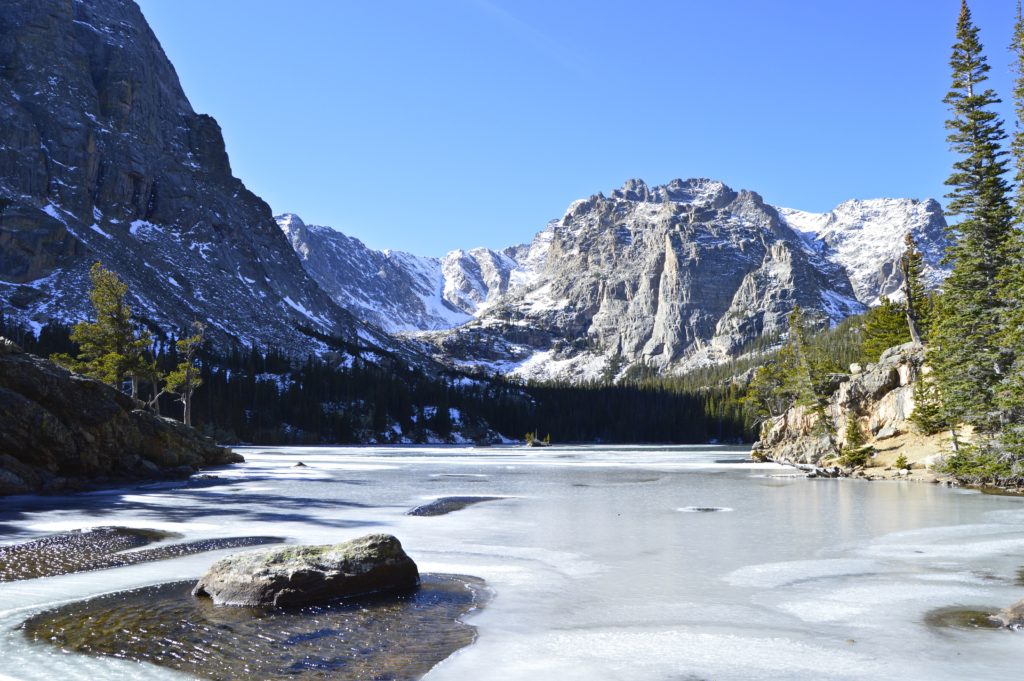 Even if hiking isn't your thing, if you need some fresh air and want to see beautiful landscape then Rocky Mountain National Park may be your answer. I wish I could have spent more time in the park. Over our short trip, we decided to try and hike to Sky Pond. We almost didn't make it due to a lot of ice, but we pushed through and made it to the top! Here's what you need to know about hiking in Rocky Mountain National Park and why you should consider Sky Pond Trail.
Download the All Trails App
This app really helped us out! The All Trails App gives you an overview of trails you are interested in hiking. It also lets you view pictures from hikers and read recent reviews. The trails are labeled with the distance and the level of difficulty. I recommend reading the reviews because hikers will let you know if there was too much snow or if ice was an issue. Some will also note if they agree with the level of difficulty listed for the trail.
The coolest thing about using the All Trials app is that you can view your progress during a hike. Enable the app to use your location and it will show you where you are on the trail. At one point during our hike we thought we may have gone the wrong way. I opened my phone and was relived to see we were still on the right path. I would like to note that I put my Fitbit on right when I got out of my car and I ended up hiking a total of 11.1 miles. Be prepared to go a little further than what is listed on the All Trails App.
Weather
Our trip took place during late October. We were lucky to have wide blue skies and heard that it has snowed the previous week. Weather is a huge determining factor in hiking and can make things unsafe. Every time my husband and I hike, we are very careful to watch the clouds and move ourselves down if a storm is approaching. This particular hike had very nice weather, but there was a lot of ice and snow. There was one part of the hike towards the very end that was all climbing over ice-covered rocks. I definitely recommend getting some kind of ice spikes to attach to your shoes. This was the point where many people were turning around.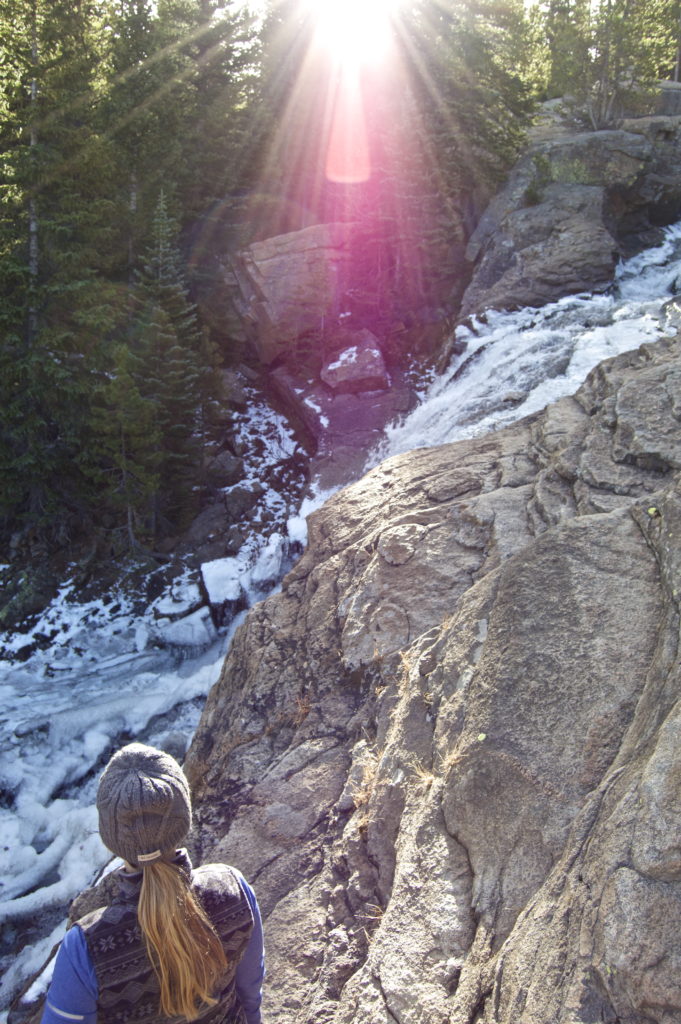 (Alberta Falls)
Sky Pond Trail
This trail takes you through beautiful landscape including two waterfalls and three lakes. It's very nice to have a hike where there's so much to see all through the trip. We started the hike from Glacier Gorge Trailhead. The beginning and most trafficked area of the trail leads to Alberta Falls. If you want some good pictures at Alberta Falls, make sure to go in the morning. The place gets really crowded, especially towards the afternoon. Because we live at sea level, we kept a moderate pace to not overdue it. I was surprised by the number of people that seemed to blow by us like it was a race. If you take your time, you may encounter some interesting nature, like this big blue Steller's Jay (pictured below).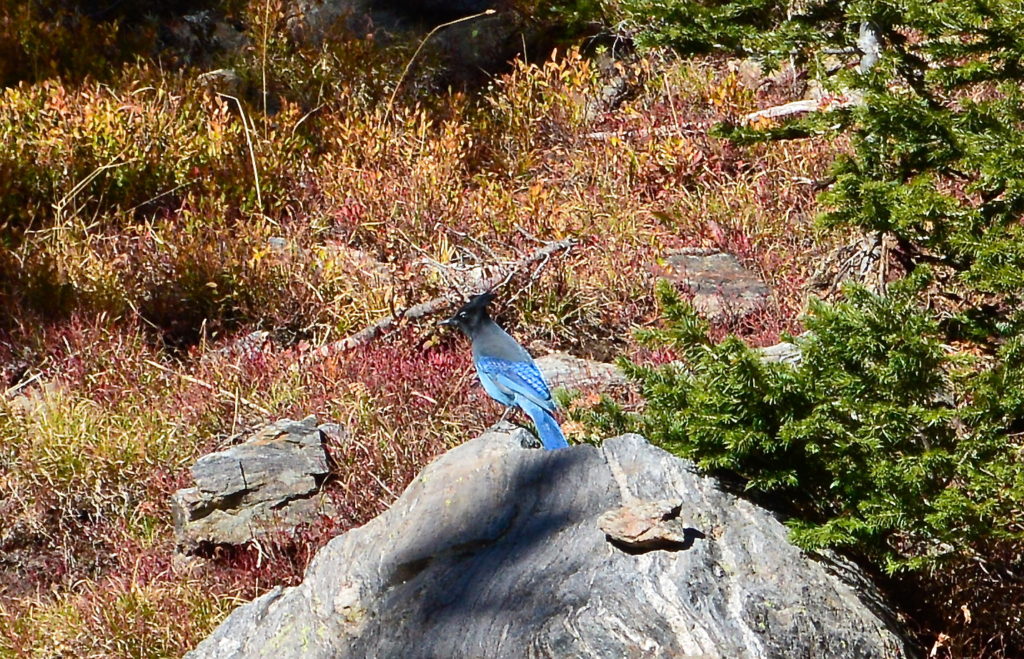 The next couple miles bring you a fork in the path that either leads to Mills Lake or the Loch. The way to Sky Pond is to continue towards the Loch. The lake looks like it's straight out of a fairy tale. It was frozen, but quickly melting as if it were coming to life. In the morning I didn't see too many people around but towards the afternoon I saw several families making the Loch their destination. If you don't want to go all the way to Sky Pond, visiting both Mills Lake and the Loch would be a nice and much easier hike. We continued towards our destination which took us all around the beauty of the Loch lake.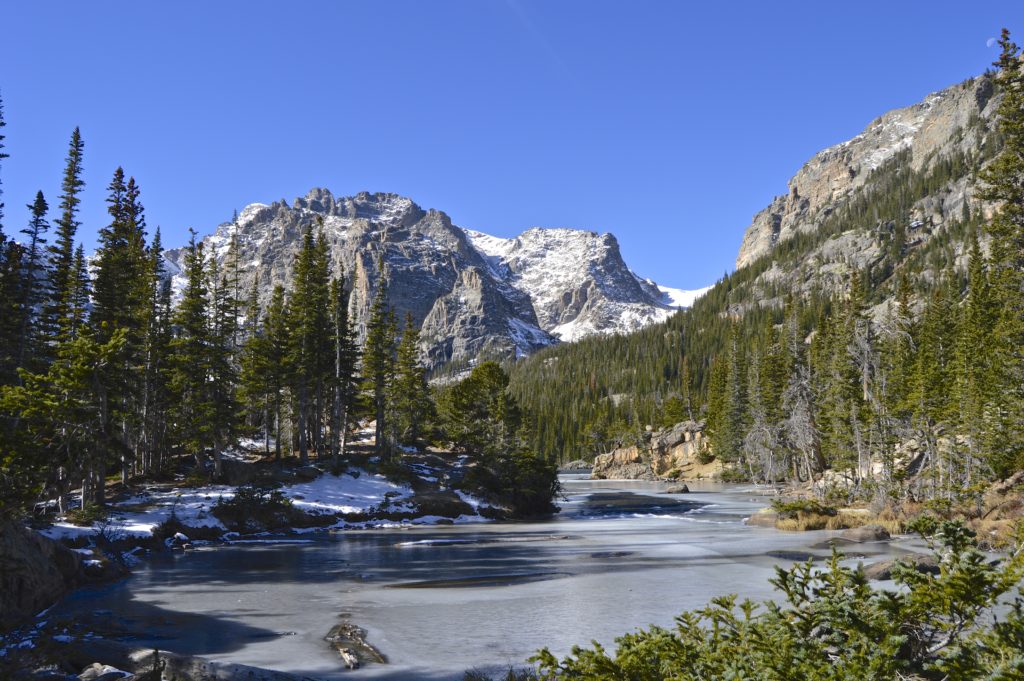 (The Loch)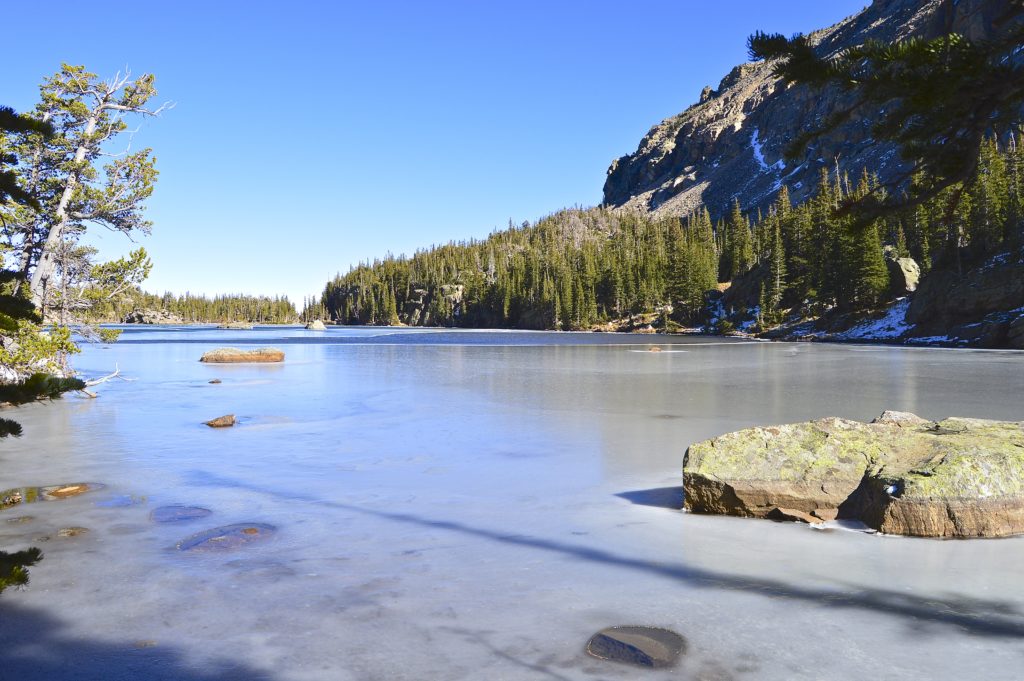 After the Loch, we started seeing more patches of snow. The path remained easily walkable up until we neared the end of the tree line. The terrain became steep and snowy and we no longer had any trees to help us catch our balance. Eventually, we made it up a ridge to where a group of hikers was gathered.
The ridge was very steep and the wind really picked up. We met with the other hikers who were debating if they should continue. This was the point where we encountered the frozen waterfall. We were already somewhat scared from slipping on ice and passing through some deep snow. The couple we were talking with decided that this would be the end point of their hike. We were so close to Sky Pond and really only needed to climb up some steep ice-covered rocks to reach the top. I'm not sure if it was the smartest decision, but we continued. I strongly recommend getting some type of ice pick things to attach to your shoes. It really would have helped us.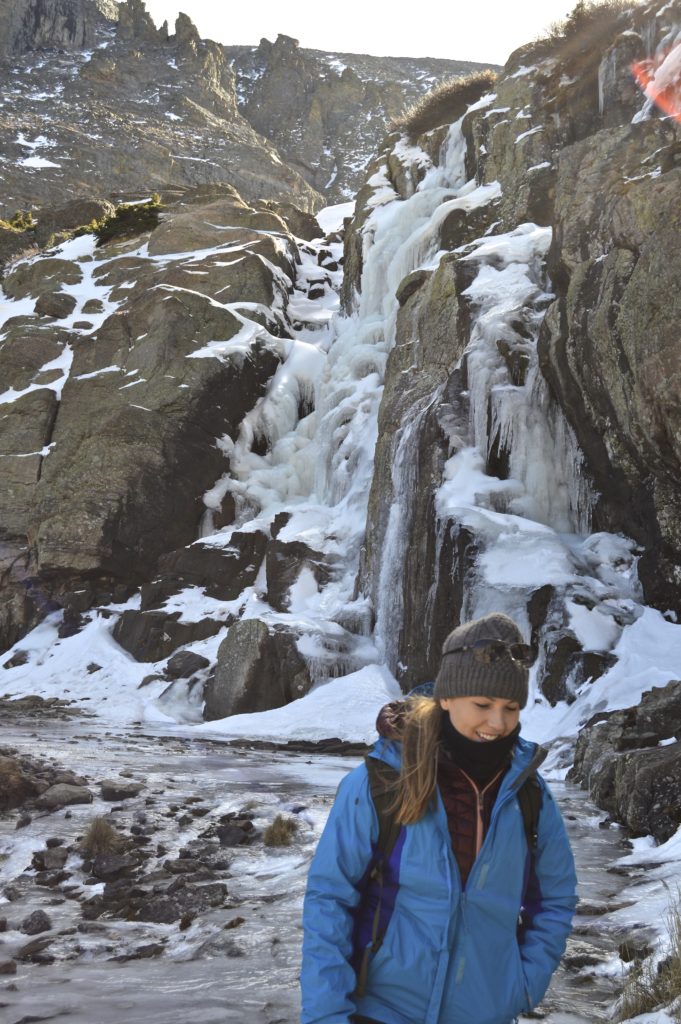 We pushed through and made it to the top!  When you reach the top of the waterfall, you are actually looking at Lake of Glass. This is very important because some hikers get confused and think they have reached their destination. Sky Pond is about a 10 minute walk past Lake of Glass. The winds were very strong near Lake of Glass and eased a bit once we got to Sky Pond. Some hikers were complaining about the wind, but my neck warmer and windbreaker jacket made it bearable. I have included a list of everything I brought including my awesome neck warmer at the bottom of this post.
Here's my husband Reed at Lake of Glass.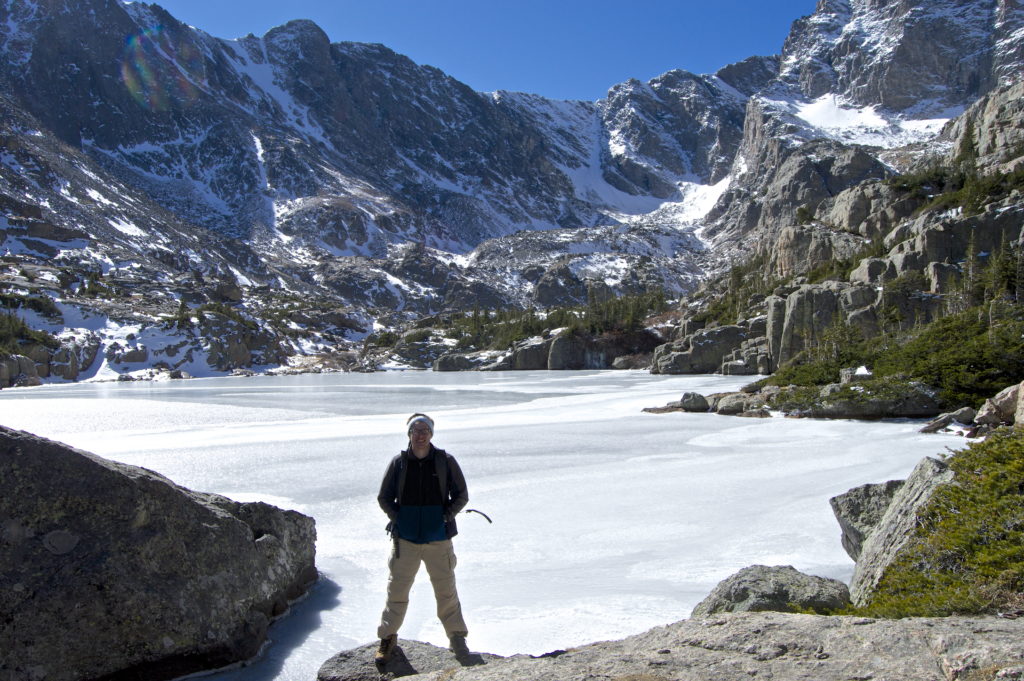 When we reached Sky Pond, we were completely alone! All I could do was jump for joy. The hike was long and tough, but so worth it! The jagged cliffs looked like something from another planet. I felt that I was experiencing a glimpse of Earth's strength. Sky Pond was nothing short of a rewarding hike. It would have been much easier to make the trek during the summer, but the snow and ice made it all more exciting for us.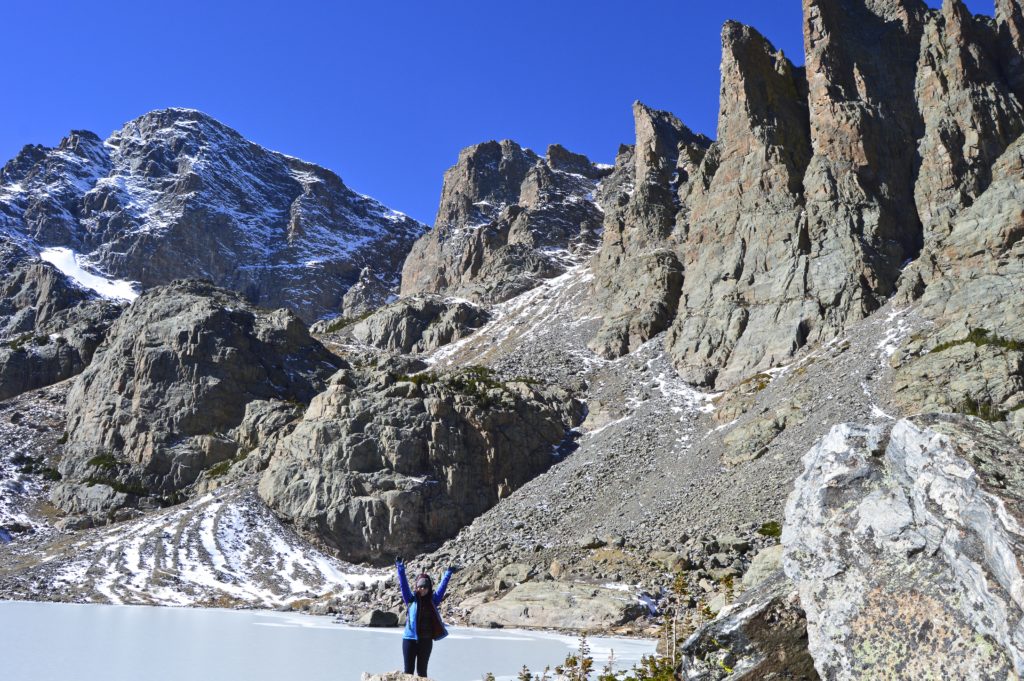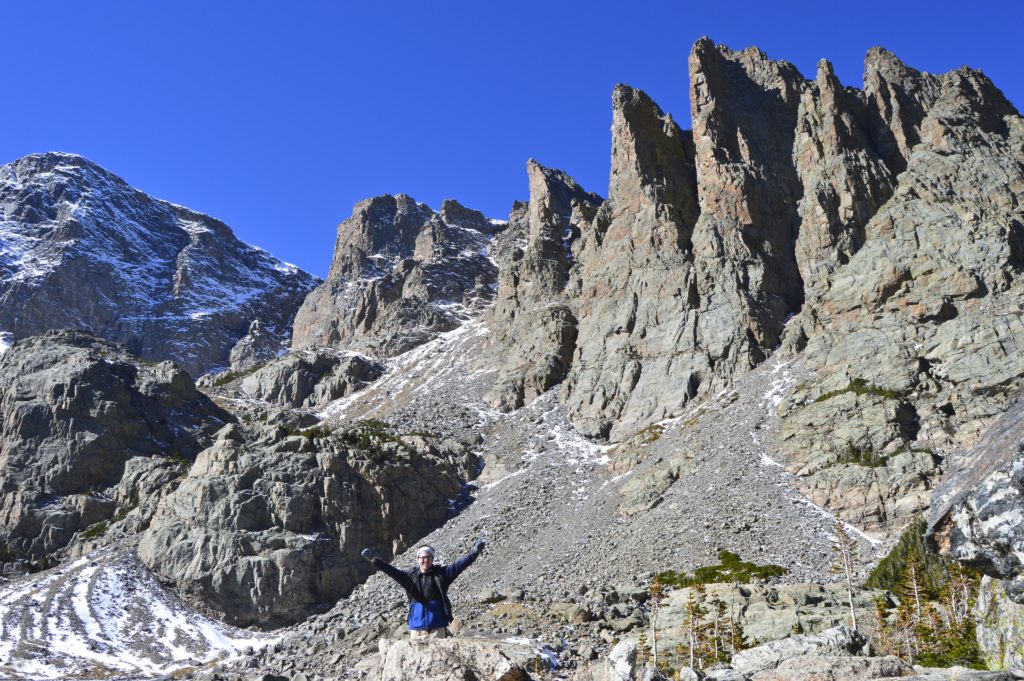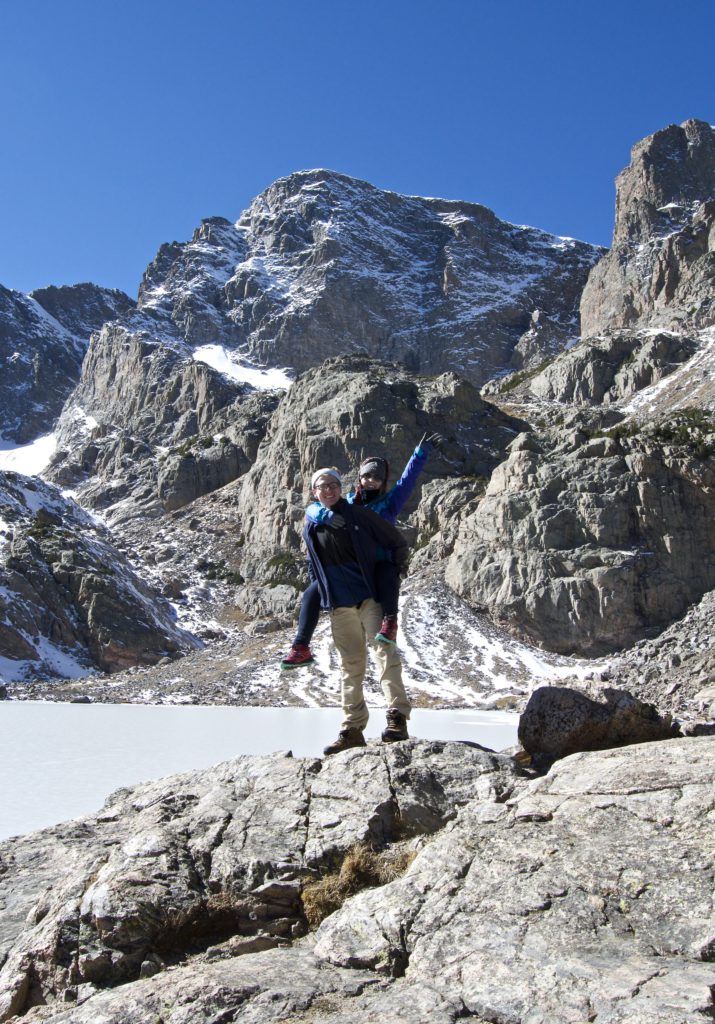 What to Bring
Here's everything that I packed in my backpack and needed for the hike. I have added links to some of my favorite items. Please message me for details on where to buy. I purchase all my gear at discounted prices and can help you find the best deal.
Waters
Snack
Camera
2 Pairs of Wool Socks
1 Pair of Hiking Pants
Columbia Waterproof Jacket
Here's what I wore during the majority of the hike.
Leggings
Dry Fit Long Sleeve Shirt
Fleece Vest
Sunglasses
Wool Socks
Thanks for reading and be sure to check out some of my other adventures!
Comments
comments