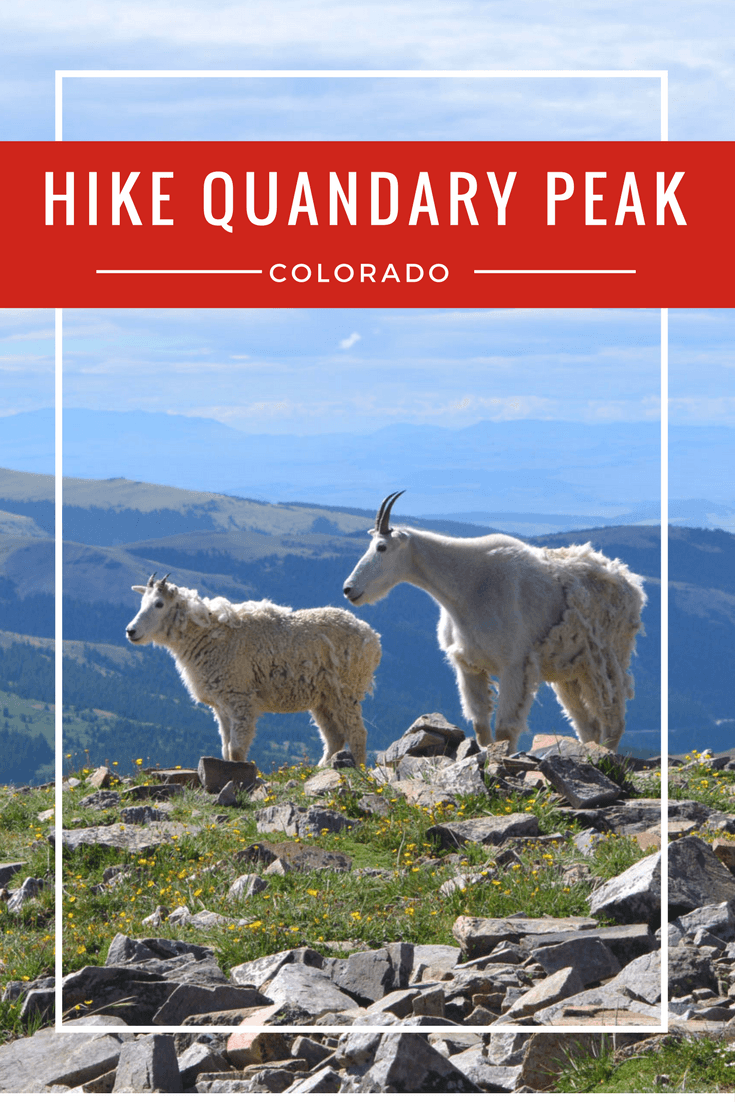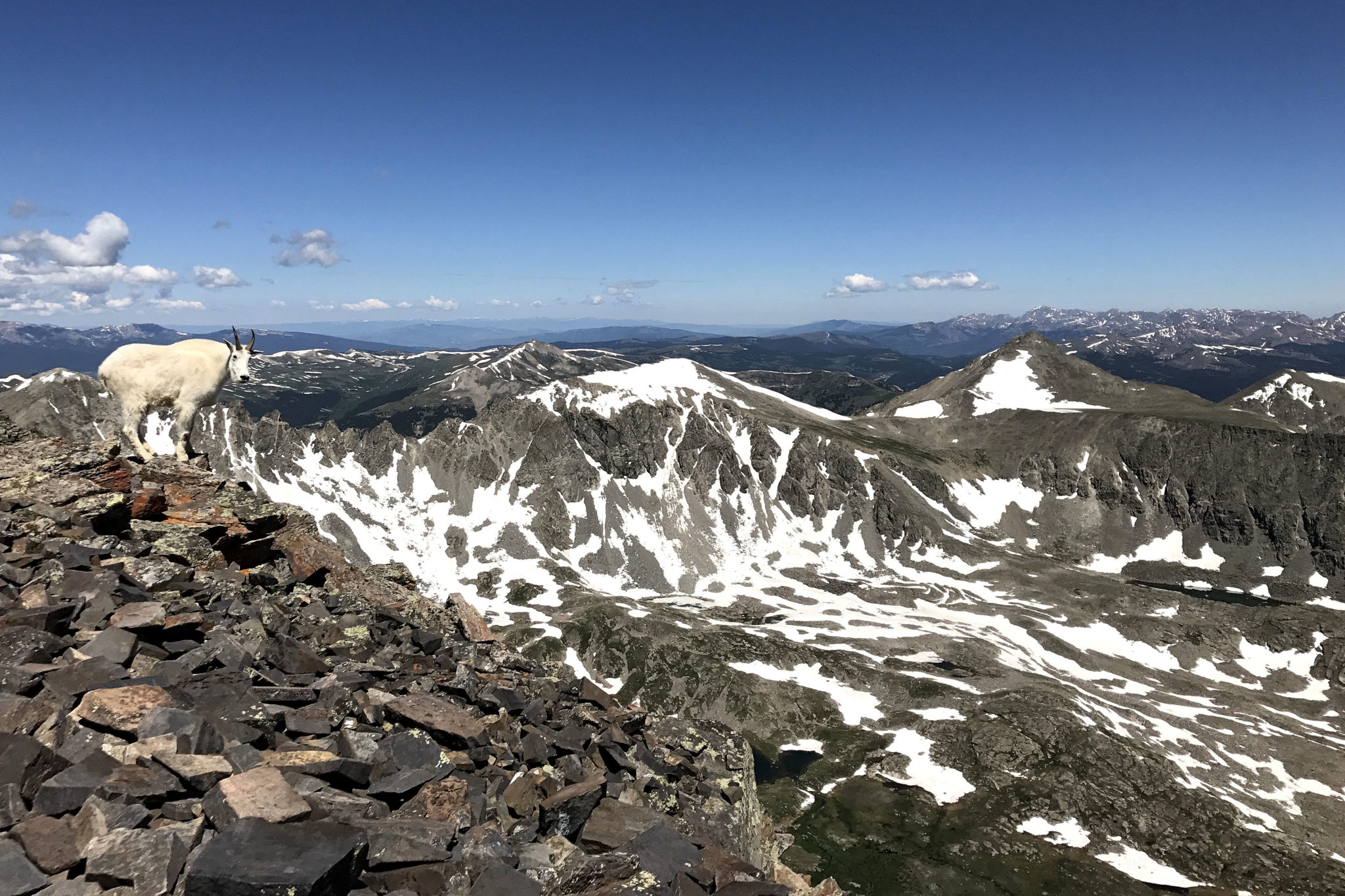 Although this was my first summit of over 14,000 feet, this was not my first mountain hike. Continue reading to see what helped me most while hiking Quandary Peak and everything that I wore and packed for the summertime hike.
My husband Reed has been temporarily working in Denver for the past month. There are definitely struggles to live and work by yourself while a spouse is in a different state. I will say that this is much easier than the time he worked for 3 months in Scotland while I stayed in the states to complete my last semester of college. Luckily, he should be home most of next month and the time spent traveling for work will decrease.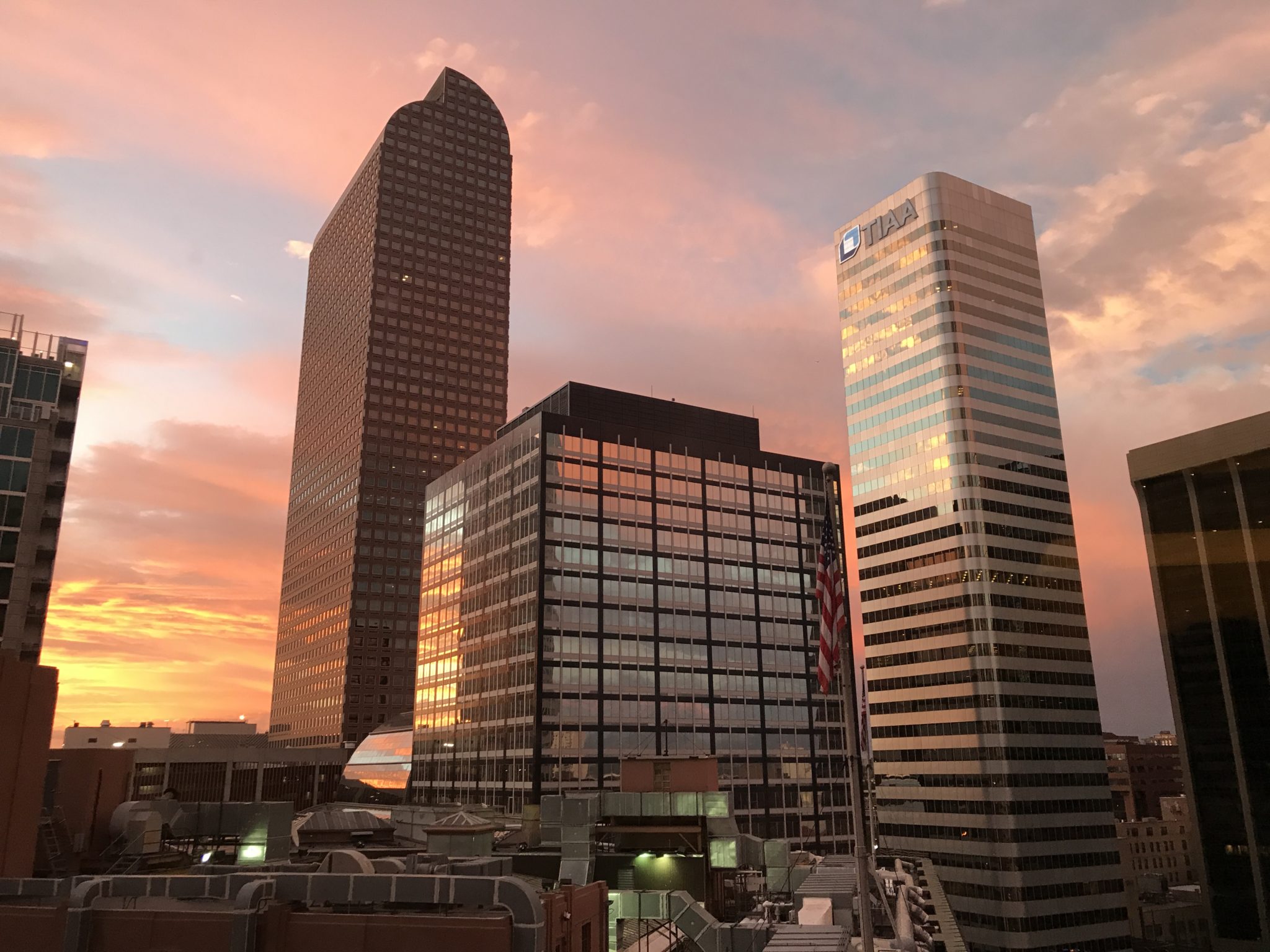 A Long Weekend in Denver
I decided to make the trip out to see Reed so that I could spend a long weekend with him. It was so worth it just to have a couple days together and see where he's staying! It was my first time seeing downtown Denver, but my real interest was getting out into the mountains. We both have a life ambition of hiking as many Colorado 14ers as possible but hadn't actually hiked one yet. We set our sights on Quandary Peak as our first hike to a summit of 14,265 feet!
First 14er, Quandary Peak
We picked Quandary Peak because of its popularity and for the chance to see mountain goats. I figured that since so many people make it to the summit, surely I can too. The only day we could set out to try the hike was on a Saturday. We expected crowds but didn't mind too much. This was a brand new experience for us and we just wanted to check things out.
Most hikers will advise to begin the hike as early as possible and to be headed back down the mountain by noon. This is due to bad weather that typically comes during the afternoon and the dangers associated with being stuck above the tree line. I would classify us as being in the late morning group by beginning our hike around 7:30 am. Luckily, our start time wasn't a problem since the entire day was sunny and beautiful.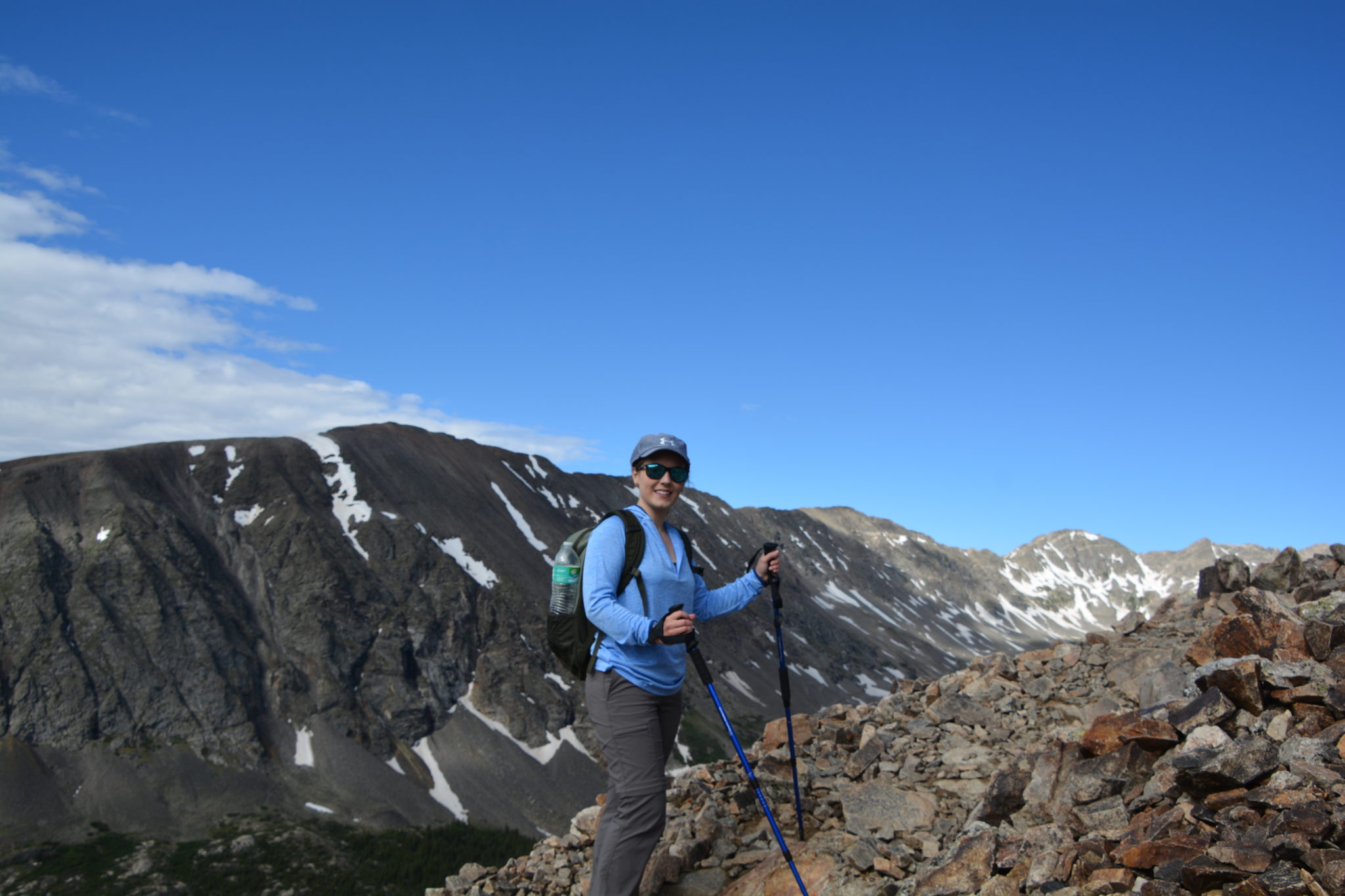 On The Way Up
I was really nervous to be with so many other hikers since I'm not acclimated to moving in high altitude. I live only an hour away from the Gulf of Mexico, so I'm used to a hot and humid sea-level climate. Although I couldn't move as fast as some of the locals, my hours spent running in the Texas heat gave me the stamina to make it fairly easily up the mountain. Hiking poles were a huge help for me and I think I would have really suffered without them.
This beautiful July day was most likely one of the busiest weekends to hike Quandary Peak. While on the mountain, I identified 5 different groups of hikers.
Extreme Mountain Runners: as I was making my way up the mountain, I actually saw a couple people jogging down. It looked like they were just doing their weekend workout, and it was crazy!
Super-Fit Fast Hikers: Small groups of people that could hike really fast and looked like they hike all the time, probably locals.
Fit Regular-Paced Hikers: Couple and friend groups (many with their dogs) who took their time but also didn't seem to struggle too much.
Families: Parents with kids and groups that appeared to be part of a family reunion. Lots of tourists.
People in Over Their Heads: There were only a few people that I noticed who openly complained and made statements that they couldn't do it and would be turning around soon. This seemed to happen near and just above the tree line.
I'm sure that weekdays and other seasons would bring out much fewer people, but the crowds helped us stay on the trail and motivated us to keep moving. Everyone except for a select few were courteous and excited to climb the peak.
Mountain Goats
I was really excited to see mountain goats for the first time! We saw them only yards away when we got just above the tree line. I figured that this must be a rare occurrence, but I soon realized that there are many mountain goats all around the trail. We only had one moment that made us nervous when one goat wanted to stay on the trail and we needed to pass. Luckily he moved after a few minutes but it was a little scary since the goats can be territorial.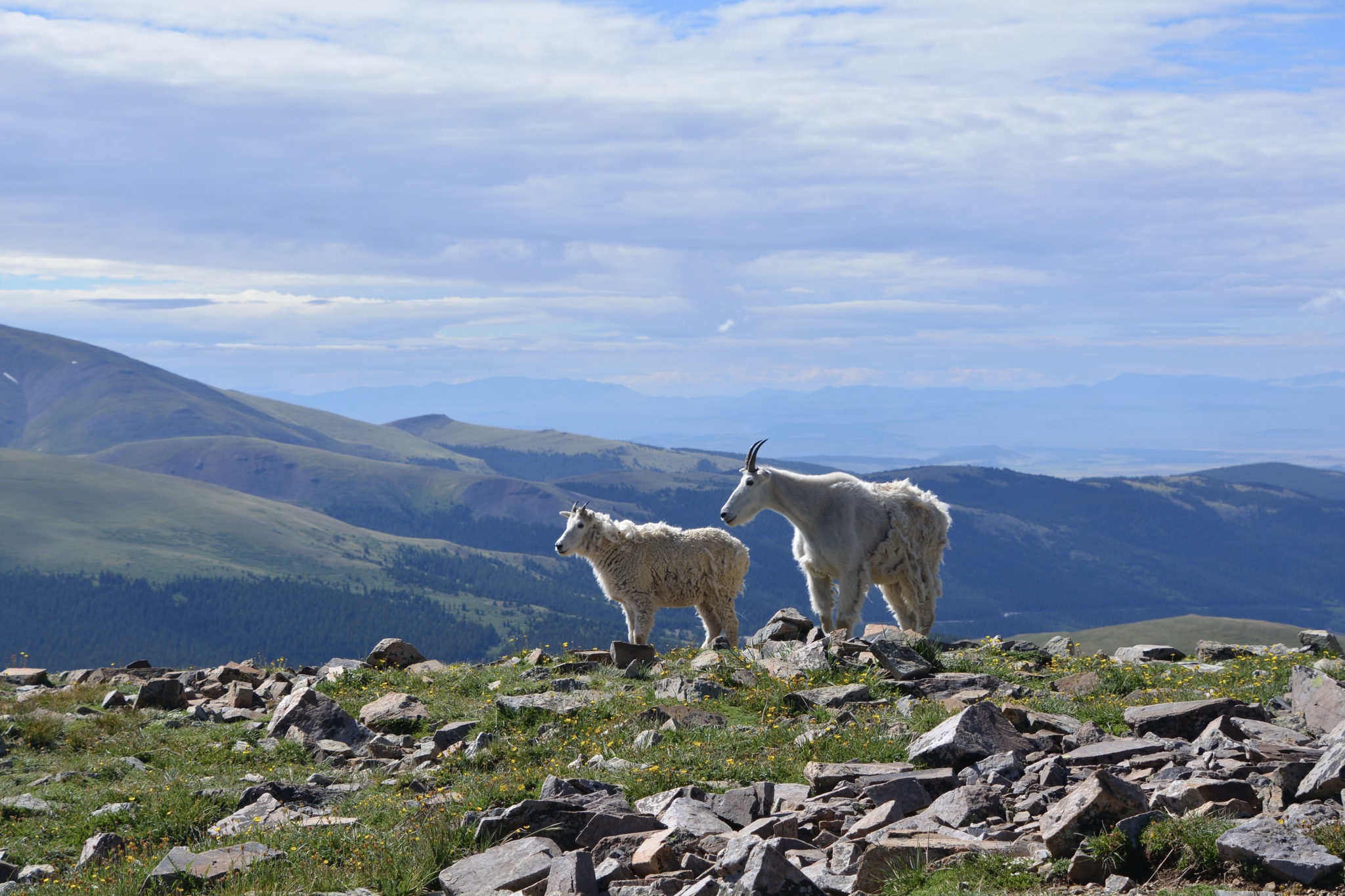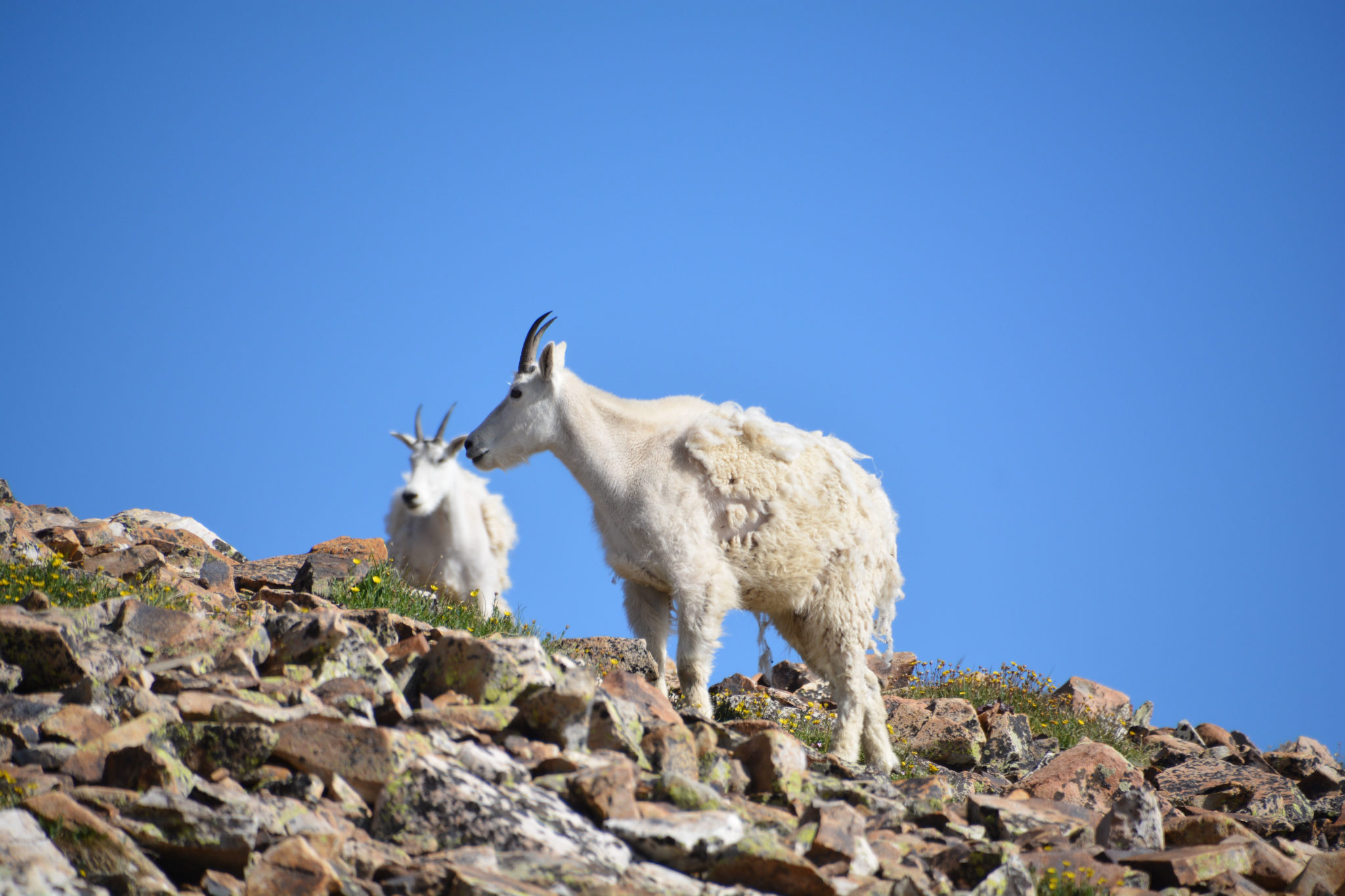 Continuing Up
According to Google, "Timberline is defined as an imaginary boundary above which trees will not grow. The exact elevation is determined by climate, slope aspect and the species of tree, and varies from 11,000 to 12,000 feet in Colorado". I've always called it tree line and am used to only getting a little above where trees grow. Quandary Peak was unique to me because I passed all the trees and still has such a long way to go!
The Summit
What a climb and what a view! It felt glorious to reach the summit of Quandary Peak. Excited hikers posed for pictures with signs indicating the elevation and insisted that we use their sign for our photos! It was all happiness at the top. We hung out on the summit for probably too long because it was hard to say goodbye to such an amazing view.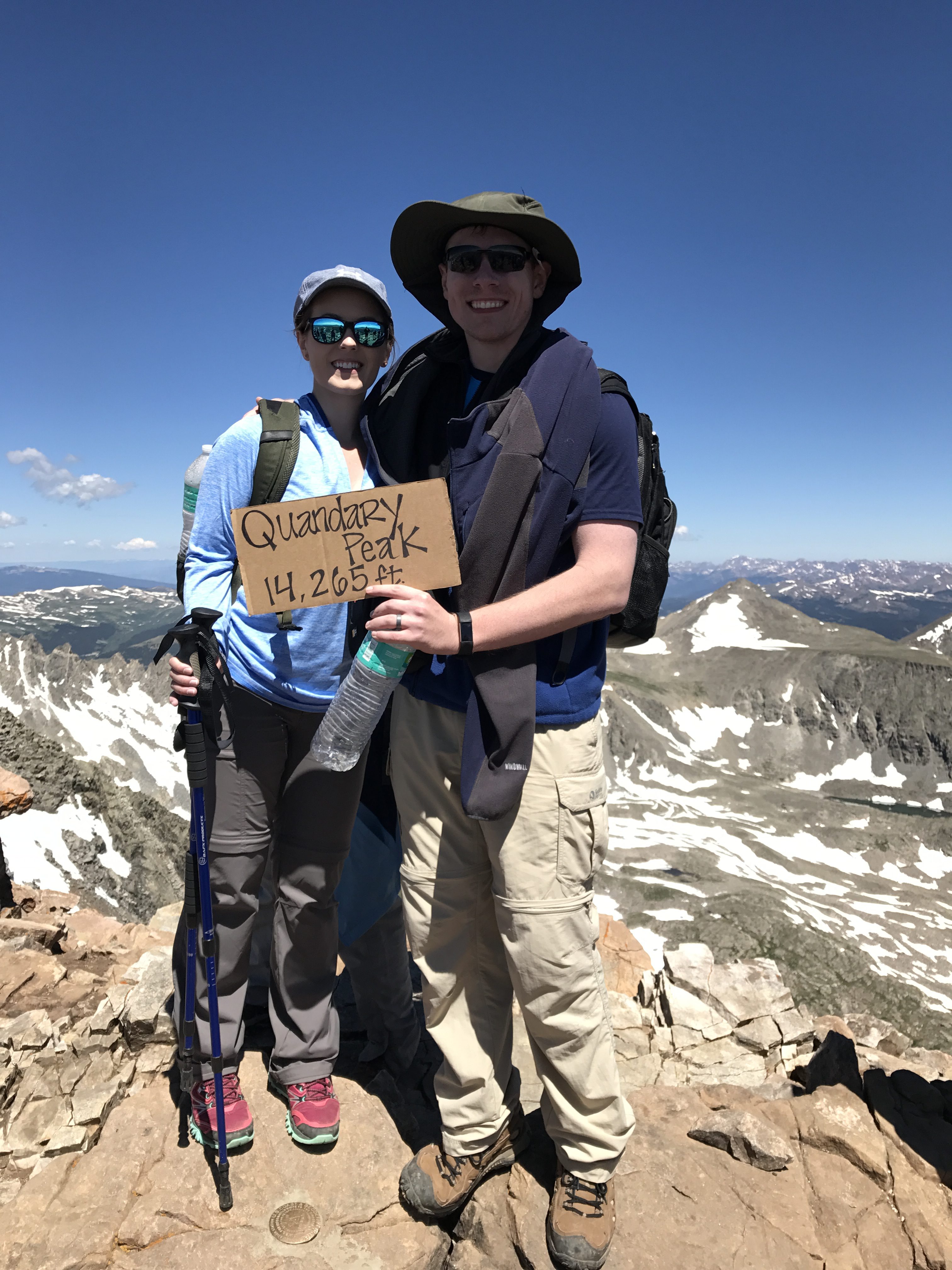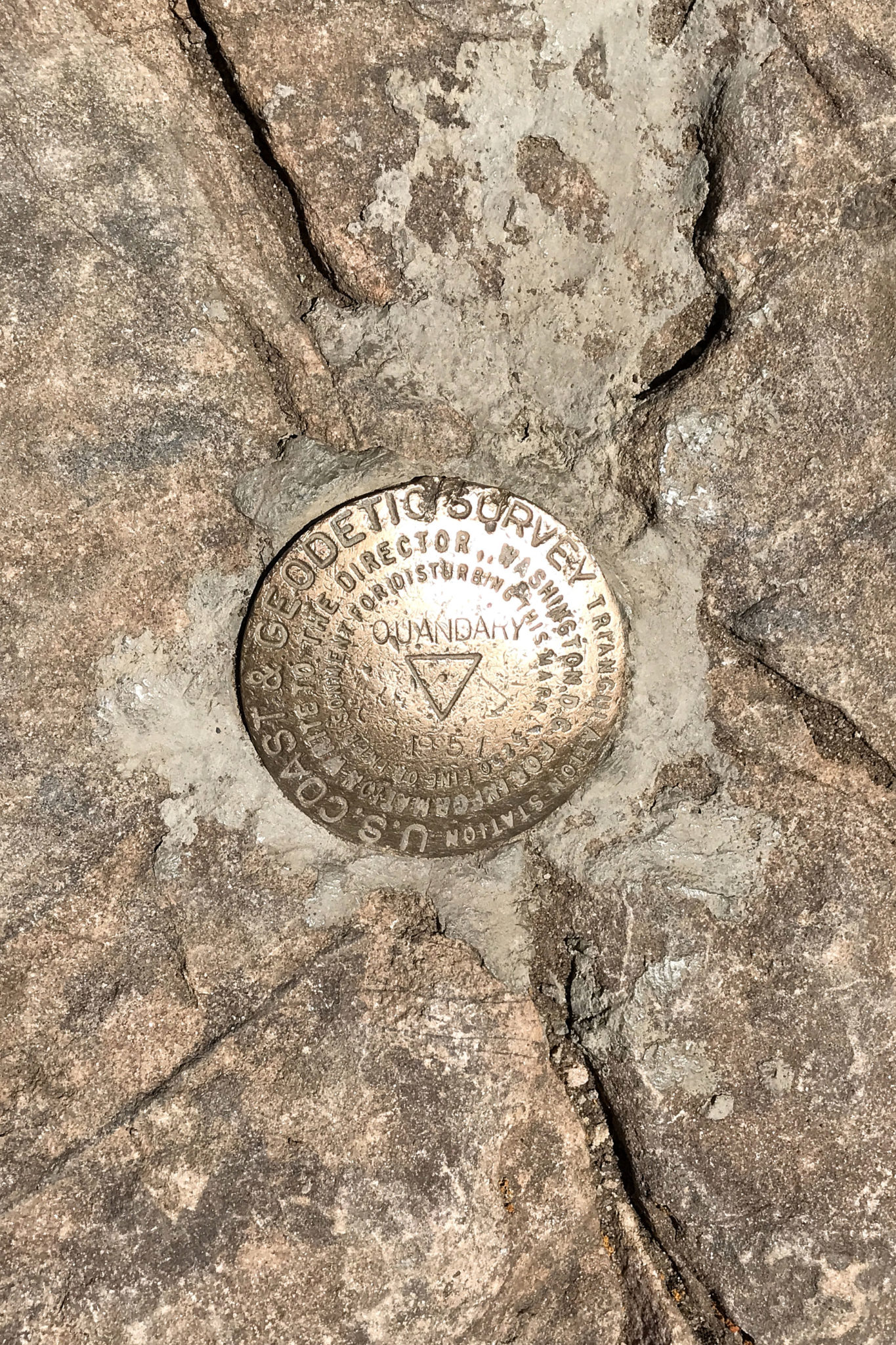 Trek Down
It might be the excitement of the climb or my desire to reach the top, but I am always surprised by how long it takes to hike down a mountain. The hike down was pretty rough on me, even with poles and good hiking shoes. We kept descending more and more and felt like we were on a never ending hike. I honestly did struggle with some stomach pain and it was most likely due to my lack of properly acclimating to the altitude. My husband said that the final mile up was the most challenging part for him, but the hardest part for me was making it back to the parking lot. I originally thought that I would try to get some more pictures of the trail on the way down, but I felt way too tired to do so.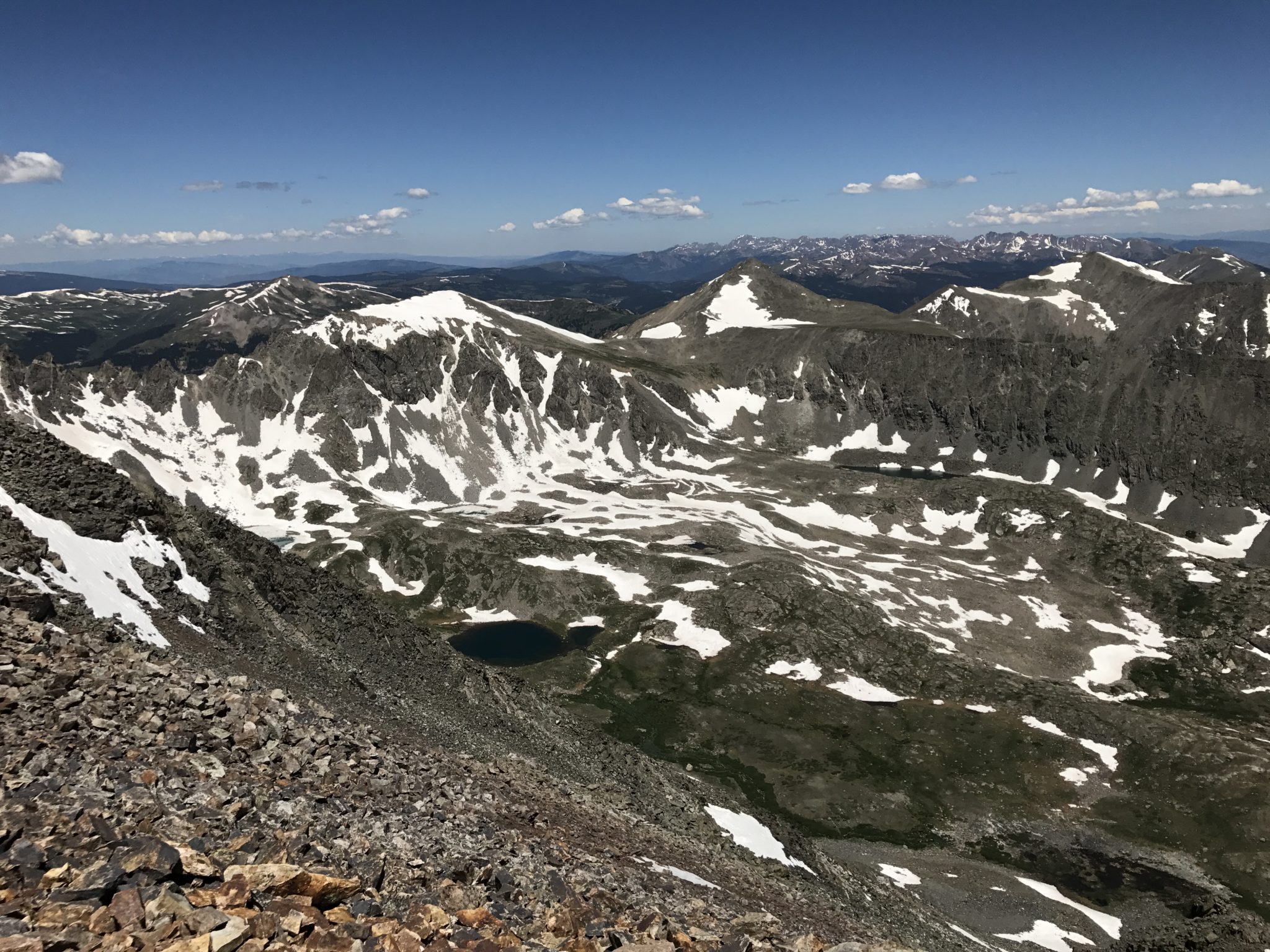 In My Pack
I always hike with my trusted backpack. I made sure to bring a few protein bars and plenty of water (about 4 16oz. bottles). Since the weather was so nice, I ended up not using the additional layers I had packed. I was expecting to feel more of a temperature drop, but I felt fine in my lightweight clothes the entire time. I kept my polarized sunglasses and baseball cap on for the whole hike and wore a quick dry long sleeve hooded shirt for extra sun protection. Here's what I brought for the hike:
water
snacks
sunscreen
rain jacket that I thankfully didn't need
warm lightweight jacket that I never used
warm hat that I didn't need
gloves
hiking poles
camera that my husband graciously carried for the entire hike
I packed a couple warm weather items that I didn't use. I hiked on a clear summer day with little wind. Had there been any bad weather, I probably would have used my warmer jacket and hat. A rain jacket is always a good item to have just in case.
A Rewarding Experience
My husband and I felt like champions after making it to the summit of Quandary Peak! The trail was well-maintained and the views were unlike anything I'd seen before. I loved getting to view mountain goats (and a chipmunk) in their natural habitat. This hike was hard for me but I'm so glad that I decided to go for it! It can be intimidating to try and do something new and out of one's normal elements, but it's so rewarding to challenge yourself. I would encourage anyone who is hiking a 14er for the first time to add extra leg strengthening exercises and cardio to your workouts. I felt that my workout routine made the hike much more enjoyable but there were still moments on the way down where I felt extremely tired. Overall, I really enjoyed hiking Quandary Peak. This is only the beginning of my 14er journey!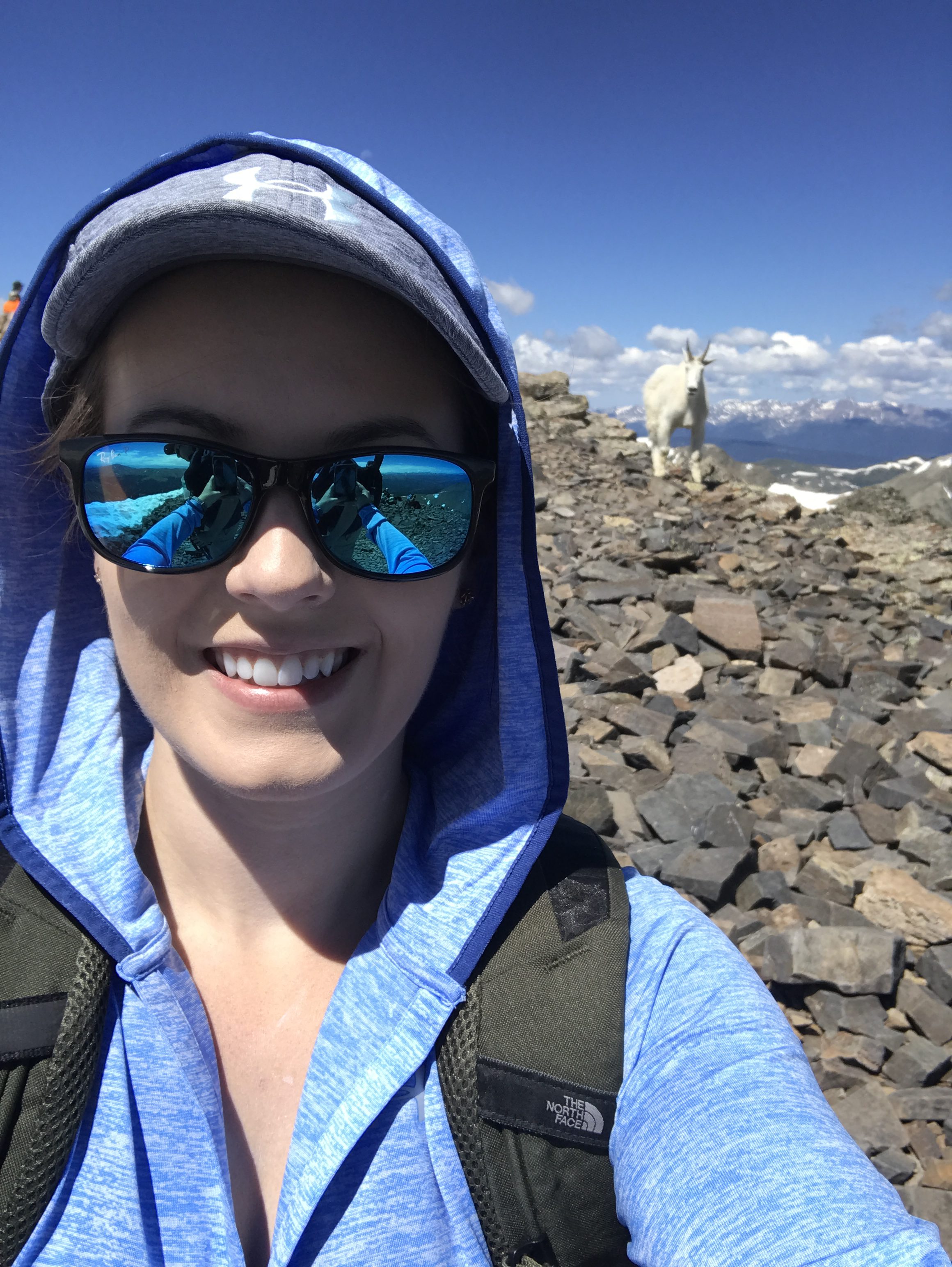 Comments
comments