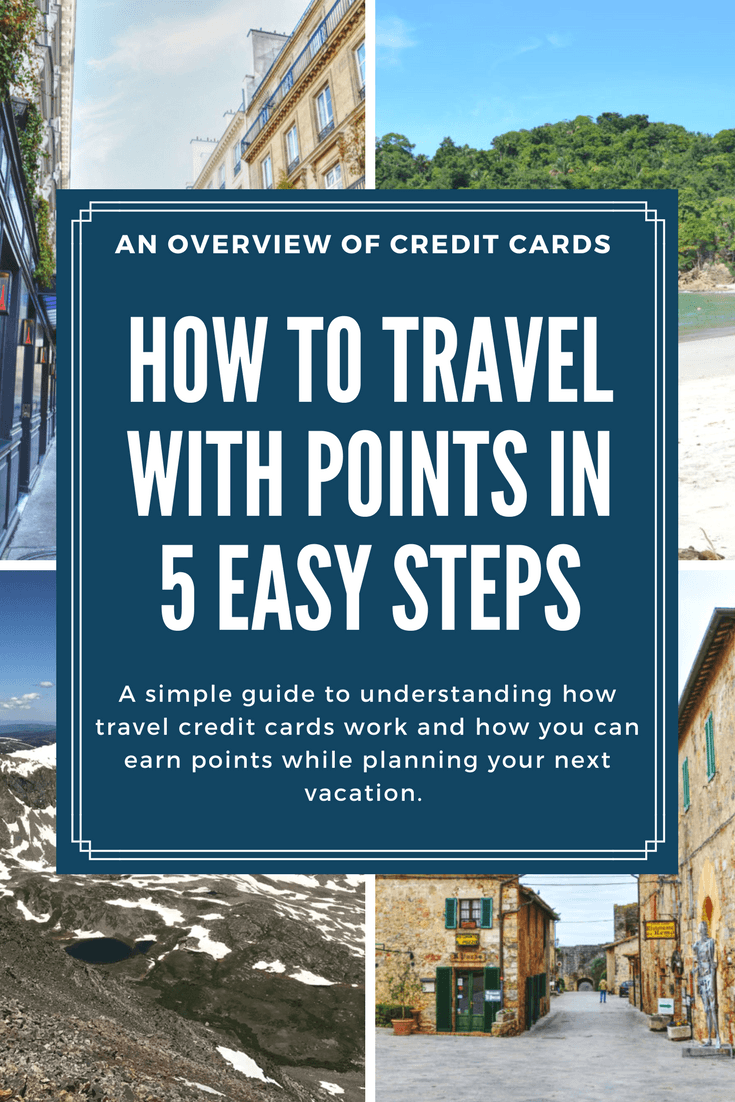 Now that you know the basics about travel rewards, here's more information about how to earn them. We've listed out the 5 steps that we use when acquiring travel rewards, including important details about how to earn points strategically for your next trip. Please know that we promote responsible credit card use and encourage you to only do this if you plan to pay the balance off on your card each month.
Step 1: Get a General-Use Travel Credit Card
These are credit cards that allow you to earn points that can be applied to a variety of different travel needs. These cards will often have a system where you can transfer the points that you earn with them to other reward programs that you participate in. These types of cards are great to have as your go-to credit card so that you can build up points all year long.
Some Popular Reward Programs:
Step 2: Choose a Destination and Research It
It may be over a year before you plan to go on the trip, but that doesn't mean that it's too early to start planning. Choosing a destination early will allow you time to earn miles for an airline that offers many direct flights to the destination and you can research hotels in the area that have point programs.
An example of this is when we wanted to visit Europe, we found that United is partnered with Lufthansa Airlines. We decided to get credit cards that would allow us to earn United miles. Once the needed number of miles had been awarded, we used 30K miles each way to book one direct flight to Germany on Lufthansa and used the rest of the miles to fly home on Air Canada, another United partner. We also got cards that earned us Marriott points to use for hotels.
Step 3: Decide on the Best Credit Card for the Trip
Once you've decided on a destination, it's time to use your research to determine the appropriate credit card to apply for. It's important to wait until the desired card is offering a good promotion. An example of a promotion is "receive 50K miles when you spend $3,000 in the first 3 months" or "receive 80K points when you spend $3,000 in the first 3 months", etc. Being detail-oriented and taking advantage of the bonus offerings are what really helps you get the necessary rewards.
Tips when Applying for Credit Cards
Before applying for any cards, have a solid understanding of your personal finances and a good credit score (700 or greater)
Only apply for a credit card if you know that you can pay off the balance each month
Apply for only one credit card at a time so that you can focus on meeting the promotional requirements before applying for another card. It's better to have one card that you received promo rewards from than several cards with low amounts of points.
Be wary of the 5/24 rule with Chase
Keep in mind that applying for a bunch of new cards may lead to denials and can lower your credit score
These tips make credit cards sound horrible, right? We just want to help others understand the potential issues that can arise from using credit cards irresponsibly and we want to be sure that we aren't promoting others to blindly sign up for something that will negatively affect them. Credit cards aren't bad, it's when we use them the wrong way that they can lead to issues.
Tips for Building Credit
If you are working to build up a good credit score, you can still eventually earn reward points. It's great that you are taking time to concentrate on improving your credit because keeping a good credit score will help you greatly in life! Some easy ways to build and raise your credit score include:
If this is your first credit card, use it and pay off the balance each month before applying for others.
If you have a short credit history, see if you can become an authorized user on a family member's account who has good credit. This practice helped me raise my credit score several points.
Make an effort to pay off debts and not enter into new ones
Don't apply to lots of store oriented credit cards (the kind that they offer you at the checkout counter).
Don't cancel an old credit card that you no longer use if it has no annual fee. Just continue to hold onto the card to benefit your credit history.
Step 4: Meet Promotional Requirements and Earn Rewards 
Once you have been approved and begin using your new card, carefully keep track of your spending to know if you are meeting the requirements to earn bonus points. Keep up with the hotels and airlines that you plan to use for travel because their requirements may change through the year. Don't be afraid to contact customer service if you believe that you have earned points that have not been awarded.
Step 5: Redeem Points
Sometimes it's simple to redeem points. You just get online and log into your account to book with points. In some cases, you may have to call to get your desired rate. We were able to book flights to Europe and hotels there completely online without customer service assistance. For our Tahiti trip, a phone call with American Airlines was necessary to get the most out of our miles and secure our flights.
Lessons we've learned about redeeming points:
Don't be afraid to ask for more. You might just receive what you ask for, or get a new great deal. An example of this is when Reed called to book flights to Tahiti. It normally takes 80K miles to fly from LAX to PPT, but when he asked about using the miles to cover HOU to PPT, the travel agent made it happen. Another example is when we emailed our resort asking about room upgrades, we were offered a deal that we couldn't refuse (a beach bungalow at the Intercontinental Resort and Spa Mo'orea, 5 nights for $1,000). Considering the bungalow is normally $450 a night, we couldn't pass up the opportunity.
Be flexible with dates. You can get more out of your travel rewards when you have a general time frame instead of exact dates. Airlines have special dates where fewer miles are required than usual to book flights. Resorts will often have more "point" rooms available in the low season. The key is getting the flights taken care of first and then reserving hotel rooms with points.
You Can Become a Reward Traveler
This is a whole lot of information wrapped up in one post, but you can do this! A good way to start by taking baby-steps to working towards traveling with reward points. The general-use travel credit cards are a great way to begin. We are here to help you and encourage you to email us with questions. I hope this post has given you a better understanding of travel credit cards, reward points, and how to plan a trip with travel rewards.
Comments
comments