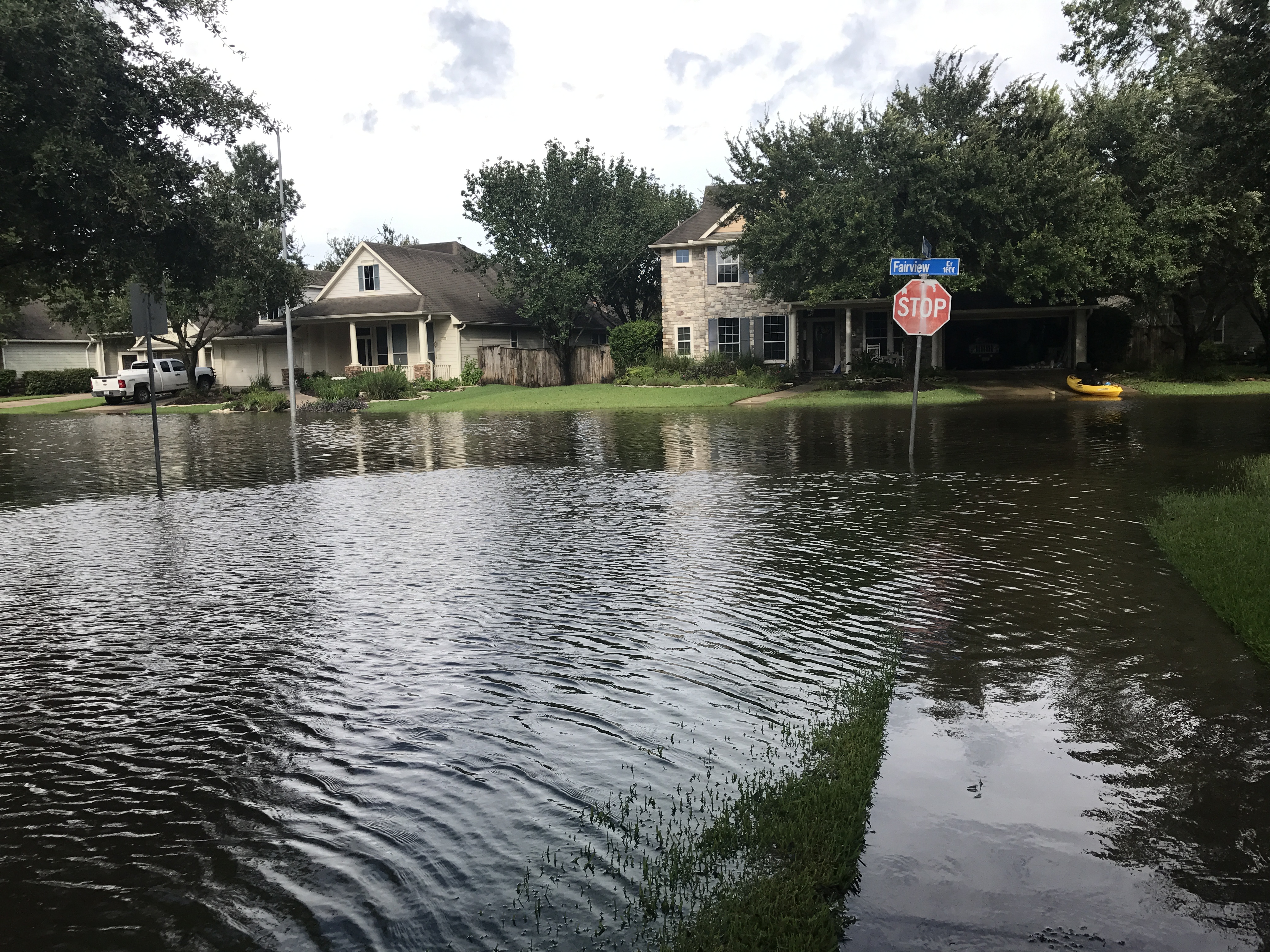 The past couple weeks have been unlike anything I've ever experienced. Hurricane Harvey started dropping rain on Houston Friday, August 25th and continued through Tuesday the 29th, causing massive flooding in the city and the surrounding areas. The storm cast a wave of fear and panic over everyone as we watched the floodwaters rush through Houston and continue to rise without relief. So many families have lost their homes and all of their belongings to the flooding. I am grateful that my husband and I and my parents did not suffer any losses. I want to share our account of how we experienced the hurricane from our home in Sugar Land, TX.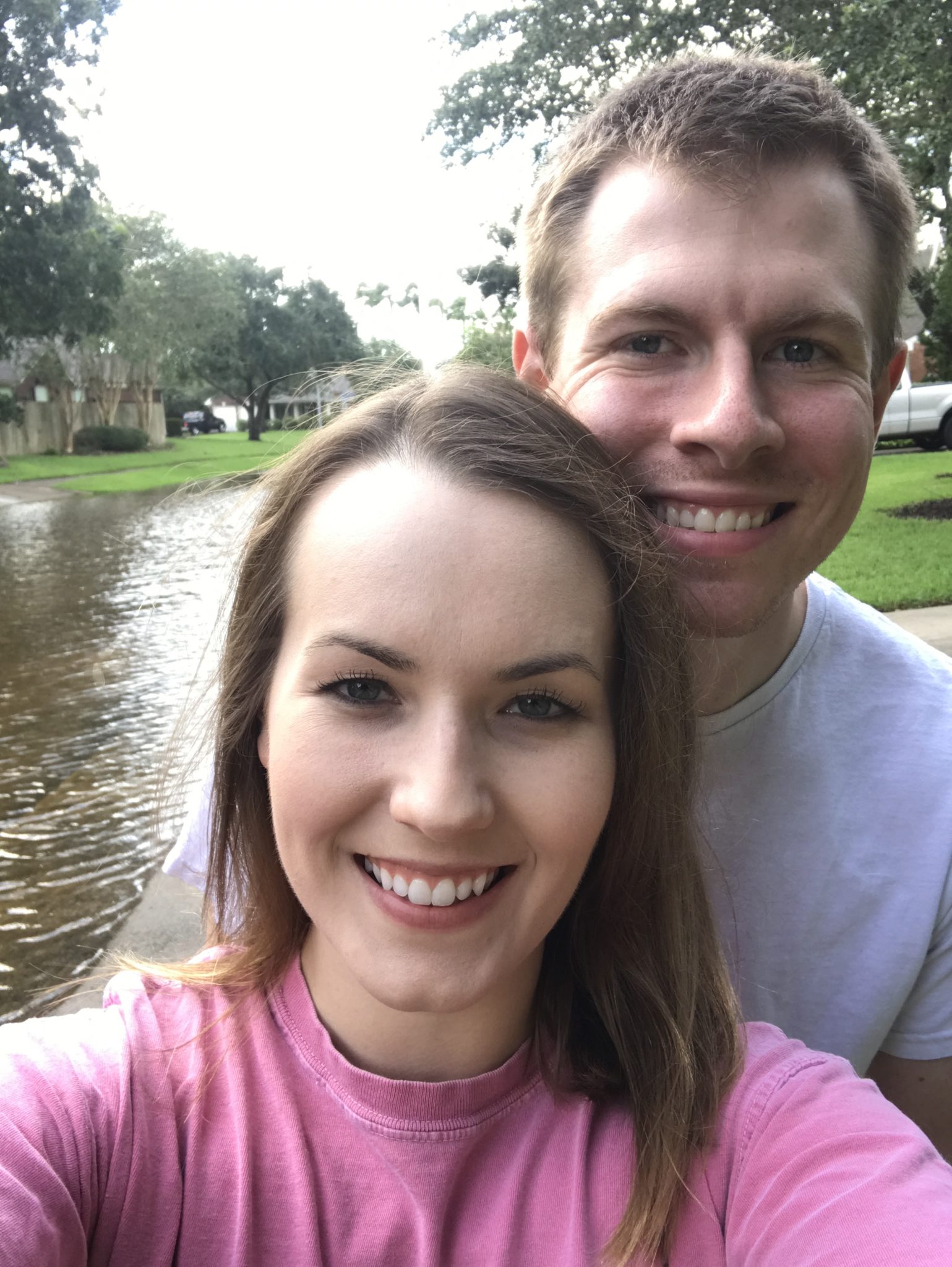 Thursday, August 24th
I was taking my usual lunch break from work and I thought I'd run by the grocery store. At this point, I hadn't been following the weather forecast at all. I had heard that it would be rainy in Houston through the following week. I initially saw the rain as a good thing because it would push out the 100+ degree heat that we'd been experiencing for the past month.
As I neared the grocery store, I saw that the parking lot was completely full with cars parked along the street! I gave up on my shopping trip and immediately called my husband Reed to tell him what I'd witnessed. This led us to monitor the weather forecast much more closely. Hurricane Harvey was headed right towards Corpus Cristi and expected to bring lots of rain to Houston.
Friday, August 25th
I went to work as usual and my co-workers seemed to think that the media was dramatizing the storm and scaring people for no good reason. I disagreed with them because even with the hurricane not hitting us head on, Hurricane Harvey was already stronger than Hurricane Ike. I began to worry that Harvey could be similar to Ike, which left my family without power for 2 weeks and caused lots of damage due to high winds and fallen trees. I noticed the sky darkening and as the storm approached. My husband Reed, called me telling me that I should leave work soon to prepare for the hurricane. I told him that I would leave the second that I felt unsafe, but the truth was that I already felt concerned.
By 3 pm, I was about to go home on my own terms when my office allowed us to leave. Thankfully Reed had already managed to make it through the crazy-crowded grocery store to get us bottled water and food. Having Ike as my only real hurricane experience, I started to prepare for a life with no electricity, making sure that our flashlights were together and that our portable batteries were charged. I started doing laundry and baking so that we could have plenty of food and clothes to make it for a week or longer without power.
It continued raining through the night. I couldn't sleep so I stayed in bed listening to the strong winds that sounded like they were whipping in different directions. I feared that tornados were close, but it still didn't sound as strong as the winds from Hurricane Ike. At this point I had no worry of flooding, only feared that winds may cause trees to fall. Our neighbors have several tall trees that could crush our house.
Saturday, August 26th
I woke to learn that tornados had moved through the nearby neighborhood of Sienna Plantation during the previous night, causing a lot of damage just a few miles away from us. The rain came down slowly in the morning but stopped briefly so we headed to Target. I realized that most of my orders would be delayed, so I needed to get some timothy hay for my bunny. We didn't see any high water on the drive, but the Brazos River near our house looked a lot higher than it had been the day before. Reed and I weren't feeling very worried and were just having a nice time hanging out in our home. The rain came back and stayed constant through the day and evening but the wind was not as loud as the previous night.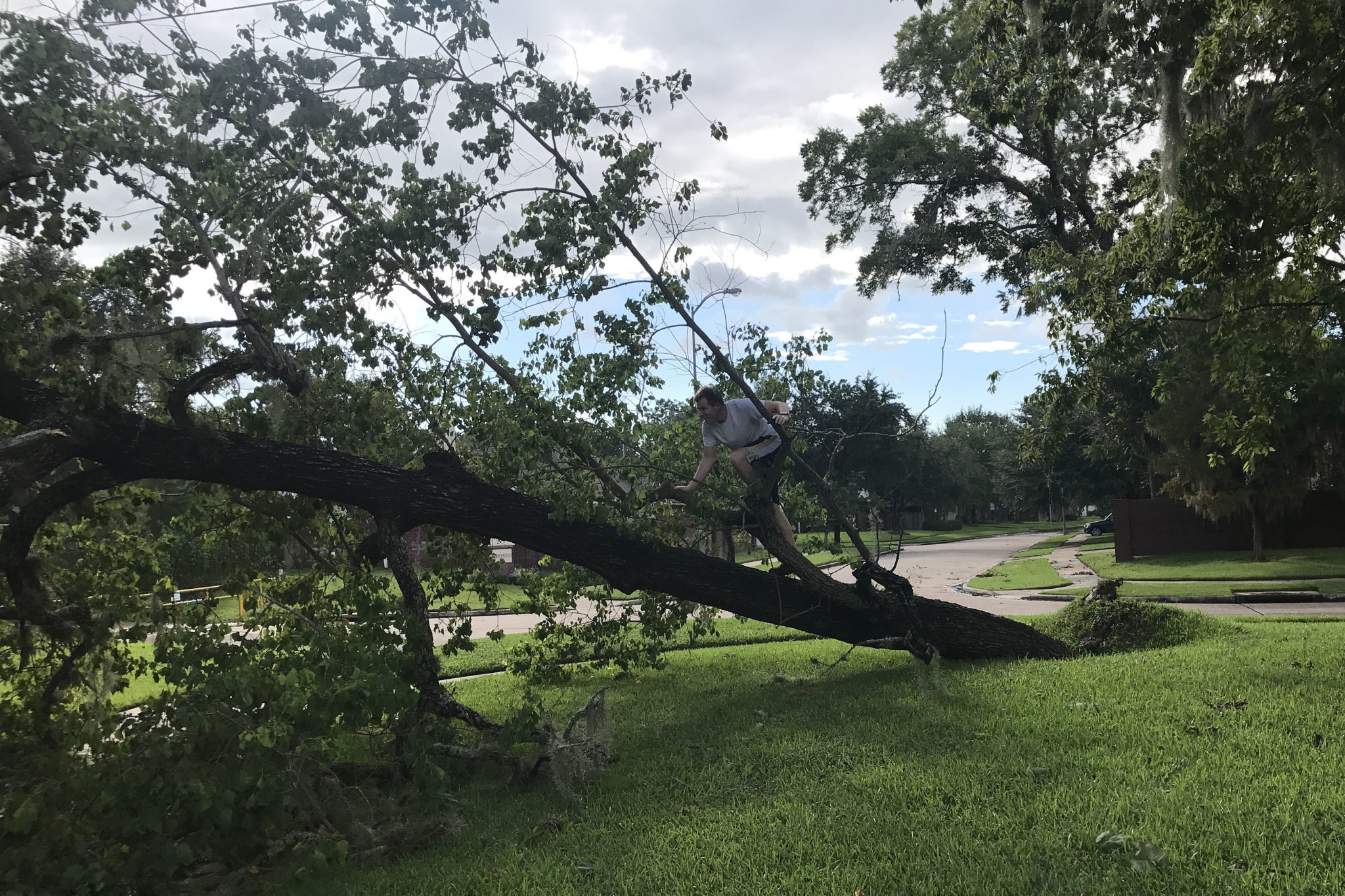 Sunday, August 27th
The rain continued. Feeling the need to get out of the house, Reed and I took a short drive to see what our area was looking like. We already heard about flooding on major roadways, so we knew that getting into Houston was no longer an option. Our neighborhood was fine, but we started seeing overflowing retention ponds and ditches off of Hwy 59 towards Rosenberg. A state Trooper had the highway blocked so we could not go any further than the town of Rosenberg just outside of Sugar Land. Only a few hours after we turned around, a large sinkhole appeared on the highway in Rosenberg.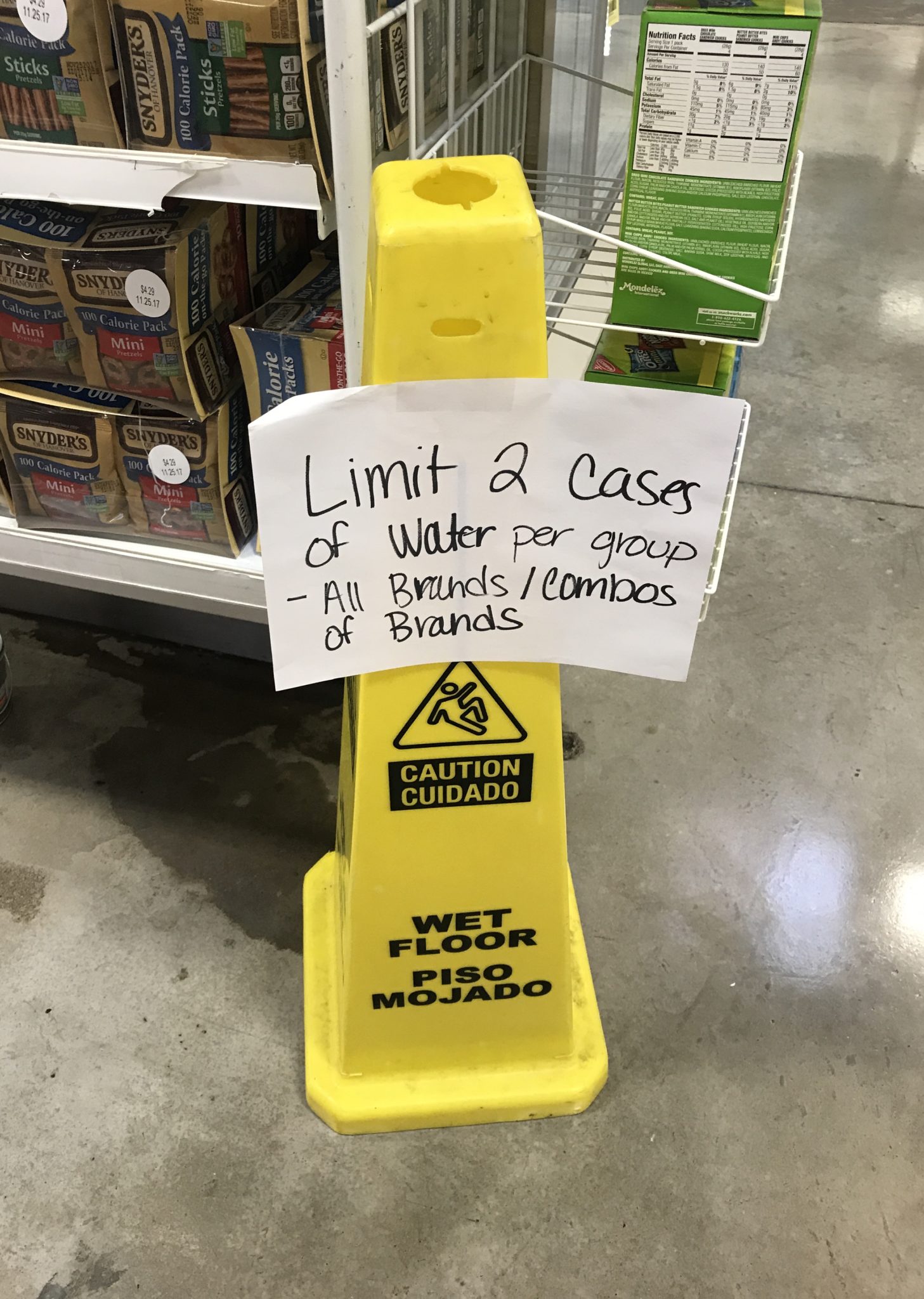 Knowing that we had all day and nowhere to go, we decided to brave the HEB grocery store. It was the only place still open that we had access to, and it was a zoo. Certain items were all gone and limits had been placed on others. We waited in a line at least 70 people deep, all grabbing up what we could before it ran out. I didn't realize that this shopping trip would be the last time we could make it to the store for the next couple days. I'm so glad that we decided to go even though it was so crowded.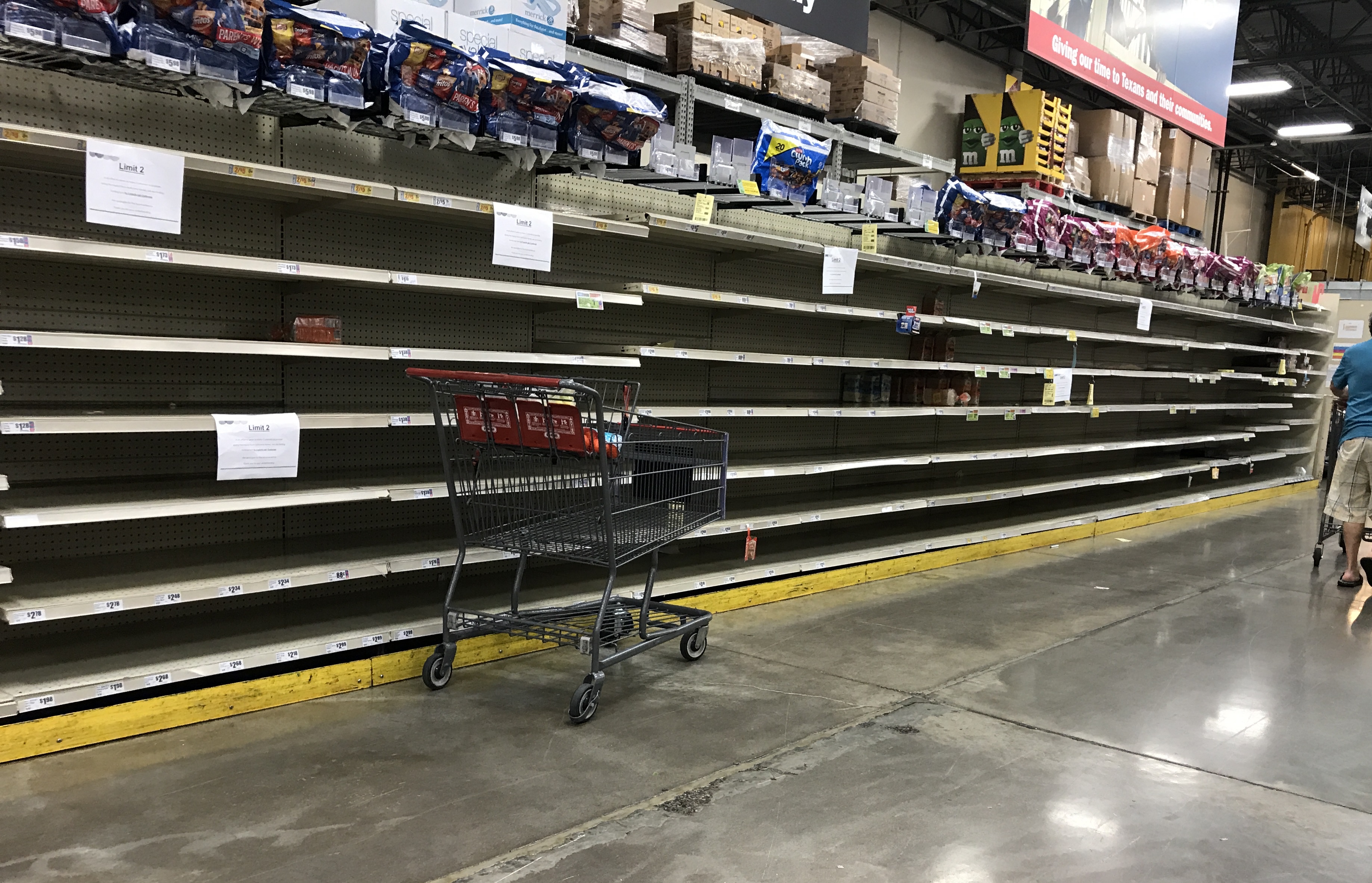 Late that night, Reed and I received some worrisome news about the rising Brazos River near our neighborhood. I had trouble sleeping and couldn't get my mind to rest. I knew that this situation was out of my control but I still felt stressed. We had alway felt safe in our subdivision, but now we were not sure if we would have a home at the end of all of this. I prayed for protection but the longer I couldn't work made time seem to move so slowly. We just had to sit and wait for the storm to pass.
Monday, August 28th
I was surprised at this point that we still had power. Reed and I were not feeling safe in our home as we learned more about the flooding and devastation in all areas of Houston. We received bad news that the Brazos River, which runs near our neighborhood was projected to reach 59 ft by Tuesday night. Learning this lead to uncertainty that the levees surrounding our neighborhood would be able to function as they should and we began to worry that our home may flood. The river had never reached such a capacity in history and although the levees were built to withstand 60 feet, they had never been forced to function at such a level.
Our neighborhood was issued a voluntary evacuation while all the surrounding neighborhoods were under mandatory evacuation. We already knew at this point that we could not safely drive to my parent's house in Spring. We watched as some of our neighbors frantically packed up and left. Some attempted to leave later in the day but had to turn back due to high water near the entrance of our neighborhood.
We saw water pooling in the streets and by the evening we could only drive about 1 mile in either direction. Our home remained dry but we were flooded in place. The rain never ceased and we continued to wait in our homes hoping for good news but fearing the worst.
I've included my Facebook posts that kept my distant family updated. Please note that these are screenshots and the links in them do not work. You can click here to view the current Brazos River levels.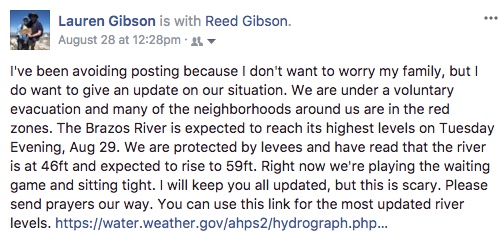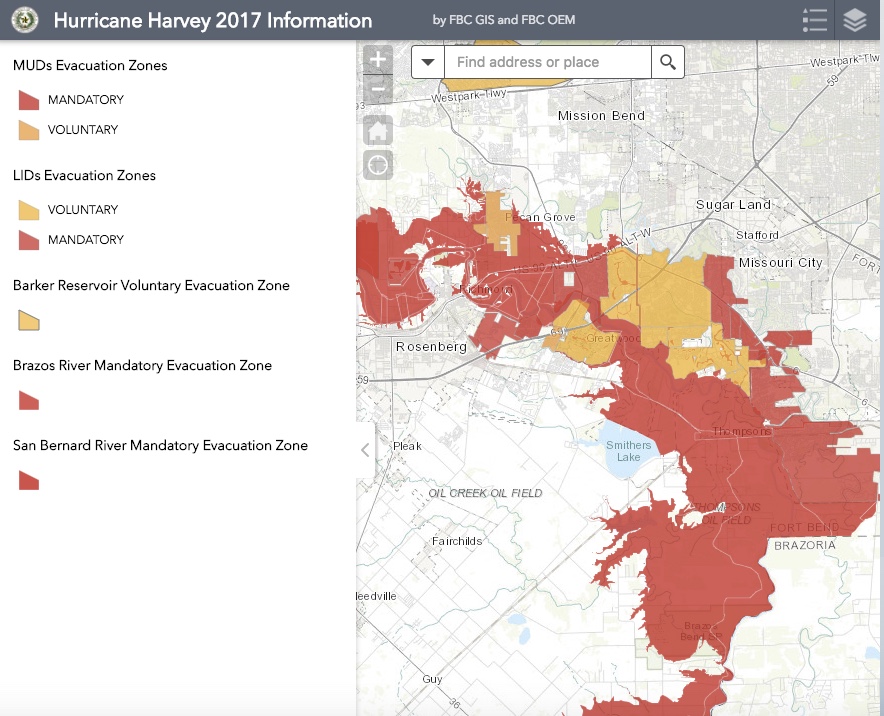 Tuesday, August 29th
We received some encouraging news that the River was now only projected to reach 57.5 ft. This made us hopeful that we would be alright. We were completely stuck in our neighborhood but that didn't stop us from walking around. We walked out to the levy behind our home to observe the Rabbs Bayou and saw that it was still barely contained in its banks. The floodwater had pooled in the streets but the rain had finally stopped and it seemed that the worst of it was over. We walked as far as we safely could from our home to observe the flooded streets.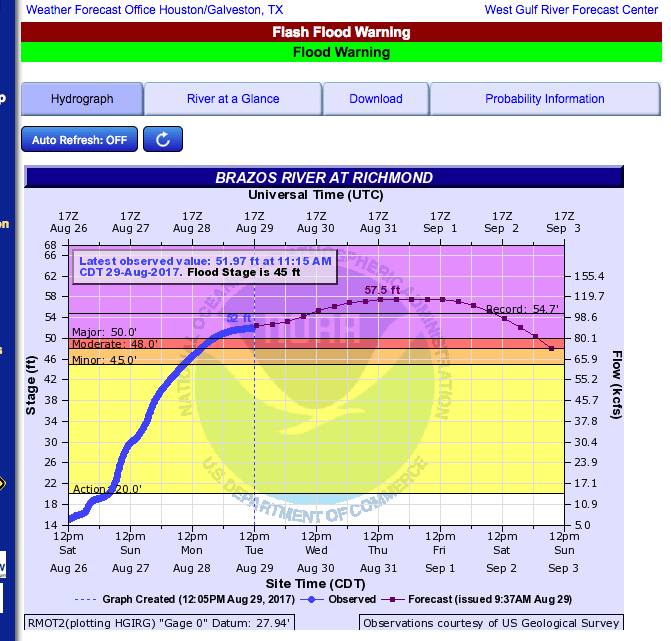 Wednesday, August 30th
Reed and I woke to see that the water had almost completely drained from the streets! We weren't sure of the status of the front of the subdivision just yet, but things were looking up. Once we learned that some evacuees were returning, we successfully made it to our local HEB for a few items. We felt so thankful and a little bit in disbelief that our home was spared.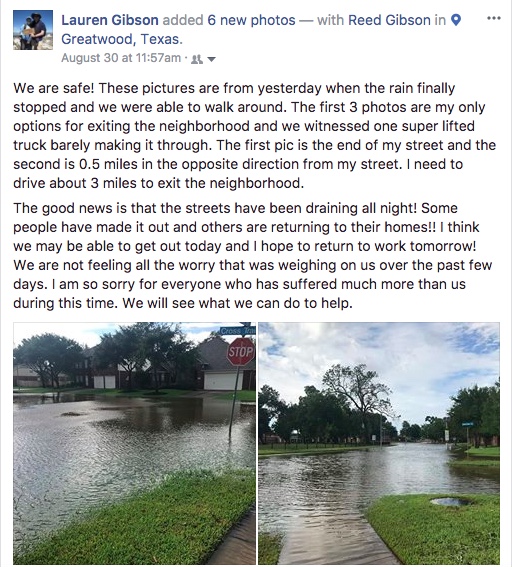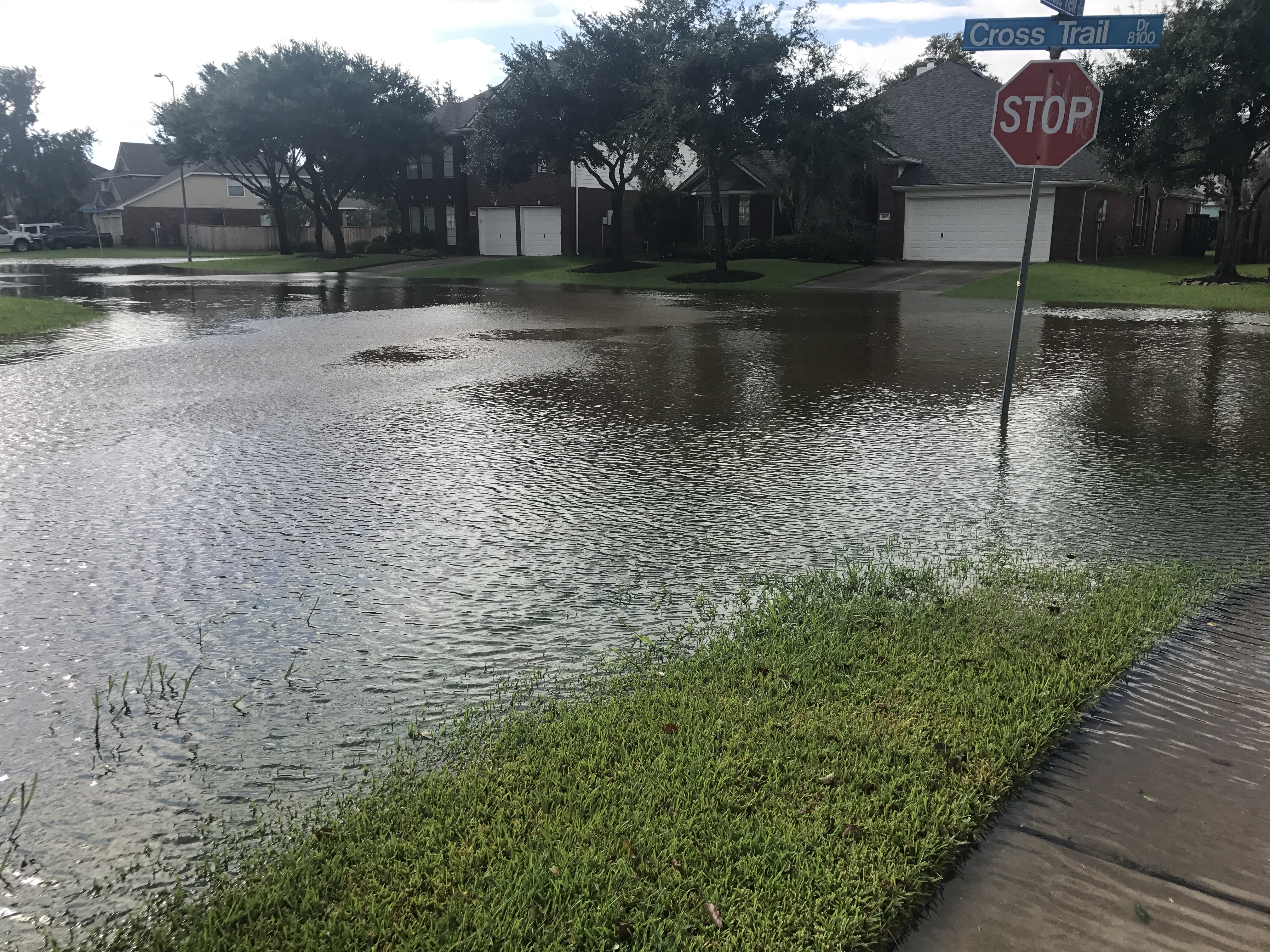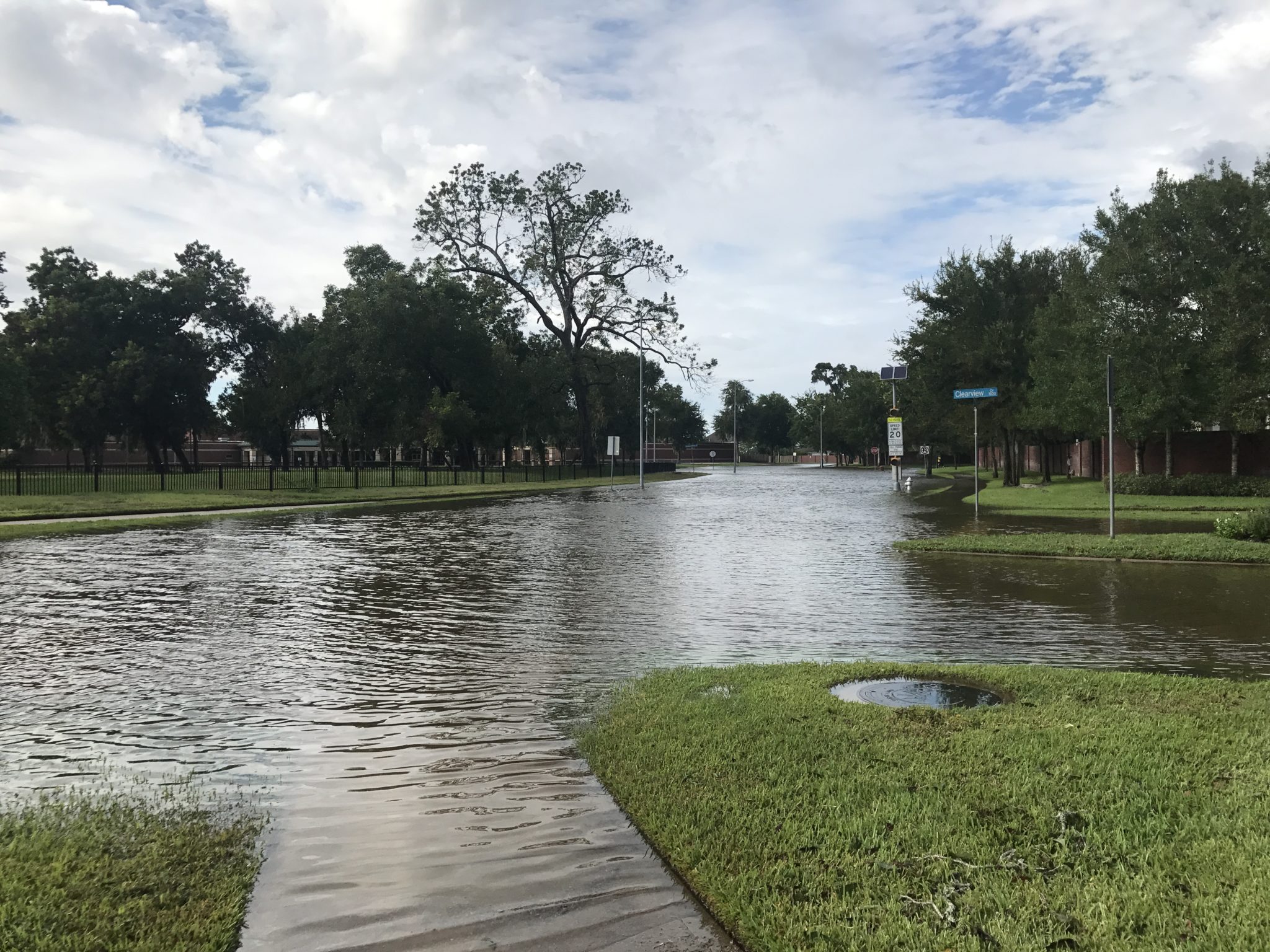 Houston in Ruins
I was able to return to work on Thursday but most people were not as fortunate. My husband worked from home and could not get to his office until the Tuesday after Labor Day due to flooded highways. I met with a few of my co-workers and learned that some of them had sheltered at my office during the evacuations.
We found a way to visit my parents on Saturday and we felt very grateful just to be together. We drove past many national guard trucks and saw military helicopters flying over the roadways. It was upsetting to see the devastation in my hometown of Spring. The strength of the water had knocked over brick walls at least 7 ft tall near the Cypress Creek area. My mom and I bought some supplies to a friend whose house had flooded. A part of us felt guilty that our houses were fine. How can so many people have just lost everything but we were not affected? We never imagined flooding of this magnitude and didn't think anything like this was possible.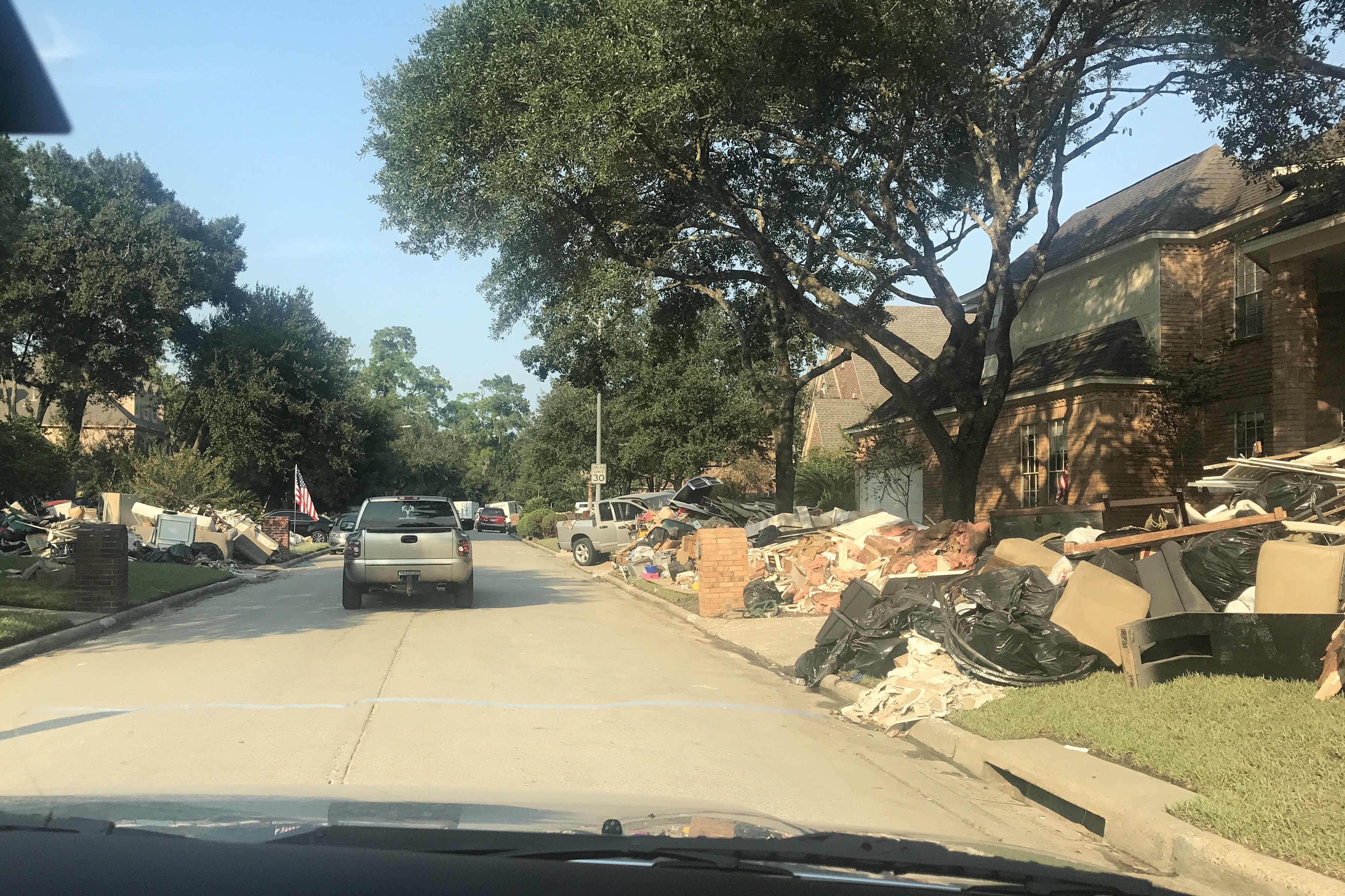 I wrote all of this because I don't want to forget the fear and worry my husband and I had even if it was brief. I want to be able to look back at this experience and remind myself that I have so many reasons to be thankful. I can't control every aspect of my life. I can only try to make the best possible decisions in all situations. It's been humbling to see so many churches and community groups working to help those who have suffered from flooding. It seems that everyone around me has demonstrated kindness and understanding during this strange time of cleaning and recovering. I pray that we can continue to work together to help those who have lost their homes and belongings. It will take a long time, but Houston will rebuild.
Comments
comments