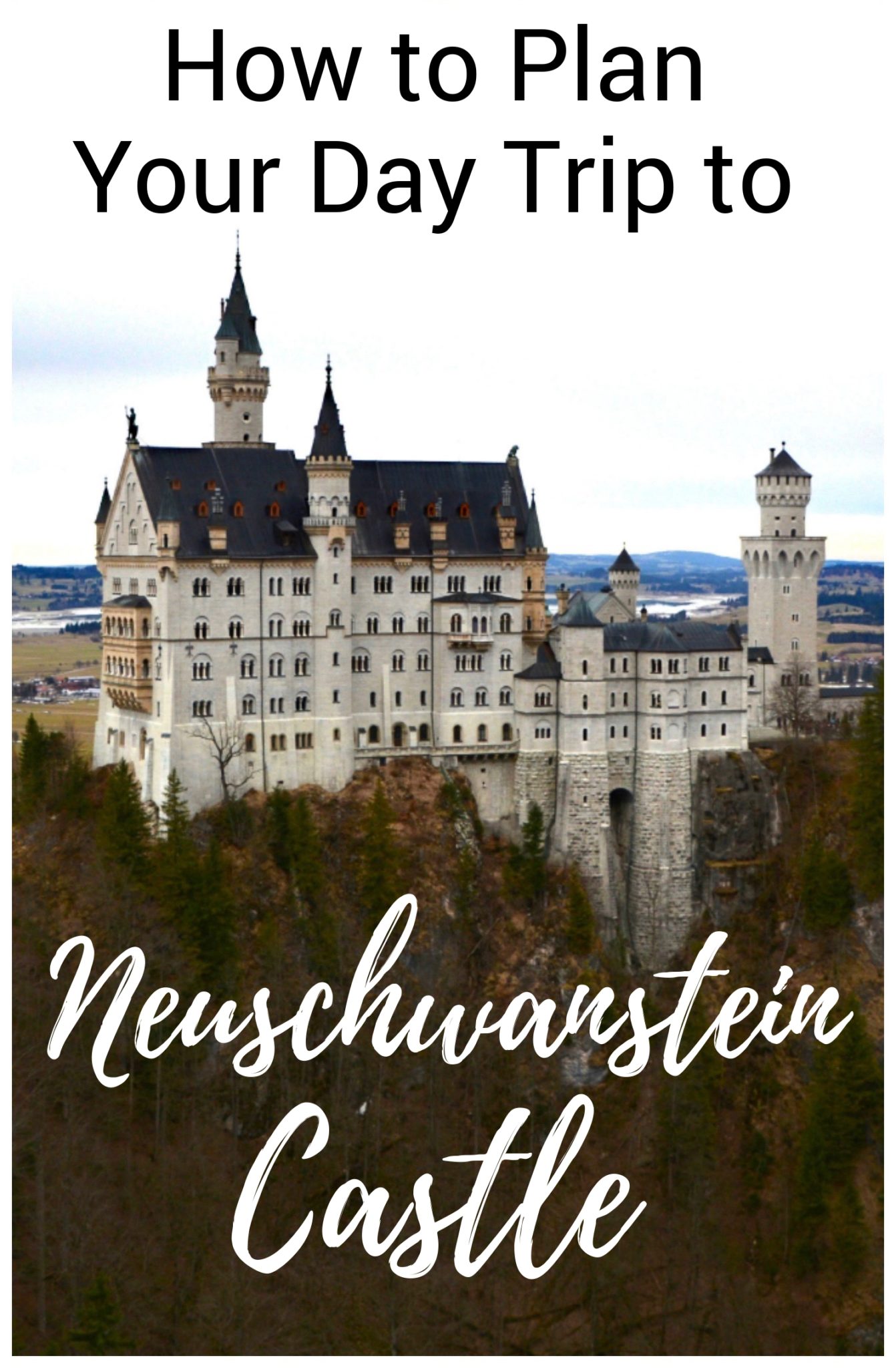 Constructed during the reign of King Ludwig II of Bavaria in the 1800s, Neuschwanstein Castle may not be the oldest castle but it's arguably one of the most beautiful. Located in Schwangau, Germany, the castle draws in over a million visitors each year. The castle's stunning architecture and grand presence high on a hill make it the perfect opportunity to get your castle pictures and gaze out at the mountain views.
I took a tour of both Neuschwanstein and Hohenschwangau Castles and had the most incredible time! There are mixed reviews when it comes to visitors experience of touring the castles mainly due to large crowds in the summer months and misunderstandings about the tour process. If you do a little bit of planning ahead and learn from my mistakes, you can have a wonderful day exploring these castles and learning about the history of the area. Continue reading to learn how to plan your day trip to Neuschwanstein Castle.
The map below details the location of the Füssen Train Station, Hohenschwangau Ticket Office, and the location of the Castles.

What and Where are Schwangau, Füssen, and Hohenschwangau:
Schwangau, translated to the land of the swans, is the district that houses Neuschwanstein and Hohenschwangau Castles
Füssen is where the train station is located
Hohenschwangau is a small village within the Schwangau district. This village is where the ticket office is located and also where Hohenschwangau Castle is. Neuschwanstein Castle is not considered part of the Hohenschwangau village, but it sits high on the nearby hill overlooking the area.
Planning Your Visit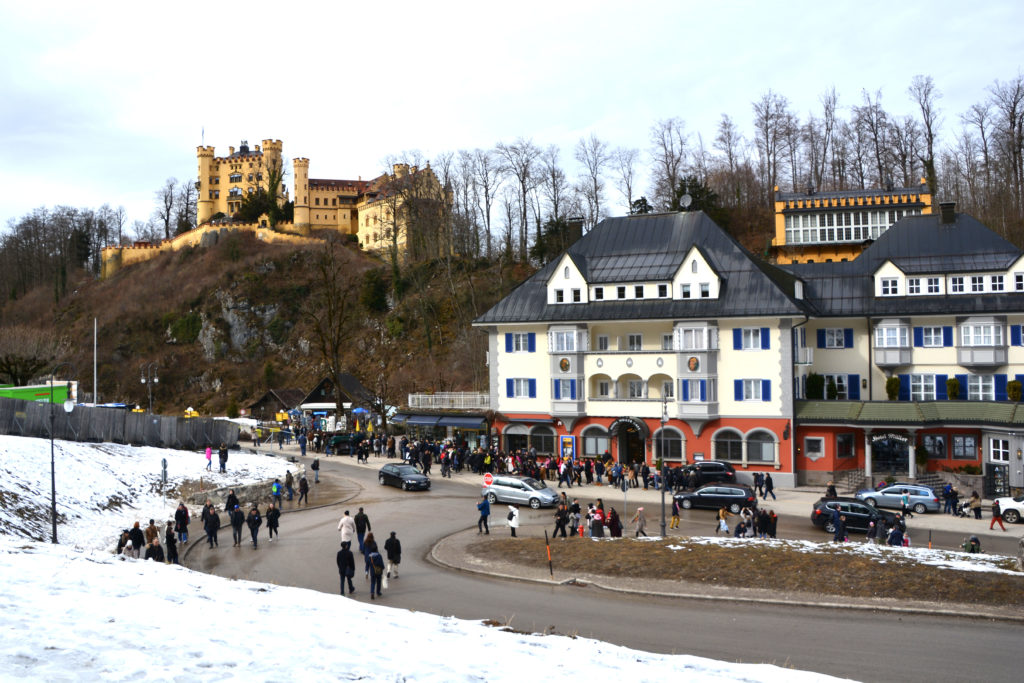 Step 1: Reserve Tickets Online
Neuschwanstein Castle and Hohenschwangau Castle can only be visited by going on a guided tour. Each tour lasts approximately 30 minutes and will begin at a designated time listed on your ticket. Tickets can be reserved in advance online or purchased at the Hohenschwangau ticket office. Even if you have a printed ticket reservation, you will still have to go to Hohenschwangau ticket office to get your actual tickets. Luckily, there's a separate line for people who have made reservations. To book your tickets, please go to the visitor website and scroll to the bottom of the web page to begin the reservation process. SPECIAL NOTE: The ticket center requires you to pick up reserved tickets at least 1 hour before your tour time. More details are available on Hohenschwangau.de.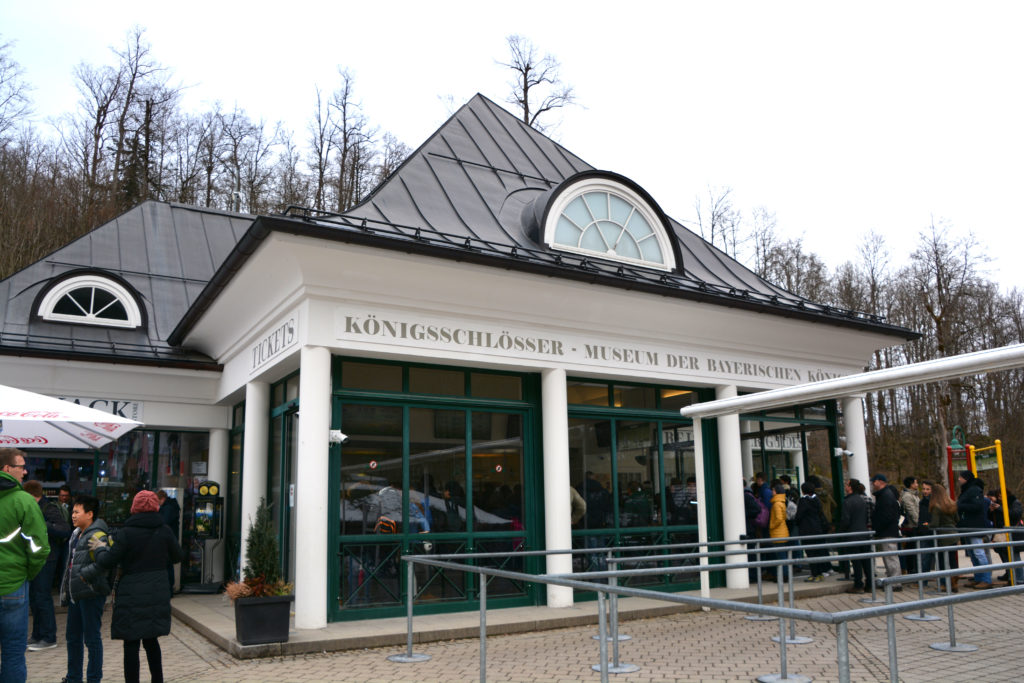 I recommend reserving your tickets online instead of waiting till you get to the ticket office. I initially booked the tickets about 3 weeks in advance, but you are able to reserve tickets up to 2 days before your planned visit. On the day of our visit to the castles, I was transported to the ticket office on a crowded bus with other castle-goers. Strangely, nobody had reserved tickets except for me and my husband. We went in a different line and passed everyone. I presented my passport along with my printout reservation confirmation and received my tickets. It was so simple.
Choosing Your Tickets:
You have several options when choosing your tickets. I chose the King's ticket so that I could see both castles. Some ticket options include the Museum of the Bavarian Kings which does not require a timed tour. You can click here to view the different types of tickets.
Step 2: Book Train Tickets 
I recommend that you reserve your Castle tickets online before purchasing train tickets. I didn't realize how far apart my tour times would be and I ended up having to change my train tickets. Visiting Neuschwanstein really is a full day trip! I If you are traveling from a nearby city like Munich, you will need to purchase train tickets from Munich HBF to Fussen. You can buy your train tickets from the Deutsche Bahn website. A train from Munich to Füssen is about 2 hours each way, making it an easy location to begin your day trip. Once you have your Castle reservation in hand you can better choose which trains to book. On the day of your visit, make sure to allow yourself some time to get to and from the train station.
Step 3: Learn about the Castle Busses
Once you get off the train, buses are waiting to take you to the Ticket office. The busses are route 73 and 78 and are labeled as Königschlösser (Royal Castles). The ride to the ticket office takes roughly 10 minutes. You don't need any special bus pass, just a couple euro and you can hop right on. If your train ticket is a regional day ticket for Bavaria (Bayernkarte), you can ride the bus free of charge. Once you exit the bus, just continue to walk up the hill to reach the ticket office. You will probably feel a little rushed as you walk to the ticket office with 100 other visitors all trying to get a decent spot in the ticket line. This is where it comes in handy to have reserved tickets.
IMPORTANT: I made a key error when I failed to go back to the bus stop to see what time buses pick up. I didn't have cell phone service so I couldn't try to look up the information online. After you grab your tickets, I suggest making a quick trip down the hill to check the bus schedule. Although it takes only 10 minutes for the bus to reach the train station, it will take some extra time to cram everyone on the bus. There's also a chance that not everyone will fit on the bus and you might get stuck having to wait for the next bus to arrive.I made my train back to Munich but only by seconds. I watched numerous people miss their train that evening. If you can take any information away with you from this post, please know that the castle busses can get jammed packed so allow yourself extra time to make the bus. If you have cell phone service, it may be better to get a taxi to take you back to the train station.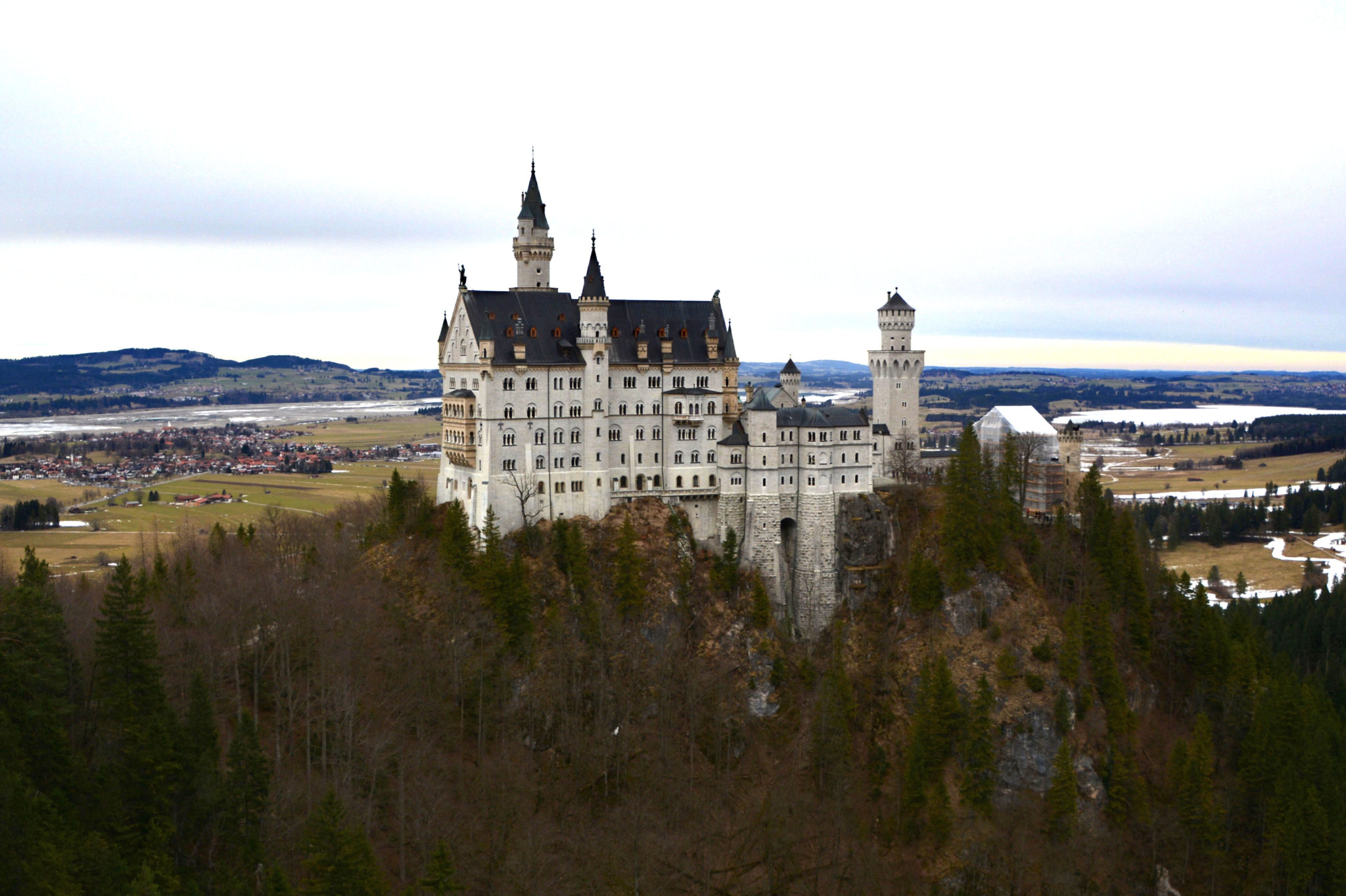 Other Recommendations
Wear Comfortable Shoes
A good pair of walking shoes will be a great benefit for a day at Neuschwanstein. Both castles are located on hills, with Neuschwanstein Castle being on the highest hill. You can take a horse-drawn carriage ride to Neuschwanstein Castle, but there can be a long line for the ride. It's easiest and fastest to just walk up the hill, so be prepared to exercise. I wear a fitness tracker and mine told me that I had walked about 27,000 total steps for the day.
Food Near Neuschwanstein
There are a couple concession stands near the ticket office that sell food like bratwurst and currywurst. I tried bratwurst and found it to be delicious! There's also a concession area near the top of the hill to Neuschwanstein. Some of the gift shops sell candy and little snacks. I recommend packing a few snacks and waters to keep you feeling energized through the day. I had no troubles carrying bottled water and food inside my backpack while touring the castles.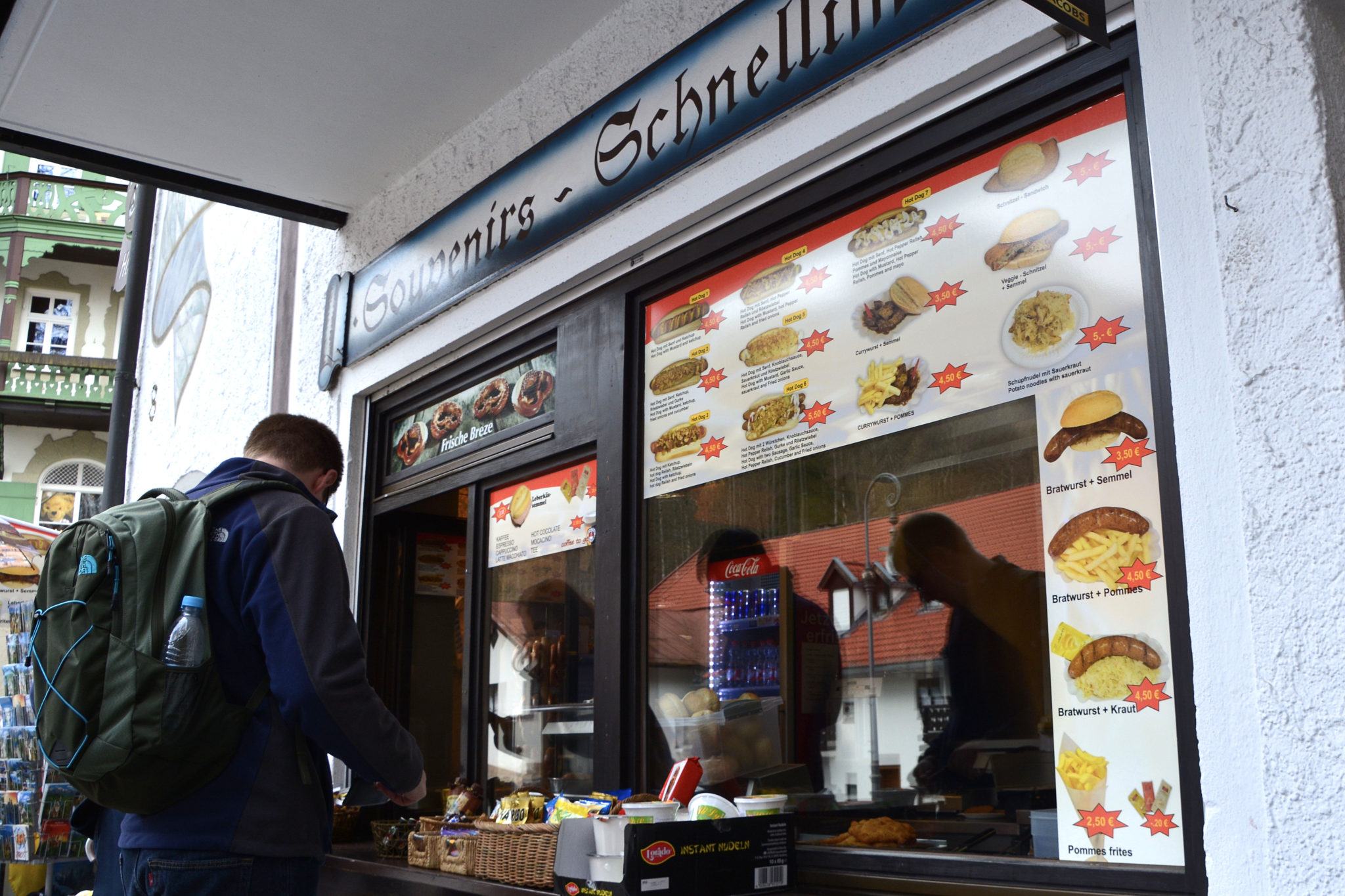 A Day Filled With Adventure
Visiting Neuschwanstein and Hohenschwangau Castles was so much fun! Since this post mainly contains information on how to schedule your visit, I've included another post detailing what our experience touring the castles was like. You can read about, A Day Touring Neuschwanstein and Hohenschwangau Castles here. Although there were several steps taken to plan the day trip, I never felt the need to use an outside tour company for our visit. I hope the information from this post can help you prepare for your trip to Neuschwanstein.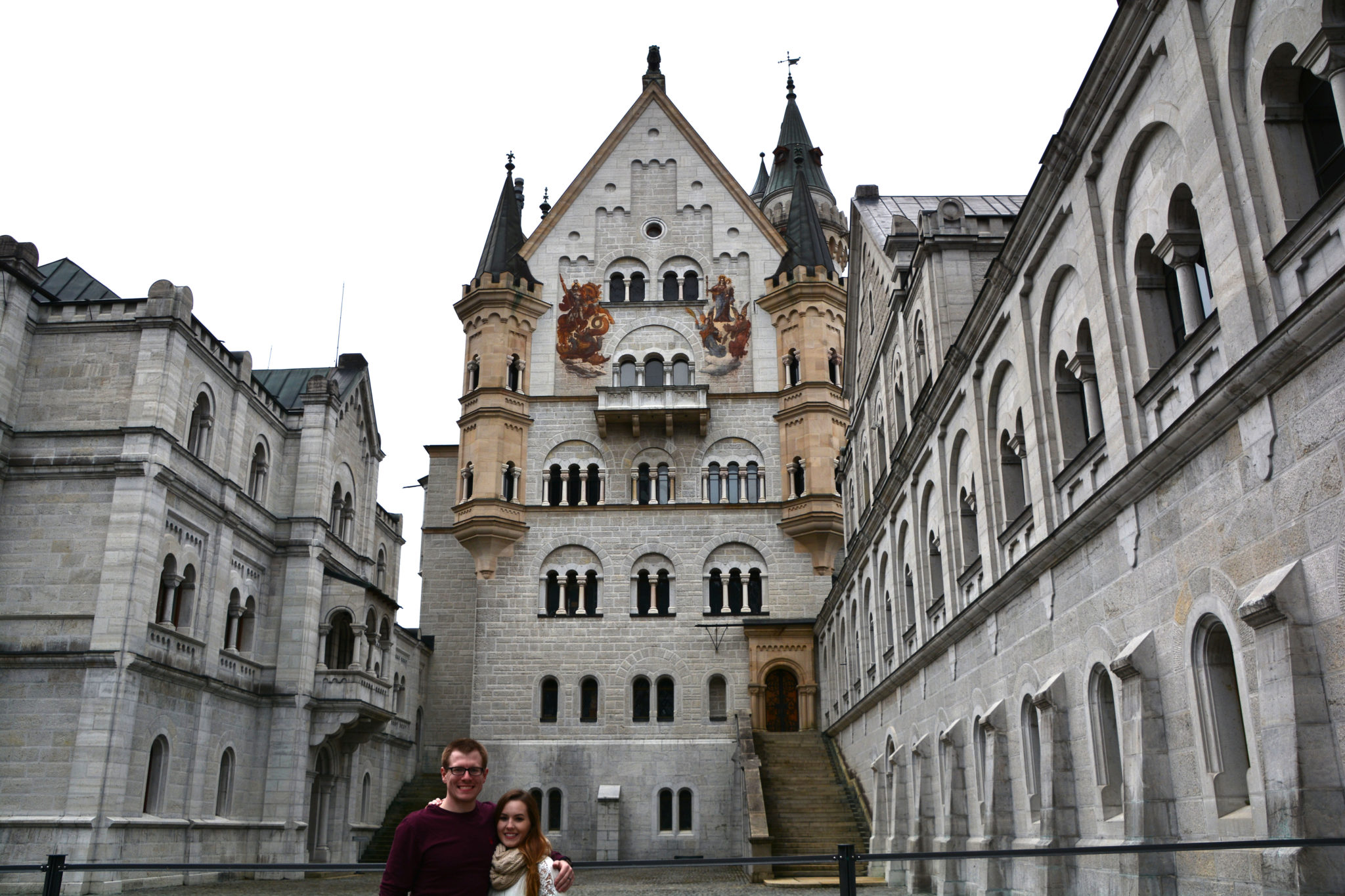 Comments
comments