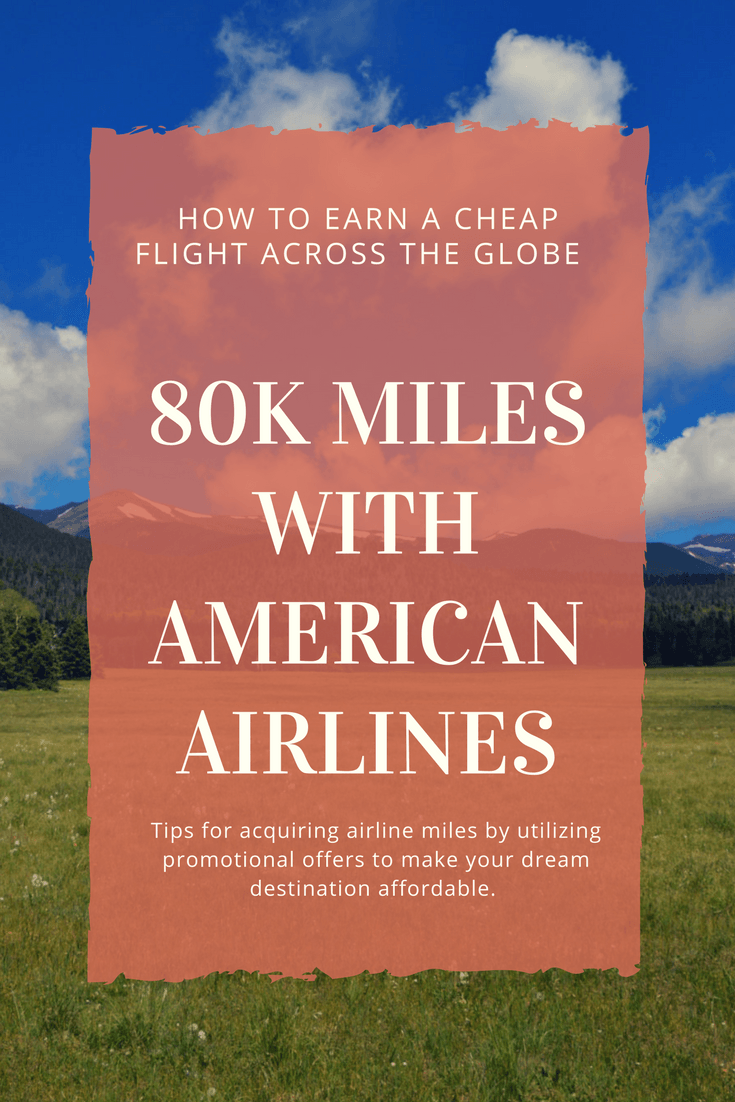 Over the past 4 months, I accumulated over 80,000 reward miles with American Airlines. I'm really excited to have earned these miles because 80K is enough for one round-trip ticket nearly everywhere that American flies! This also includes flights with Partner Airlines like British Airways and Qantas. Let me explain what I did to acquire these miles over a relatively short timeframe. There are so many travel options when you have miles to fly anywhere in the world!
A little background information…
Flight Award Chart: You can click here to see how many miles you will need for your next flight.
Why did I choose American Airlines? I chose it because I used up all my United Miles traveling to Europe earlier this year.
Ask Rewards Hobbyist Reed: I have to credit my husband, Reed, for helping me get these miles. He loves to research travel points and one of his favorite hobbies is planning our rewards earnings. Ever since the Chase 5/24 rule went into effect we've been a little more limited on what we can earn, but if you have any questions about rewards, Reed is here to help!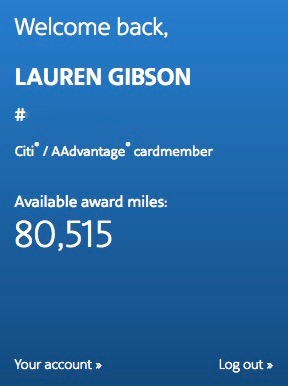 Path to Getting Miles
Step 1: Create an American Airlines AAdvantage Account
I went on the American Airlines main website and signed up for an AAdvantage account. This way, when I applied for a credit card, I already had an AAdvantage number to link to my new card. Whenever I made purchases on my credit card, my AAdvantage account would accumulate miles.
Step 2: Apply for an AAdvantage Credit Card
Here are a few credit card options that earn American Airlines miles:
I went with the Citi® / AAdvantage® Platinum Select® World Elite™ MasterCard®. I decided to apply for this particular Citi Card because of their promotional offer at the time. My offer was "Earn 60,000 American Airlines AAdvantage® bonus miles after spending $3,000 in purchases within the first 3 months of account opening". This offering changes throughout the year, so it's best to apply when the offer is high (60,000 or more). I applied for the card at the end of May and got approved and received my card early June.
Step 3: Earn Bulk miles for meeting minimum spending requirement in the first 3 months.
I needed to spend $3,000 on the card within the first 3 months of opening it, so my husband and I used my card for our regular expenses. I earned 3,477 miles just with our purchases from June-August. The 60,000 reward miles got credited to my account in early August.
Total Miles So Far: 63,477
Step 4: Take advantage of Promotional Offers
There are several ways that you can earn reward miles through purchases.
Hotels: If you have an upcoming trip, you can get miles for booking AAdvantage hotels. You will need to enter your AAdvantage number when booking.
E-Shopping: I typically make online purchases through cashback websites like Ebates, but you can earn miles for your purchases through the AAdvantage eShopping Mall. I bought a few things through the e-Shopping mall and added 585 miles to my account. I also took advantage of one AAdvantage's online shopping bonus offers and got a 400-mile bonus for one of my purchases. FYI, Pottery Barn is partnered with AAdvantage shopping.
Total Miles So Far: 64,462
Dining: To earn extra miles through dining, you will need to go to the AAdvantage Dining website and create an account. Once your account has been set up, you can browse restaurants near you that are partnered with the program. To earn dining miles, you will need to decide where you're going to eat ahead of your visit and link your credit card to that restaurant in your dining account. In some instances, you will need to leave a review of the restaurant on the AAdvantage dining website within 30 days to receive reward miles.
Special Promotions: I had a great offering of up to 10,000 reward miles for completing 4 offers by June 15th. I hadn't had my card for long, but if I could complete all the requirements, I would be able to get all the miles I need for an international flight from the United States to Asia. These special promotions change through the year, so be sure to check your email for new ones and carefully pay attention to their deadlines. Here's the promotion that was happening when I first started using my AAdvantage card.The flowers and e-shopping parts of the promo were fairly easy to complete. 1-800 Flowers gave 20 miles per dollar spent and rewarded me with almost 1,000 miles. The dining portion required me to leave a review of the restaurant on the AA dining website. The dining offer gave 1,000 bonus upon the first instance of using AA dining.  The Vinesse wine delivery offering was the only one where I had difficulty receiving my reward miles. I guess somewhere in the fine print, Vinesse had decided that they would only credit reward miles to one person per household. Sadly, only one of us could receive credit even though we both participated in the program. I received the miles (3,000 from Vinesse) and even though my husband didn't get credited, he was able to get enough miles through hotel stays while traveling for work. After completing all 4 offers by the June 15th deadline, I was credited 10,000 bonus miles, which appeared in my account mid-September.
Total Miles so Far: 79,462
Final Miles
After completing all of these steps, I was very close to having 80,000 miles. My final miles came from my regular credit card spending and one flight from DEN to HOU, which brought me to a total of 80,515 miles. These are all the miles I need for a future flight! After reaching my goal amount of miles, I switched back to my Capital One Visa that allows me to earn points that I can reimburse for regular travel expenses like hotels and transportation.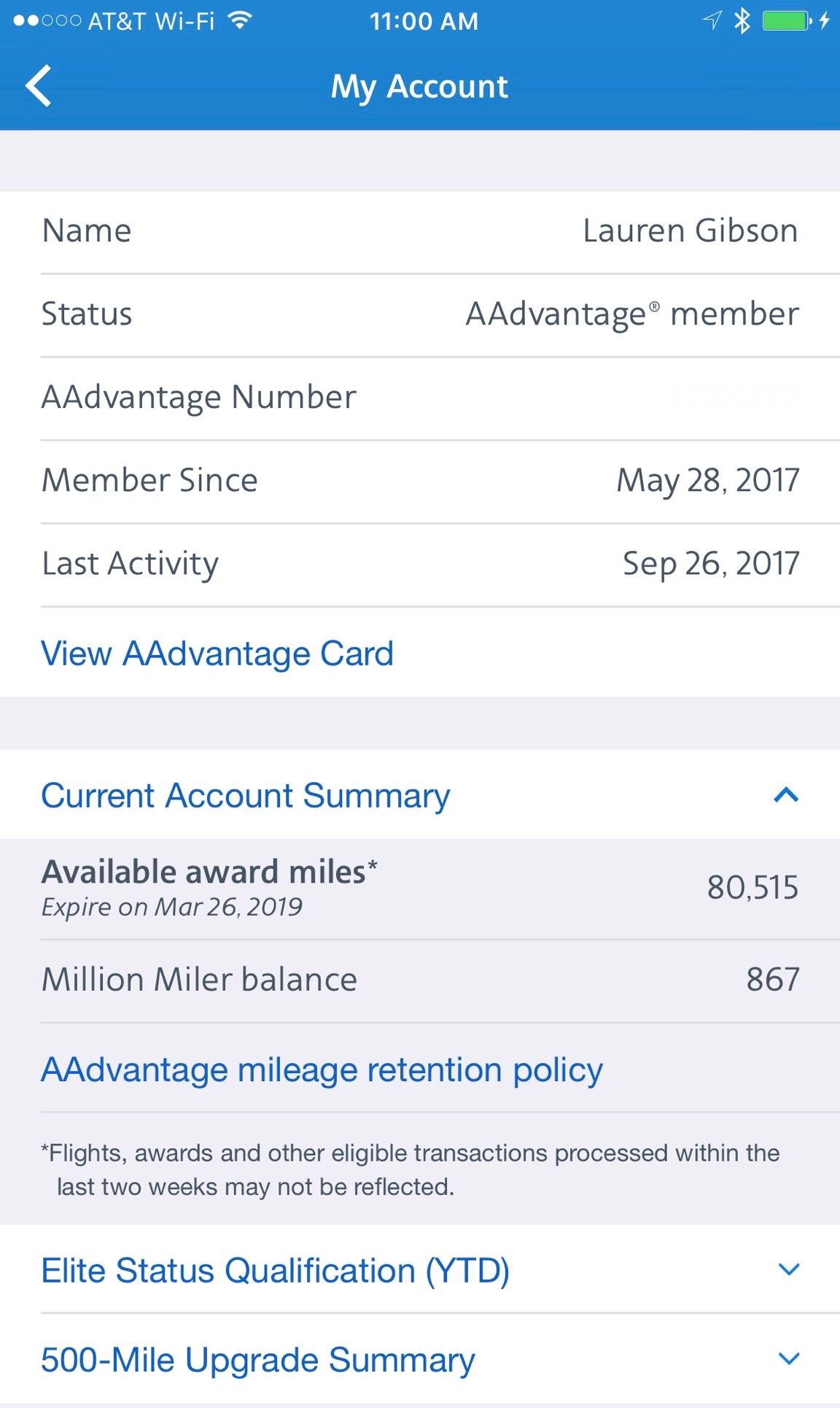 Celebrating New Travel Rewards
I may have spent an extra $42 on a few bottles of wine that I didn't really need, but some additional small expenses were worth my time and effort! I can now avoid spending $1,700+ on a flight with multiple layovers and get a low-cost, easy flight to my destination. I no longer have to worry about saving for air travel, and can dedicate more of my time to planning a meaningful trip. This is great news for me because I have so many ideas and a whole lot of places to research!
You Can Do This 
Many people who work in corporate jobs and travel often may already have miles and hotel rewards, but I earned these miles without any type of corporate benefits. If you don't have travel perks from your job, there are still ways to reach your goal. This type of travel rewards planning is very beneficial for individuals and couples who are budget-conscious and are interested in saving their money while still going on rewarding vacations. My husband and I are in a position where we could save up for a long while and spend it all on an incredible trip, but why spend so much money on something when we can just get it for free? If these types of rewards are readily available, why not take advantage of them?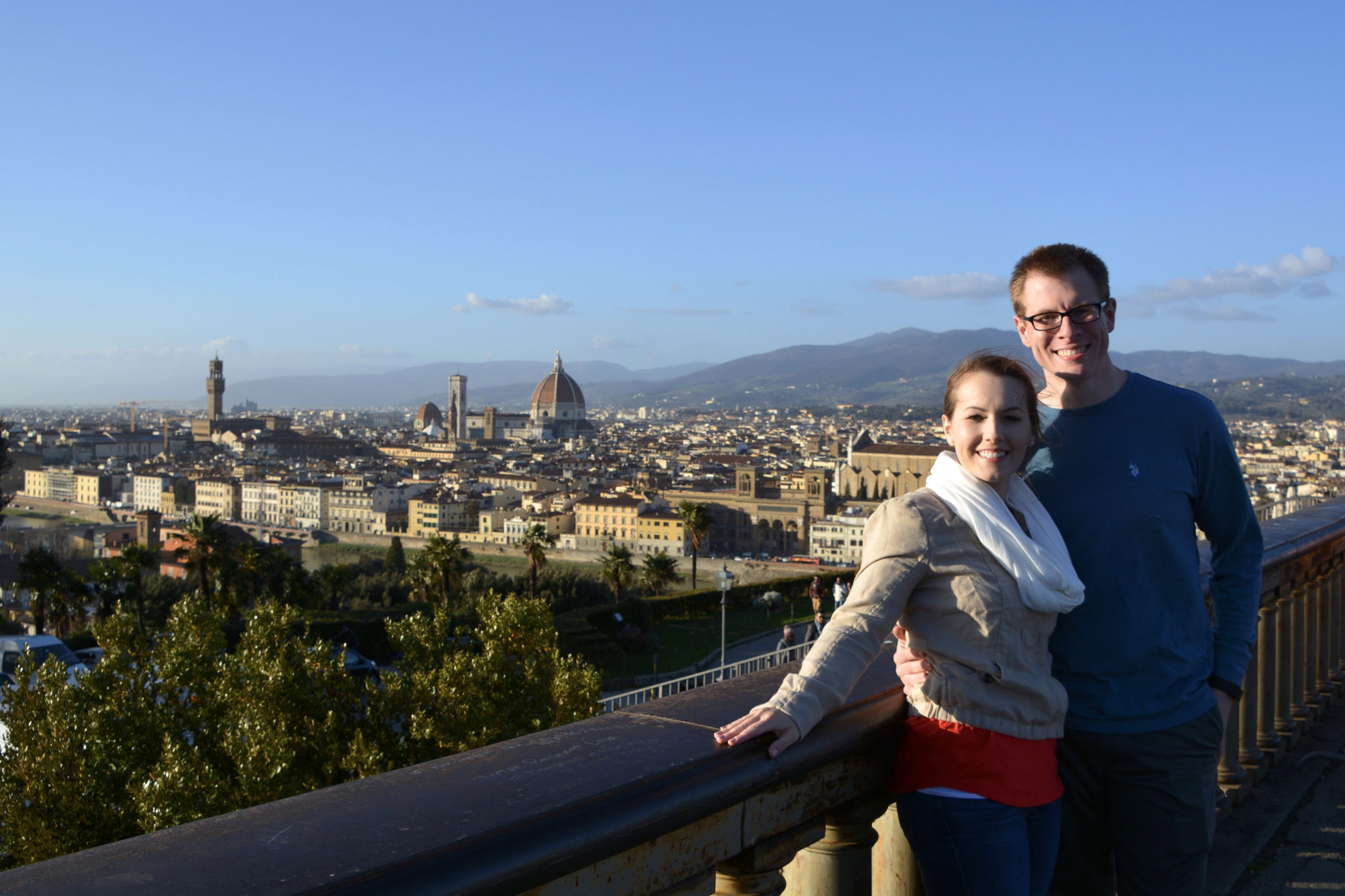 Please keep in touch to learn about our trials, successes, and barriers we encounter while earning travel rewards. My goal is to provide you with step-by-step information to explain how you can save major money and bring your travel aspirations to life.
Thanks for reading,
Lauren
Comments
comments