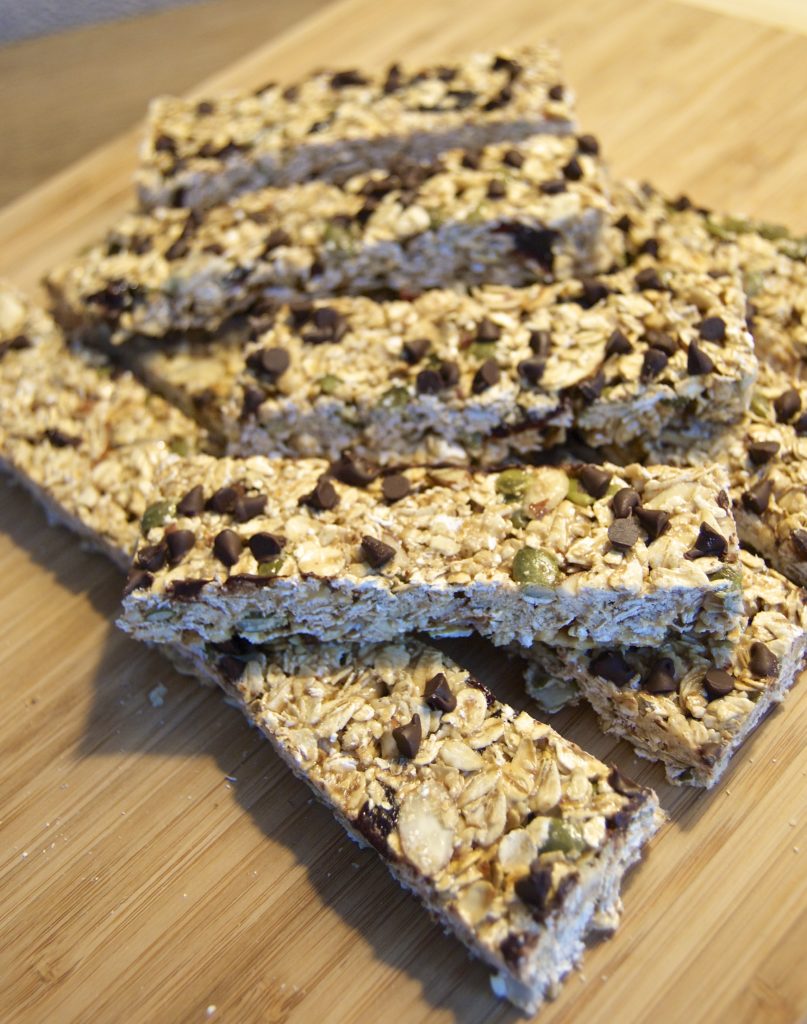 Are you looking for an easy-to-make snack that you can take on the go? These granola bars have just the right amount of sweet and salty to give you a boost and keep you feeling full. This recipe has a simple base of ingredients and can easily be customized to create a snack you love.
After years spent paying too much for store bought snack food, I decided to make my own granola bars. I tried a few different recipes; some using dates and some with sugar, but couldn't find anything that worked for me. Nothing I made mimicked the bars that I would buy in the grocery store. I started from scratch to create a new recipe and used a simple ingredient to hold the bars together.
What is this new ingredient? Surprise, it's marshmallows! Melted marshmallows are often used in cereal bars and they work great for granola bars too. I have used this recipe too many times to count and the bars end up being eaten so quickly.
The best part about this recipe is that you can change the nut and fruit combination to whatever you like. I made this batch (pictured below) with dried blueberries and strawberries, and they were delicious! Not a huge fan of almonds? Add some crushed peanuts instead. The possibilities are endless!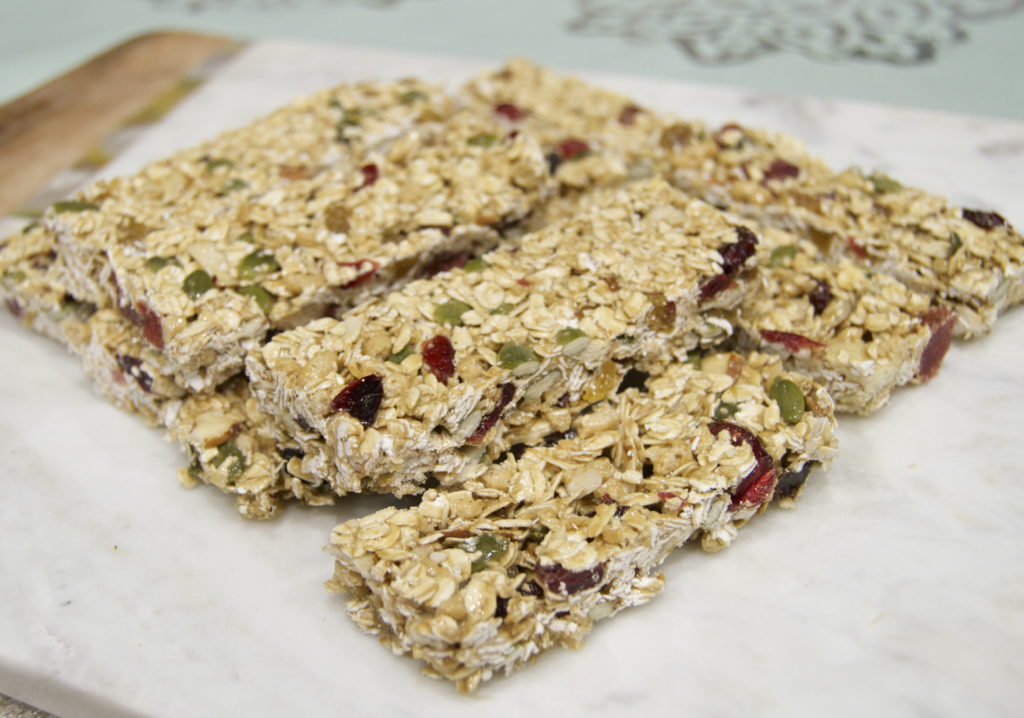 Ingredients: (Makes approximately 10-12 bars)
3 cups old fashioned oats (toasted for 5-8 min)
1 cup Honey Nut Cheerios (broken up into smaller pieces)
1/2 cup sliced almonds
3/4 cup dried cherries (or dried fruit of your choice)
1/3 cup shelled pumpkin seeds
20 Jet Puffed marshmallows or 2.5 cups mini marshmallows
1/3 cup creamy peanut butter
1/3 cup honey
1/2 teaspoon vanilla extract
1/3 teaspoon salt
(optional) mini chocolate chips, yogurt chips, (your choice of topping)
Instructions:
For this recipe, I use a 12″ x 12″ sheet pan, but a slightly smaller or larger size pan will work fine. Spray cooking spray on the bottom and edges of the pan and set aside.
Preheat oven to 350 degrees F. Spread oats on a baking sheet and bake for 5-8 minutes. This will give the oats a good toasted flavor
In a large bowl, add 1 cup of crushed Honey Nut Cheerios. You can use a fork to break them apart or put them in a food processor. The Cheerios do not need to be completely powder but break them up so they are no longer O-shape. You will have some powdery crumbs and make sure to use them in the mixture as well.
In the bowl containing the crushed Cheerios, add remaining dry ingredients. This includes toasted oats, nuts, seeds, and dried fruit. Mix all the contents till they are well blended.
Now it's time to make the binding mixture. Combine marshmallows, honey, and peanut butter in a pot and put on medium heat. The mixture will be lumpy for a while but continue to stir. When the mix starts to smooth out, add in 1/2 tsp vanilla extract and 1/3 tsp salt. Continue to stir until mix is completely smooth.
Pour the blended marshmallow mixture into the bowl containing dry ingredients. Stir everything together to get an even coating. The mix will start to firm up so you will need to work quickly. When everything has been combined, pour the mix onto your sheet pan.
Take a piece of wax paper and place over the mixture and use a rolling pin to lightly flatten out the mix onto the baking sheet. Your hands or a spatula can also work to help flatten the granola. This stuff easily sticks together, so there is no need to firmly press down, just flatten to desired thickness.
Remove wax paper and add mini chocolate chips (optional) or just peel off the wax paper and place in the refrigerator for 30 minutes. Once chilled, remove and slice the granola bars.
Here's what the granola will look like before it has been sliced. I can never seem to get mine into perfect rectangles, but I do end up with some tasty odd-shaped granola bars. Enjoy!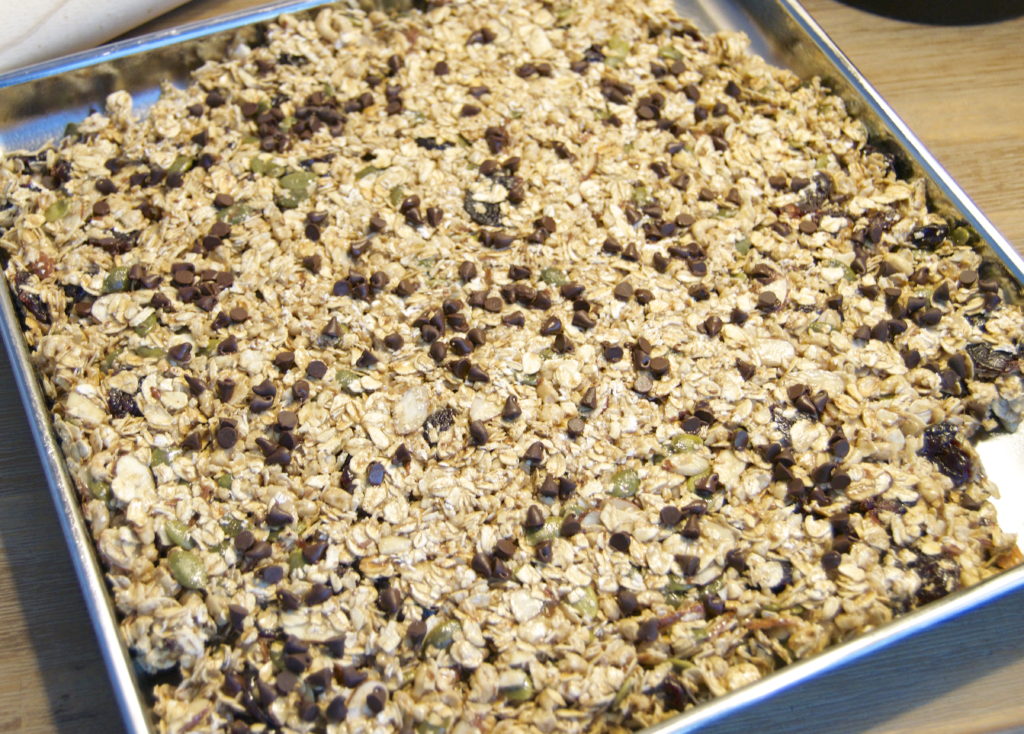 If this recipe worked well for you, please share it!

Comments
comments