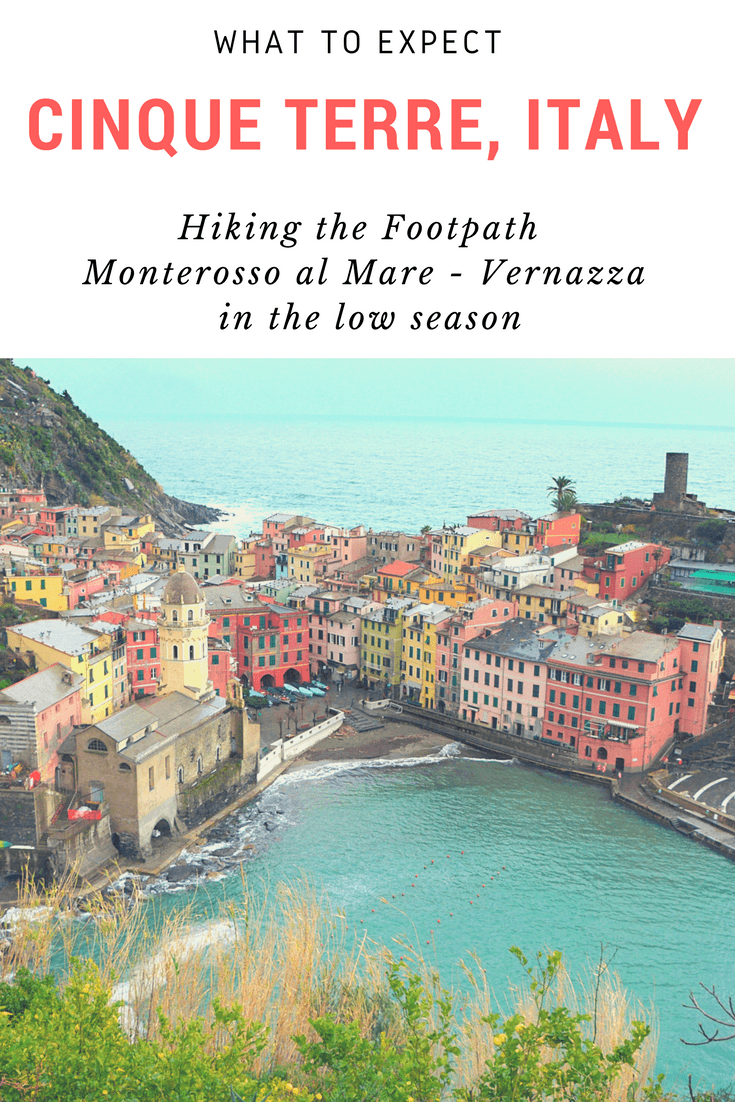 I spent a rainy day in March hiking in Cinque Terre, Italy and felt like I was walking through an ancient fairytale. The weather wasn't the best, but it made our hike interesting and more beautiful in a way. Continue reading to learn more about the Footpath from Monterosso al Mare to Vernazza and what you can expect if you visit during the low season.
Please click here to view how you can purchase a Cinque Terre Trekking Card. This will provide you with access to the trails during the high season. Cinque Terre is busiest during the summer months.
Start of the Day: Train from Pisa to Cinque Terre
My husband and I stayed the night in Pisa solely to pay a visit to the Leaning Tower of Pisa. We woke early in the morning and took a train to the Cinque Terre region, and continued to the northernmost town, Monterosso al Mare.The train ride from Pisa Centrale to Monterosso took approximately 1 hour and 40 minutes and cost us about €12.50 each.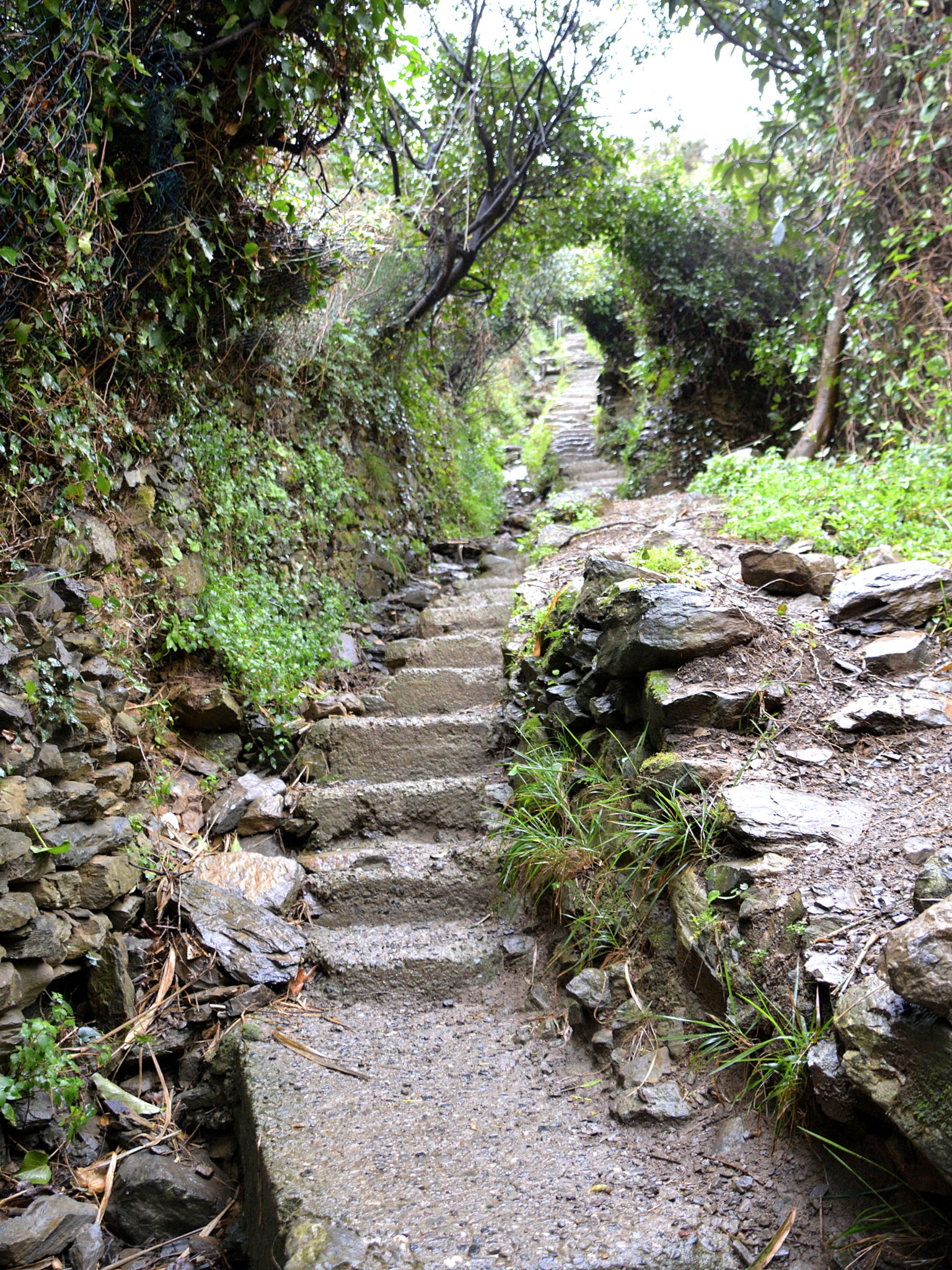 Locating the Footpath Monterosso – Vernazza
When we arrived in Monterosso, it was raining and chilly. Being a weekday in early March, many restaurants and shops that would normally be open in the summertime were closed. We were unsure of the location of the trail, so we went to the Monterosso Tourist Information Office to get directions. You can click here to see a list of the Tourist Offices in Cinque Terre and their addresses.
The staff at the Tourist Information Office informed us that they weren't selling passes because of low season and that we could go ahead and use the trail for free.They gave us directions to locate the start of the footpath from Monterosso al Mare to Vernazza and provided us with a map. You can click here to view the normal fees for accessing the trails. Please keep in mind that the trails in Cinque Terre are sometimes closed due to safety issues like rockslides. You can check the Cinque Terre National Park website for the most updated information on trail conditions.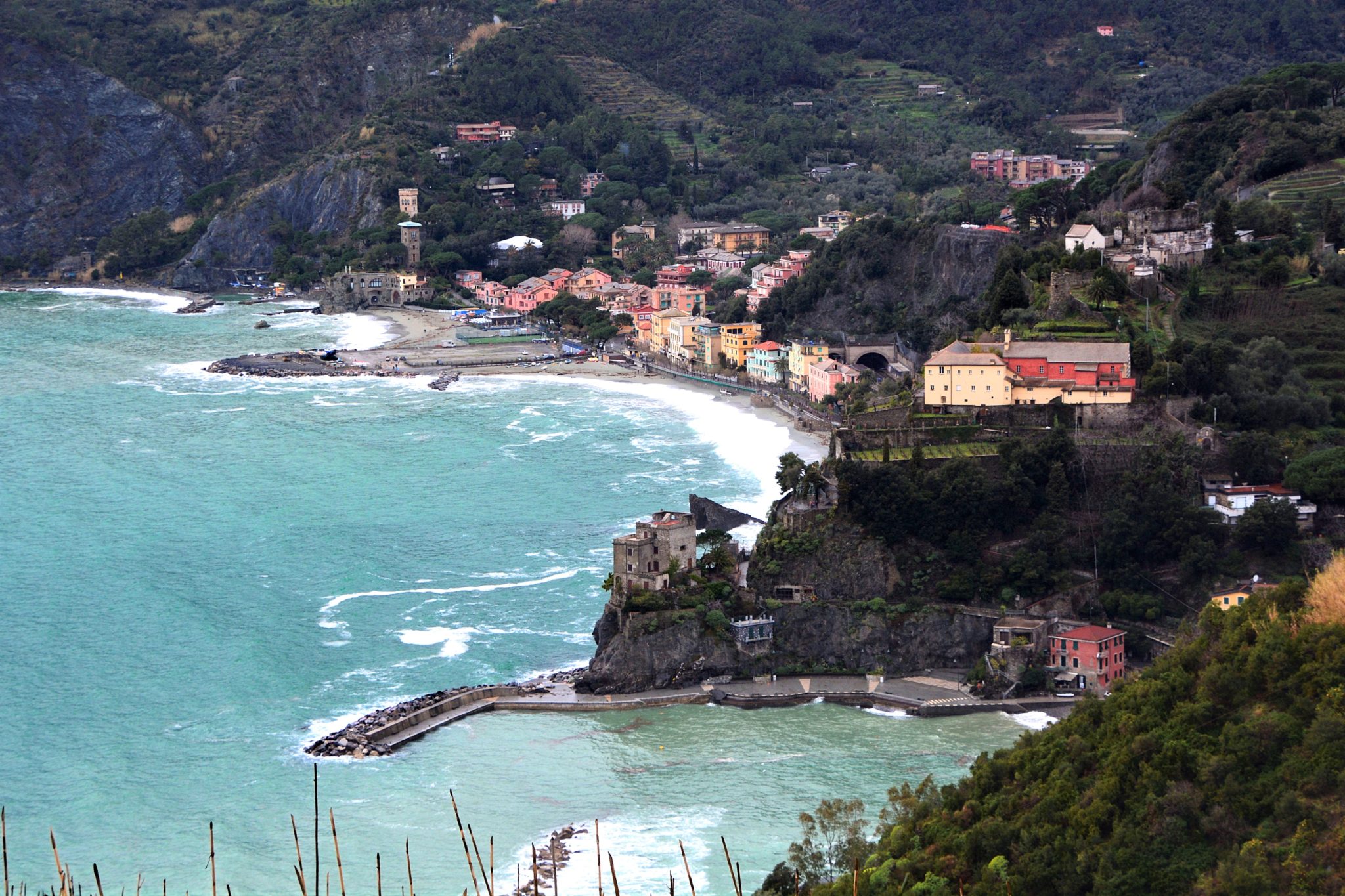 The Hike
The rain ceased long enough for us to use the path. Be prepared for many stairs as you make your way through the beautiful countryside. We listened to the crashing of waves and flow of little streams that had formed from the rain. We were walking past people's backyards that had little doors to access them from the trail. The trek felt like we were traveling through an enchanted coastal forest, full of lemon trees and the sweet scent of springtime flowers.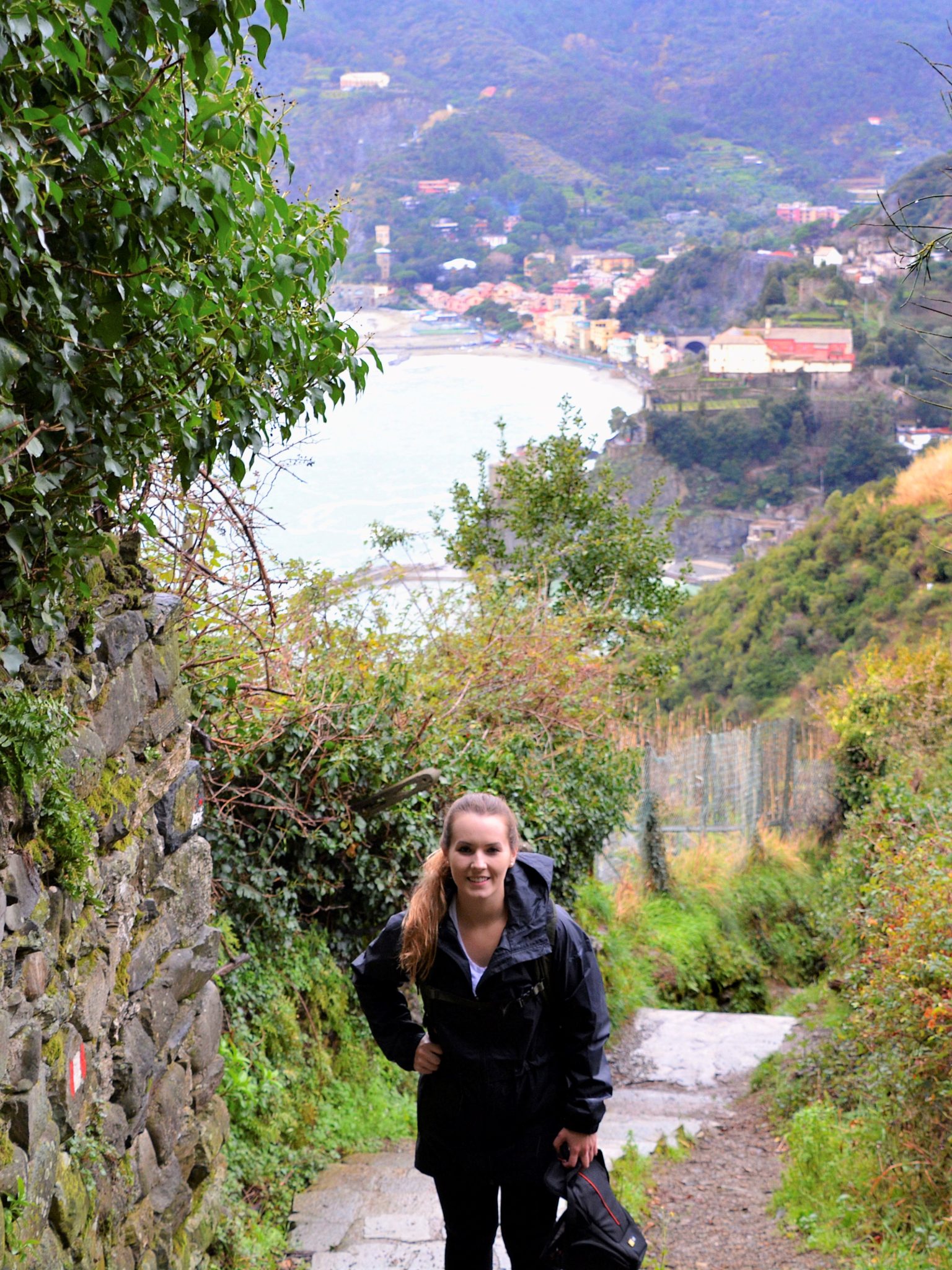 The Footpath Monterosso – Vernazza is approximately 2.2 miles long and generally takes about an hour and a half to complete. Wanting to capture some nice photos, we took our time and completed the path in almost 3 hours. We spent a lot of time taking in the scenery, setting up a tripod, and just hanging out near some of the nice overlook areas. One couple passed us and we also saw a person walking their dog, but we were by ourselves for almost the entire trek.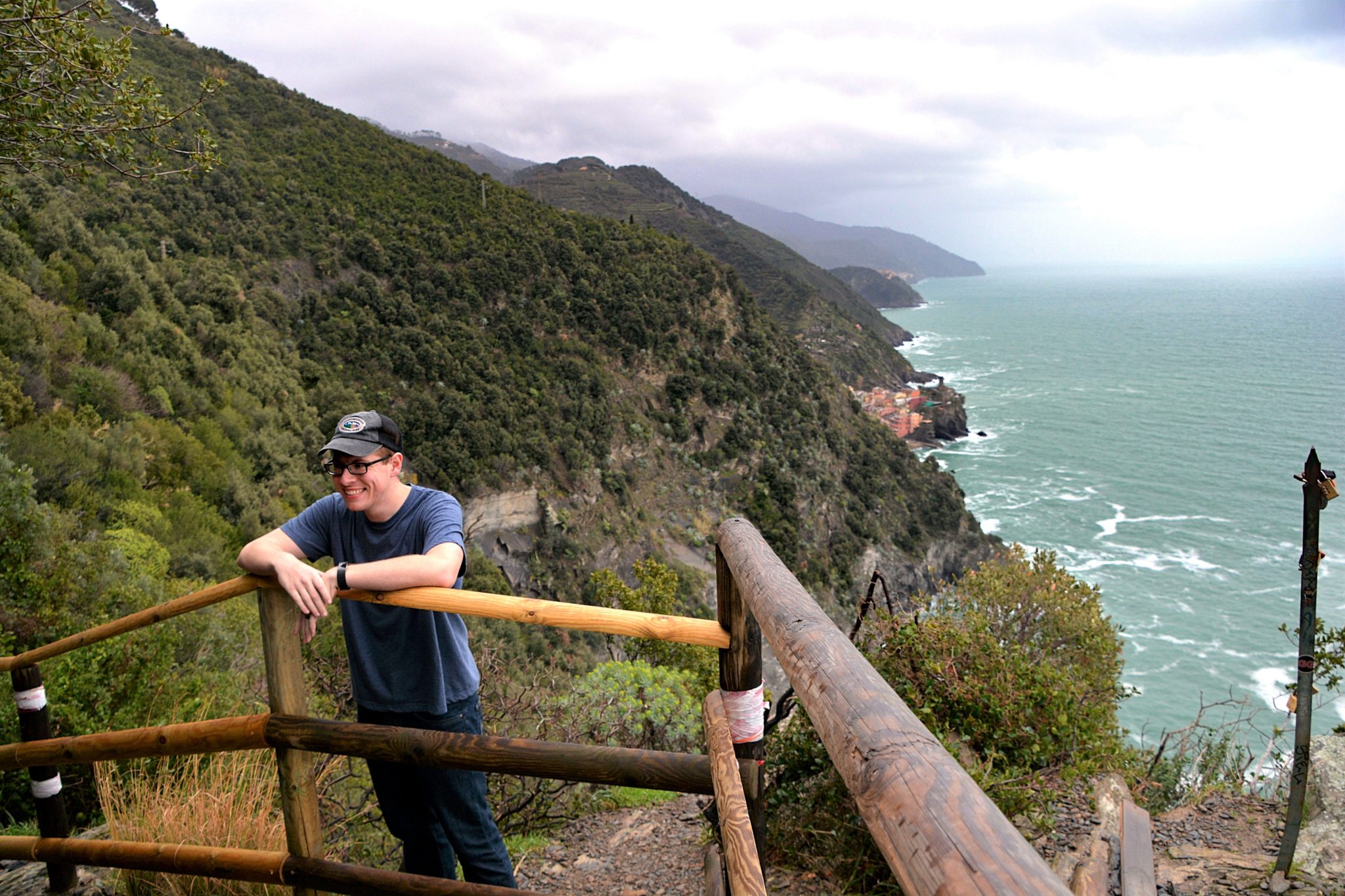 Extra Details about the Footpath Monterosso-Vernazza
The Terrain: There are lots of stairs and path gets really thin in many places. I refer to them as stairs, but they are really like a bunch of uneven uphill and downhill steps. We found that there were railings in some of the steep drop-off areas. If it has recently rained, the path can get slippery. You will want to have comfortable and water-resistant hiking shoes. Although it's not a long hike, it's still a workout and packing water is necessary. If hiking when it's warm out, prepare to get hot and if hiking when it's cold out, wear layers.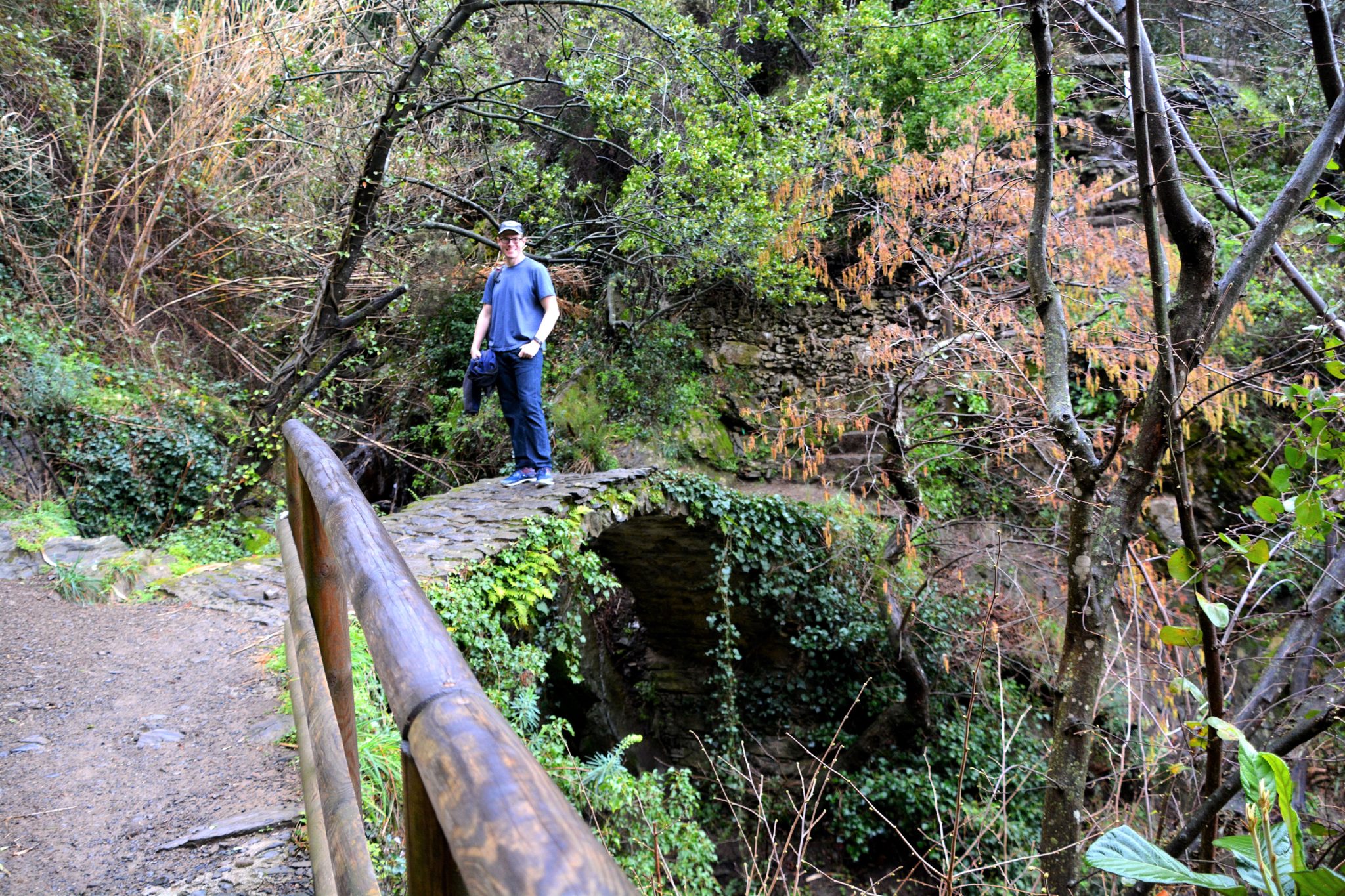 Cat Village: Another interesting detail about the footpath is that there's a cat village on the trail. I hadn't heard about it prior to visiting, and thought it was pretty neat! The Cinque Terre Cats have little cat houses and are cared for by locals and tourists who make their way along the trail. You can take a quick break from hiking to pet and feed the cats on your journey to Vernazza.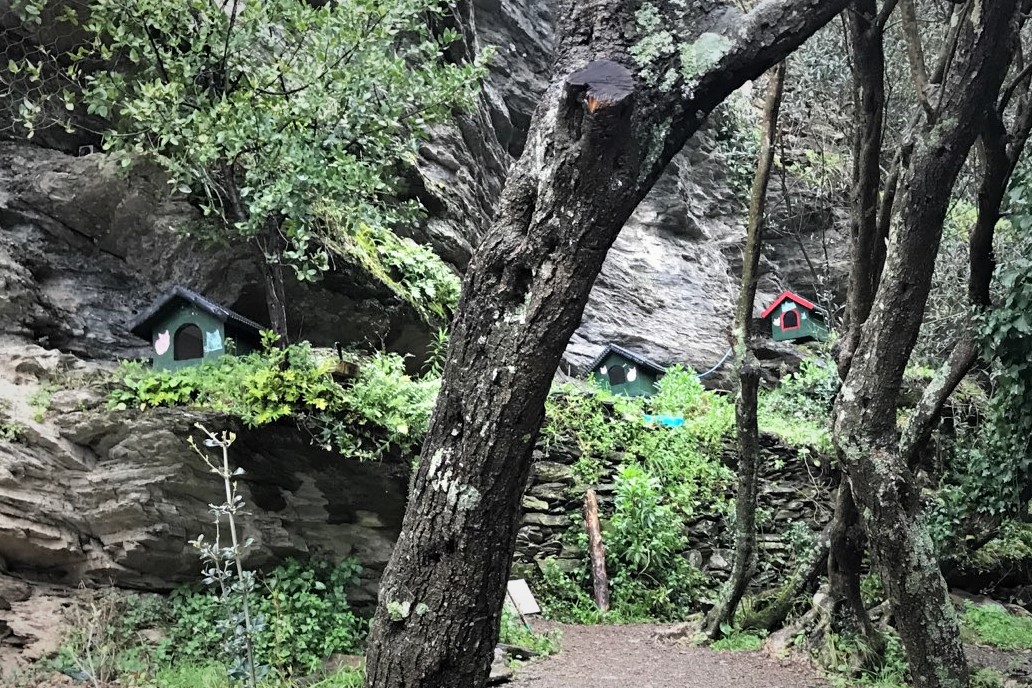 Scenic Lookout: My favorite part of the hike was when it started to look like it might rain again. We weren't sure how close we were to Vernazza and started to get worried that we would be stuck in a storm. As we turned a corner, the quaint and colorful village of Vernazza came into view! We captured our final pictures and made a quick descent down into the town. Please know that you can also begin this hike in Vernazza and end it in Monterosso, but having this pretty view at the end of the hike was very cool!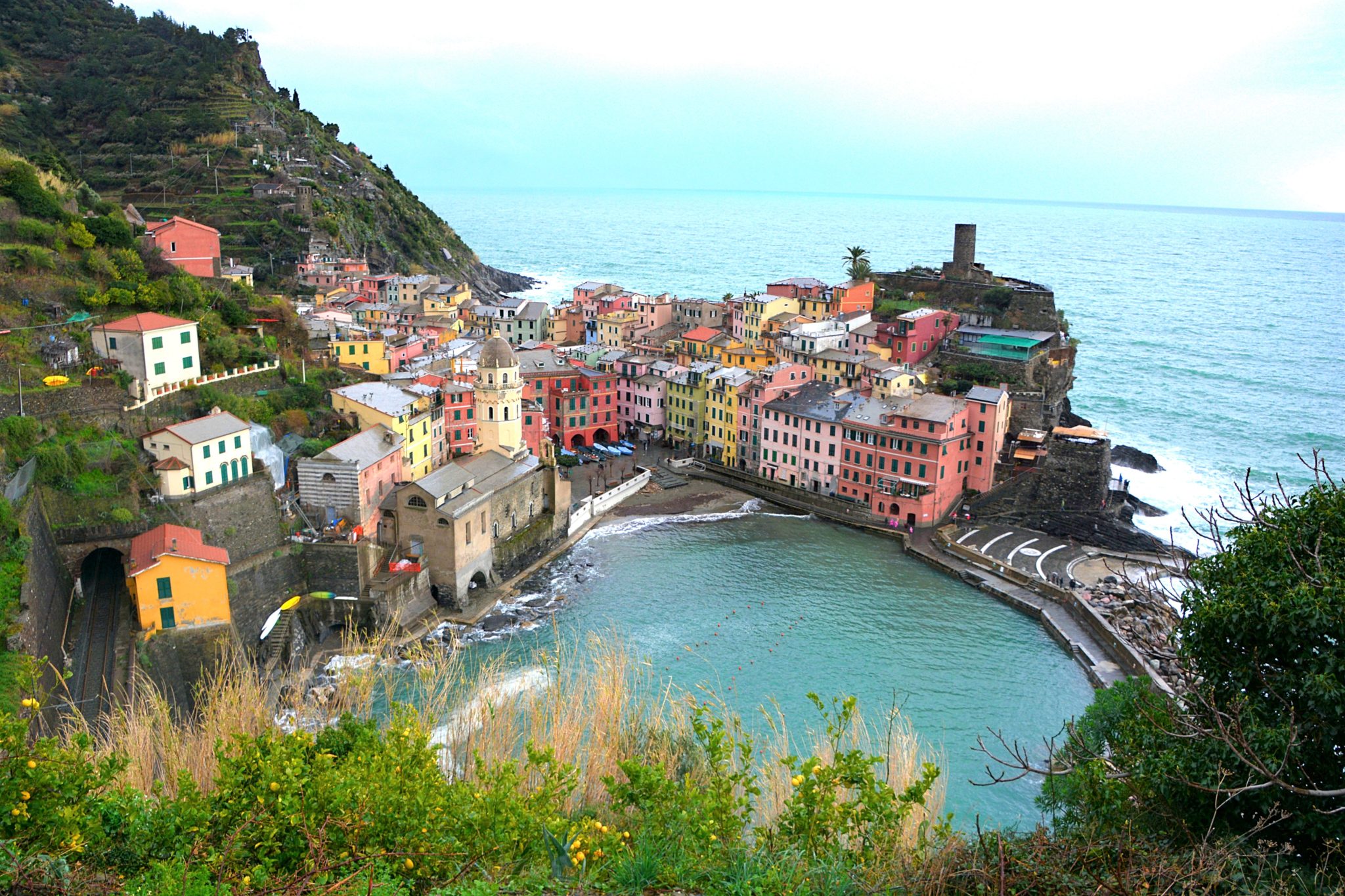 Train Back to Pisa (Learn from Our Mistake!)
Once we got into Vernazza, we walked around the town and got some pizza for dinner at what appeared to be the only shop open. We then went to the train station to get our tickets back to Pisa. We hadn't put any thought into the times that tickets would be available and just figured that trains would be running to and from Pisa through the late evening. When we did get our tickets, it looked like we got them on the last train that was going to Pisa that evening! If you are taking the train into Cinque Terre, I recommend finding out when the final train will run so that you can get back to your hotel. I'm not sure why we never thought about this considering we were visiting during the low season!
Cinque Terre in the Low Season
I hope that you are reading this because you're planning a trip to Cinque Terre. Visiting in the low season gave us a lot of alone time to admire the landscape. Our visit felt like a breath of fresh air compared to the crowded city of Rome. I imagine that if we had gone on a weekend, there would have been more restaurants and stores open, but our main purpose of visiting was for a good hike.
If you plan to take this trail, please know that you will work up a sweat so you may want to amp up your home workouts to help prepare. I would like to eventually go back to Cinque Terre and hike all the available trails between the towns. If you love hiking and nature, definitely add the Footpath from Monterosso Al Mare – Vernazza to your travel plans. Cinque Terre is tiny and beautiful and getting to appreciate it during a less busy was an amazing and memorable experience.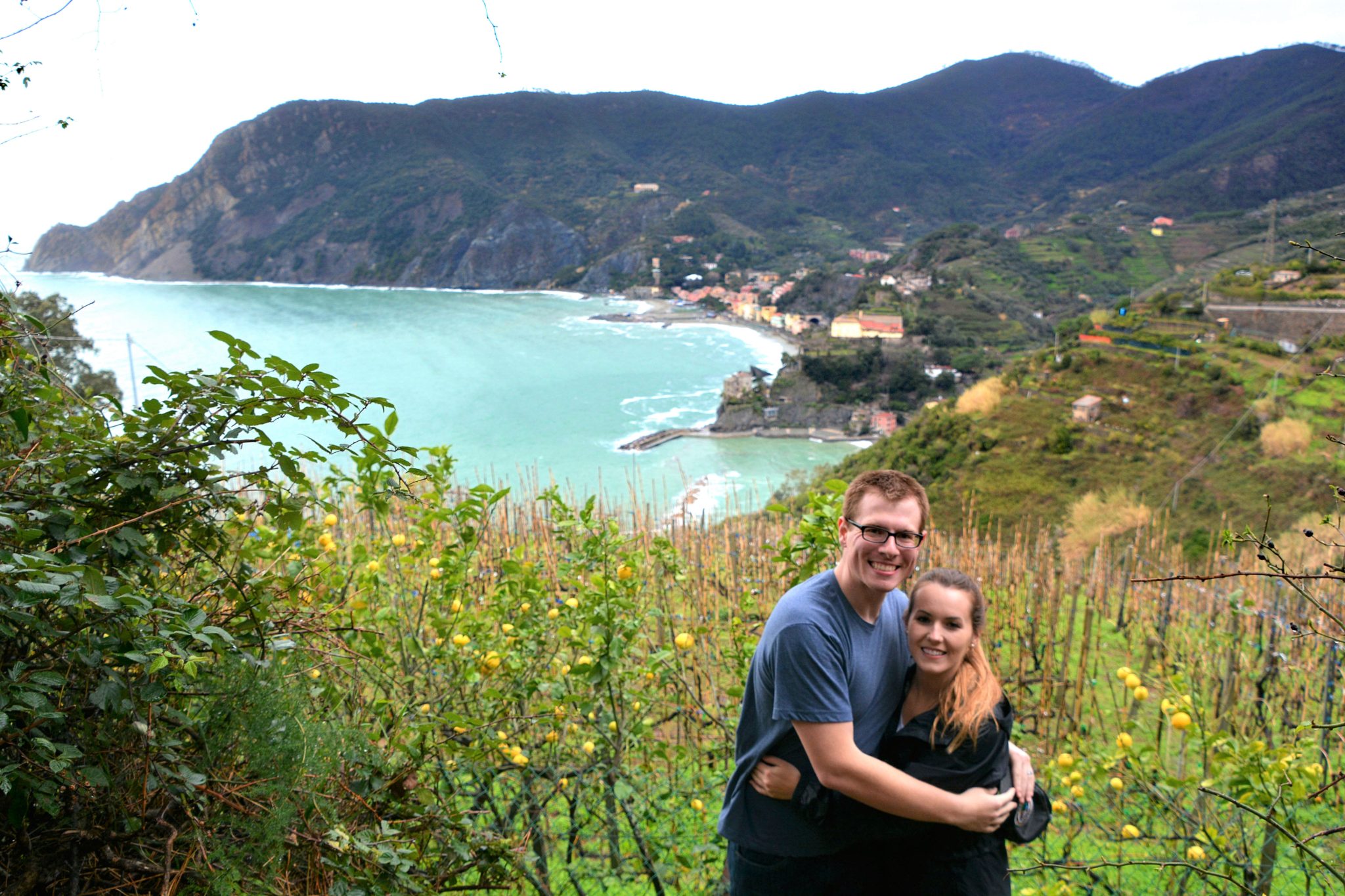 Thanks for reading! If you would like to read more about our travels, please keep in touch by subscribing to our newsletter. We're always wanting to hear from other people who are passionate about hiking, traveling, and learning about new places.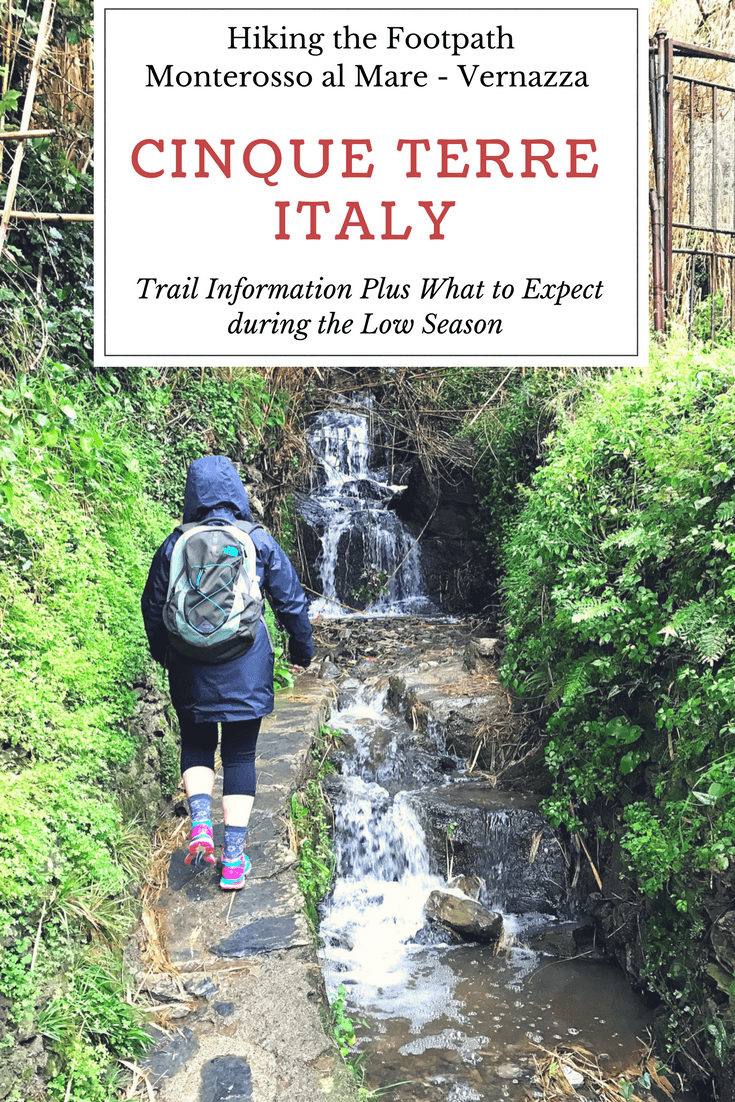 Comments
comments