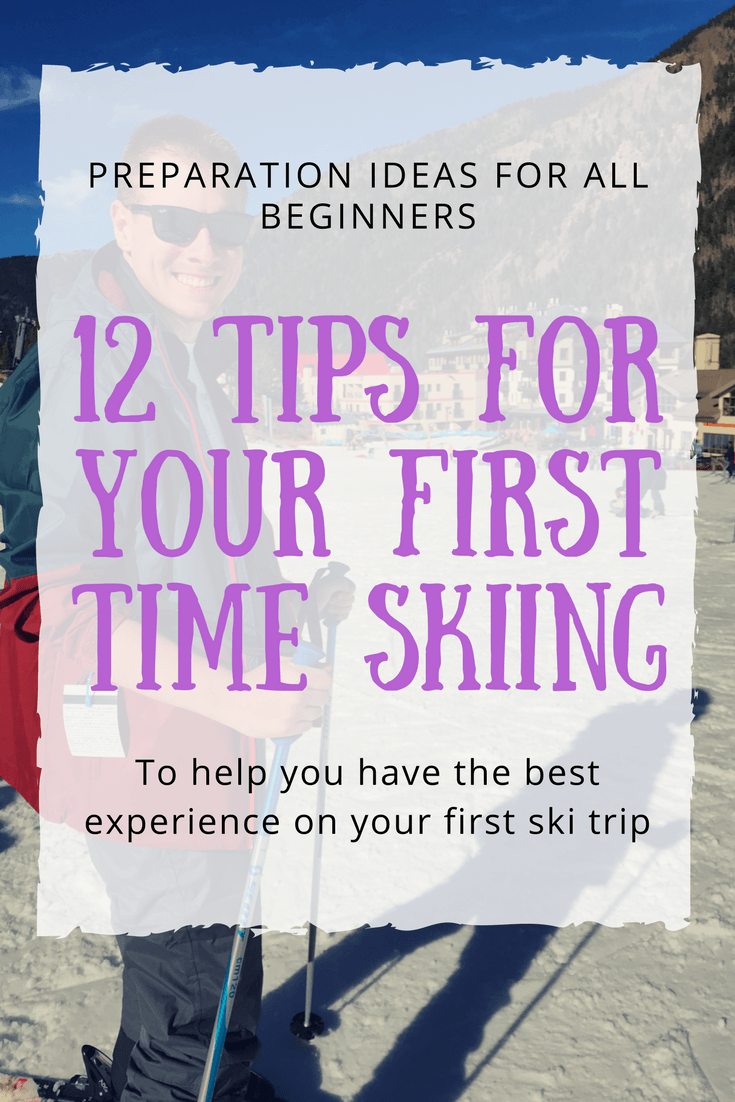 The idea of learning to ski for the first time as an adult can be intimidating, especially if you will be trying to learn with a group of seasoned skiers. It's hard to know exactly how you will do when you get the skis on, but there are things you can do at home to help prepare for the slopes.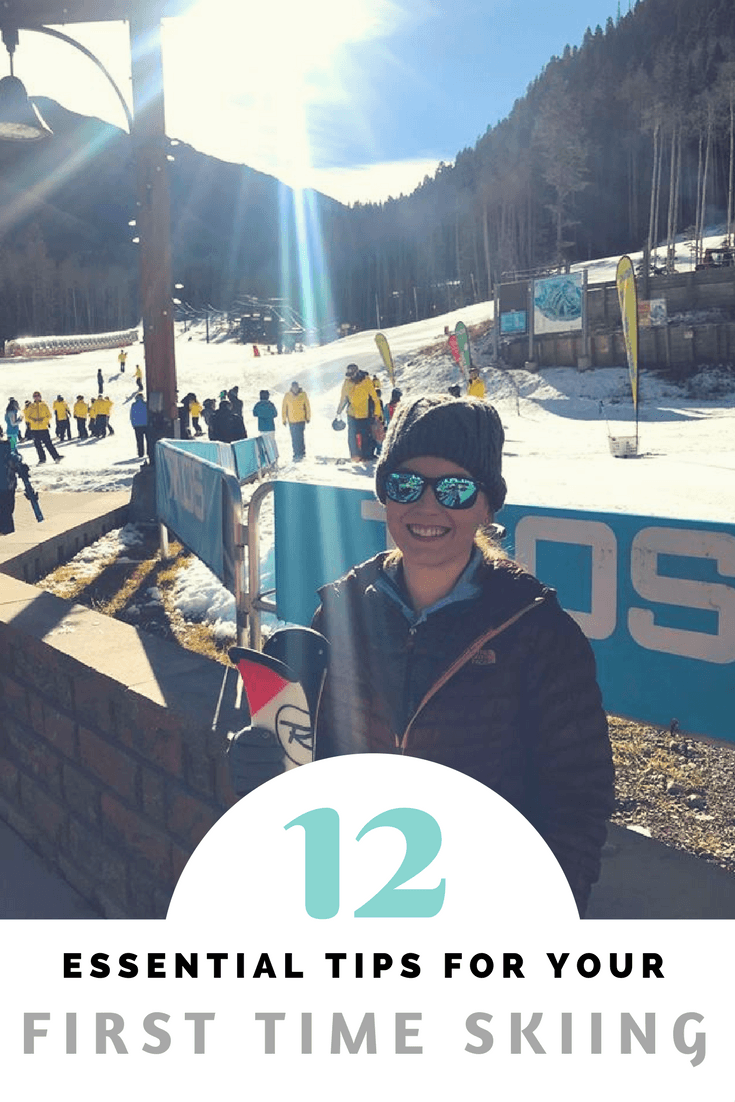 I skied for the first time at Taos Ski Valley and decided to take a beginner lesson. My skill level began at having no clue of how to put on skis to using the beginner lift all in a single day! Continue reading to learn about my experience skiing for the first time and what you can expect when you go. Here are 12 tips to help you have the best experience as a first-time skier.
1. Research your Destination
A good first step to your ski trip is learning as much as possible about your destination and what it's known for. I had already booked a condo in Taos Ski Valley when I was informed that Taos has very steep slopes compared to other ski Resorts. You can imagine my worry when I heard this! Luckily, Taos also has very skilled instructors and the beginner lift was not an issue. If you are picking the destination yourself, you can either choose an area known for good ski lessons or a place that is considered easy to ski and family friendly.
2. Gather Appropriate Gear
Wearing clothes appropriate for the occasion will keep you feeling comfortable and help you move while skiing. Ski pants are essential because they are warm on the inside and water-resistant on the outside. They will also be wide enough to fit over the ski boots. I really recommend getting ski pants and finding ones with a little room in them so you can bend and move.
I had learned about ski pants but still had some trouble trying to find out exactly what I should wear. I missed that one needs really long socks and showed up with regular crew style, but I'll be ready for next time. I also bought some affordable ski goggles, but I ended up just wearing my sunglasses the whole time. Here's a list of clothes that will work well for your first time skiing:
Ski Pants
Dri-fit top
Fleece vest or jacket
Waterproof jacket to be your outermost layer
Over-the-calf crew socks
Sunglasses or ski goggles
Beanie
Gloves
Dri-fit clothing or wool-blend fabric is good for your base layer because it will help wick away sweat. This will keep you feeling dry through the day. Having waterproof or at least water-resistant clothing for your outer layers will also keep you nice and dry. If it's really cold, a neck warmer (link provided below) is great for extra warmth.
3. Get Active
If you don't have a regular workout routine, you will want to start exercising as soon as you can to prepare for your ski trip. Skiing puts pressure on your knees and will require the stamina to pick yourself up if you fall (possibly more than once!). When I took my ski lesson, it involved us walking up part of the slope in our ski boots which were bulky and heavy. My instructor told me that he's had students who were so out of shape that they could barely get up the hill. You will have a lot more fun skiing if you are already comfortable with some moderate cardio.
4. Watch Videos
So I didn't do a whole lot of this, but one of my friends told me that watching a few instructional videos on Youtube really helped them prepare for their ski trip. You may not benefit greatly, but I figure that it can't hurt. Maybe you can make some time for a couple videos before you go skiing.
5. Buddy Up
You might need a little extra help on the slopes, and certain aspects of the ski area can be intimidating for a first-timer. See if you can partner up with someone who can help you warm up in the beginner area and help you get on the lift. It's not always possible to have a partner by your side, but talk with your group ahead of time and see if someone is willing to stay with you at least at the beginning.
6. Consider a Lesson
Friends and family are generally excited to teach you how to ski, but are they teaching you everything that you need to know? People who learned how to ski years ago may not remember the essential skills that an instructor will teach. Another thing to keep in mind is the price. At Taos Ski Valley, it cost me almost the exact same price to book a day-long lesson + rentals as it would have for me to buy a day pass and rent skis. The lesson helped me so much that I'm planning to book another the next time I ski! Instructors have been teaching for years and will know exactly what to do to get you skiing comfortably and correctly which will help you avoid injuries. If you are interested, here's the link to the lesson we took at Taos called the 1st Experience.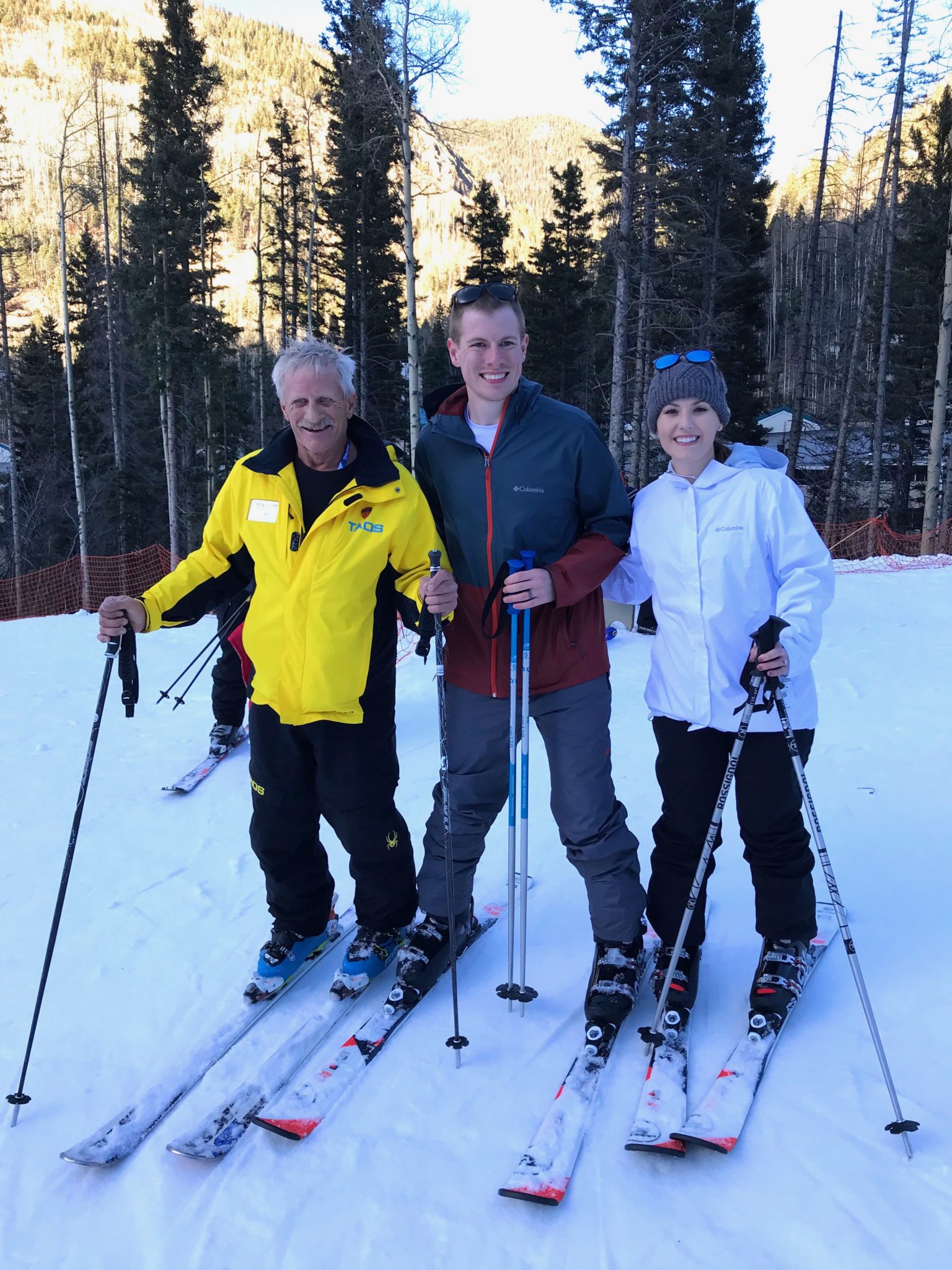 7. Rent skis and a Locker
If you have never worn skis before, renting them will allow you to try on a few different boots to figure out your correct size. There's a chance that you may end up with a brand new pair of skis! Rented skis are also often short in length compared to a friend's personal pair, which will make things easier for a beginner. A locker is not only a good place to store shoes, you can also store extra clothing and necessities.
8. Pack a Bag with Water and Snacks
This goes along with renting a locker to hold a few of your extra items. Food and drinks can be expensive at a ski resort. It's helpful to have a snack or two and some extra water packed away for when you need a break. If you plan to spend a full day skiing, try to go out of your way to drink extra water to keep hydrated on the slopes.
9. Wear Sunscreen/ Sun Protection
Don't forget your sunscreen at the ski resort! Higher elevation also means that you are physically closer to the sun and can get a sunburn quickly. Even if you don't normally burn, applying sunscreen to your entire face will help to prevent tan lines where your gear leaves skin exposed. Check that your eyewear provides sun protection and bring along some SPF chapstick. If you would like to know more about sun protection in the snow, you can check out this article by careinthesun.org.
10. Rest Up the Night Before
This sounds a little obvious, but you will do a better job on the slopes with a good night's sleep. It's also a good thing to research the elevation of the area where you will be sleeping. If you normally live near sea-level, you may have a harder time sleeping comfortably in a higher location. Try to drink extra water and go to bed early to feel your best on a ski day.
11. Have a Positive Attitude and Open Mind
Your first-day skiing might not go well, and that's completely fine! Don't beat yourself up if things don't go as planned. The important thing is that you are stepping outside of your comfort zone and trying something new. It also may be a little stressful if you feel that you are not grasping skiing as quickly as other first-timers, but just remember that it's okay to not be perfect. Try to have fun and be proud of yourself for expanding your horizons!
12. Practice Control Before Speed
My husband might not agree with me on this one, but ski instructors would! Learning how to control your skis is very important because nobody wants you flying down the mountain like a crazy person. You can put both yourself and others in a great amount of danger if you have not learned how to control your skis. Be sure that you know how to stop and take turns so that you can avoid running into others. If you are going a little slow don't worry, seasoned skiers will go right past you.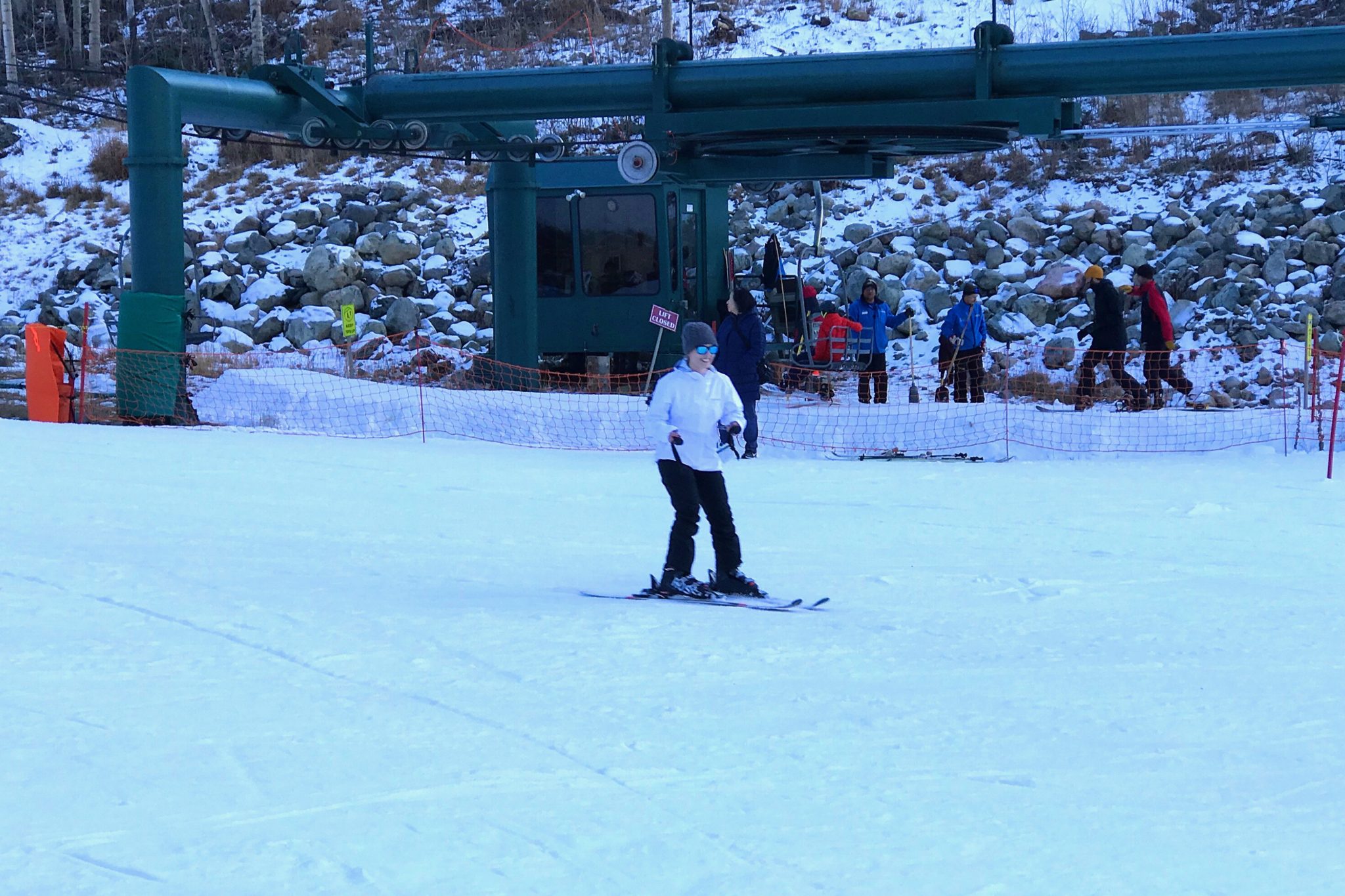 I hope that you find these tips helpful for your first time skiing! If there's anything else you can think of that could help out a beginner, please drop a comment below. Continue to follow the blog for new and exciting adventures and hopefully some more skiing posts.
Comments
comments