Another year has quickly passed and left us with so many exciting memories. I would describe 2017 as extremely busy because I'm not exactly sure how Reed and I fit so much travel and activities into a single year. This is my longest annual overview yet, and it's likely because I'm feeling thankful for the blessings bestowed upon us. We began the year with some major stresses and ended it feeling humbled by God's grace. The best way I can begin to explain 2017 is by writing a list of all the cool things I got to cross off of my bucket list.
Started the year with a bang, by running our 2nd Half Marathon in January
Traveled to Europe for the first time (for me) and toured cities in Germany, Italy, and France
Got a major makeover by donating 11″ of hair to Children with Hair Loss
Reed got LASIK
Hiked our first 14er, Quandary Peak in Colorado
Summited our second mountain, Wheeler Peak in New Mexico
Learned how to Ski
Half Marathon
Reed and I worked very hard to prepare for our first half marathon in December of 2016. Finishing the race was so rewarding that we decided to go for it again! We both ran the Fort Bend Kia Half Marathon in January and kept up with running through the year. I might try to run another half marathon, but I'm honestly not feeling very motivated to prepare. I love building up endurance, but running is downright exhausting and I'm just not sure If I want to run anything longer than a 10k. I will continue my workouts and see what I feel like come race time.
Europe Vacation
Reed lost his job towards the end of 2016 and was struggling to find employment with the downturn in oil and gas. We had been hoping to go to Europe, but if Reed found a good job then we would have to put the trip on hold. With Reed still unemployed, we took a risk and went ahead with our travel plans.
We took the trip of a lifetime with the help of our travel rewards! There was no set tour, just my husband and I exploring new places. The vacation started in Munich with a visit to Neuschwanstein Castle. We then traveled down to Venice, Florence, Cinque Terre, and Rome. We toured everything from the vineyards of the Tuscany countryside to the tunnels under Vatican City. Our vacation ended with a few days in Paris, gazing at the Eiffel Tower and eating crepes. The trip was unlike anything I've ever experienced and gave me memories that I will cherish for as long as I live. It was not only romantic, we learned so much about how to function in a different environment. I am forever grateful to have been able to go on this trip.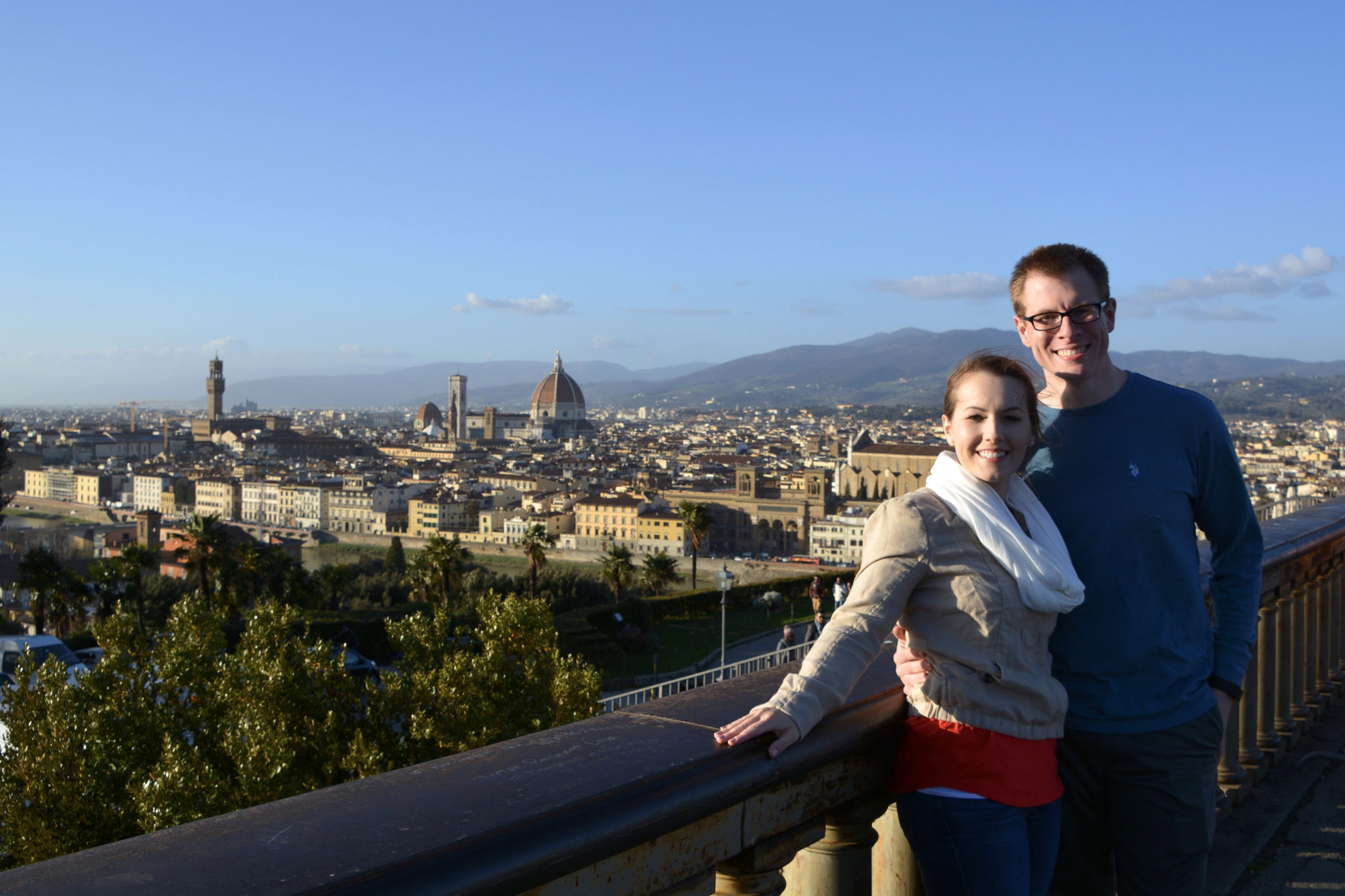 Reed's New Job
Reed and I were both feeling nervous to come back home to unemployment, but not long after our return, Reed found a job! He not only got hired, Reed started a whole new career as a Software Engineer! This job has opened up so many opportunities for Reed and allowed him to travel and meet some great people. Reed also took on another new opportunity when he got accepted into Georgia Tech's Online Master's of Computer Science Program! With graduate school and a full-time job, Reed barely has any free time these days, but I'm so excited for my husband. It's awesome to see him doing something he's passionate about and working to advance his career!
My Job
I'm just shy of celebrating my 2 year anniversary at Bitswave Inc. and have learned so much since joining the company. My days at work involve purchasing, shipping, receiving, and talking to vendors to get quotes and finalize orders. At the end of each year, my company has a holiday gathering where they present awards to top-performing employees. I received the Best Service Award for going to extra mile to exceed company needs and for promoting positivity and collaboration through the year! I'm dedicated to my job, but I wasn't expecting to get an award at all and feel so very thankful to have been recognized!
Visiting Family at the Bar NI Ranch
I was fortunate to be able to visit my grandparents and cousins this year at the Bar NI Ranch in Stonewall, Colorado. My visit was short, but It was great to spend some time with family surrounded by beautiful scenery. The family gathering took a scary turn when my cousin Abby fell off a horse on the first day and fractured her back. The fractures were small and she was able to heal without surgery, but she was in severe pain. She has since healed, but we were all very worried when the accident happened.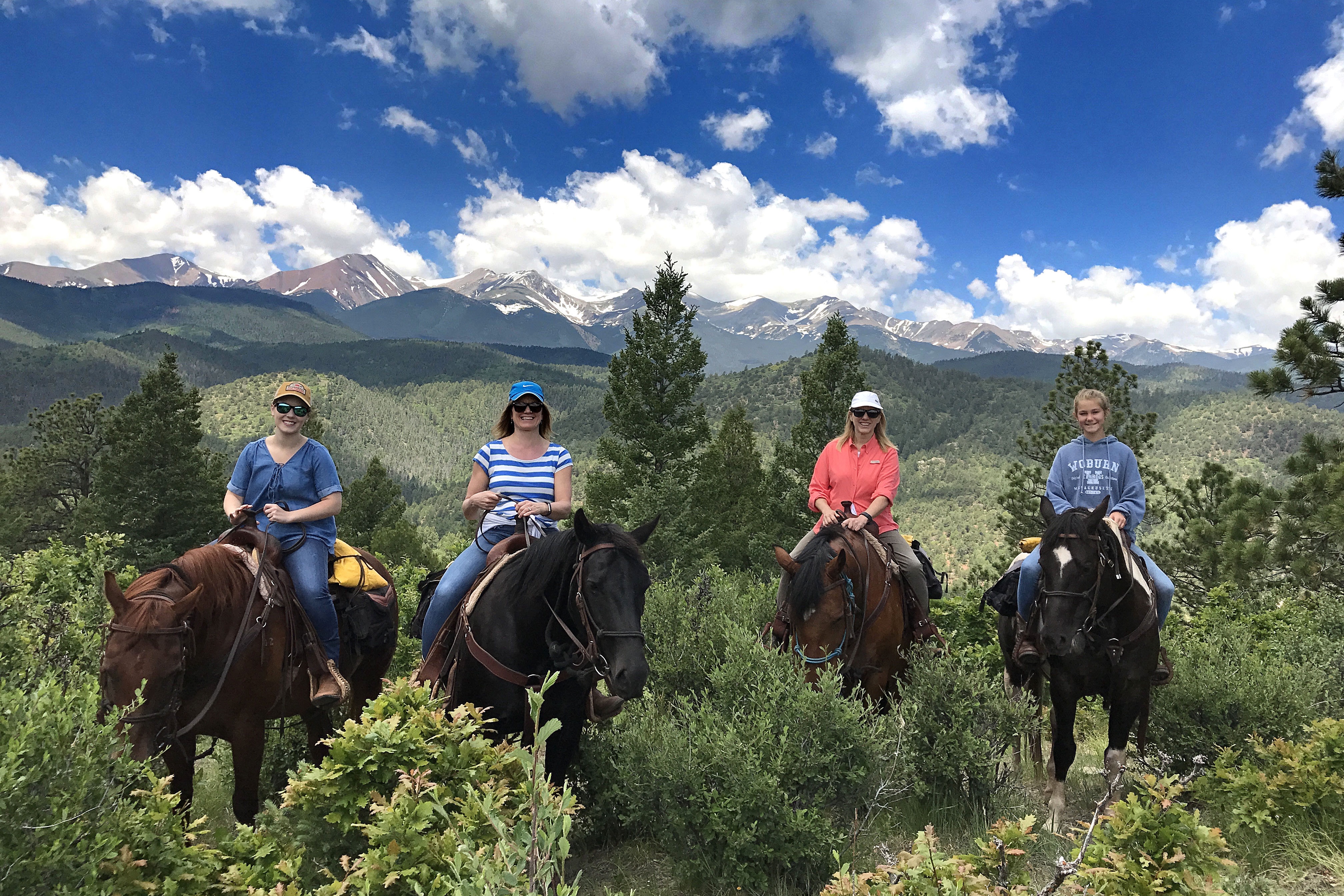 While I was in Colorado, Reed was getting LASIK! I'm so happy for him because he had terrible vision and wore thick glasses and contacts. Reed's new job had him making monthly visits to a client's office in Denver. He was recovering from surgery and traveling to Colorado as I was returning home. I always dislike when we're apart, but luckily Reed has only been out of town for one week at a time.
First 14er, Quandary Peak
Not long after visiting my family in southern Colorado, I took a couple days off work to visit Reed in Denver. It was neat to walk around downtown and see the office building where Reed had been working. We drove over to Breckenridge area to hike up Quandary Peak. The hike was very challenging for me, but I made it to the top! I really loved seeing all the mountain goats.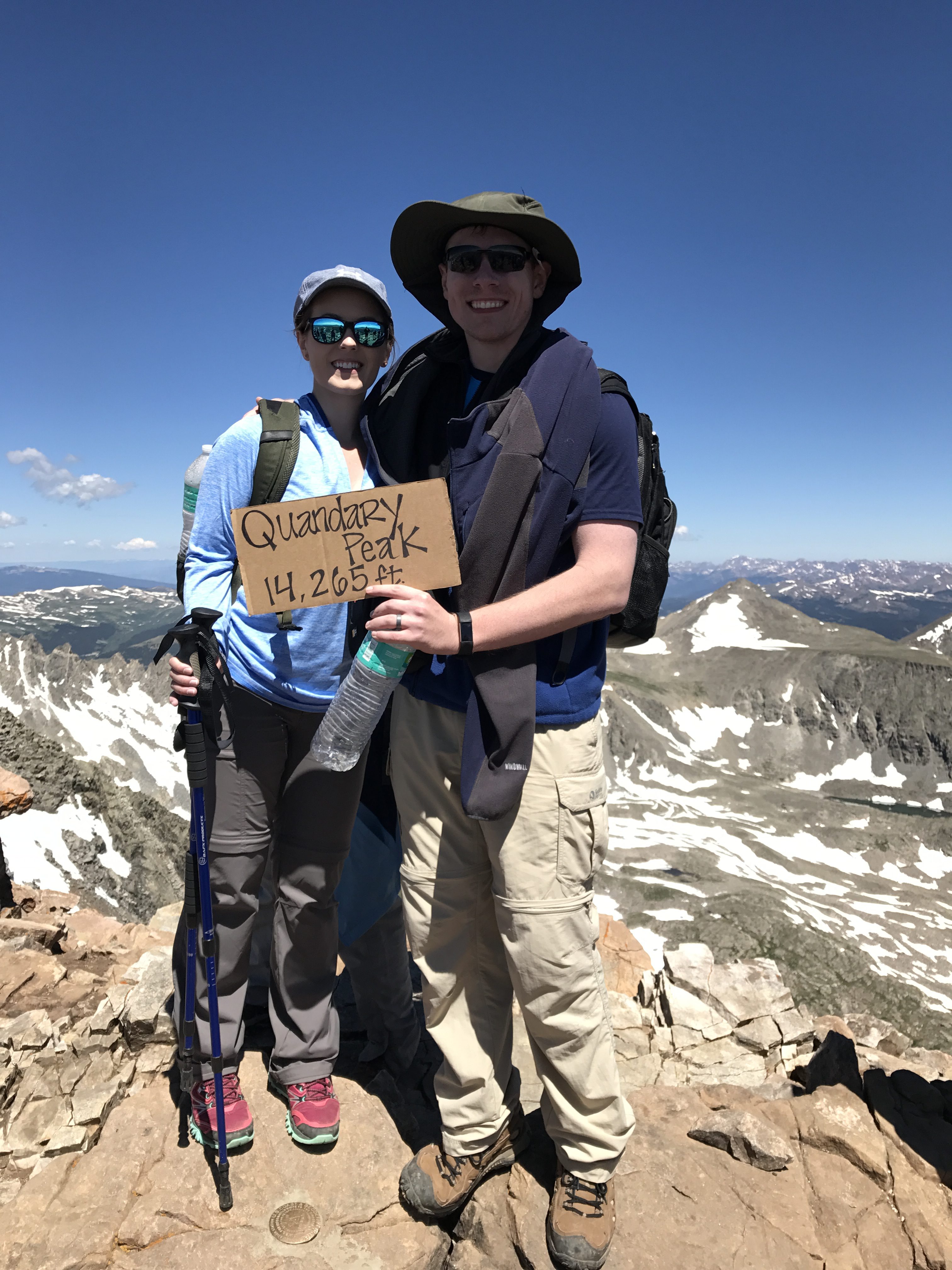 Hiking and Skiing at Taos Ski Valley
Last year I wrote that I wanted to take my dog to see snow, and this year I got to bring him to the mountains! Reed and I went with my parents and our dog to Taos Ski Valley over Thanksgiving and had a blast checking out the landscape and ski resort. We all hiked to the top of Wheeler Peak, which was a hard hike that had amazing views from all angles. Bear loved feeling the cold snow on his face and would look for snow drifts that he could play in. He was the best hiking dog and led our group the whole way up the mountain!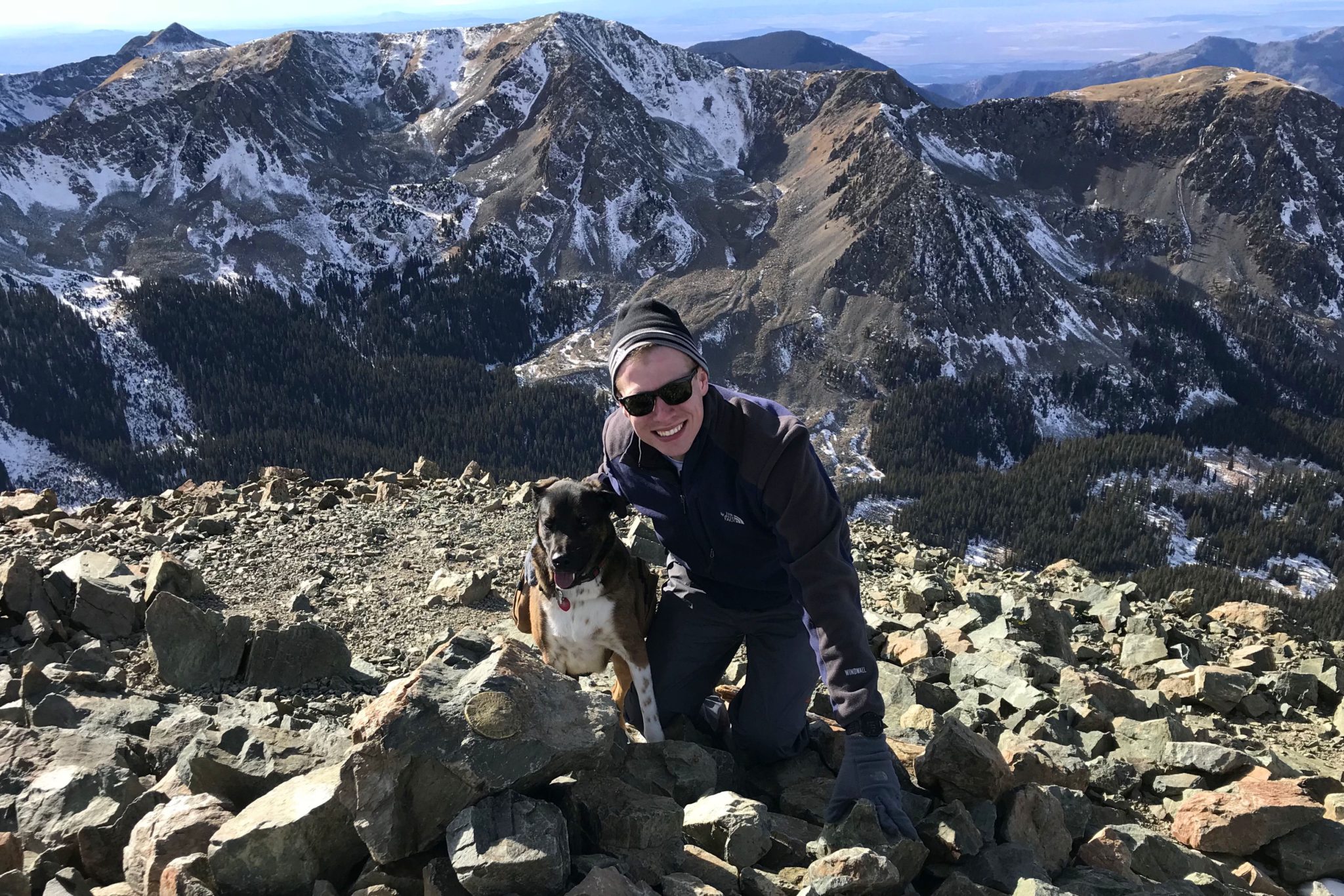 Reed and I were both interested in learning how to ski but had no clue as to how easy or hard it might be for us to grasp. We signed up for a day-long ski lesson and went in feeling nervous but excited to learn. During a single day, we both went from not know how to put on skis to using the beginner lift! Our instructor was awesome and really taught us the correct way to move and use the skis. Reed and I really loved skiing for the first time, and hope to ski again and eventually move beyond the beginner slopes!
Other Memorable Moments:
Food: I always like to take note of some of the things we liked to eat and cook during this time of our lives because it's so easy to forget. This year, Reed discovered that he loves Pad Thai! We expanded our palate by trying Thai dishes at restaurants and cooking new recipes at home. We recently made some delicious Thai green curry. Other recipes we made were Argentinian style empanadas, Chipotle chicken bowls, and spinach stuffed shells. Since trying out Farini pizza in Venice, Reed loves making his own margarita pizza and even started hand making the dough. I started baking angel food cake this year and also like to bake lemon blueberry muffins.
Daily Life: We love jogging with Bear and taking him to the dog park. He's 3 years old now and just as spoiled as ever! Ike, the mini rex bunny is 6 years old and is doing well. Ike had to get surgery a few months ago to remove some tumors. Since the surgery, Ike appears to have fully recovered and Reed and I like to give him little pieces of apple and banana.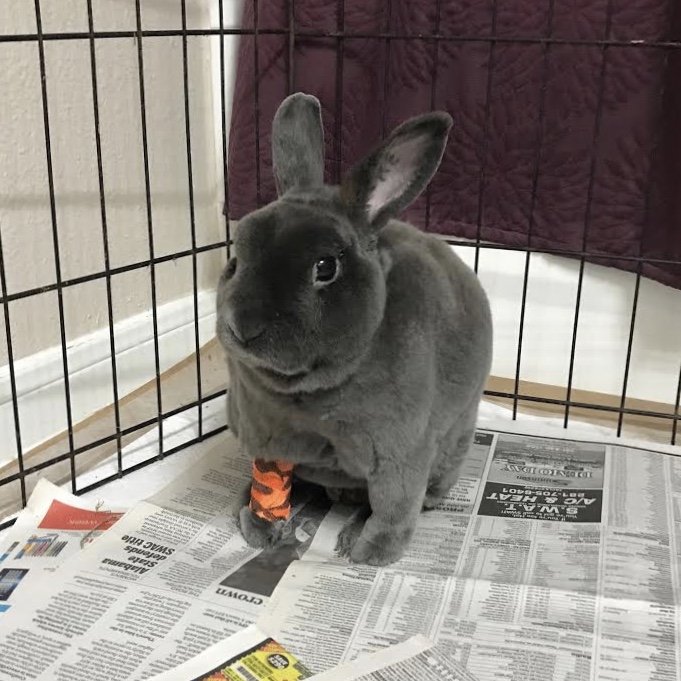 We celebrated our 3 year wedding anniversary in May and celebrated it along with Reed's new job offer. We upgraded some of our furniture from dorm-style cheap to quality pieces, which makes the whole house feel nicer! Another large purchase was that we added a new car, a Lexus NX200T to the family! Reed spends a lot of time studying for school and I am studying to prepare for a professional certification. I also still like to use Duolingo.com and am still learning Spanish and French. We spent several weekends this year driving to Dallas and College Station to see Reed's family, Spring to see my parents, and many other weekends going on trips. It's been busy but fun!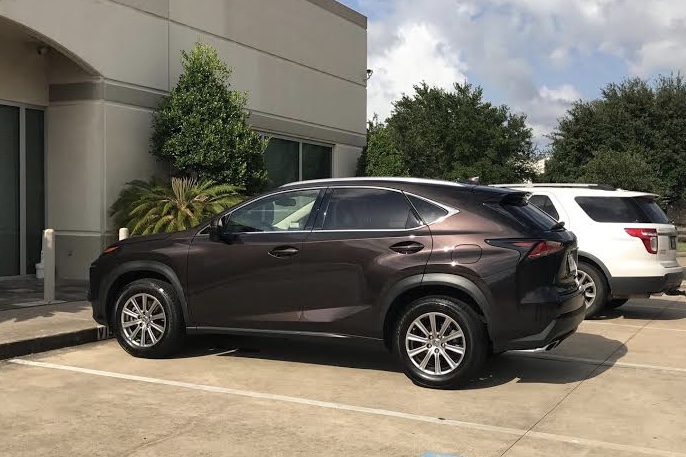 The weather was extreme this year and Houston was hit hard by hurricane Harvey. Reed and I were flooded in place in our neighborhood for 3 days. I missed nearly a week of work due to flooded roadways. We were very worried at one point that our home would flood, but we were spared. We got another weather surprise on the night of December 7th when it started snowing in Houston and all over much of Texas. The following morning, we woke to a mini winter wonderland, with a dusting of snow all over our yard! That morning was probably my favorite drive to work of the year.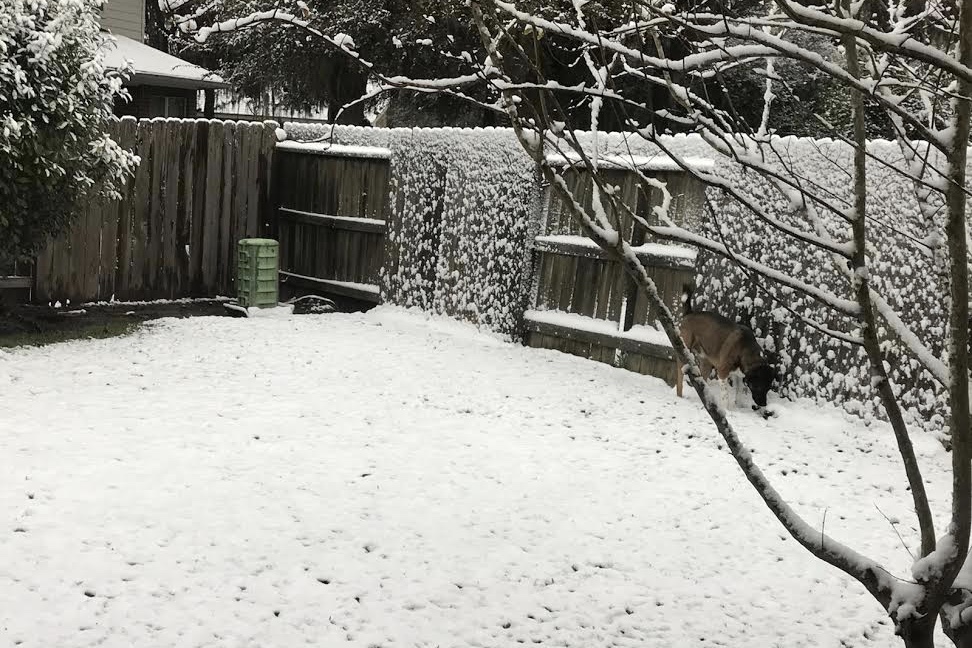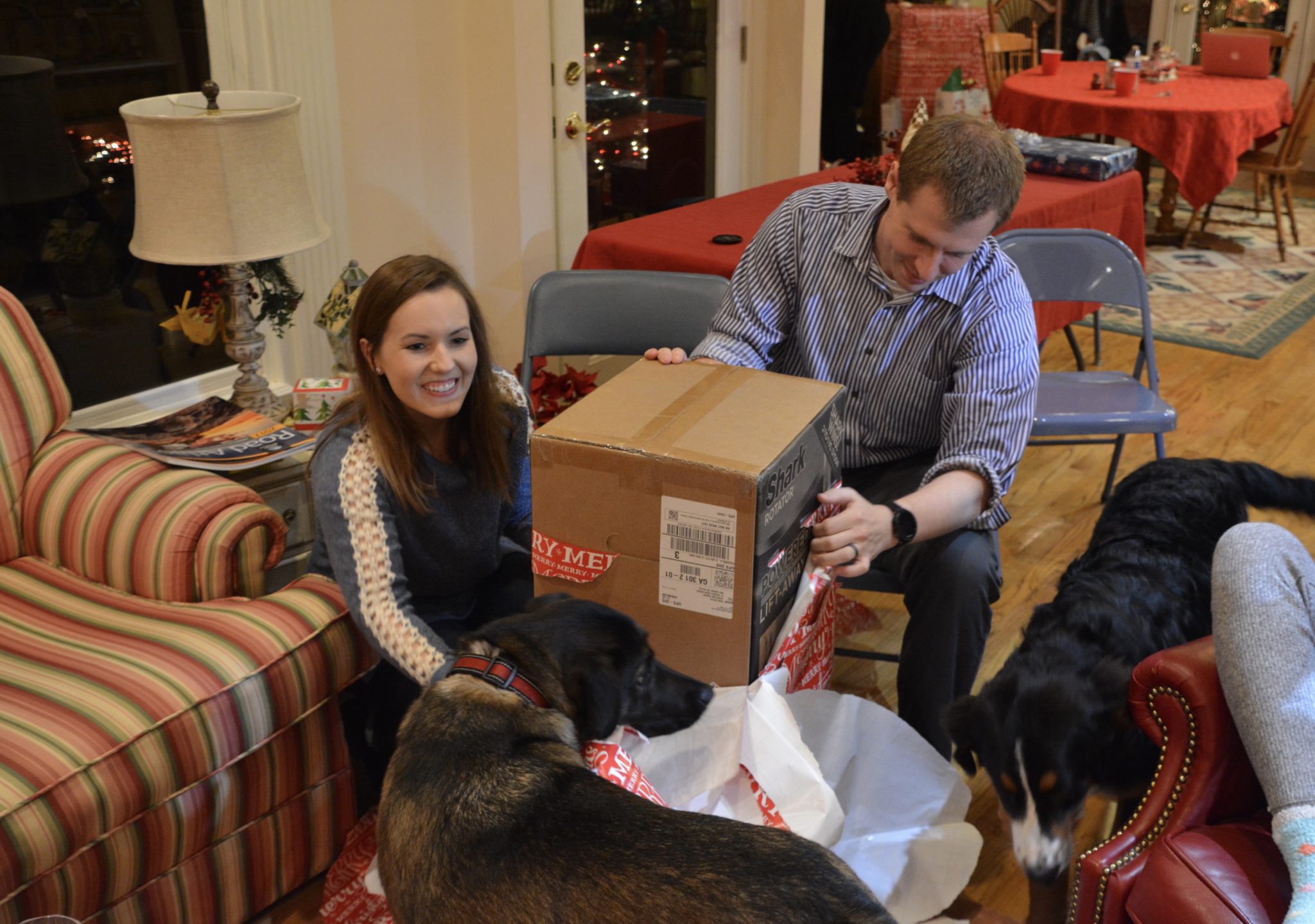 Wishes for Next Year
The only specific wish that I have for next year is to pass my APICS exam to become a Certified Supply Chain Professional. I started studying in October and hope to complete my exam prep by June of 2018. Wish me luck! I also hope to go on some type of rewards vacation with Reed, but not exactly sure of the destination yet. Overall, I have fewer wishes for 2018 compared to previous years and that's probably because I feel much more satisfied with my life at this point in time than I did in the past. It's not that everything is perfect, but rather that Reed and I both feel like we have attainable goals to work towards. It's nice to look back and see how much I've learned and grown over the last few years. I am looking forward to enjoying life as much as possible in 2018, taking things day by day, and seeing where life takes me.
And here are some videos of Reed and I skiing on the beginner slope. What fun memories!
Comments
comments