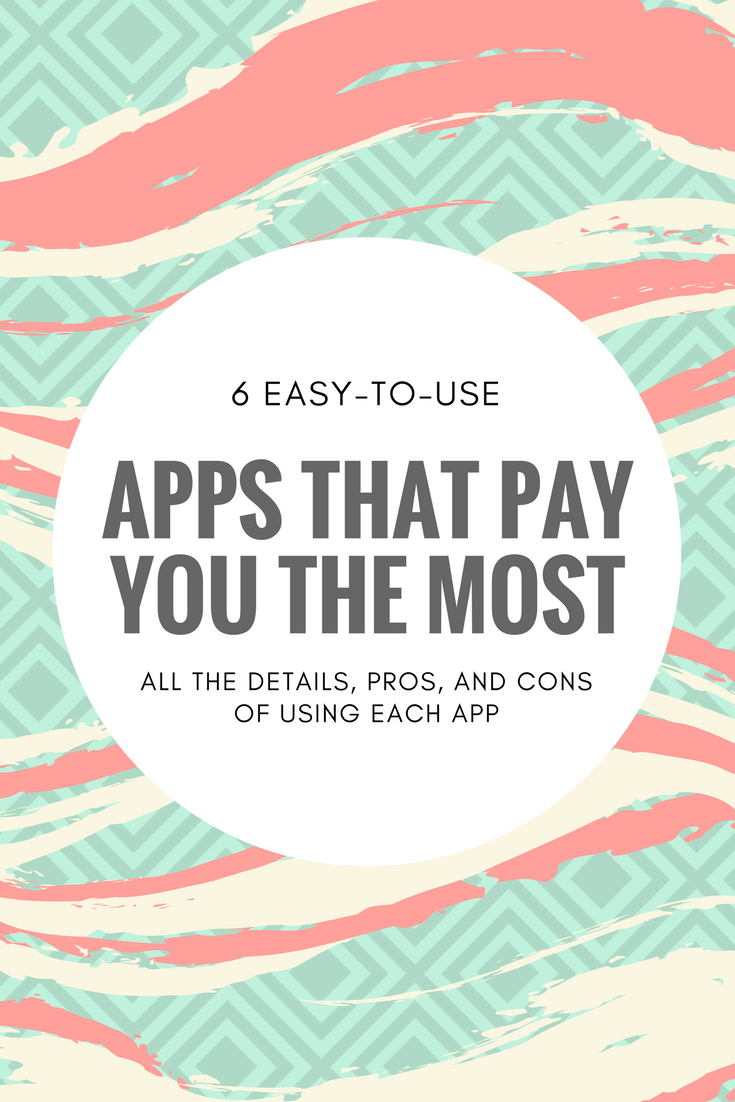 Whether you're looking to cover some travel expenses or to have a little extra money for outings, there are multiple apps you can use to make extra money right now. Many of these apps won't take up a lot of your time, and you may find yourself earning money almost immediately. Continue reading for 6 of my favorite cash back and money earning apps. I make an extra $1,400-$2,000 per year with these easy-to-use apps.
I've been using these apps for years and have been paid real money with all of them. I promise you that these are the trustworthy ones. Some of these apps may be more worth your time than others depending on your spending habits. I've provided the details on each one as well as some pros and cons of using each app.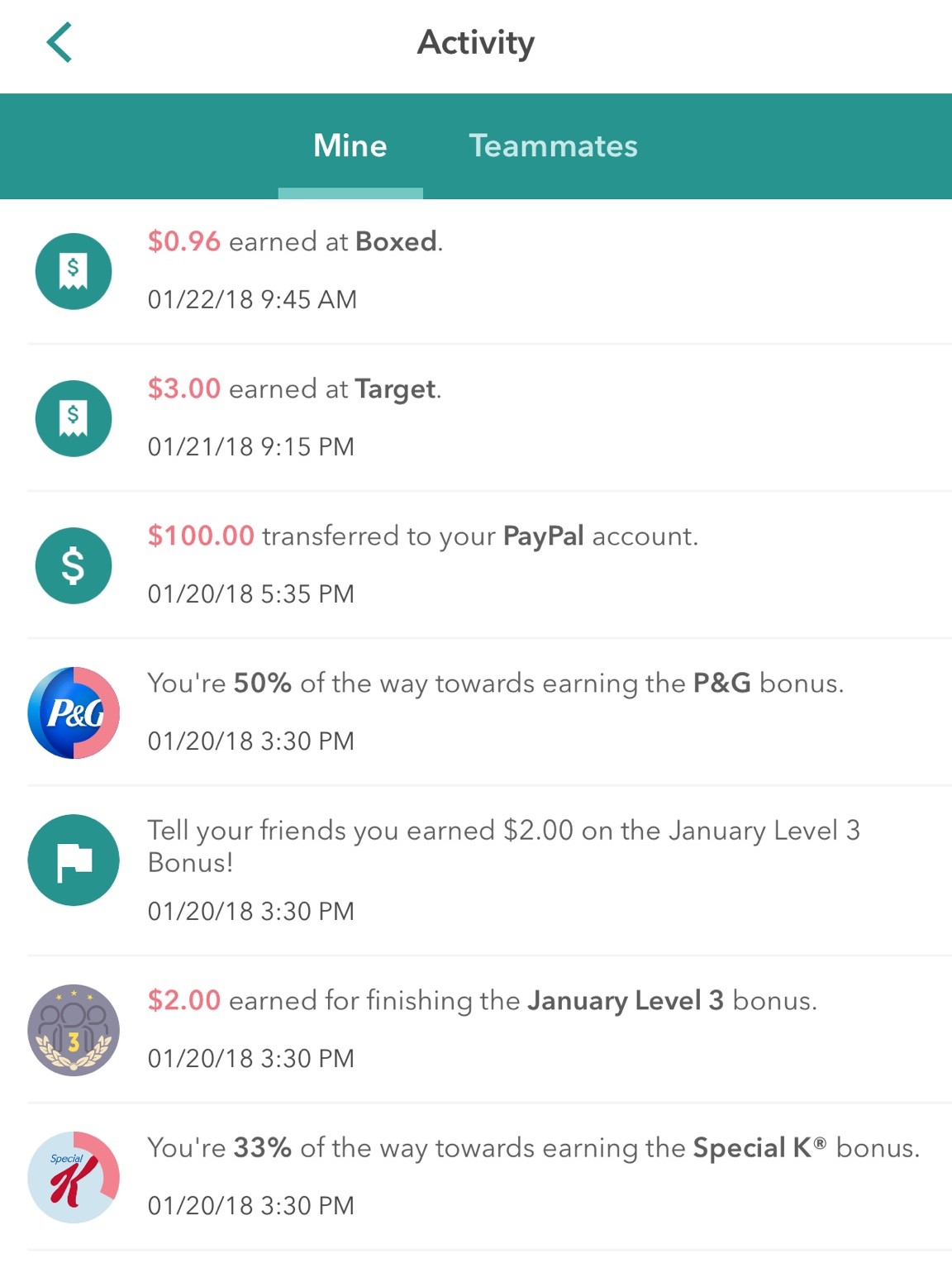 Do you ever buy food? If so, chances are that you've missed out on some good rebates if you haven't been using Ibotta. This app works by claiming rebates for popular grocery products and submitting receipts to get cash back. You can also earn cash back from online purchases through the Ibotta app.
Pros:
Easy to use, especially for groceries
Immediate cash back for most grocery receipts
Ibotta has been by far the easiest shopping app for me to earn extra money with! The reason that I use the word "extra" is that Ibotta literally gives you additional money for redeeming a set number of rebates each month. An example of this is hitting a "January Level 1 Bonus" where you get an additional $1 for redeeming 10 rebates. Ibotta has some awesome bonus opportunities to really help you earn a lot of cash!
Cons:
Learning curve
Some online retailers take too long to credit cash back earnings
There is a learning curve where you will have to spend some time getting used to the rules of how Ibotta works. For online purchases, you must first go to your Ibotta app and then launch the store's site from the Ibotta app. If you do not follow this crucial step, you cannot receive cash back. You can typically earn money from grocery rebates very quickly, but some online purchases can take up to 60 days to credit.
Payment: You can deposit cash into your Paypal account and then transfer it to your bank. If Ibotta sounds like an app for you, click here to join.

Another fan favorite, Ebates gives you cash back on your online purchases. Need to do some Holiday shopping? Do your shopping online and receive a small percentage back for everything that you buy. You may be surprised by the enormous amount of websites that offer cash back through Ebates, including hotel and vacation packages.
Pros:
Easy to Use
Multiple cash back offerings from all types of websites, including hotels
Ebates is extremely easy to use. All you have to do is create your account online. If you plan to do shopping on your smartphone, download the app to your phone. You can make purchases through both the regular website and the app, just make sure to go to Ebates first and then launch your desired shopping website (same rules as Ibotta). For computer/tablet shopping, Ebates offers a simple-to-install internet extension to help you never miss a cash back opportunity. The extension also applies coupons to your order at checkout for additional savings.
Cons:
Waiting periods for cash back
Some retailers credit cash back slower than others
You can earn cash back very quickly, but you will have to wait a little while to get paid. Ebates issues payment 4 times a year with either a gift card or check containing all of your earnings over a certain period of time. You can view the pay periods and schedule here on their site. Another issue is that some retailers are very slow or difficult to get cash back from. A good example of this is that I always get cash back from Macy's in just a few days, but when I used Ebates for an AT&T purchase, I needed additional help from the Ebates customer service team to help me get my cash back.
Payment: You can receive payment by a mailed check or gift card of your choosing. You can click here to join Ebates.
The website looks like it could be a scam, but I promise that I really do get paid from inboxdollars.com. This site pays you to take surveys, search topics, and watch videos. I'll be honest and say that I don't make as much money using this as I do with Ibotta and Ebates, but I do typically earn (4-5) $40 checks in the mail per year from InboxDollars.
Pros:
Don't need to spend money to make money
Surveys can be interesting and even get you into additional studies
I love that you can earn money through InboxDollars without needing to spend money on items. You can take surveys in your free time and watch videos to earn money. InboxDollars also will send you emails almost daily, which you get a couple cents for checking. Know that Inboxdollars also has a cash back section of the site much like Ebates, but the percentage of cash back is usually lower than what Ebates offers. Note: you must agree to keep survey information confidential.
Cons:
May not qualify for a lot of surveys
Can take a longer amount of time to earn money than other apps
It can take a long time to earn enough money to be able to request a check. The minimum is $30 to request payment and there's a processing fee of $3. Note that you can elect to waive the processing fee if you can boost your earnings to $40 within 30 days of requesting payment. You are also required to keep your account active by checking emails in order to get paid.
Payment: You will receive a mailed check or you can get a prepaid gift card or Visa. Click here to join InboxDollars.

Don't want to put in the time and effort with the apps listed above? Do you wear a smartwatch or fitness tracker? Achievement pays you for sharing information from your watch/tracker and exercise apps.
Pros:
Easiest to use (out of all the apps listed)!
Motivation to keep active
To make money with Achievement, all you need to do is create an account online, and sync your account with your fitness tracker and all the exercise apps that you use. the more apps you sync, the more points you can earn. You will earn points quicker the more you exercise, so it's just another way to motivate you to keep active. Achievement also has health questionnaires/ offers that you get points for completing.
Cons:
Doesn't earn a whole lot of money
Can take a while to earn cash depending on your exercise habits
I'll be honest when I say that I only make around $20 a year with this app. Although Achievement isn't a huge moneymaker, it's so simple to use that you should definitely consider it! This is the best money-earning app for people who don't have time to coupon or take online surveys.
Payment: Achievement has a point system where you are required to earn 10,000 points before they can be redeemed for cash. When my reward cash is available, I transfer it to my Paypal and then to my bank account. Achievement will email you when you have earned enough points so you don't even have to check your account. You can signup for Achievement here.
Can you swing by a store on your lunch break? Are you willing to try out grocery pickup services? Field Agent pays you to complete jobs at local retailers. These jobs often involve collecting photos and indicating if certain brand items are in stock at a store. Sometimes you can even be reimbursed for eating fast food and buying groceries.
Pros:
Complete jobs while running your normal errands
Sometimes get reimbursed for jobs that require purchases
Before you leave to run errands, check your field agent app to see if any jobs are available in your area. There might even be a job you can complete at the store you were already planning on shopping at. Sometimes Field Agent will offer reimbursement for jobs that require you to make a purchase. There are plenty of jobs where no purchase is required to make a few bucks.
Cons:
Must follow directions exactly or will not receive credit (including location rules)
Time limitations for jobs
Can take a while to receive credit for jobs
Field Agent is pretty strict with photos. When completing a job make sure to read the directions very carefully and match your photos to the example images provided. For location specific jobs, you can reserve the job while you are at home, but don't open the job to complete it until you are at the store, or otherwise instructed to by the app. Also, some jobs require you to submit the job while you are still at the store to get your location details.
Another downside of using Filed Agent is that each job has a time limit on it, often lasting for 2 hours. You will need to complete and submit the job within the timeframe allowed. The clock on your "time allowed" starts running down from the moment that you reserve the job. This app definitely requires more effort than the other apps listed, but you can make over $50 a month if you dedicate some time to Field Agent.
Payment: Field Agent sends your cash directly to your bank account. There is no minimum to use direct deposit.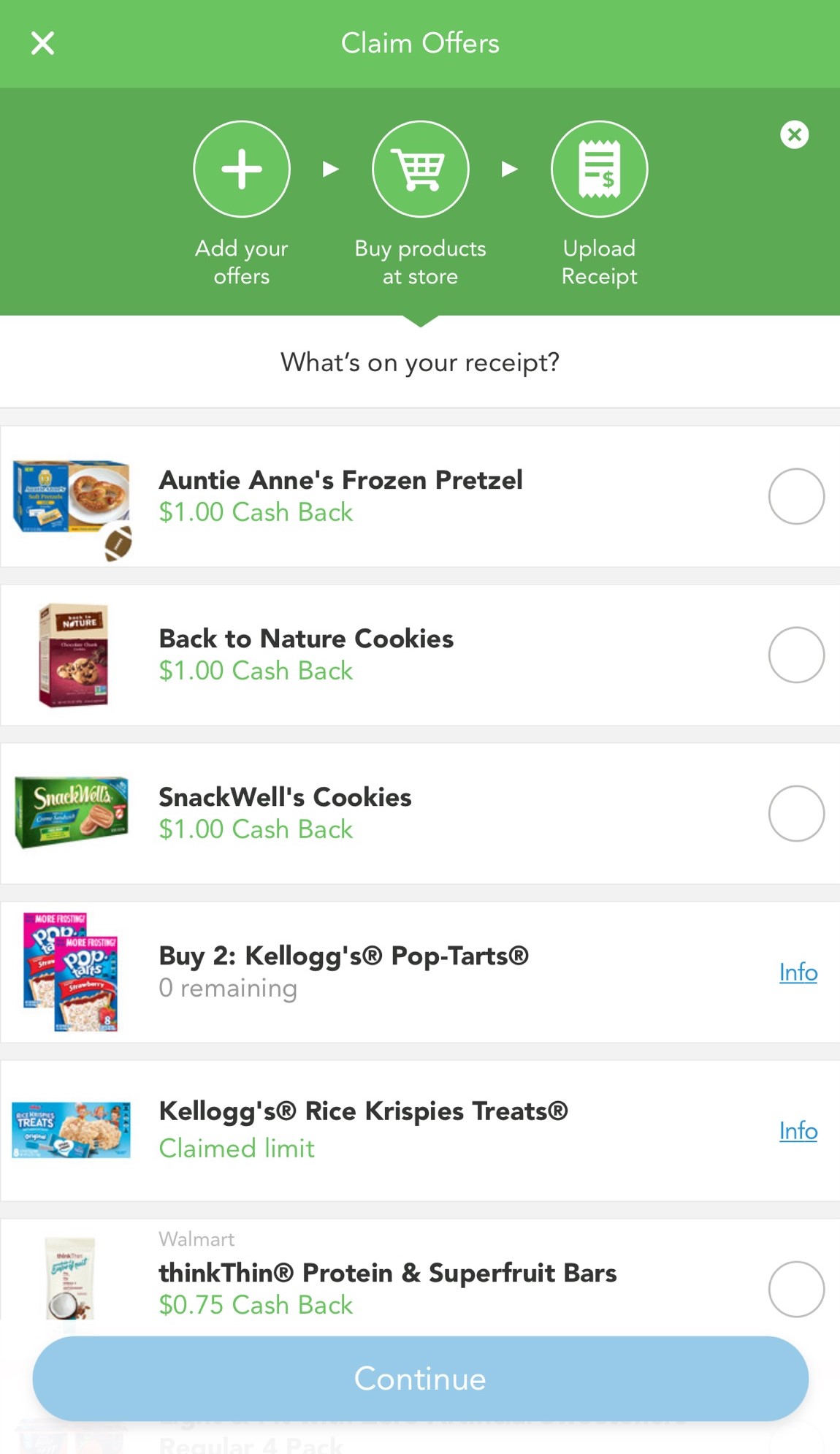 Checkout 51 is another grocery rebate app you can use to earn money for buying popular grocery products. You can find rebates for all types of snack foods, personal care products, and over-the-counter medications.
Pros:
Rebates available for some of your favorite groceries
Ability to still use other grocery rebate apps while redeeming rebates
Checkout 51 is just one extra way that I get rebates on groceries! I use this app in conjunction with Ibotta. Sometimes I can find a rebate for the same product on both apps! Generally, the rebates are different for each app so if I can't find a rebate for a product that I need on one app, chances are that I'll find something on the other.
Cons:
Bonus offers not as easy to earn compared to Ibotta
Online shopping not available (packing slips for certain products accepted)
If you want to try a grocery rebate app, I recommend trying out Ibotta first. I have found Checkout 51 to be more difficult to use when submitting receipts. The major downside of Checkout 51 is that they don't offer cash back for online shopping like Ibotta and Ebates. There also aren't major bonus opportunities for redeeming multiple rebates. Due to the lack of earning opportunities, it takes me much longer to earn money on Checkout 51 compared to Ibotta. Note: some rebates on Checkout 51 allow you to upload a packing slip for online purchases.
Payment: You must earn a minimum of $20 before you can cash out. Payment is sent by a mailed check.
Which One is Right for You?
I hope that you'll consider giving at least one of these money-earning apps a try! I've been using most of these apps for years and I save all the money I make from them to help cover travel expenses. My earnings have got me a castle tour in Germany, Tuscany wine tour in Italy, delicious meals in Costa Rica, and multiple museum tickets abroad. These are just a few apps that I've found success with, but there are many others out there. What savings/earning apps have worked well for you?
Comments
comments