Costa Rica is an incredible country full of tropical rain forests, giant butterflies, bright flowers, and plenty of unique mammals. I went with my husband and parents for an active vacation full of hiking and beach time, and we got much more than expected! Animal encounters and bright blue seas were just a few of the things that allowed us to experience the magic of the country. Here's our itinerary and the things we liked most about Quepos and the Manuel Antonio National Park area, including where we stayed, ate, and adventured.
There's so much that I want to share! Please read the How To: Parking, Tickets, and Pack List post for more precise travel tips such as driving, money, language, and some important details about parking at Manuel Antonio.
This vacation took place during late July, which is considered the rainy season, or what Costa Rican's refer to as Green Season for the Manuel Antonio area. I was very nervous about visiting during this time because I worried that we would be hiking in the rain for hours. I was pleasantly surprised that the rain was much less intense than the thunderstorms I experience in my hometown of Houston. We had a few sunny mornings and one day where it did not rain at all.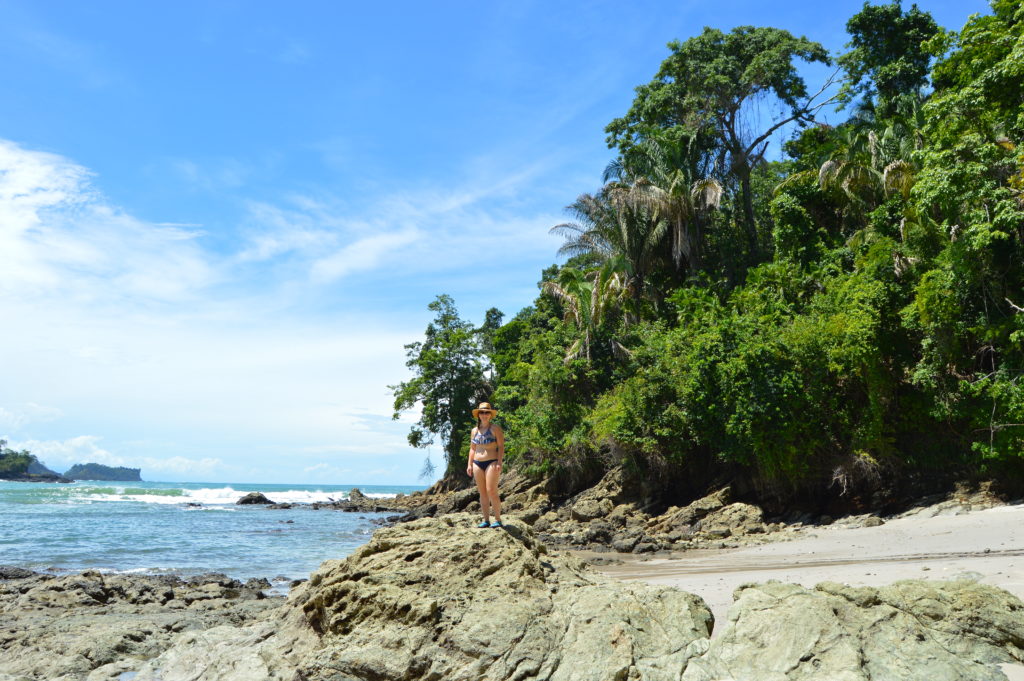 Day 1: Travel Day
We took a 4 hour flight to San Jose and picked up our rental car. With a morning flight, it still took a full day to get to our destination. We stayed at Tabulia Tree Hotel which is located between Quepos and Manuel Antonio. This hotel was very reasonably priced for our budget style vacation. After checking in, we were very tired and decided to eat at the Tabulia Tree restaurant, called Bambu Jam. I enjoyed the one dinner we had at Bambu Jam, and we loved the complimentary breakfast provided each morning. Bambu Jam served as our place to relax after a long day. We took advantage of the pool table and large projection screen in the restaurant that was always on a baseball game. It may have been because it was low season for tourists, but the restaurant was typically pretty quiet. Our room at Tabulia Tree had good AC and was thoroughly cleaned every day. I do have a few complaints about the room. We were stuck in a room that was significantly smaller than my parents room although we had the same reservation. The room had many windows that didn't entirely close, causing us to wake from the noises of motorcycles and trucks. I guess you get what you pay for.
Day 2: Manuel Antonio National Park
We woke to a bright morning and hurried to get our backpacks ready for the park. We found free parking (although this seems to be a problem) and walked to the ticket booth located right outside the park entrance. Tickets were $16 per person. You can read all of the details about how to locate parking and purchase tickets in an upcoming post, including how to avoid all of the people trying to get you to pay for parking.
Almost immediately upon entering the park, we saw squirrel monkeys. We ventured past guides giving tours and walked along the sloth trail, making our way to Playa Manuel Antonio. Once we got past the tour groups, it became quiet and peaceful. All of a sudden, I heard branches moving and looked up to see a huge howler monkey. Seconds later, his friend appeared and they started howling!
We heard plenty of howler monkeys during our short hike. Other animals we encountered included sloths, raccoons, coatis, a deer, and capuchin monkeys. The capuchin monkeys were the most entertaining. They weren't afraid of people and got very close. Tiny capuchin babies clung to their mothers backs. We watched the monkeys interact and groom each other. It was an experience I'll never forget!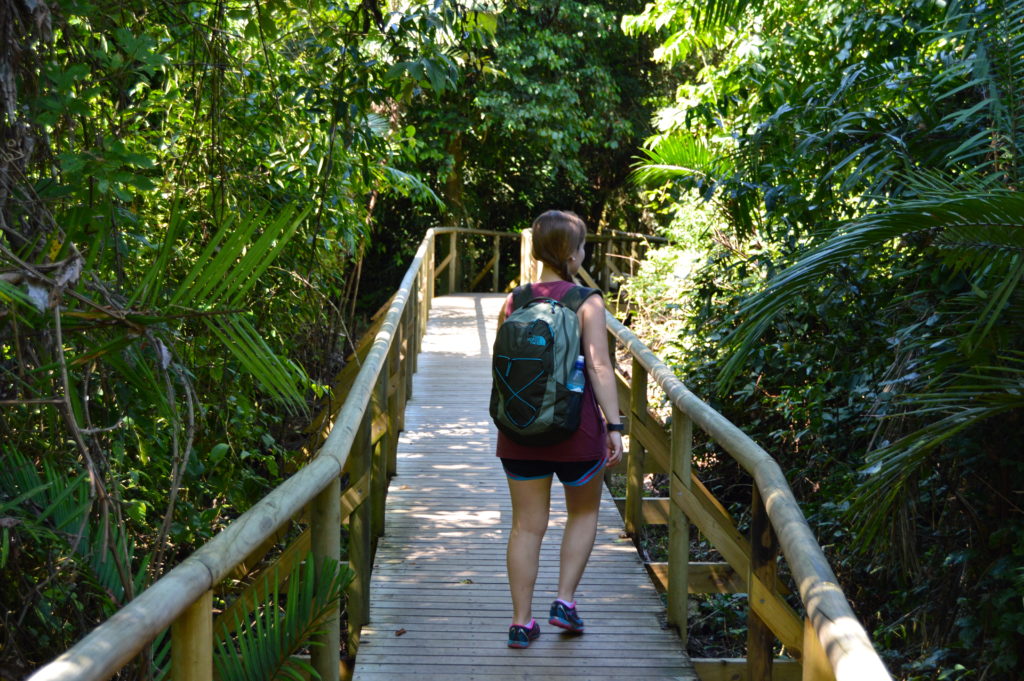 Sloth Trail in Manuel Antonio National Park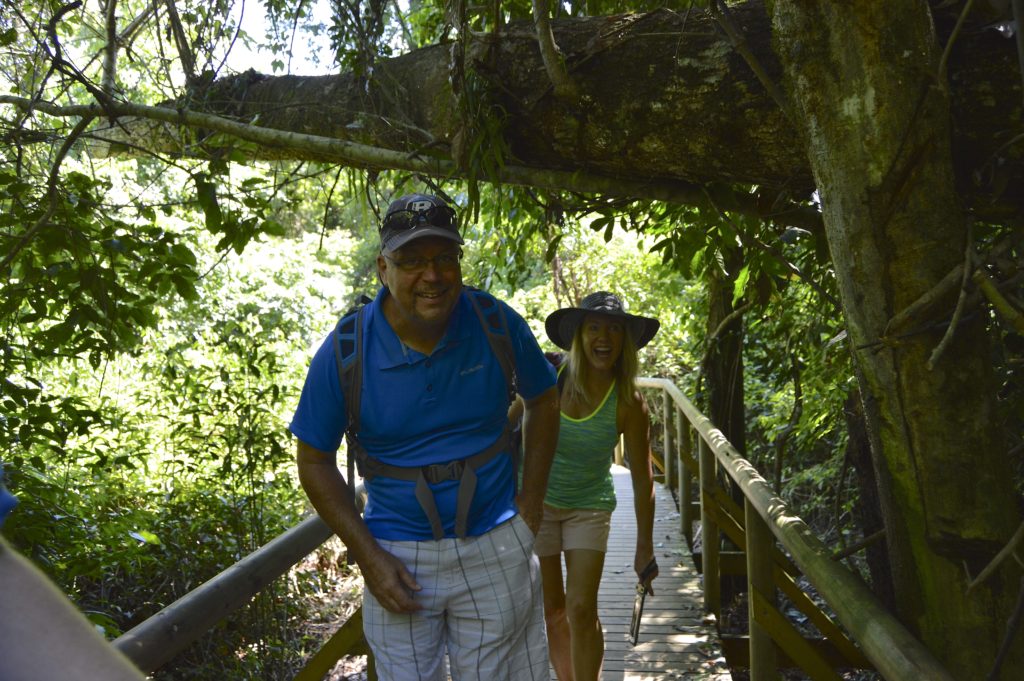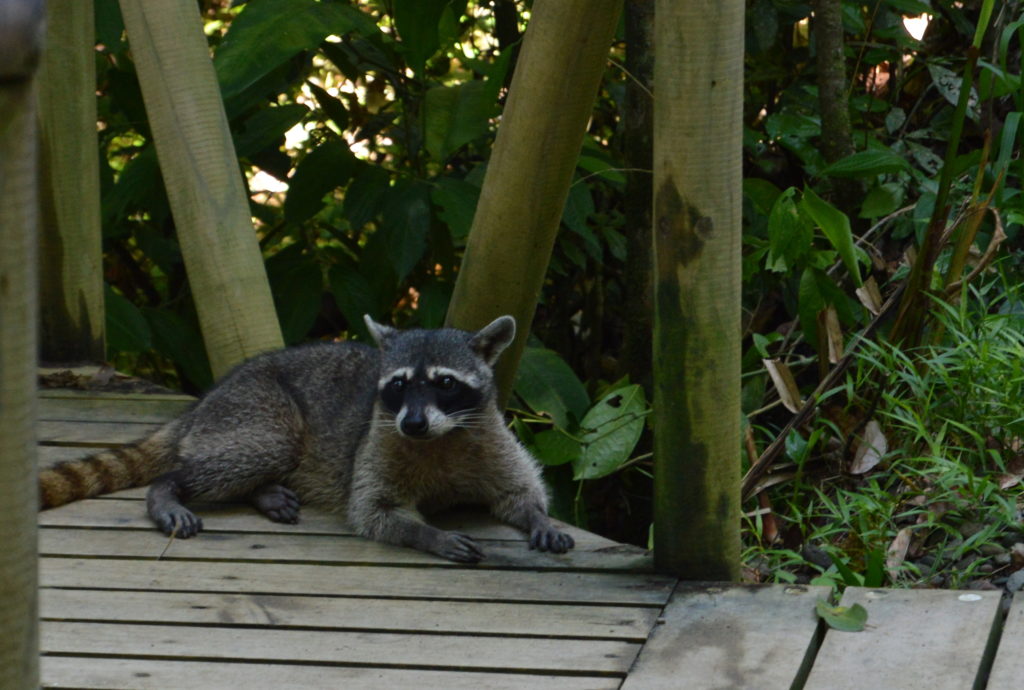 I found this strange, but the raccoons were out in search of food in broad daylight. I left my backpack unzipped at one point, and a raccoon grabbed a Ziploc bag with my sunblock in it and ran off! Another visitor had a monkey take an energy bar from their bag (see below for the video). We learned quickly that you must keep your bag fully zipped.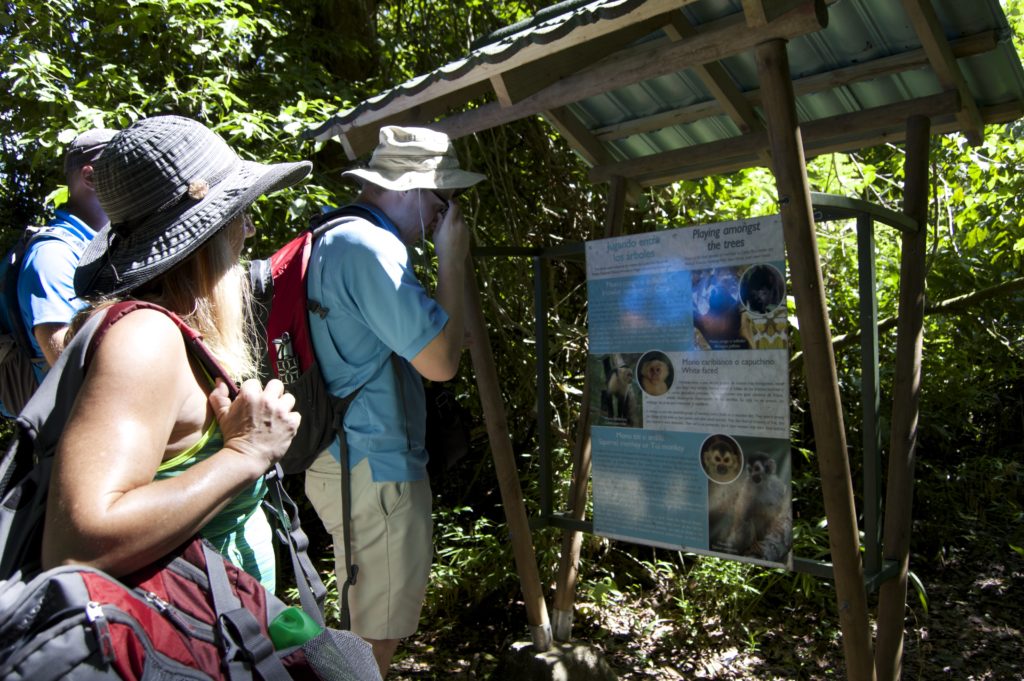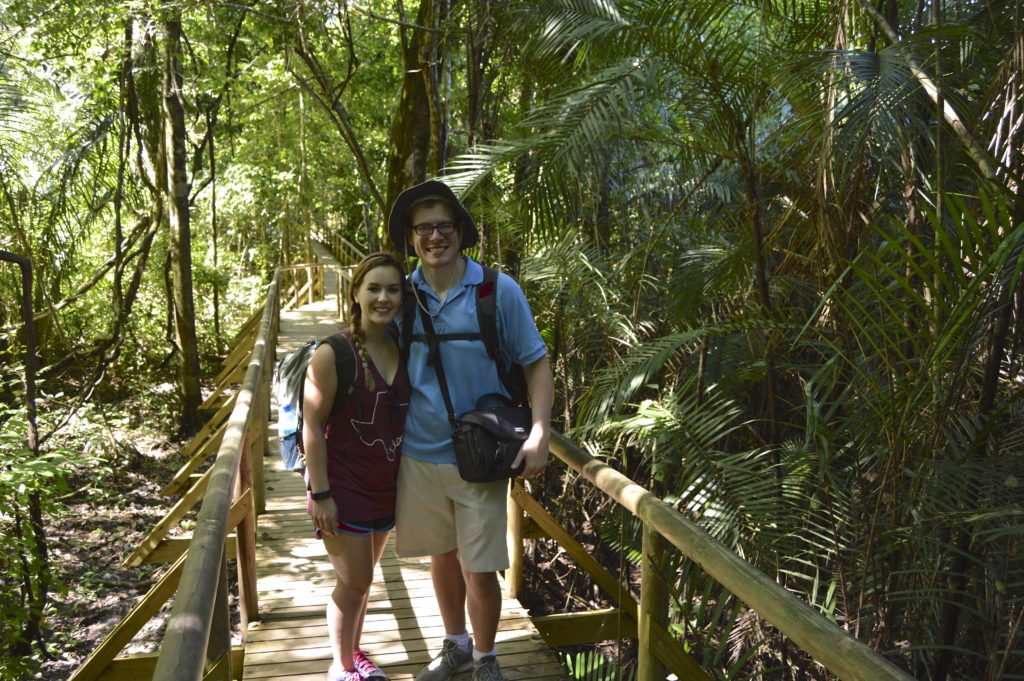 After a short hike, we reached Playa Manuel Antonio. We spent some time exploring the area and also went to the parallel Playa Espadilla Sur for some swimming.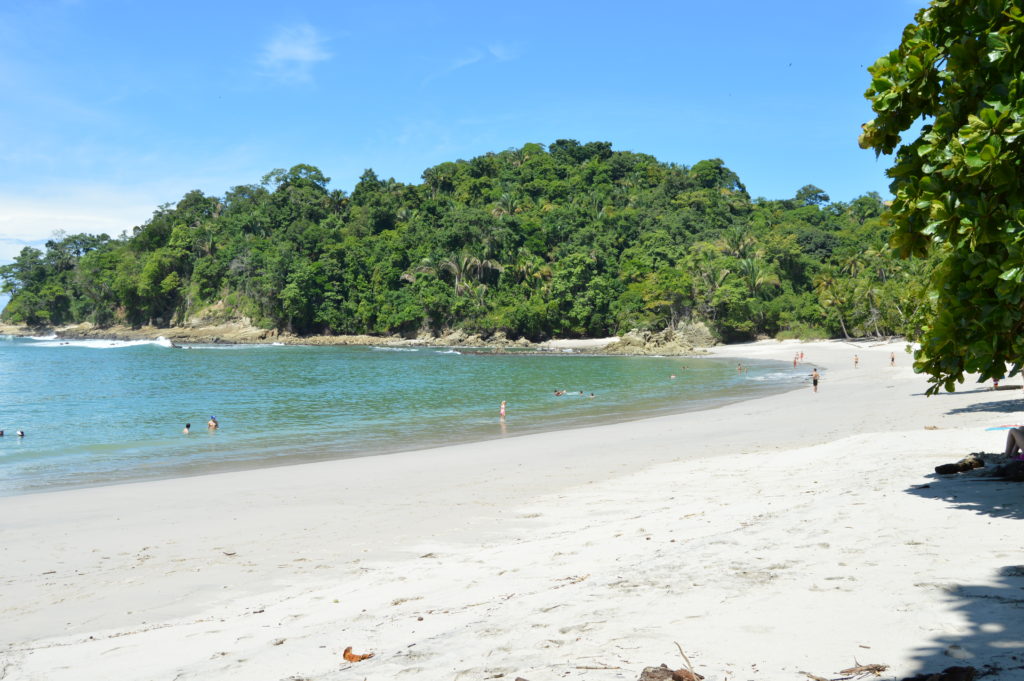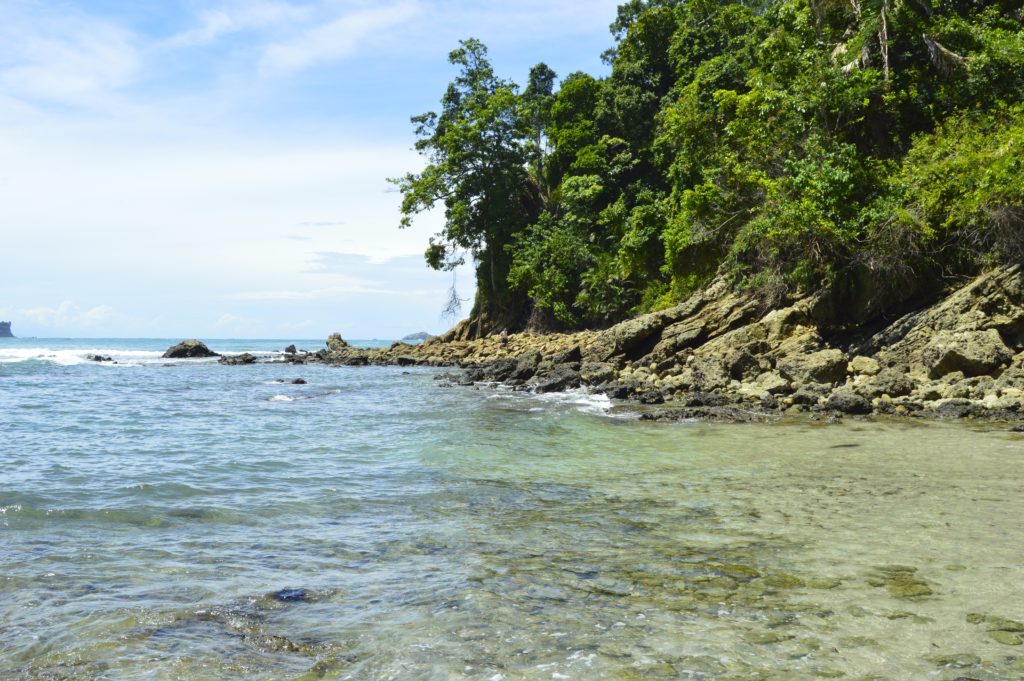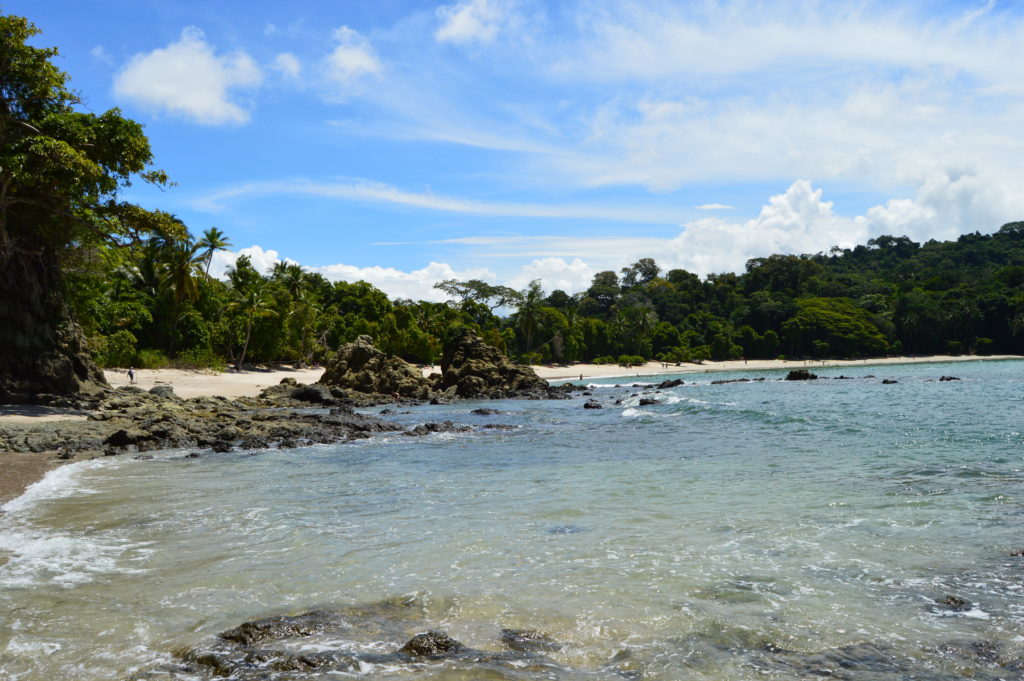 The Capuchin monkeys stayed close to the beach in large groups. They were great entertainment!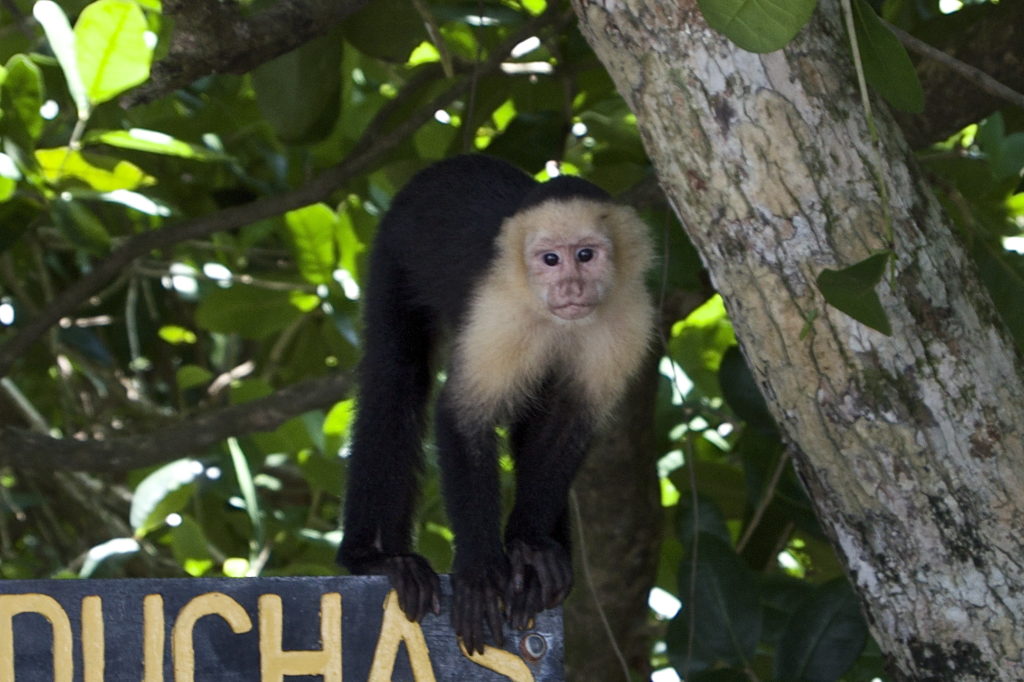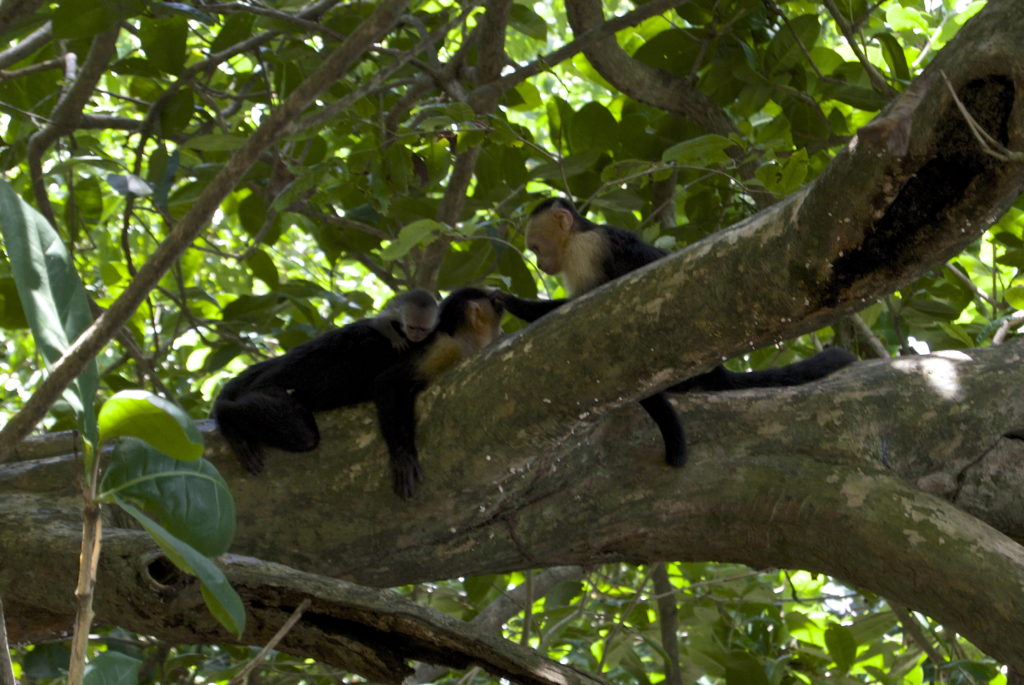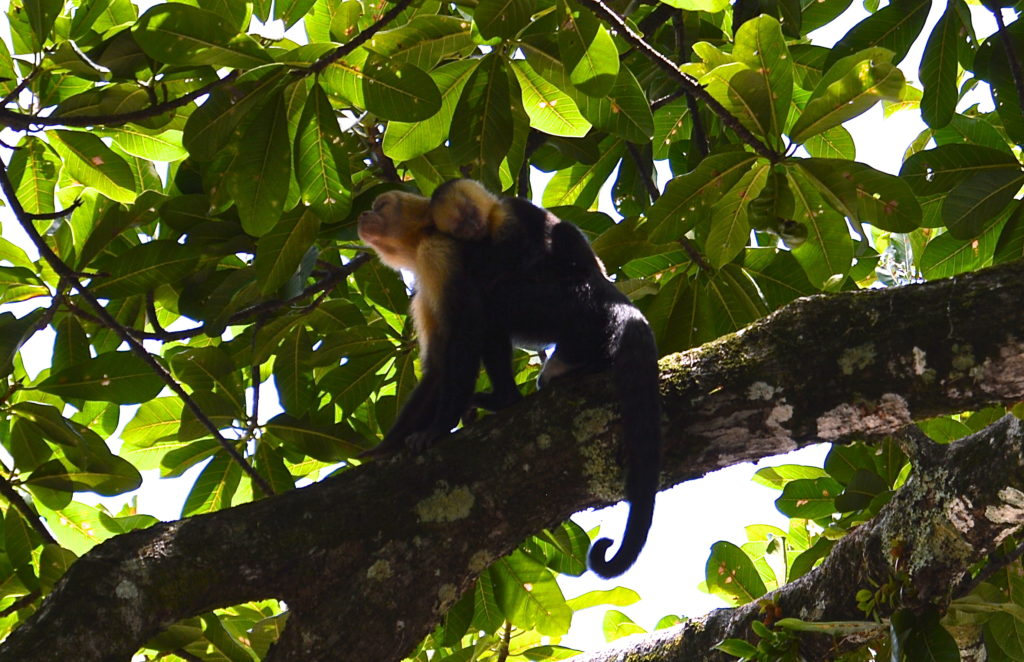 After spending some time at the beach, we hiked Cathedral point. This hike had many uphill stairs that led to some nice lookouts.  After our time hiking, we headed back to the hotel to clean up. We at dinner at El Avion, gazing out at the picturesque view and hearing the distant calls of howler monkeys from our table. El Avion was excellent. I had arroz con pollo for my meal and chocolate cake for dessert. Other dishes that looked very good were cheeseburgers and seafood pasta. Here's the red snapper at El Avion.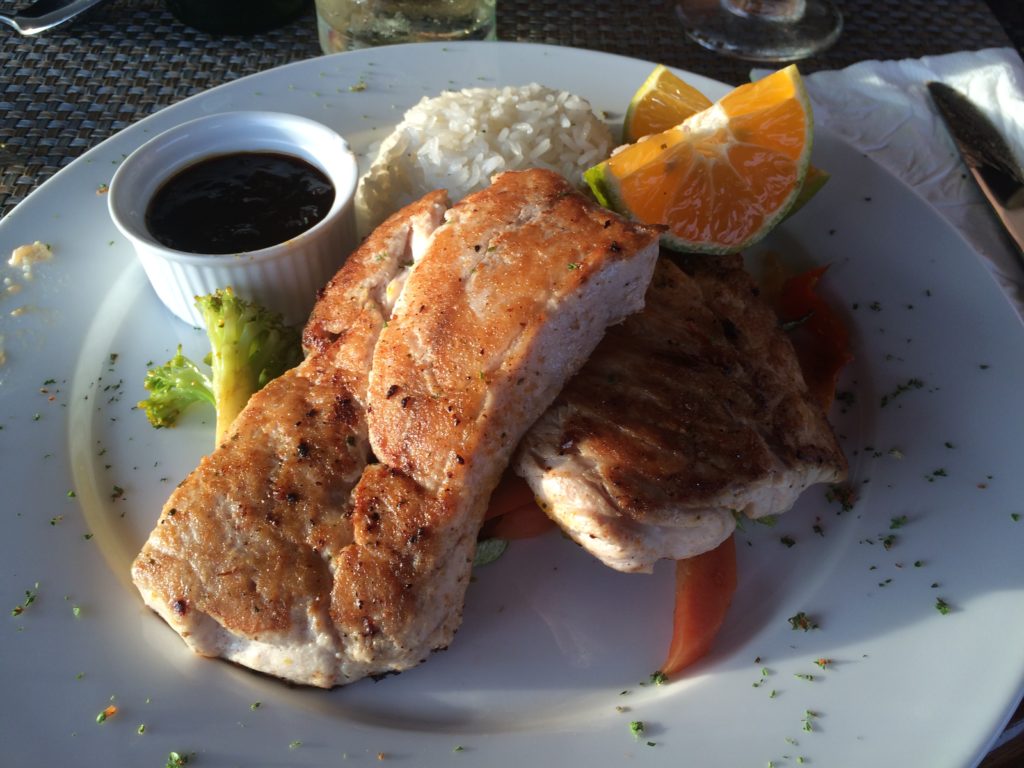 Day 3: Nauyaca Waterfalls
Our day began early with a drive out of Quepos and in the direction of Dominical to see the Nauyaca Waterfalls. We feared that we would not be able to find the entrance when our GPS told us we had reached our destination and we found ourselves with no sign in sight. Luckily we were about 3 Kilometers short of signs and a ticket office. Wristband tickets were $8 per person.
It was a very uphill 3 mile hike to the falls with a lot of mud. They offer horseback rides in the morning, but we had no problem traveling on foot.  As you can imagine, there was some muddy horse poop on the trail. Good thing I had my mud shoes on! I actually ended up taking a bad fall on this hike where I dropped my phone in a stream and broke it. On the way down I fell again straight into the mud! Gross!
Not all of the hike was bad. We walked past the prettiest blue river and saw numerous butterflies. My favorite butterflies were the Blue Morpho types with brilliant blue wings and the Owl Butterflies, which had wings the size of my hands that were a beautifully muted purple and gold.
There's nothing like wanting to reach your destination and hearing the roar of a giant waterfall in the distance, the sound increasing with each step. When we reached the waterfall, it was so impressive.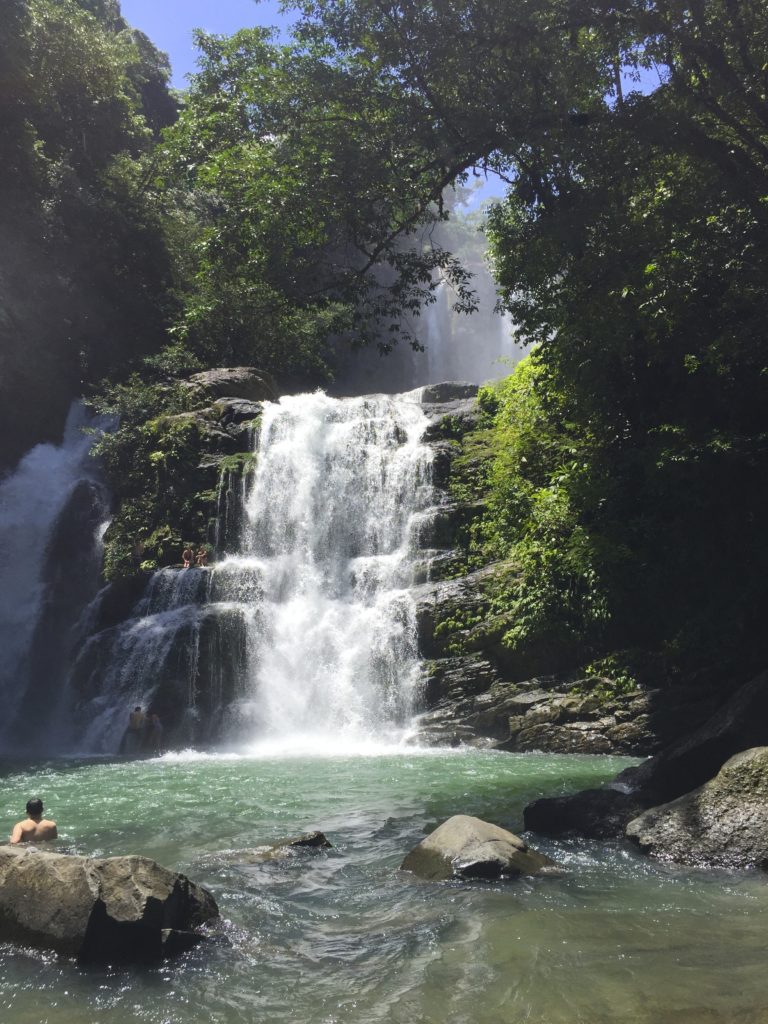 Due to the rainy season, the waterfall was very strong and full. It was stunning, and the best part was that we could swim in the cold water after a sweaty workout. I didn't want to risk dropping my camera, so I could not get a great picture showing both the upper and lower falls. If you can see, lower falls are the swimming area and the upper falls were just as impressive. The current was strong near the base of the lower falls, and we watched a few people fight to swim to the waterfall base, some failing in their attempts.
Getting to the waterfalls does take some level of physical fitness, but if you aren't very active I advise booking the horseback riding tour. I really recommend taking a morning to go see the Nauyaca Waterfalls because they are so impressive and allow you to appreciate the beauty of the rainforest. Remember to be cautious of the weather because heavy rains can cause mud slides.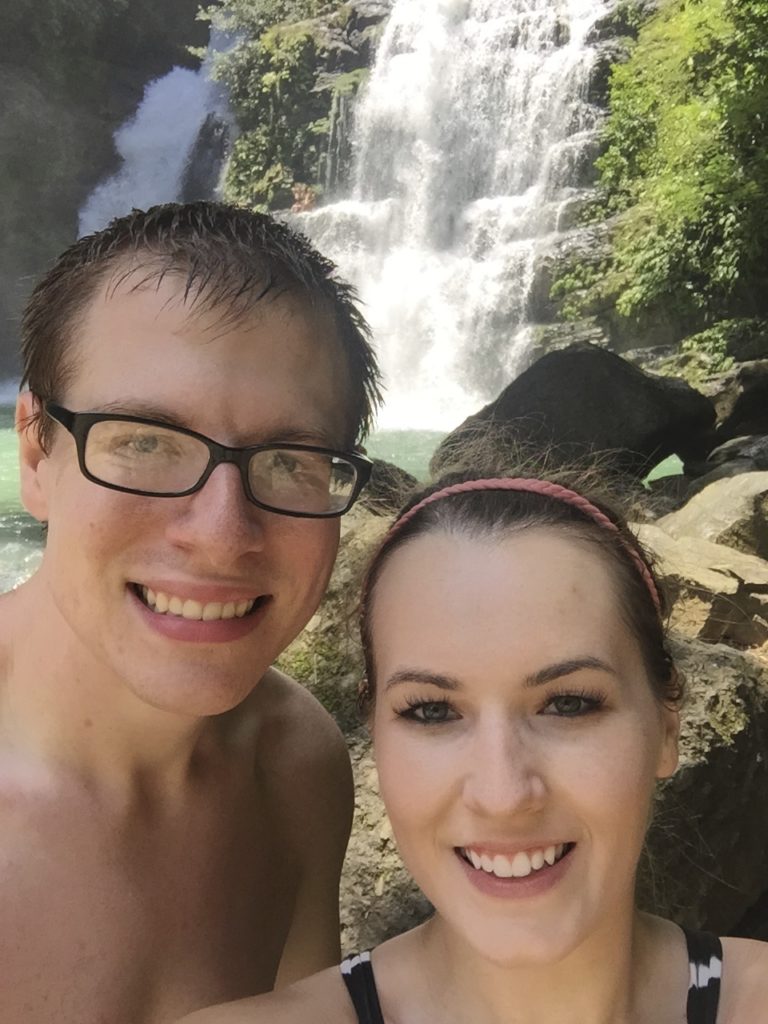 Upper Falls were a short hike beyond the swimming area.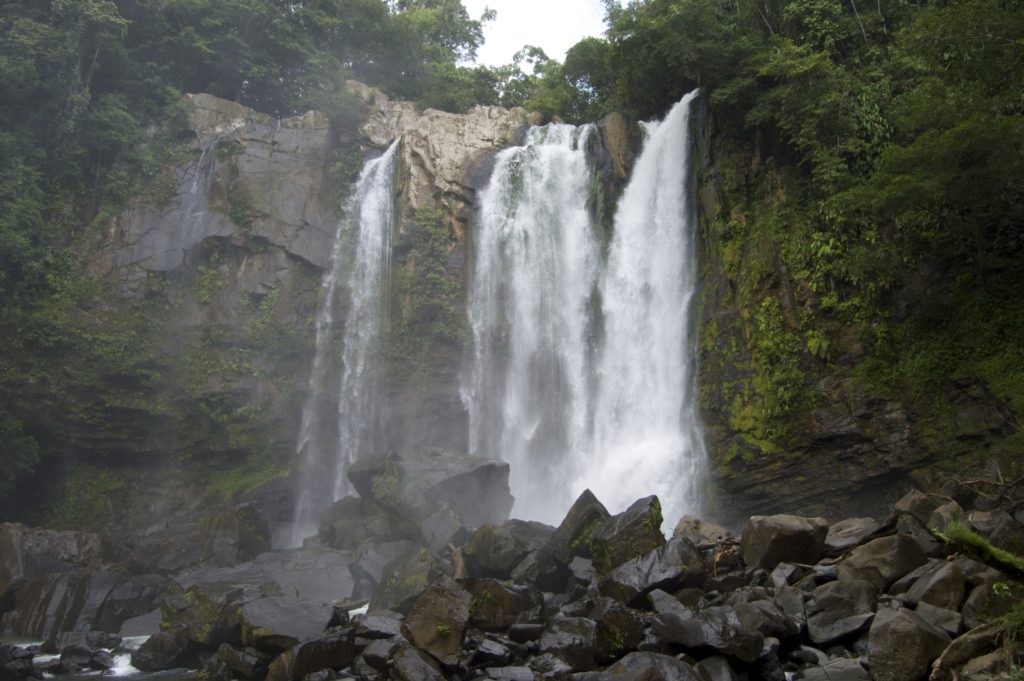 We spent the rainy afternoon at El Avion for another great dinner.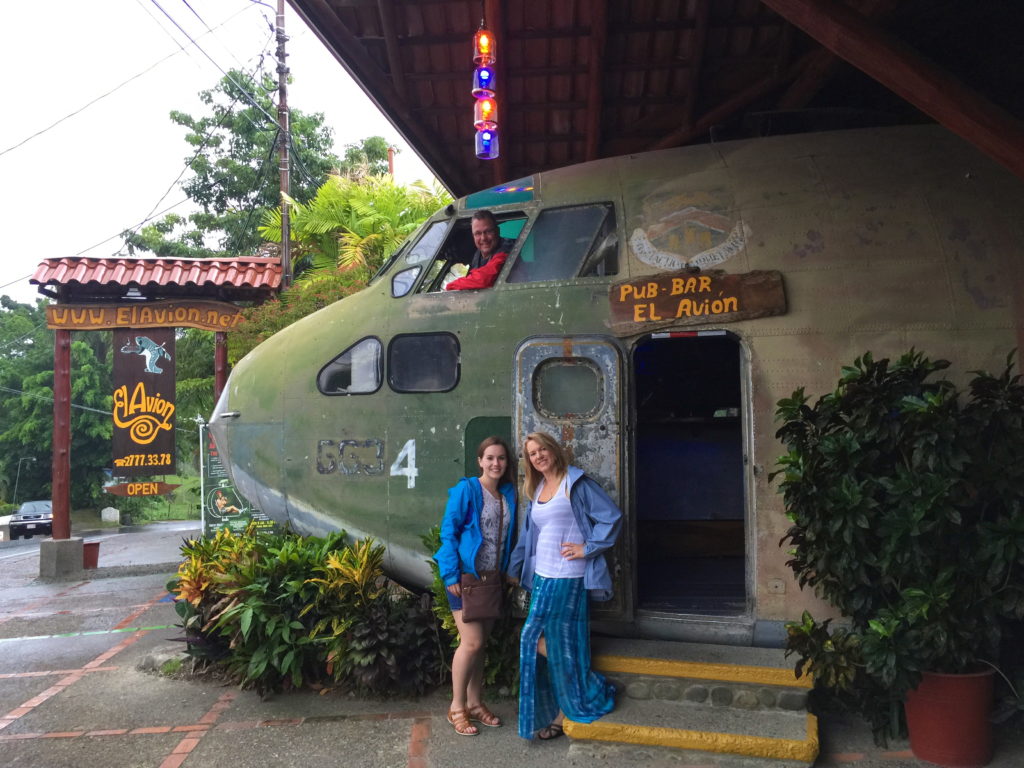 Day 4: Exploring Quepos and Manuel Antonio (and the Farmers Market)
This day was overcast and my weather app suggested potential showers all day. We we all exhausted from the past 2 days, and really just wanted to relax and check out some shops and beaches.
We drove to Playa Espadilla where we rock climbed the nearby cliffs. This photo was taken from the lava rocks of Playa Espadilla, looking out upon Playa Espadilla Sur. You can see Cathedral pint (located behind the big rock) and a nearly empty beach.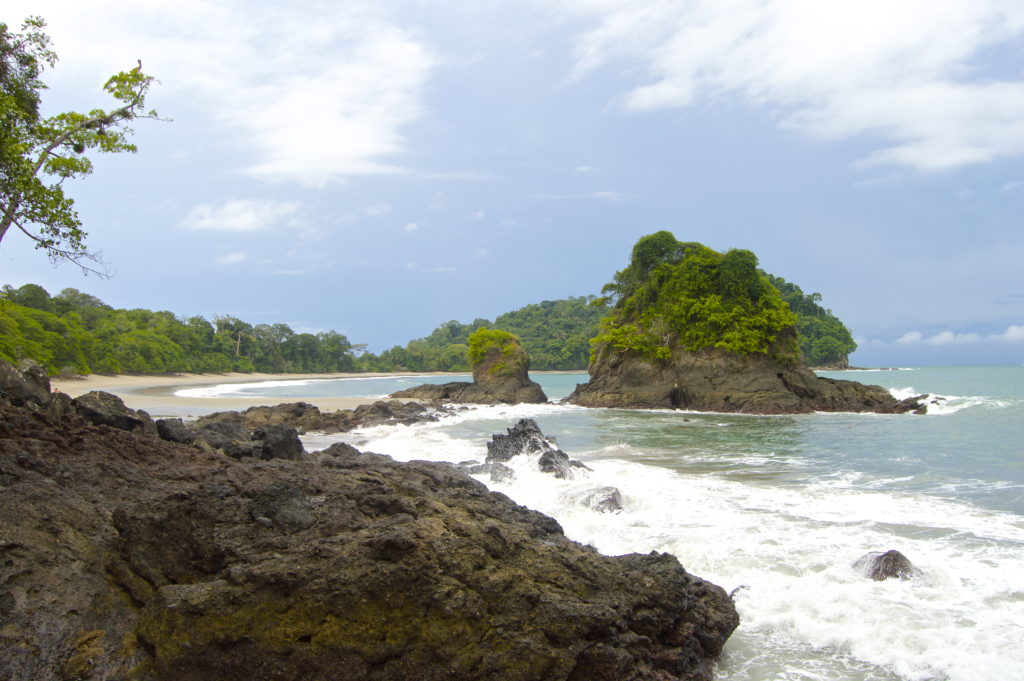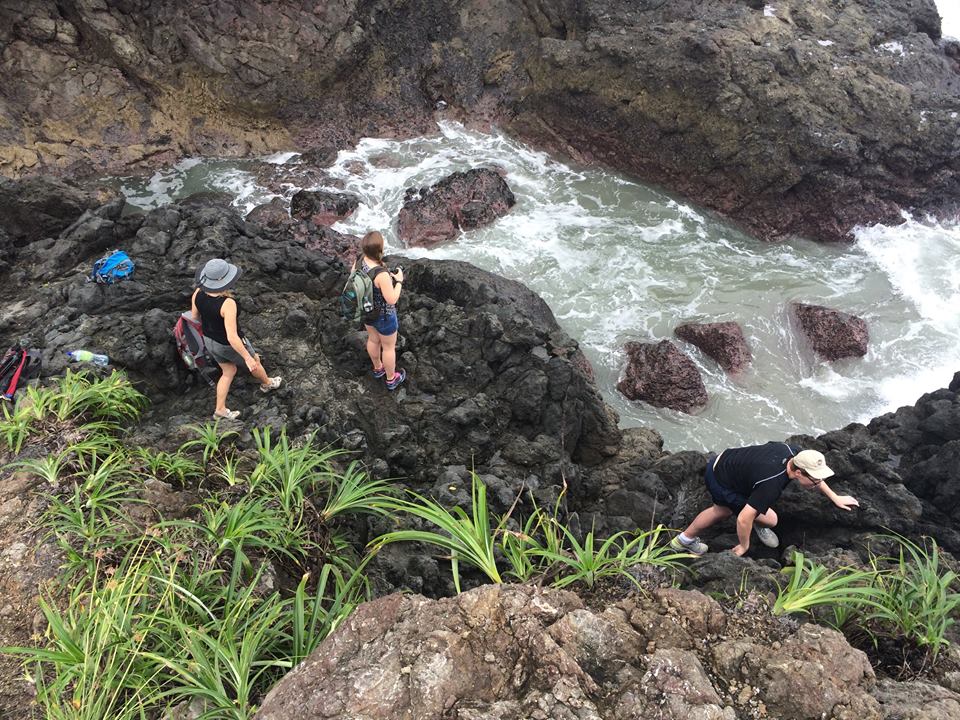 This was the first day we actually ate lunch instead of snacking on protein bars. We at at Emilio's Cafe, and has some delicious caprese sandwiches. Emilio's also included a bakery where we got fresh desserts.
The remainder of the day included shopping. The Farmer's market in Quepos was a fun affair! We tried some fresh fruits, including some varieties I had never heard of. I wanted something that I could bring back home, so I got some honey and chapstick at the market.
We had dinner that night at the Runaway Grill, followed by some gelato at Gelateria Amorosi. These restaurants were located in Quepos in a town center, outdoor mall style area.
Day 5: Manuel Antonio National Park
This was our last full day in Costa Rica, and we wanted to spend some more time with the monkeys in Manuel Antonio Park. Although we arrived at the ticket office early, we were surprised to find a line nearly 30 people deep. There was no line to get in previously, but this was a Saturday. I can't imagine how crowded it must get during high season. Thankfully the line moved quickly.
Right away, we were blown away by the many sloth sightings on the main path! It seemed that they all wanted to sunbathe. We saw so many monkeys that it became commonplace to have monkeys moving through the canopy right over our heads.
I was surprised when I was going back through my pictures and realized that I captured a butterfly in my sloth photo! My favorite picture of the trip.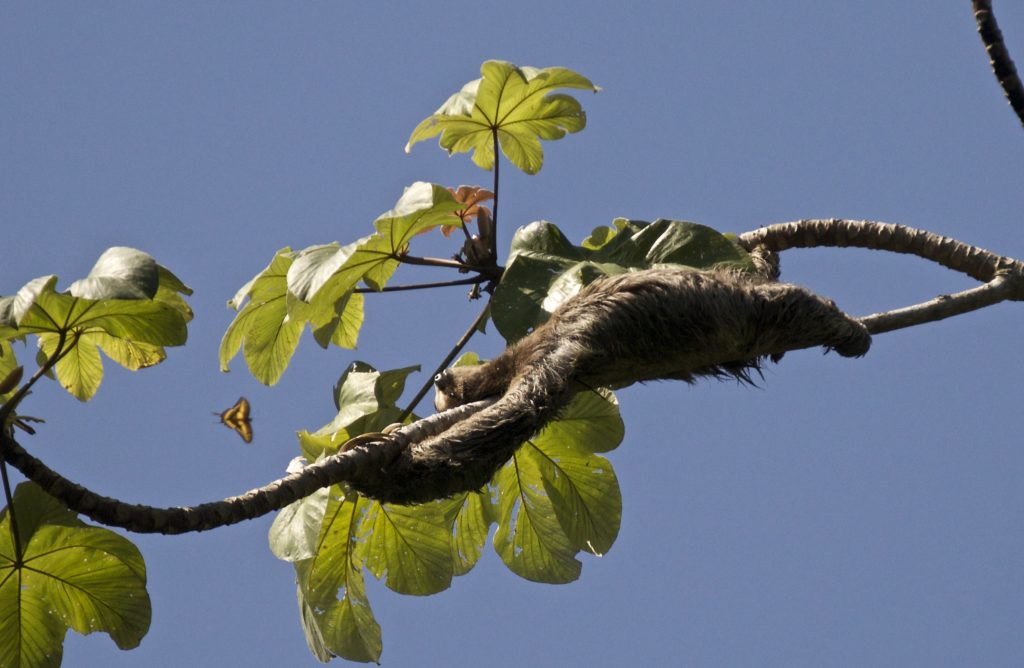 Mother sloth with her baby.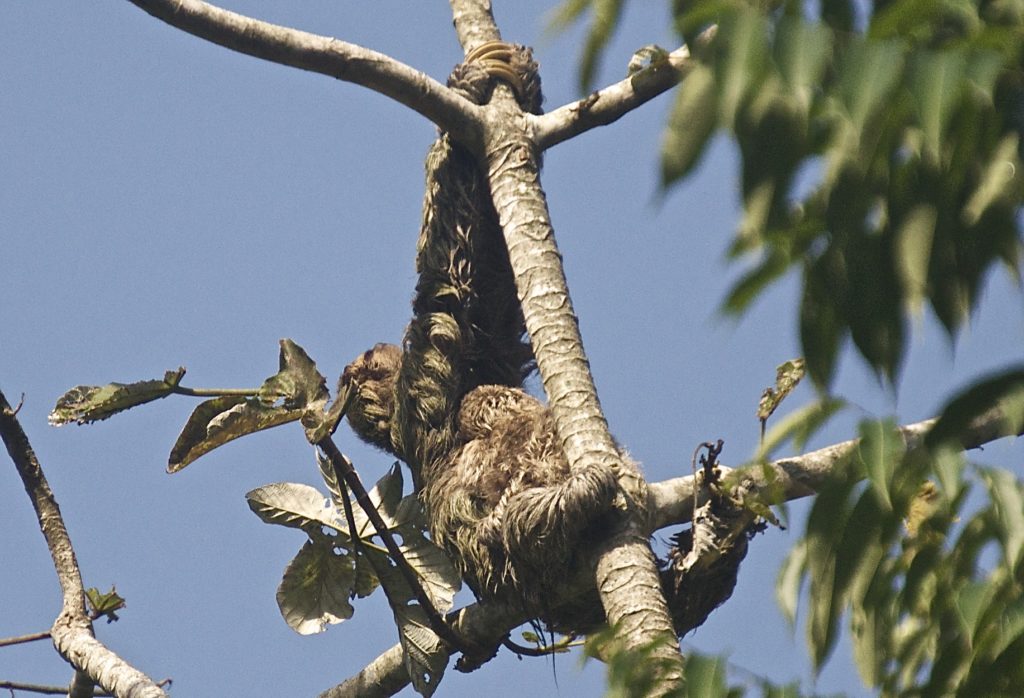 I hoped to get some time in the park away from the crowds, so we headed to Playa Biesanz. The beach discouraged swimming, but it was very pleasant and isolated. It was also full of hermit crabs. Reed and I relaxed on the beach before heading to Playa Espadilla Sur for a dip in the sea. Here are some pictures taken at Playa Biesanz.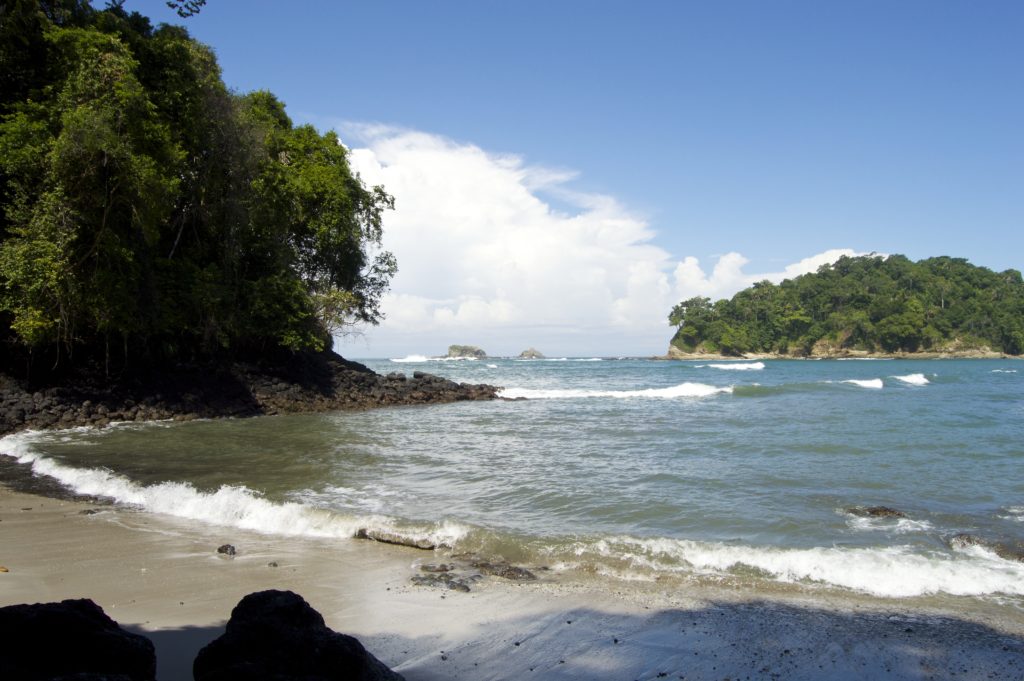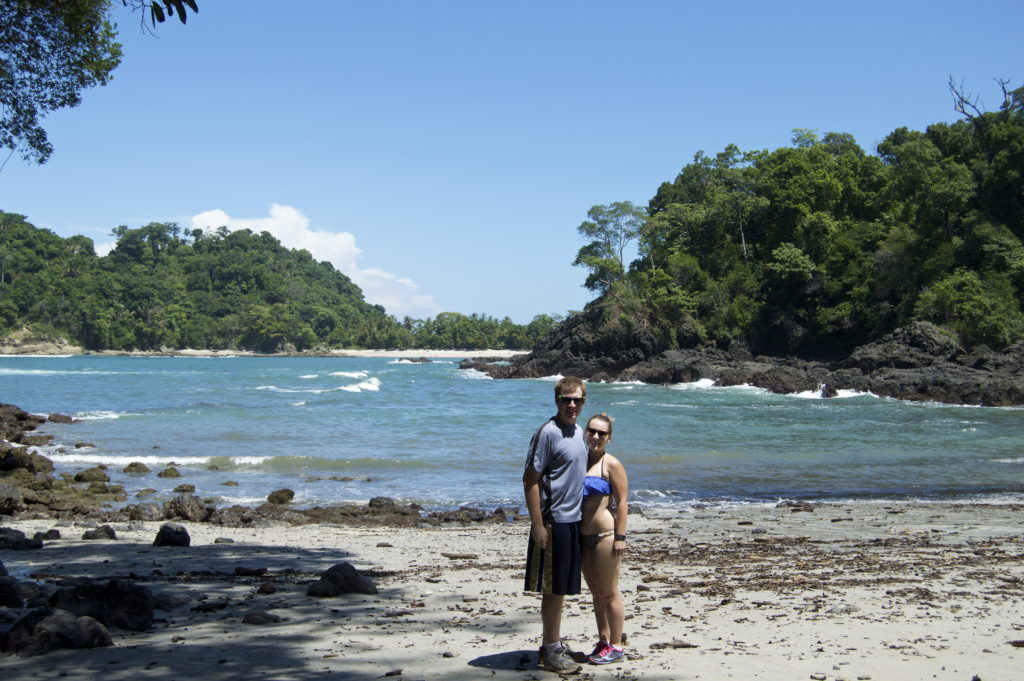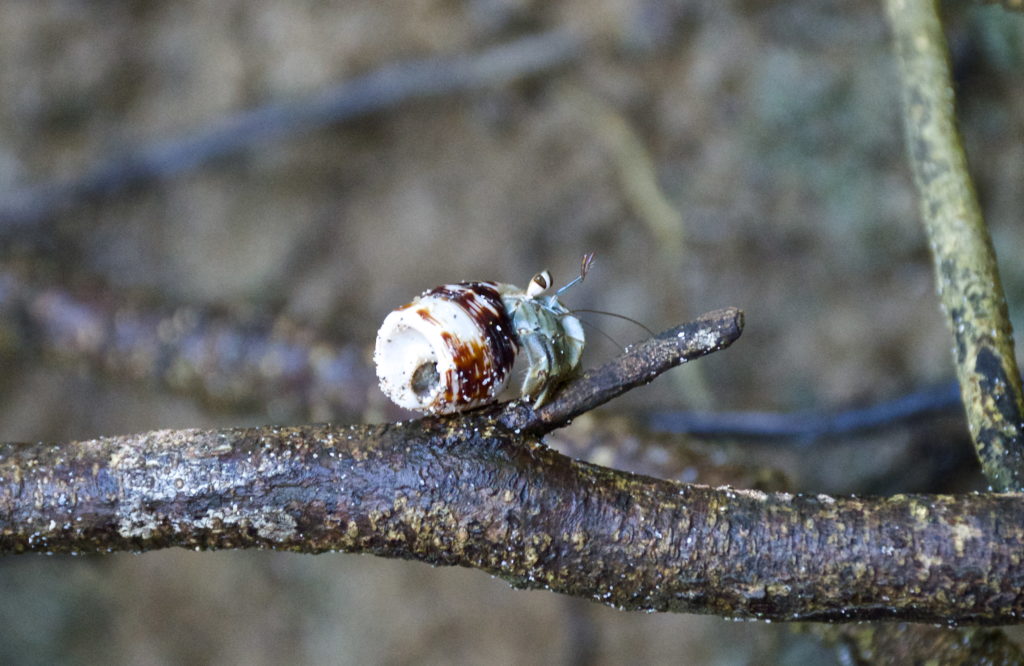 The Capuchin monkeys were back in abundance near Playa Espadilla Sur. They were definitely the highlight of the trip! This day had the best sunny blue skies and warm weather, making for a great time at the beach. We swam, videoed monkeys, and enjoyed the atmosphere of the tropical park. We also had to watch our step! Iguanas liked to hangout on the beach.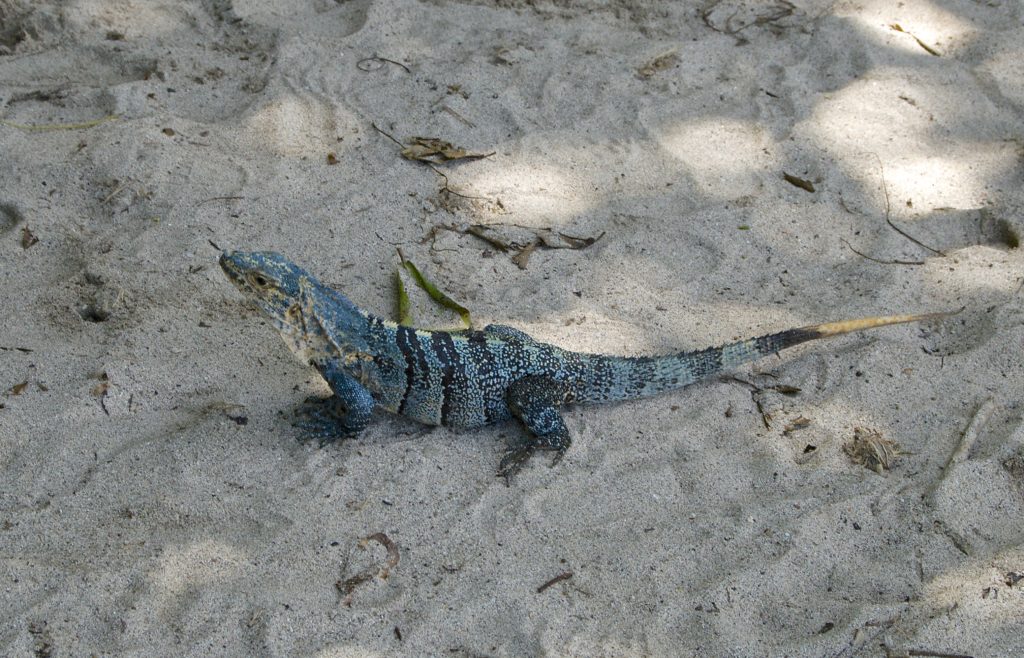 All white sands and blue skies at Playa Espadilla Sur.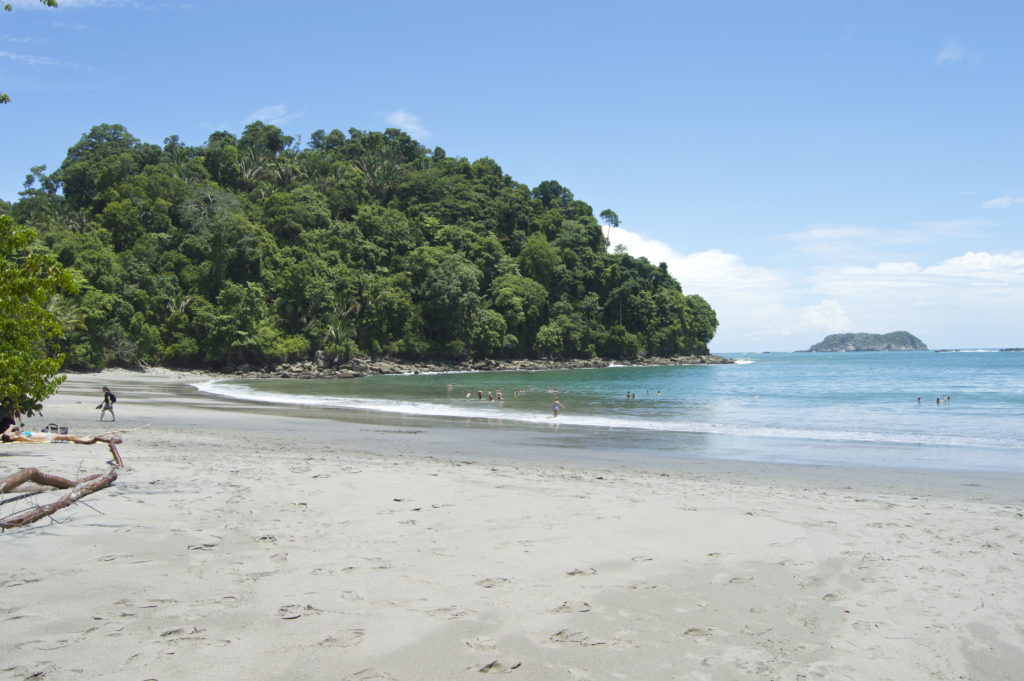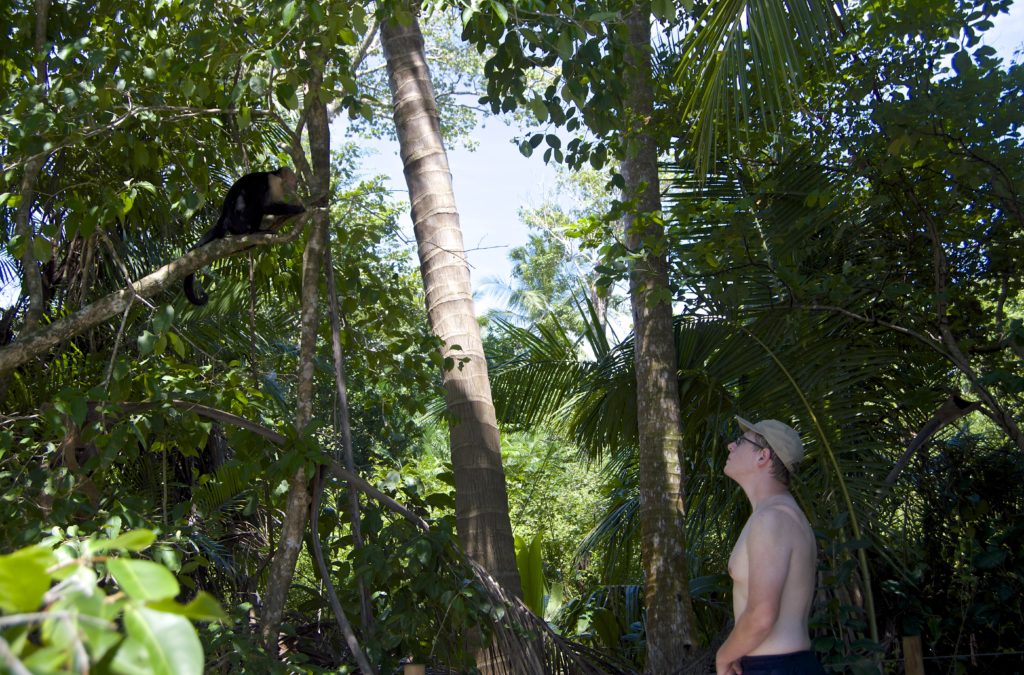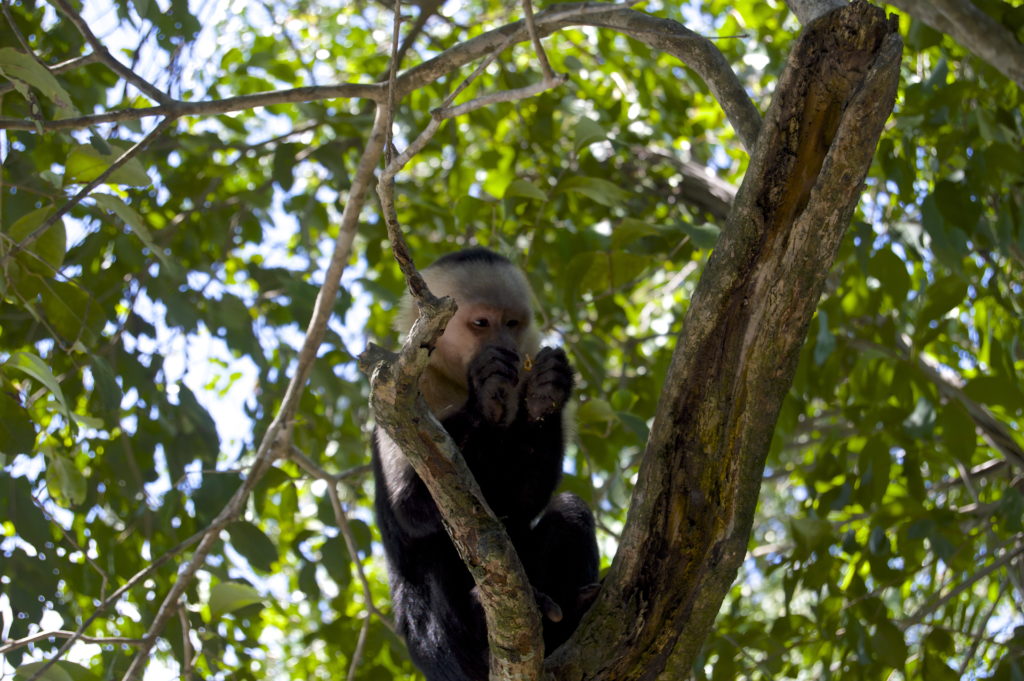 Slightly sunburned, we headed to El wagon restaurant for a dinner full of pizza. We loved El Wagon. Our order included the 4 cheese pizza, the Hawaiian, and Margarita pizza. Some curious monkeys ventured inside the restaurant in hopes of getting some food. We also went back to Gelateria Amorosi later that evening, enjoying one last treat before returning the the hotel to pack.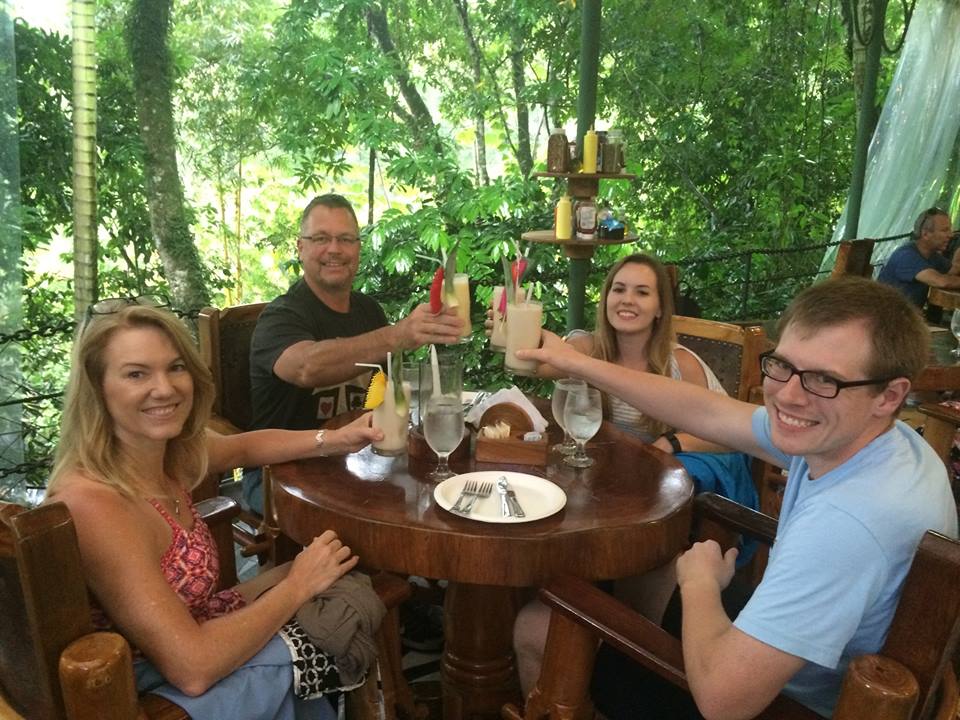 Day 6: Travel Home with Scarlet Macaws 
This day we woke early to head to the airport. I wan't expecting anything special this day, just hoping to make it home so I could see my dog. I was already thinking about all of the amazing things I had seen on my trips to Costa Rica and remembered that Scarlet Macaws live in Costa Rica. I thought to myself, the last thing I would like to see in this country would be a Macaw in the wild. Then, I would really feel like I had seen it all. They must be very rare, I thought as I contemplated all the hiking I would have to do in an attempt to spot a Macaw. Moments later, 2 Scarlet Macaws flew over our car! "Macaws!!" I screamed through the car. I don't think I've ever been so excited about an animal sighting. I wish I could have taken a picture but my camera was packed and at this point my phone still was not working.  As we continued to drive down the highway, we ended up seeing Macaws two more times. One was another pair and the next were a group of 4 that flew right over the highway. All of these sightings were very close to the town of Parrita (I learned later that there are actually lots of Scarlet Macaws in this area).
A Country Filled with Many Treasures 
After visiting 3 regions of Costa Rica all in one year and driving through much of the country, I have found that there is still more that I would love to discover. I enjoyed all of the food I ate and was actually jealous when I saw how good the breakfast tacos looked at McDonalds in San Jose vs the ones back home. From the food to the water, everything was so fresh and natural. I am not sure if there is another country out there that has so many species of birds or plant life. I encourage anyone who wants to explore the rainforest to check out Costa Rica and visit some of the national parks. I was treated very well by Costa Rican's and am thankful for the opportunity to experience some of the beauty in their country. One day I'll be back! Cheers to an amazing trip and to more great adventures to come!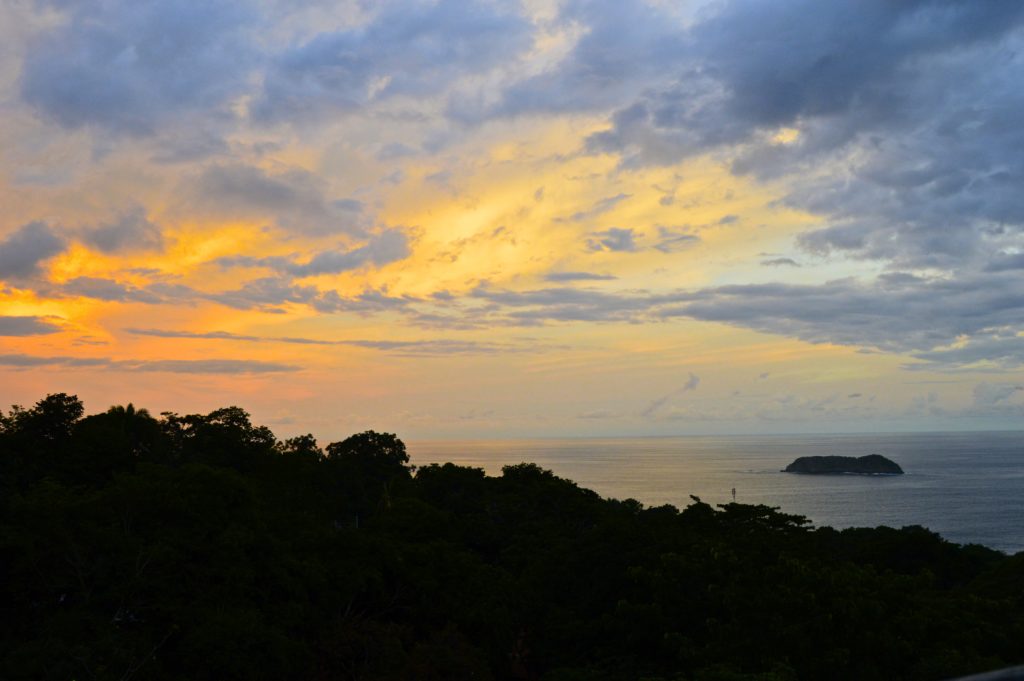 Thank you for reading! Please feel free to ask any questions in the comments section.
Comments
comments