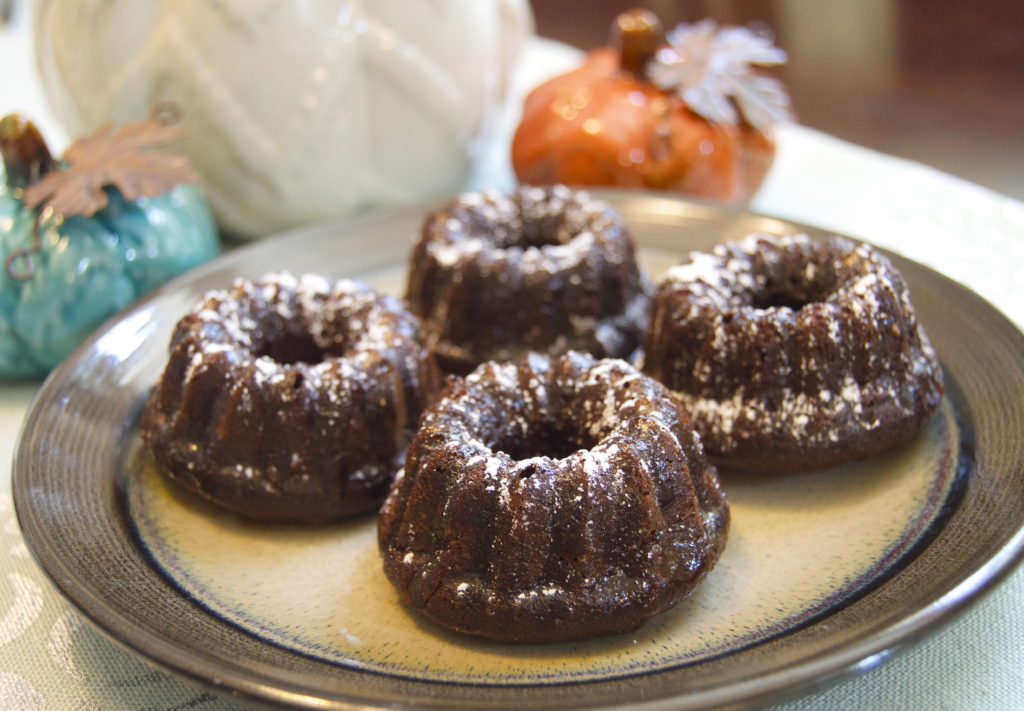 One thing is certain about a good Kahlua cake; It's hard to keep your hands off of! I almost prefer cakes with alcohol in them because of their rich taste and texture. This recipe was used to make mini bundt cakes, but you can easily bake cupcakes or a regular bundt cake with the instructions. The finished product is slightly gooey and addictive! I will also go into detail about working with a mini bundt pan and what I did to get the right size cake.
Each year my husband asks me to bake a cake for his birthday. He usually wants a rum cake but this time, I suggested making one with Kahlua. I scraped my cake recipe containing white rum and created a whole new chocolate Kahlua cake that I will definitely be making again. Here's the recipe in hopes that I can bake this delicious cake in the future.
Ingredients:
1 box chocolate cake mix (I used Ghirardelli double chocolate mix, 12.75 oz.)
1 box of chocolate instant pudding mix (3.9 oz.)
1/3 cup light brown sugar
3 eggs
1/4 cup vegetable oil
1/3 cup Kahlua
1 cup water
1/2 teaspoon cinnamon
pinch of salt
For Glaze:
1/3 cup Kahlua
1/3 cup brown sugar
2 tablespoons butter, unsalted
Additional Ingredient: Powdered Sugar (for topping only)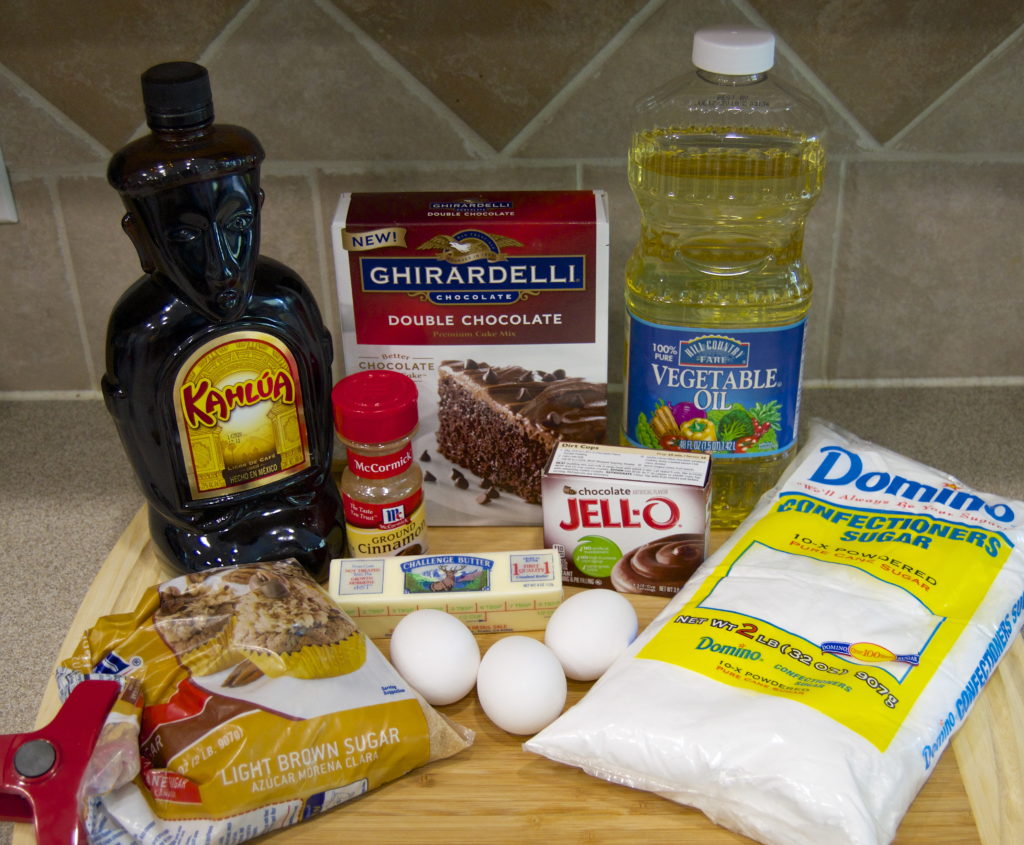 Instructions:
Combine all ingredients in a large bowl and mix till batter is even. I recommend using a stand mixer for this task. I liked using the Ghirardelli cake mix because it had a good flavor and contained tiny chocolate chips, but any chocolate cake mix will work for this recipe.
Grease baking pan. Pour in batter and prepare to bake. I was gifted a miniature bundt cake pan a couple months ago and decided to give it a try. After some trial and error, I found that this type of pan needs exactly 1/8 cup of batter to bake at the correct size. Even with the small sized pan, it still took about 20 minutes for the cakes to bake. This recipe makes 24 mini cakes. I've included a picture with my hand to help scale since I know bundt pans come in all different sizes.
Baking temperature will depend on the size of your cake. For regular bundt or cupcakes, bake at 350 degrees. For mini cupcakes or mini bundt cakes, bake at 325 degrees.
Baking time: 15-20 minutes for mini cakes, 30 min. for cupcakes, 40-50 min. for bundt cake.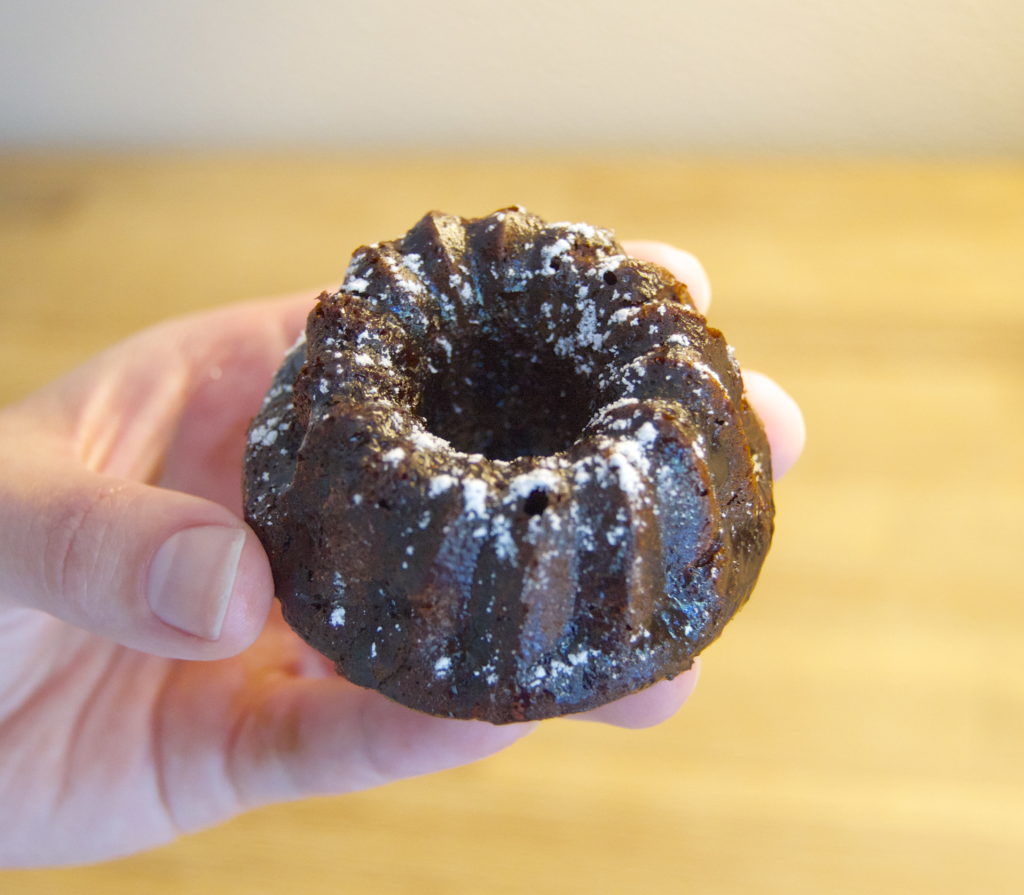 5. Once cakes are ready, keep them inside the pan and let them completely cool. If removed from the pan too early, they could break apart. Once cooled, place cakes on a plain baking sheet or platter that you don't mind getting messy.
6. Now it's time to make the glaze. This is really what makes these cakes taste so great! In a small pot, combine Kahlua, sugar, and butter and heat over the stove until the mixture is bubbling. Stir untill the sugar has dissolved and the mixture is frothy. The glaze will be watery, which is good.
7. Drizzle spoonfuls of the glaze all over cakes.
8. Top off glazed cakes by sprinkling a little powdered sugar on top.
Enjoy!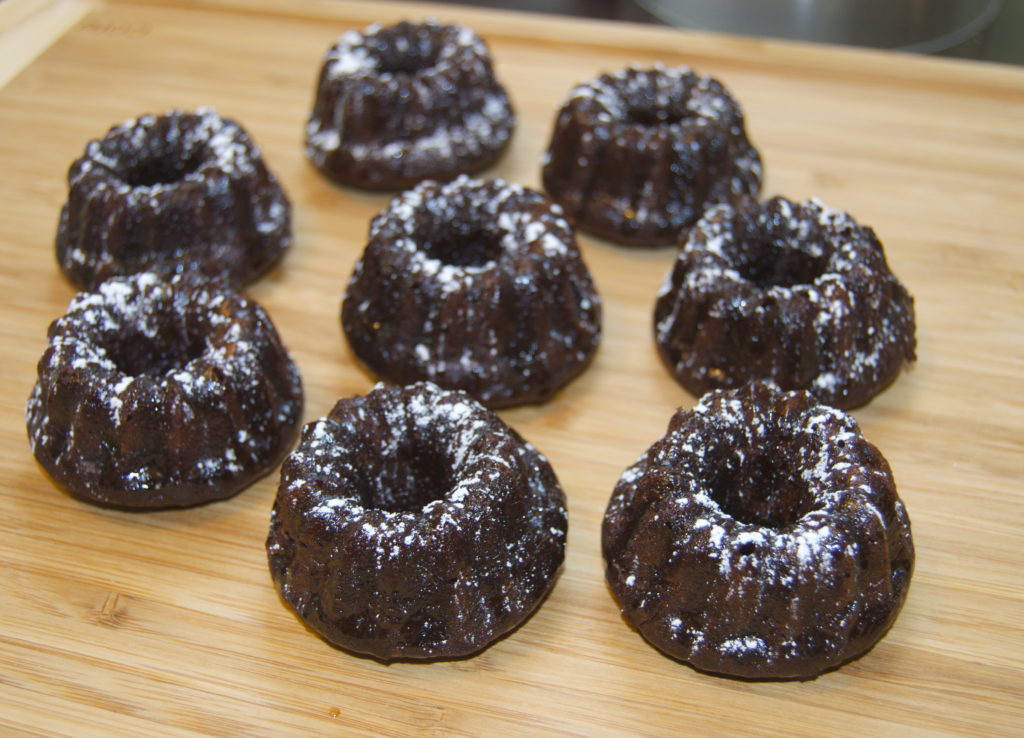 Although I'm a huge fan of the traditional bundt cake, I liked working with the mini bundt pan. The little cakes were so cute; I'd love to bake a variety of different ones for a party. The mini bundt cakes were easy to bring in the car and were more sturdy than I pictured a tiny cake to be. The Kahlua complimented the chocolate flavor and made the cakes taste very rich. I can't wait to try to make more types of Kahlua cake. Specifically, the Kahlua cake that has vanilla and coffee in it. I can only imagine how amazing that would be!
If you liked this recipe, please share.
Thanks for checking out nutshell or two and stay in touch for more cake recipes!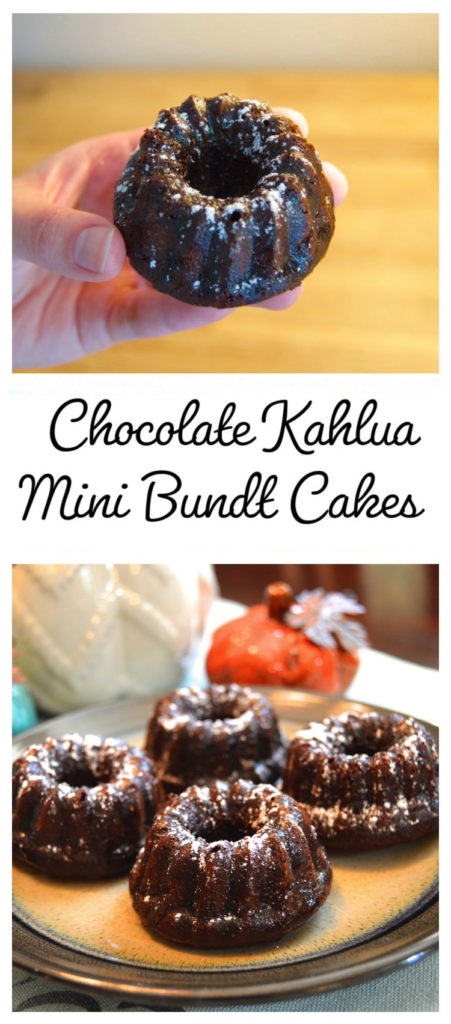 Comments
comments