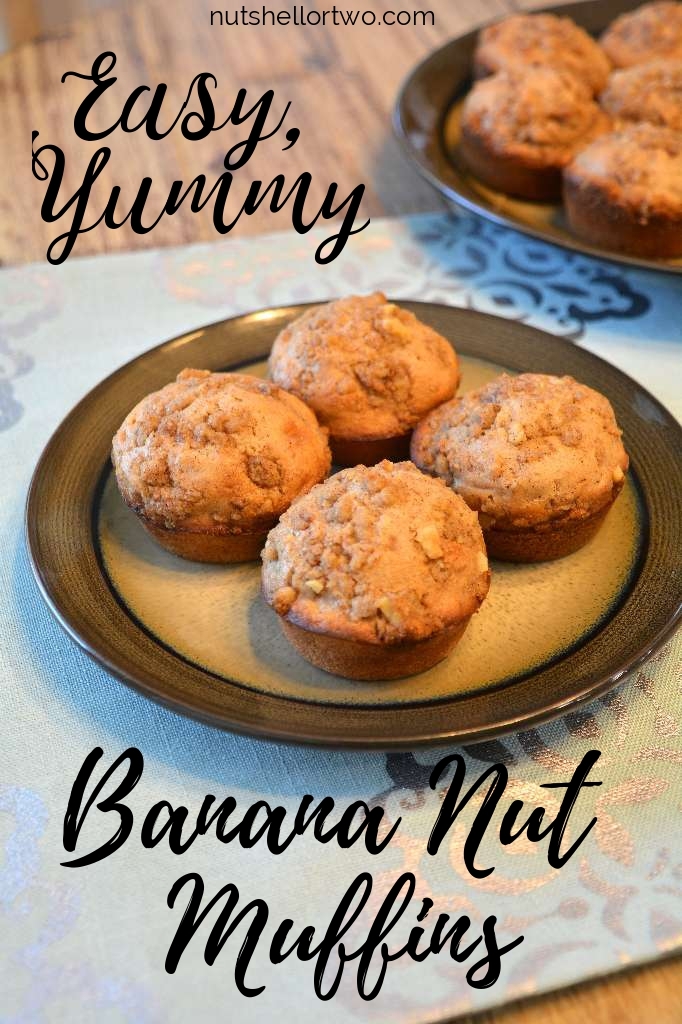 Have a banana handy that's on the verge of becoming overripe? Put it to good use by whipping up some quick and easy banana nut muffins. With a hint of cinnamon and a bit of sweetness, these muffins are the perfect for an on-the-go breakfast or a small snack. This recipe makes 12 regular size muffins and includes a tasty crumb topping for a little something extra to indulge in.
Ingredients
For Muffins:
1.5 cups all purpose flour
1/2 cup white sugar
1/2 teaspoon salt
2 teaspoons baking powder
1 teaspoon cinnamon
1 large egg
1 ripe banana (regular size with a few brown spots works best)
1/8 cup vegetable oil
1 teaspoon vanilla extract
1/2 cup water
1/4 cup crushed walnuts
For Crumb Topping:
3 tablespoons butter (melted)
1/4 cup light brown sugar
1/4 cup all purpose flour
1/2 teaspoon cinnamon
1 tablespoon crushed walnuts
Instructions
For the Main Muffin Mix:
Preheat oven to 400°F
In a large bowl, mix flour, sugar, salt, baking powder, and cinnamon until the ingredients are evenly blended.
Using a handheld or stand mixer, begin to beat in the egg, banana, vegetable oil, and vanilla extract into the dry ingredients.
Add in 1/2 cup water slowly and continue to beat until the mixture is smooth.
Fold crushed walnuts into the batter with a spatula.
Do not pour batter into muffin tins yet, set the bowl aside and move onto making the crumb topping.
To Make Crumb Topping:
In a separate bowl from the main muffin mix, combine light brown sugar, flour, cinnamon, and walnuts.
Add in 3 tablespoons melted butter and combine to form a sugary, crumbly paste.
In your Muffin Tin:
In a greased muffin tin, add banana-nut batter
Take small handfuls of the sugar crumbles and lightly sprinkle on the top of the muffins. I usually only use about 2/3 of the crumble mix, but you can use as much or as little as you like.
Bake muffins for 12-15 minutes at 400°F. Muffins are ready when they look slightly brown on the edges.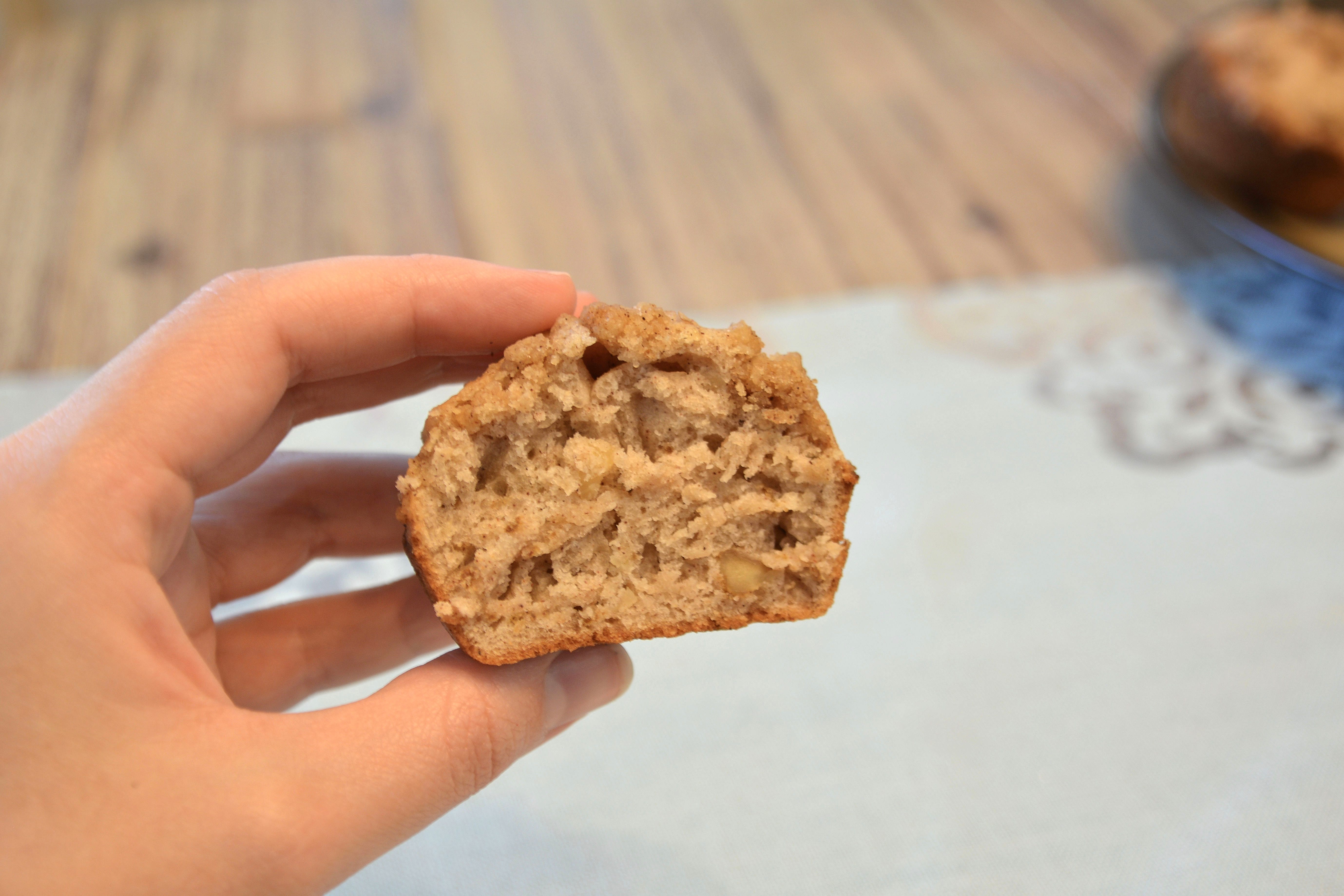 This recipe makes approximately 12 regular size muffins. The muffins can be stored covered at room temperature for 2-3 days, but that's about the longest they've ever lasted in my house.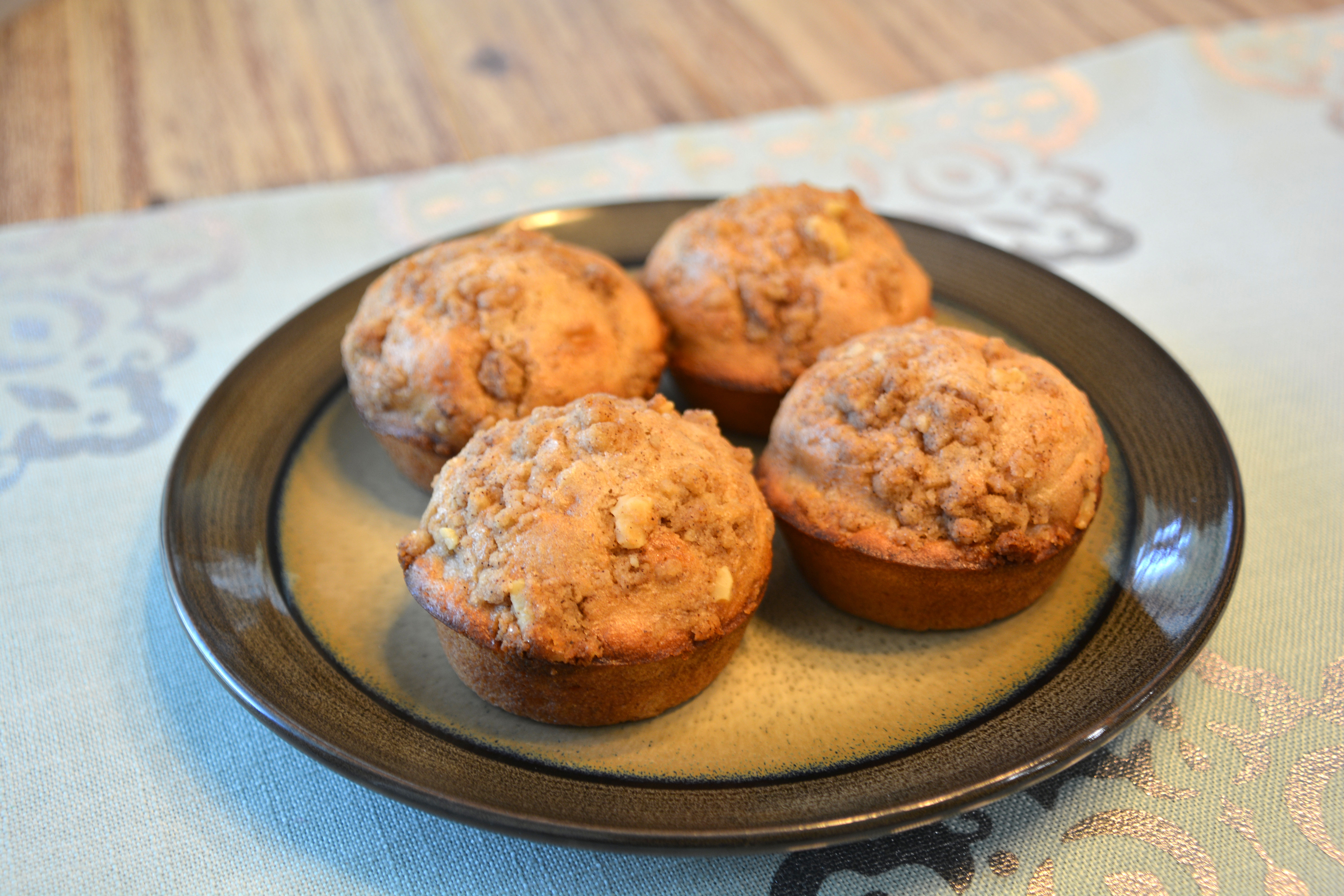 My family really loves these muffins and I hope yours will too! You will also get the added bonus of having a wonderful smelling home while these are baking in the oven.
Stay in touch and be sure to check out the Facebook page for all kinds of delicious recipes.
Comments
comments