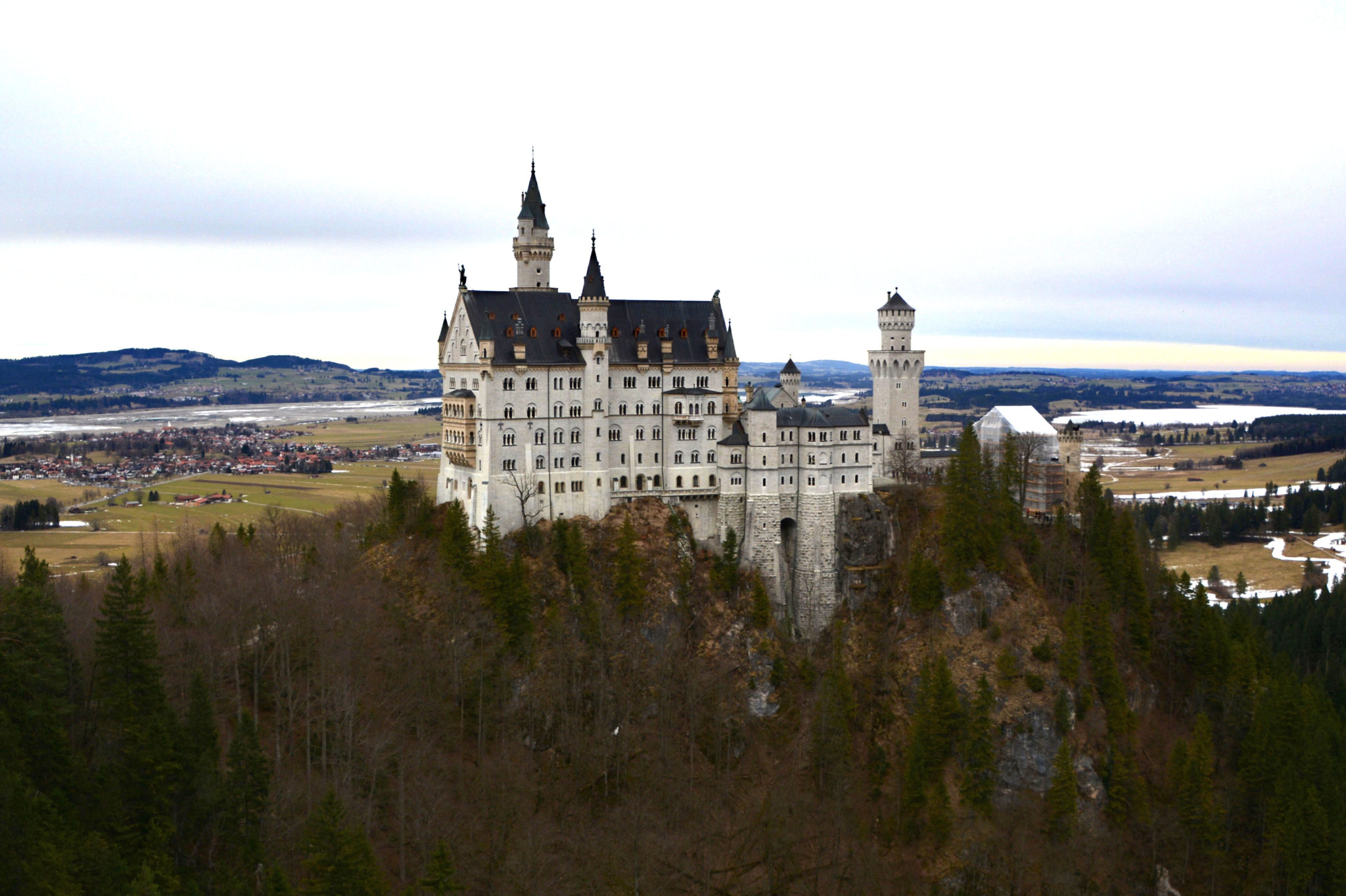 I took a tour of Neuschwanstein Castle and Hohenschwangau Castle and had the most incredible time! Although Neuschwanstein Castle seems to be the main attraction of the area, there are plenty of fun activities to take part in around the Castles and village. Continue reading to learn about my day spent visiting Neuschwanstein Castle and why you should also consider touring Hohenschwangau Castle. If you are planning to visit soon, please take a look at my post, How to Plan Your Neuschwanstein Castle Day Trip for information on how to reserve your tickets.
The map below details the location of the Füssen Train Station, Hohenschwangau Ticket Office, and the location of the Castles.

Depart from Munich
Our day started at the main train station in Munich called München Hauptbahnhof (Munich HBF) where we departed for Füssen. This train station was very nice and full of delicious pastries and sandwiches and also plenty of souvenirs. After getting some pastries for breakfast, we located our train and found our seats.
This was my first train ride since arriving in Europe, and I couldn't wait to experience the ride and see some of the landscape in southern Germany. Our train car was full of tourists speaking all different languages and it was evident that we were all traveling to Füssen to see Neuschwanstein Castle.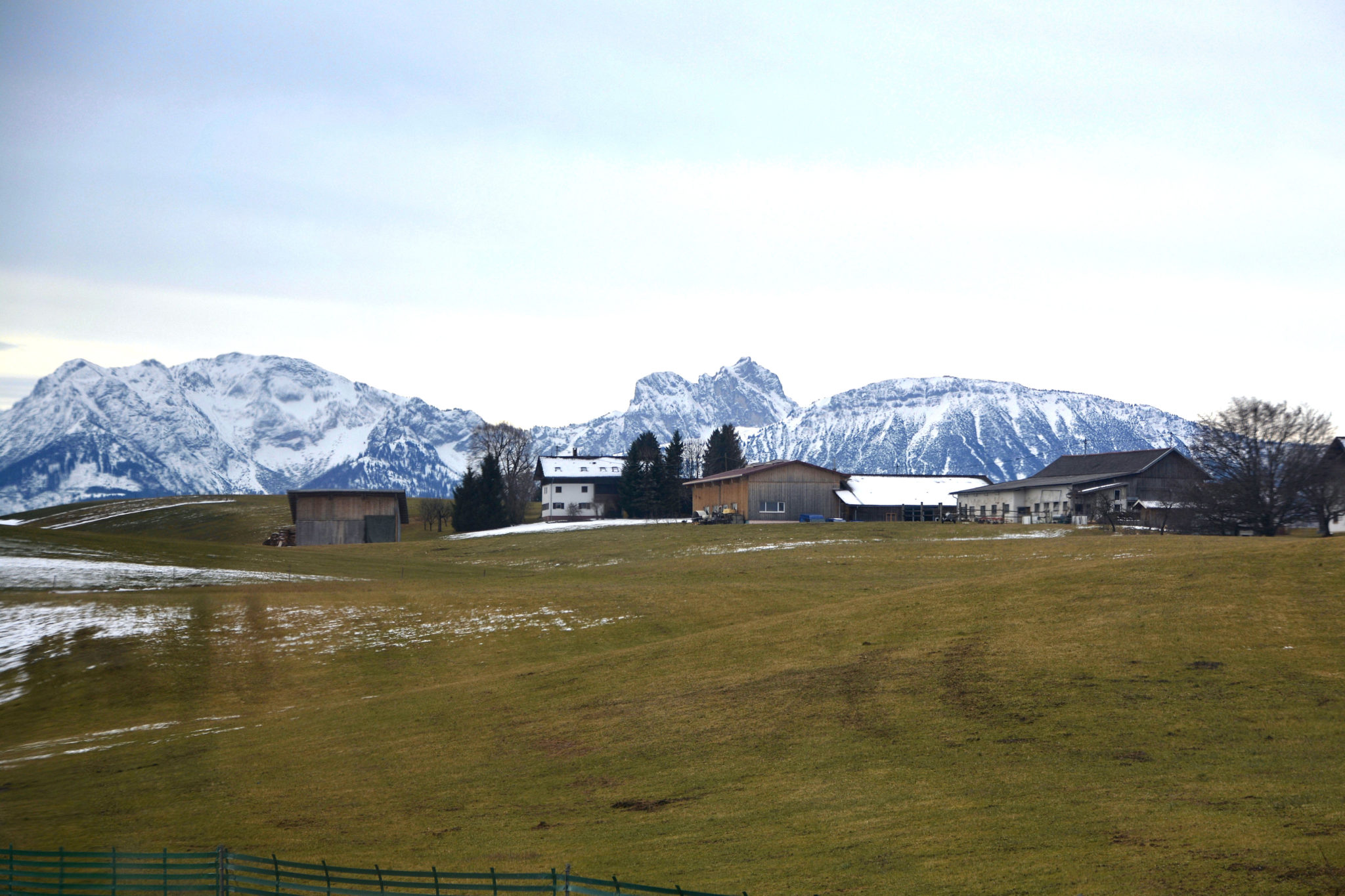 The train ride was beautiful. We marveled at the small towns which all had churches with tall steeples and red-roofed buildings. Toward the end of the train ride, we got some amazing views of the snow-covered mountains. You could feel the excitement of all the passengers as we approached our destination.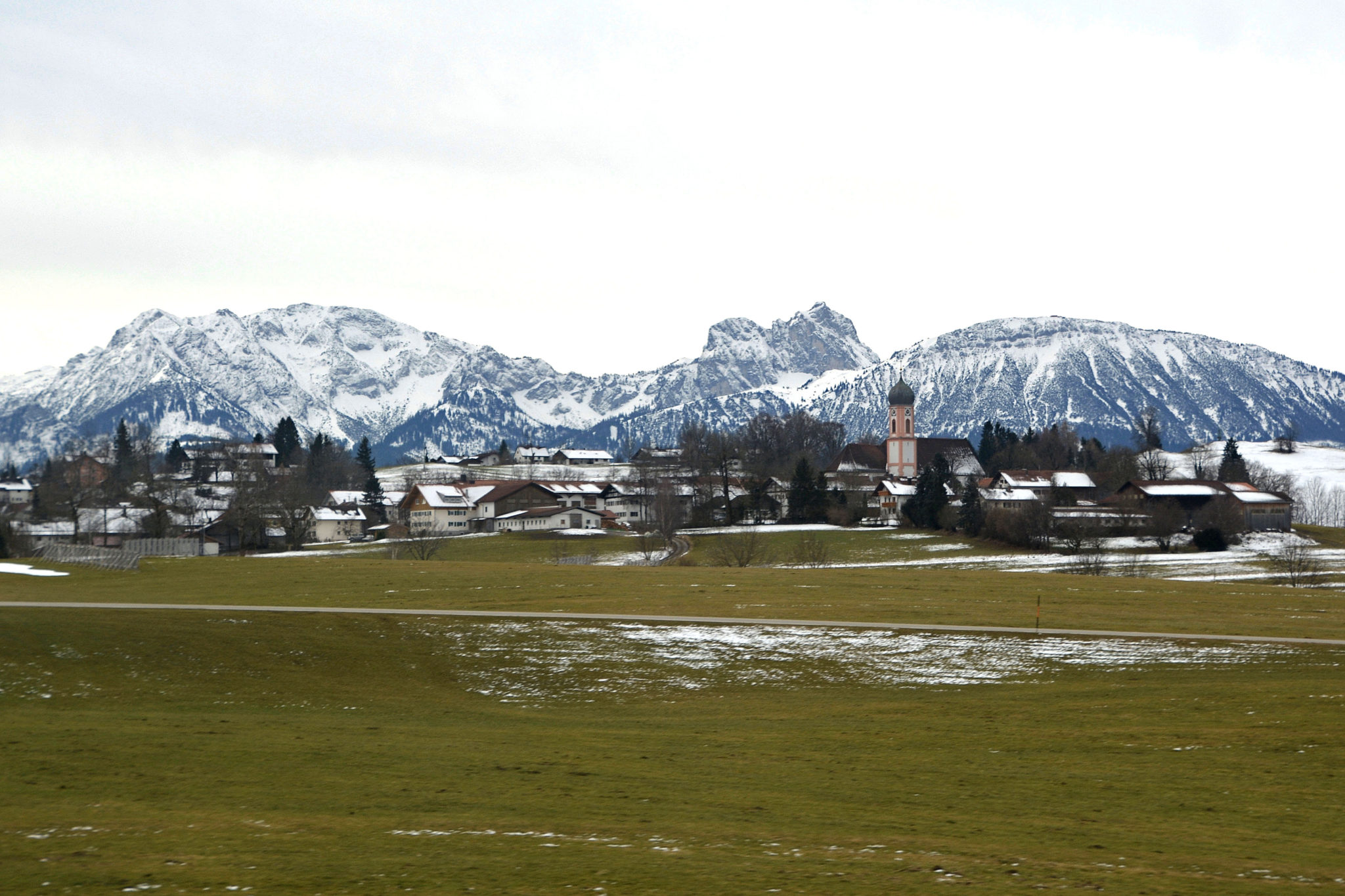 Arrive by Bus to the Ticket Office
After arriving in Füssen, all the train passengers walked just outside of the station where castle busses were waiting to give us a ride. The bus ride took about 10 minutes and dropped off at a stop next to the Hohenschwangau ticket office. We all scrambled to get in line for our tickets. This is where it was really helpful to have reserved tickets. There was a separate and faster line for guests with reservations. We showed our passports and picked up our tickets without hassle.
There's a rule that reserved tickets must be picked up at least 1 hour in advance so I made sure to show up in time. I assumed that it would be boring to arrive at the castles so early while not being able to see inside, but I found that there's still a lot to do to fill the waiting time. Each castle is located on a hill so some time was spent walking. Food and gift shops are available in the village near the ticket office and there are additional gifts shops at each castle. We shopped and took pictures and before we knew it, it was time to tour our first Castle!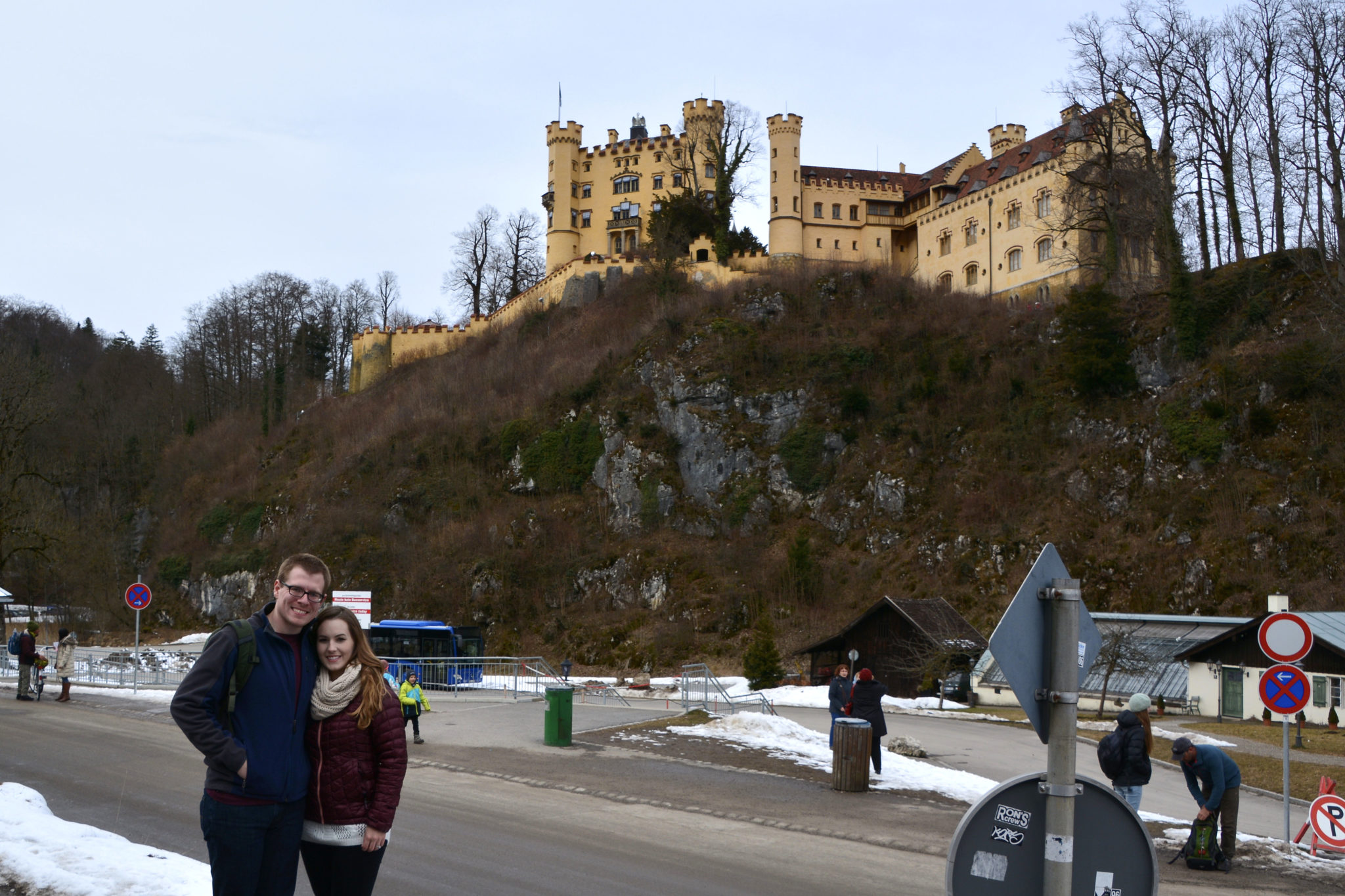 Tour of Hohenschwangau Castle
The first castle we toured was Hohenschwangau. This gold-colored castle was occupied in the mid-1800s by Maximilian II of Bavaria, his wife Marie of Prussia, and their two sons during the summer months. While planning our vacation, I wondered if I should get a ticket for Hohenschwangau Castle or just focus on Neuschwanstein. To my surprise, I ended up liking the Hohenschwangau Castle tour better than the Neuschwanstein tour. Hohenschwangau castle is charming and has a lot of interesting history. Elegant decor and authentic furniture still remain in the castle. Our tour group was a comfortable size of about 20 people and we all had plenty of space to hear the guide and look around the rooms.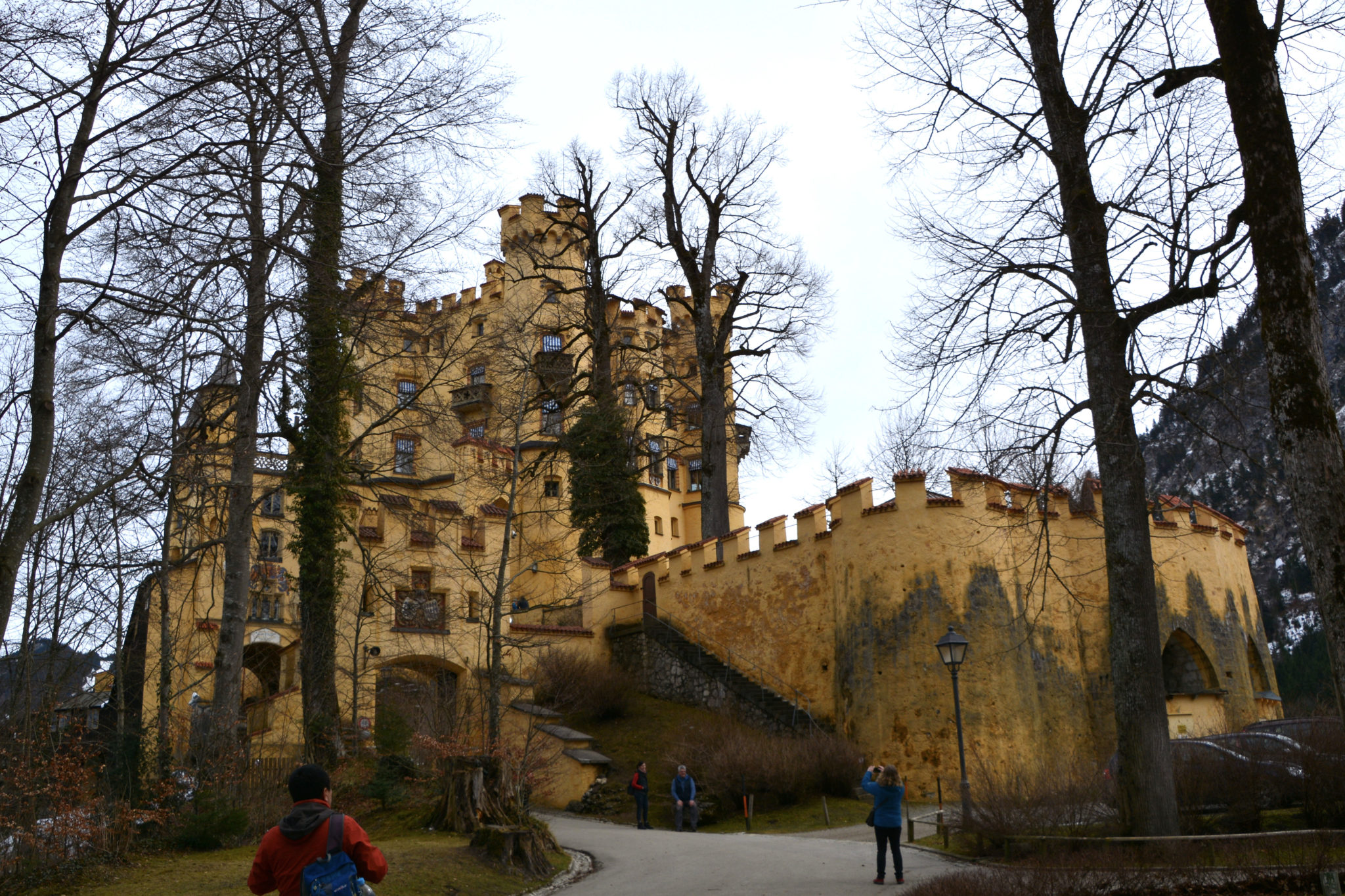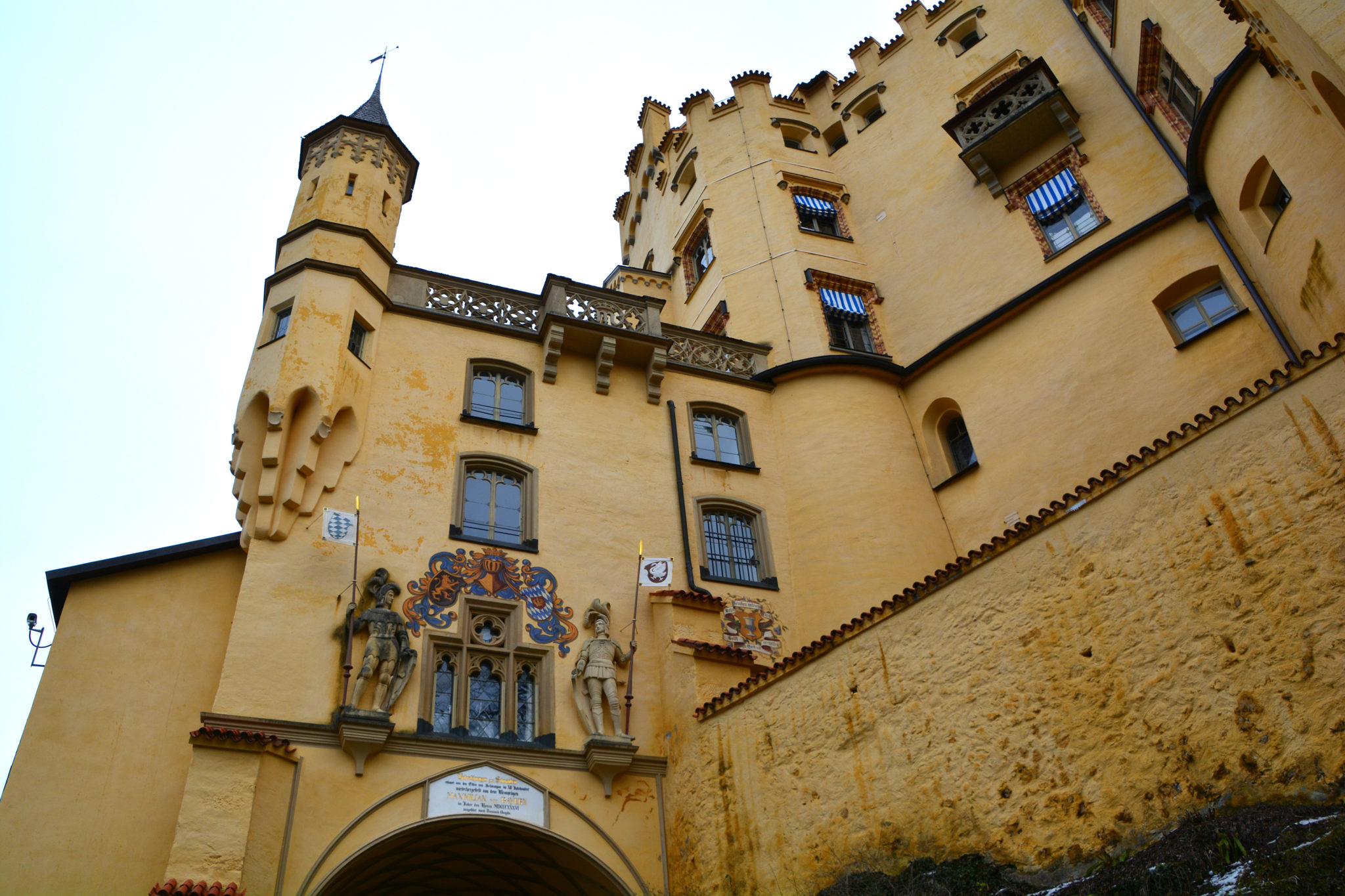 We used our time in between tours to get some food at the nearby concession stand. The menu included bratwurst, kraut, brezels, and pommes (thick cut fries). Yummy!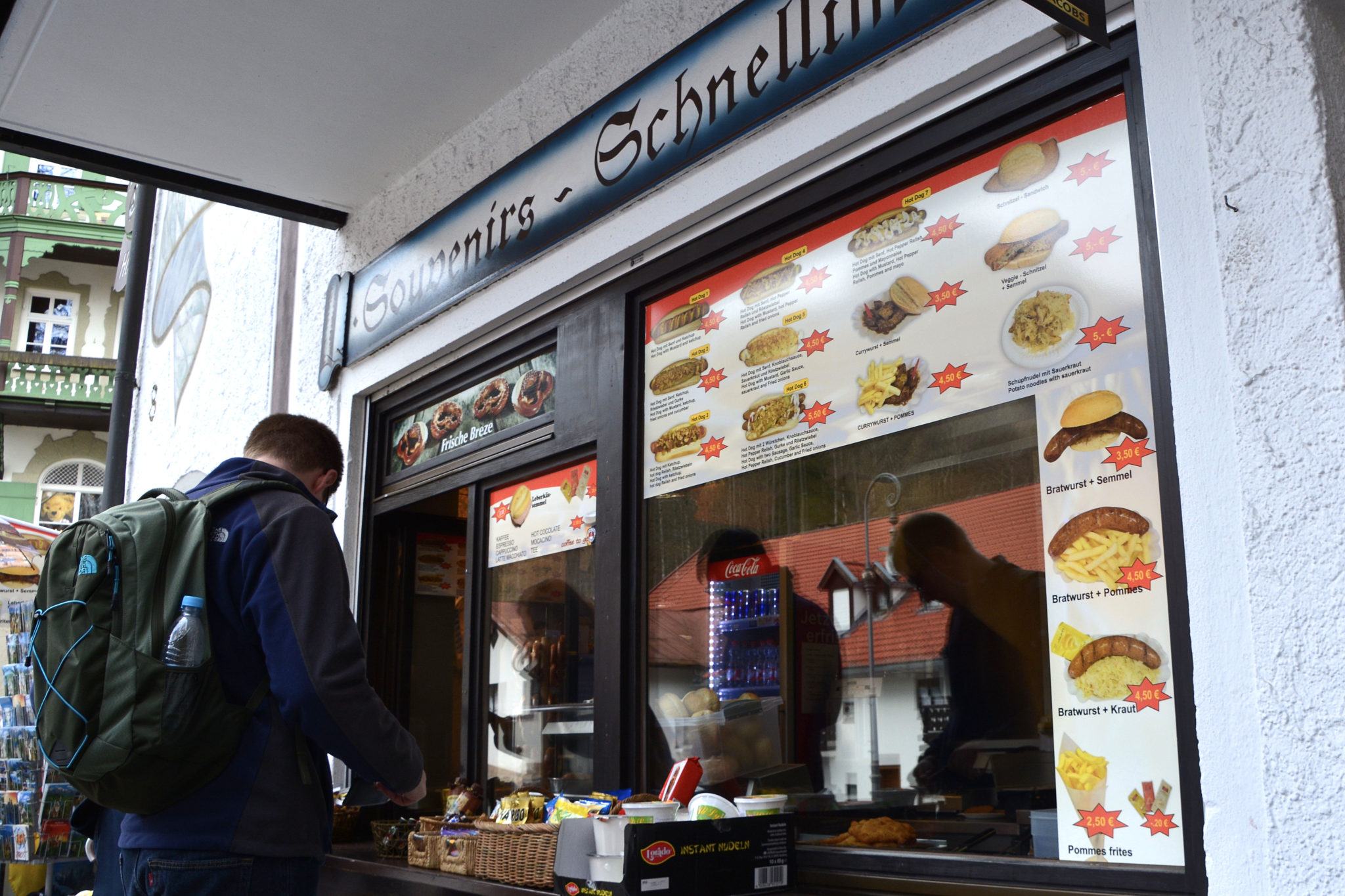 Trek to Neuschwanstein Castle
Next, it was time make the trek to Neuschwanstein Castle. Going up the hill took us about 20 minutes, although the sign indicated that it could take longer. The views from the path were so beautiful that we had to stop and admire everything. As we neared the top, we found another concession area. We used our extra time before the tour to take pictures and marvel at the exterior of the castle.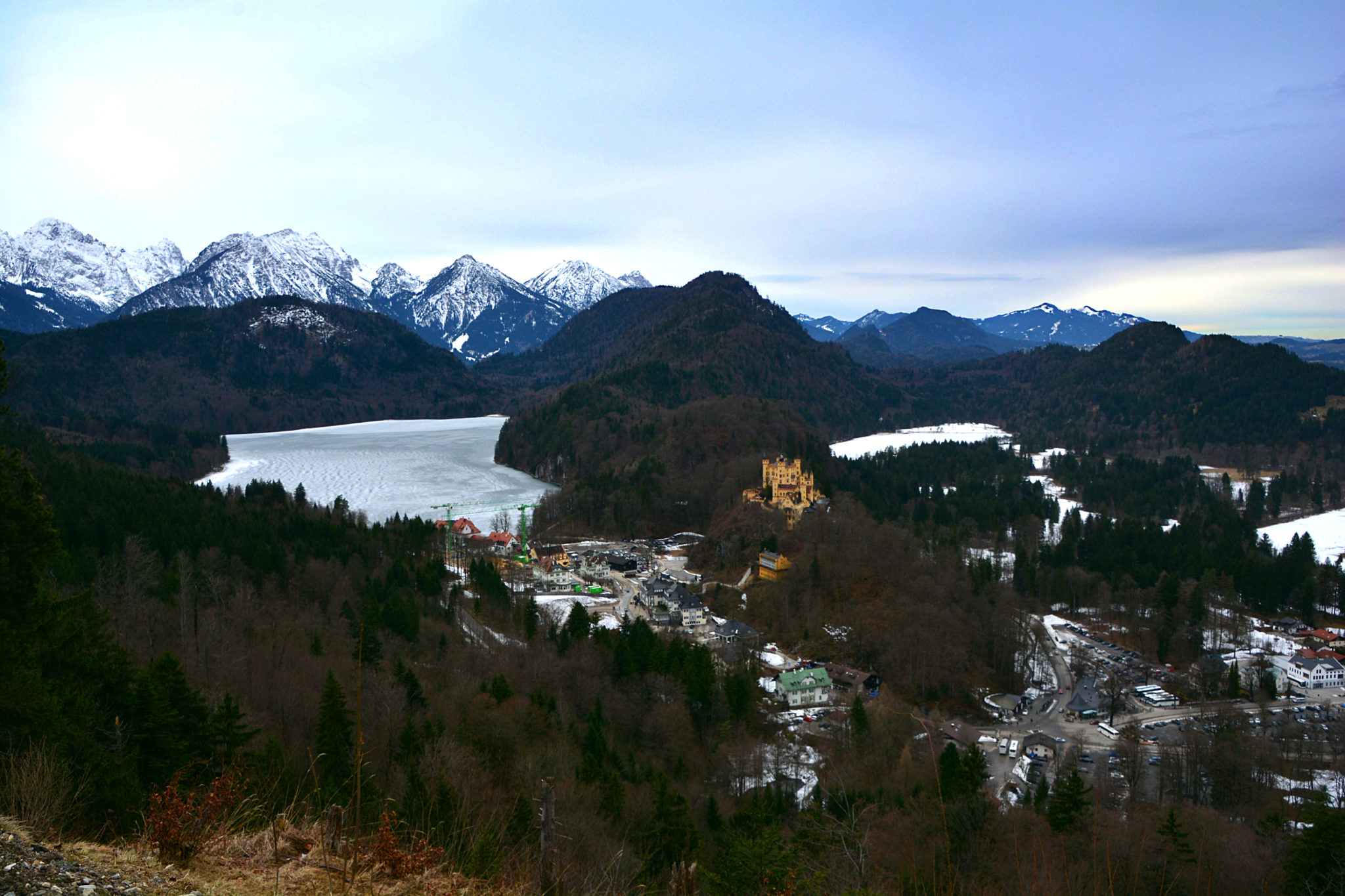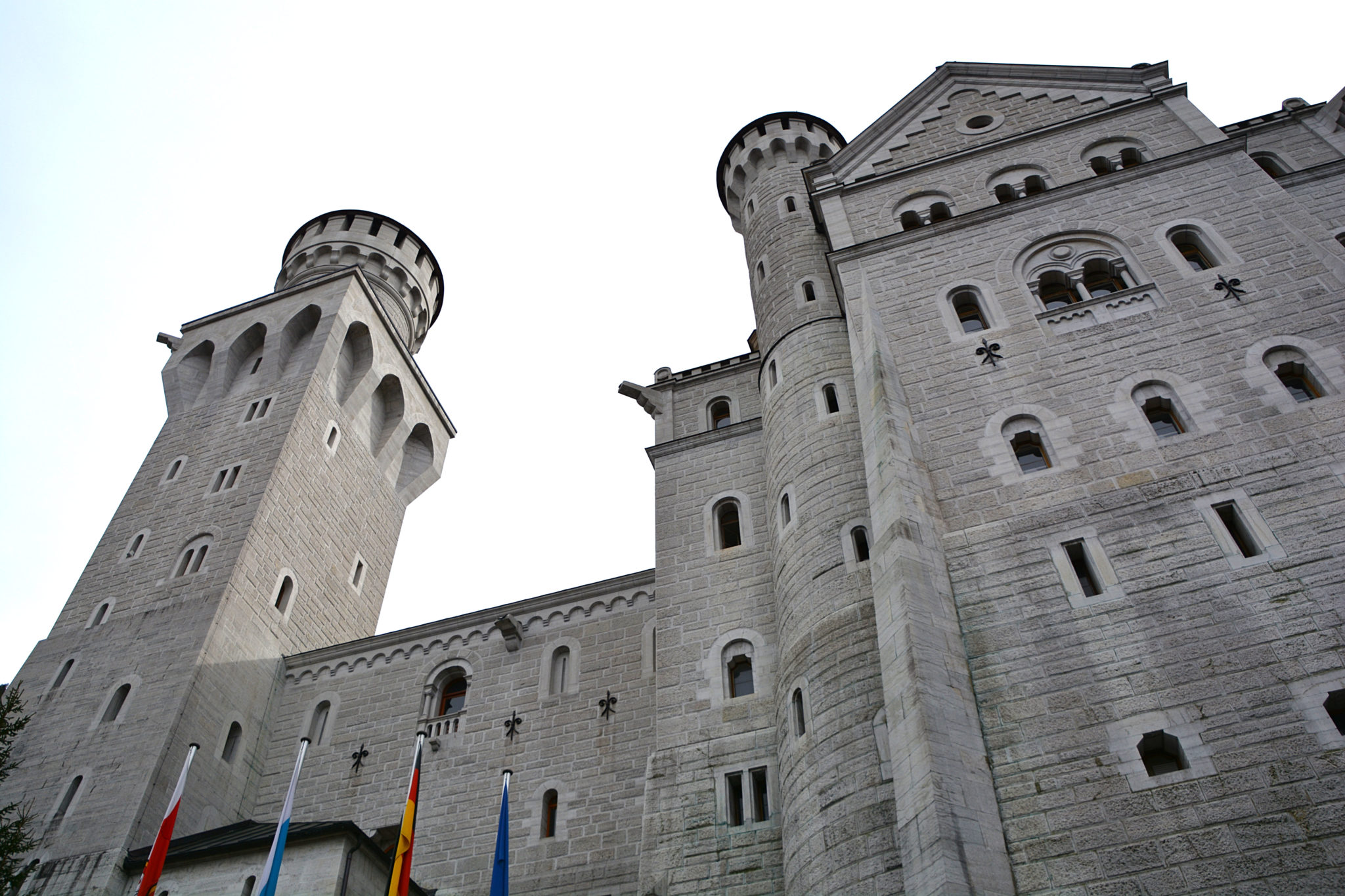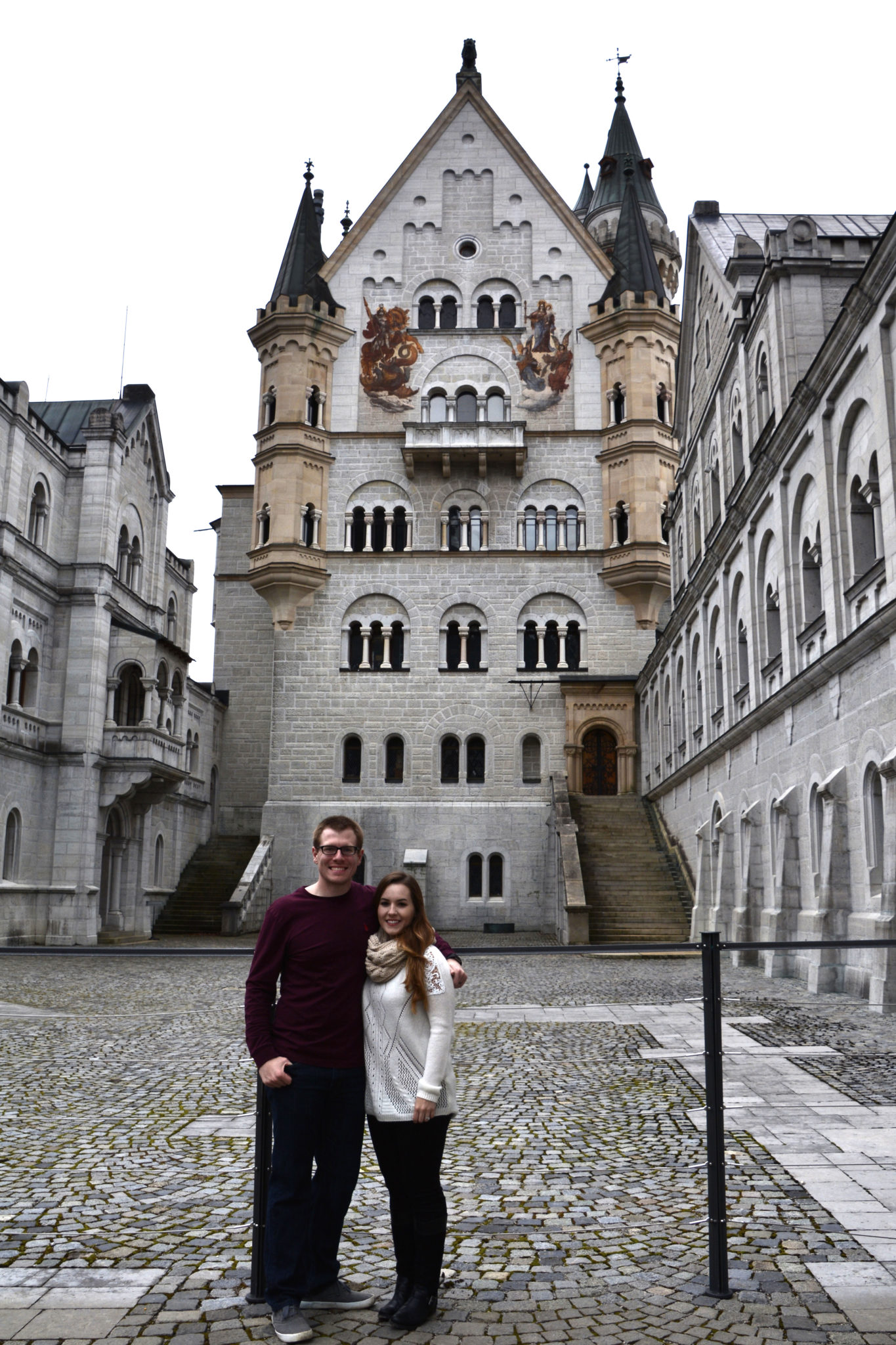 Neuschwanstein Castle Tour
The tour group for Neuschwanstein Castle was larger (about 40 people) so we were given headphones to help us hear the guide. Neuschwanstein Castle is towering and elaborate! The castle was the project of King Ludwig II of Bavaria, who was the oldest son of Maximilian II and Marie of Prussia. For the castle to look like one out of a fairytale, the story behind Neuschwanstein and King Ludwig II is certainly a dark one. It is evident that King Ludwig II had big dreams for his opulent Castle, but he died having only spent a few weeks there. During the king's final days he was declared to be too mentally ill to remain in power and was removed from the castle. The next day, King Ludwig's body was discovered in Lake Starnberg. There is still speculation about his death because he was found along with the deceased doctor who had declared him unfit to rule. Within weeks of the King's passing, Neuschwanstein Castle opened to the public.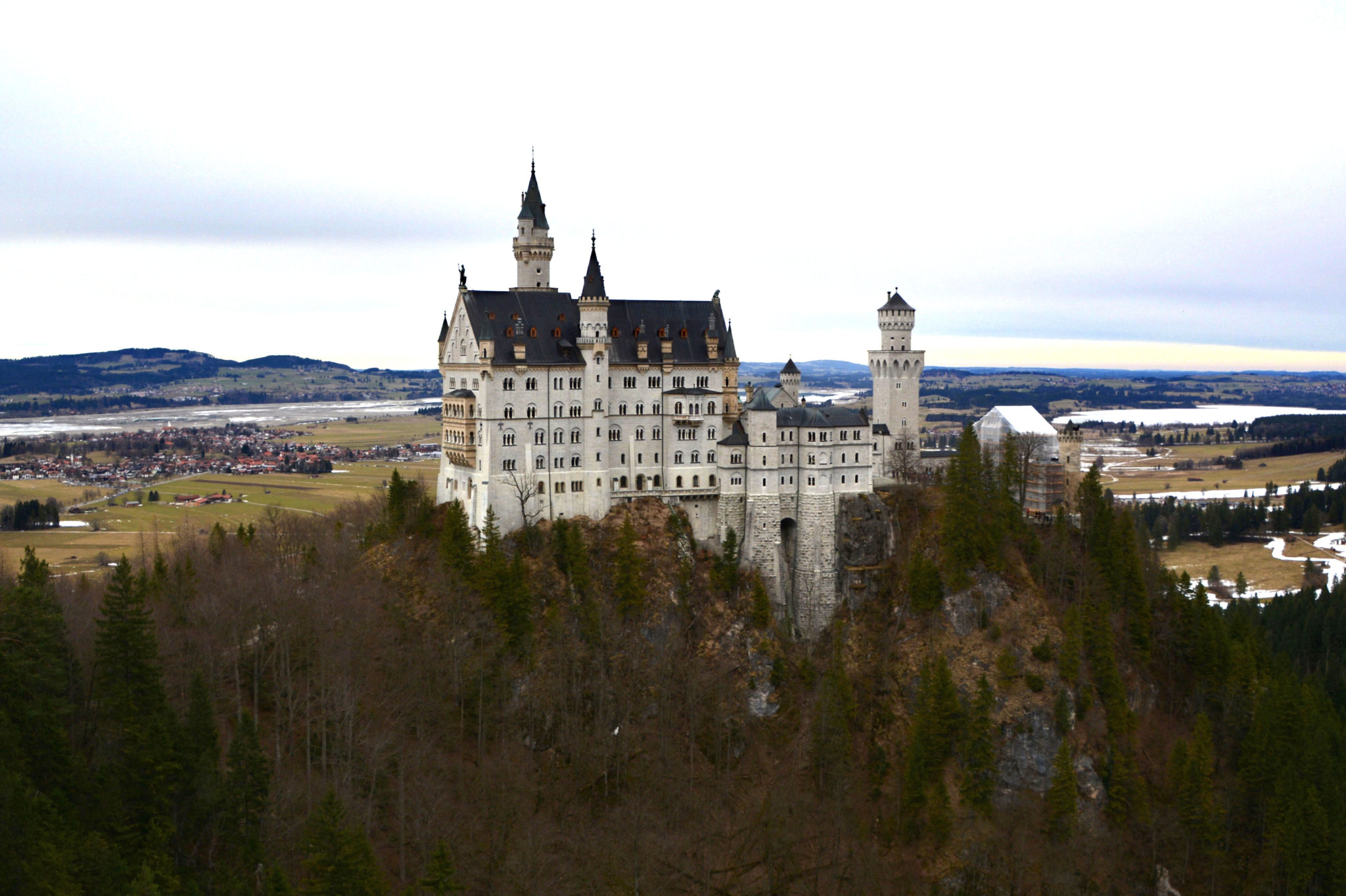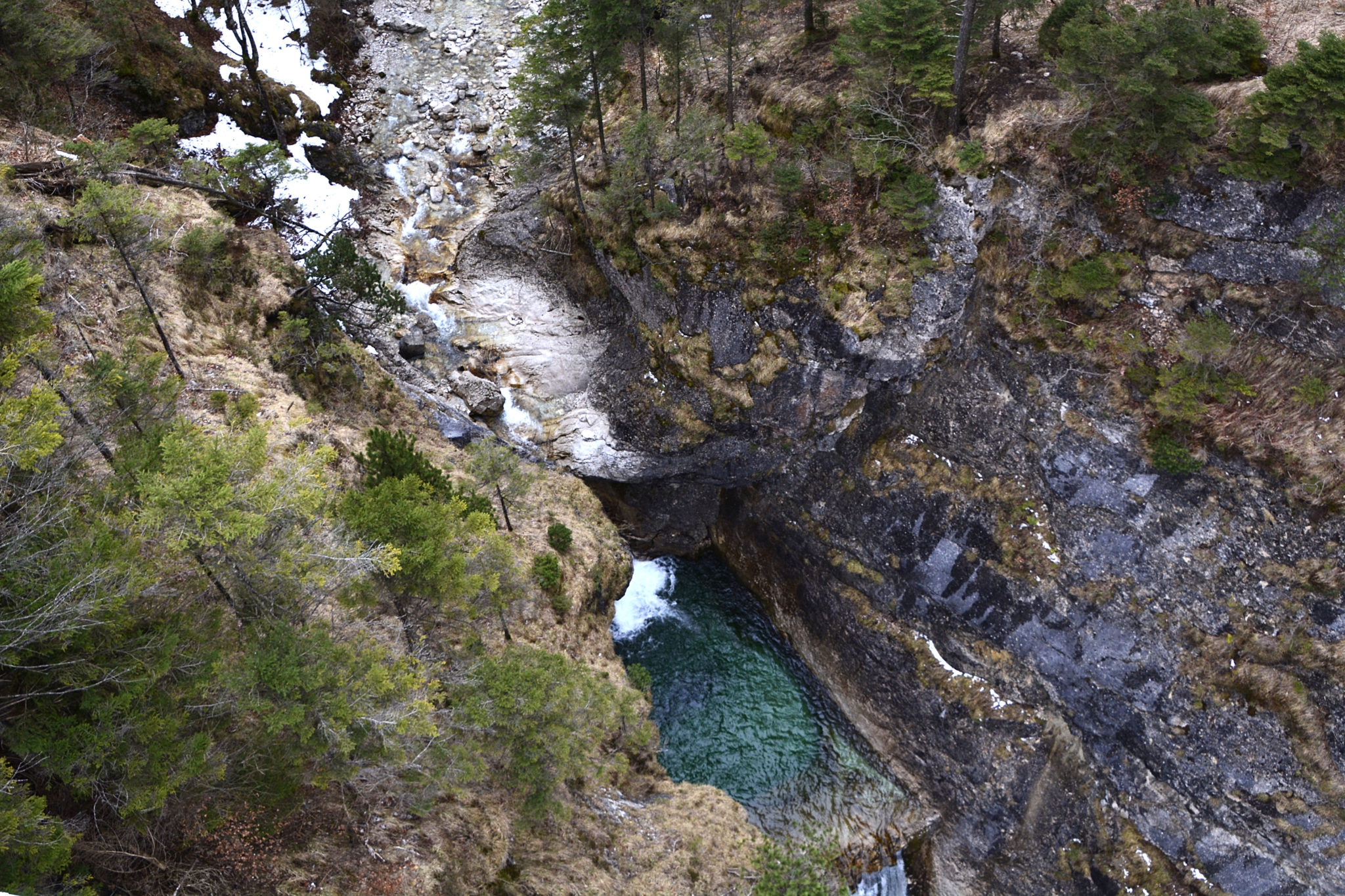 Queen Mary's Bridge
After our tour of Neuschwanstein Castle, we hiked to the nearby Queen Mary's Bridge (Marienbrücke) to get pictures. Although you cannot take pictures inside the castles, the scenery is so lovely that you will have no trouble getting plenty of photos around the grounds. I felt that I could have stayed in Hohenschwangau Village longer and possibly toured the Museum of the Bavarian Kings, but we had to catch our train back to Munich. The train ride home was full of exhausted tourists, some were even snoring.
A Day Filled With Adventure
My husband and I really enjoyed everything about touring the Castles and learning about Schwangau. If you are planning to visit soon, please read my post on How to Plan Your Neuschwanstein Castle Day Trip. I hope that sharing my experience can help you have a better understanding of what to expect. This was first time touring castles and I now feel inspired to see more when I can make it back to Europe!
Comments
comments