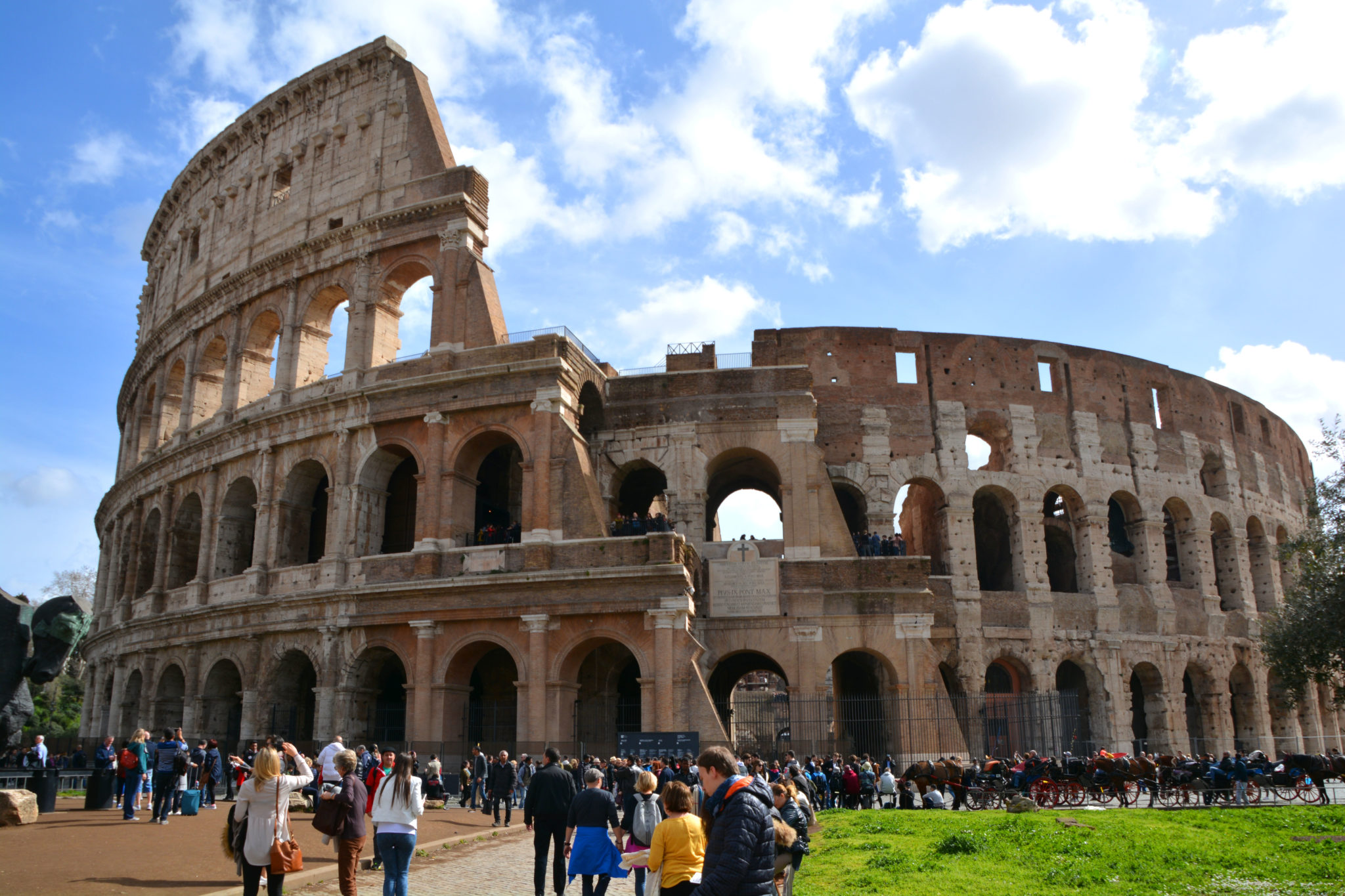 I've never experienced so much history before in my life! Rome is incredible and has endless things to see and do. I spent several days in Rome but would like to focus on my favorite day spent in the ancient city. This day was memorable because of the activities we did and the places we ate at. If you're interested in planning a day like mine during your stay in Rome, you can download your own 1-day customizable itinerary at the bottom of this post.
Morning: Colosseum and Roman Forum
My day began by using the trains and subway to get to the Colosseum. My husband and I headed out bright and early so that we could have the whole morning to explore the Colosseum and Roman Forum. We walked up the steps from the subway station, and there it was! The Colosseum stood right before us! We did not reserve tickets in advance, but we also were visiting during the lower season at the beginning of March. I didn't have to wait more than 15 minutes to purchase tickets, but I encourage you to reserve them in advance. You can click here to reserve tickets in advance.
Roma Pass: If you are interested, you can purchase a Roma Pass that includes admission to museums and transportation. I did not purchase the pass because I would not have utilized enough of the perks of having it but I encourage you check it out and see if it can be of use to you. Please click here to learn more about the Roma Pass.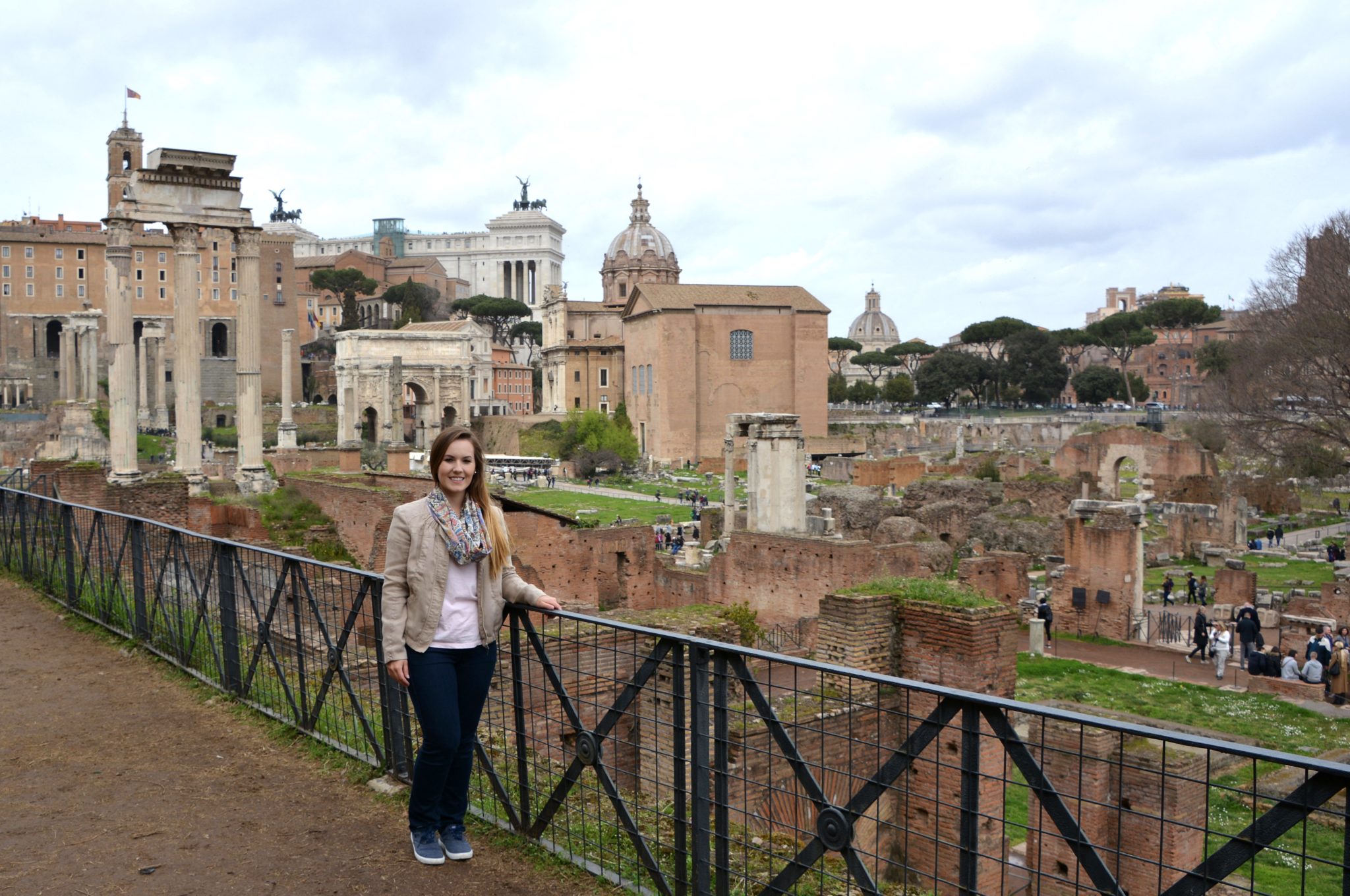 We spent several hours walking through the Roman Forum and Colosseum. I would like to warn visitors that in the area surrounding the ticket booth, there are dozens of people that will approach you to offer a guided tour. These people are there on their own time and just trying to make some money. If you would like to go on a guided tour of the Colosseum or Roman Forum, I advise reserving tickets online in advance or purchasing a guided tour at the ticket counter.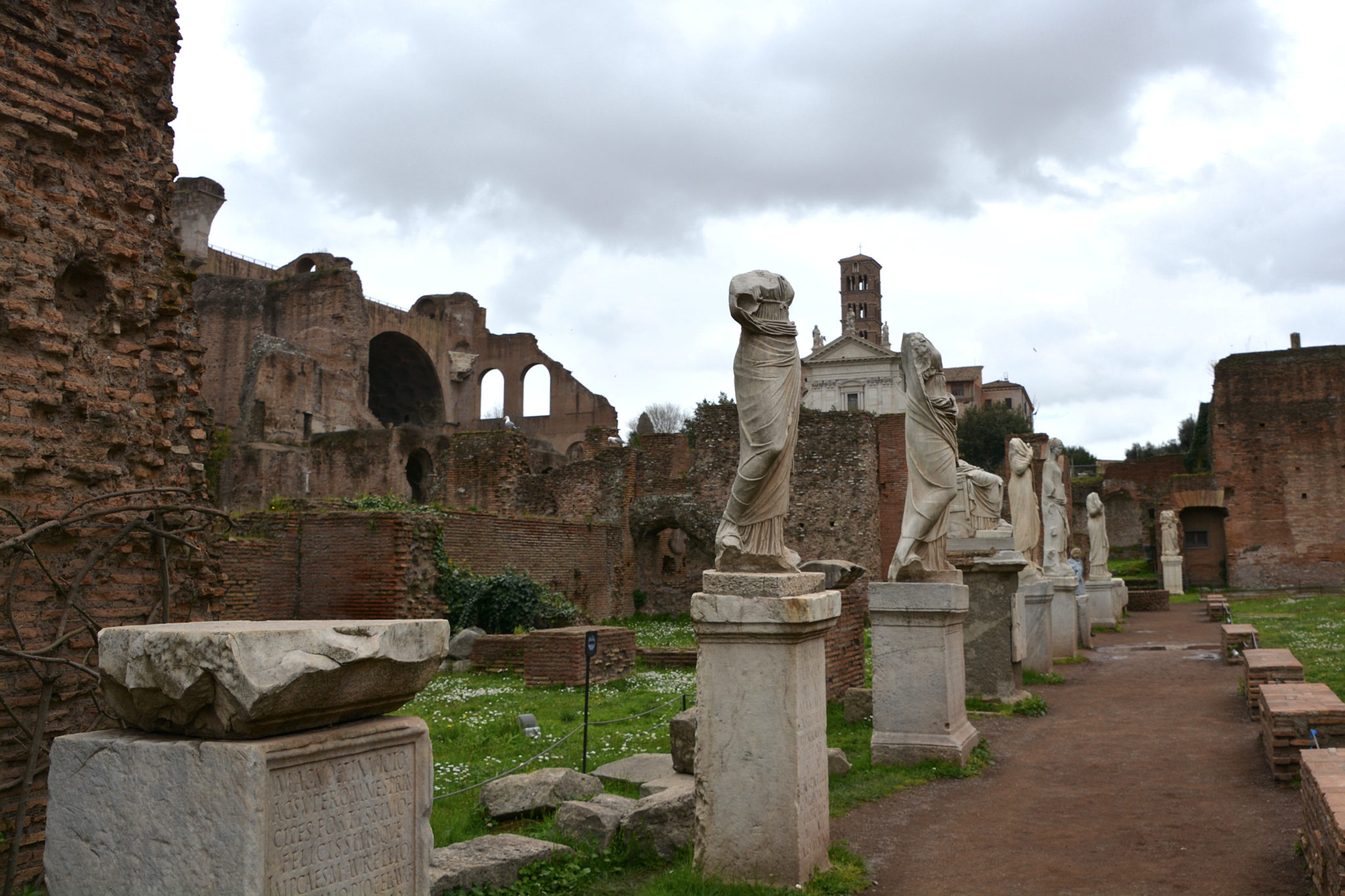 There are separate security checks for entering the Roman Forum and the Colosseum. The Colosseum had a long security check line, (you can see it in the first pic in this post)  so we started with the Roman forum. By the time we made it to the Colosseum. The security line was empty.
Lunch near the Spanish Steps:
Around noon, we took the subway to the Spanish Steps. This area is a lively place to be and is surrounded by shops and restaurants. We were desperately hungry and wanted to find a restaurant where we could sit down for a while. We found Caffe Leonardo, which was very close to the Spanish Steps. While they aren't one of the top restaurants on Trip Advisor, they let you sit and eat for as long as you'd like. They offered us a discount if we returned so we actually ended up going to Caffe Leonardo twice during our trip. While I didn't consider their food to be the very best that I had while in Rome, I still thought it was delicious! We tried a few pasta plates and pizza. I really had no complaints and liked the neat mural of the Spanish Steps on the inside of the restaurant.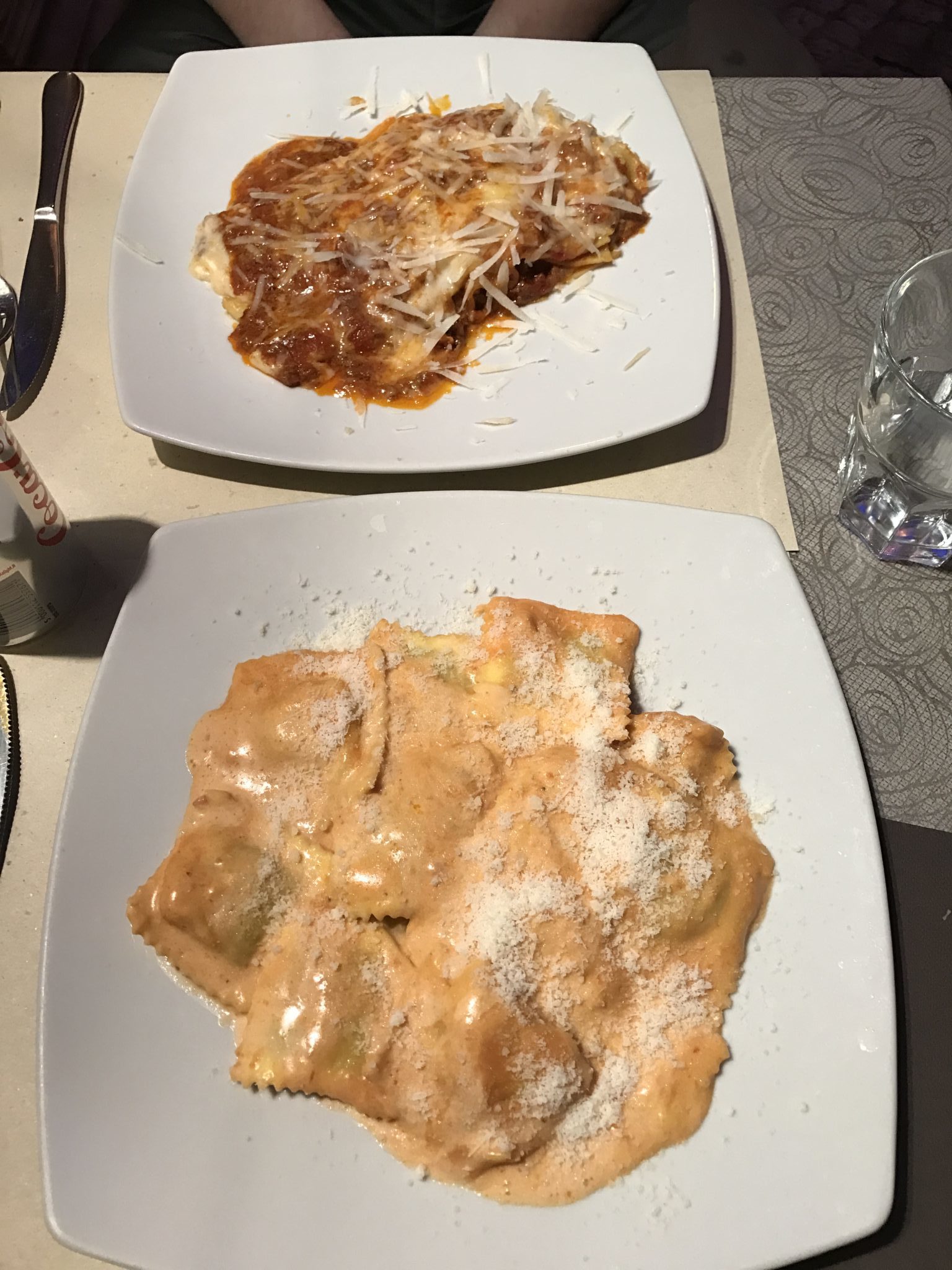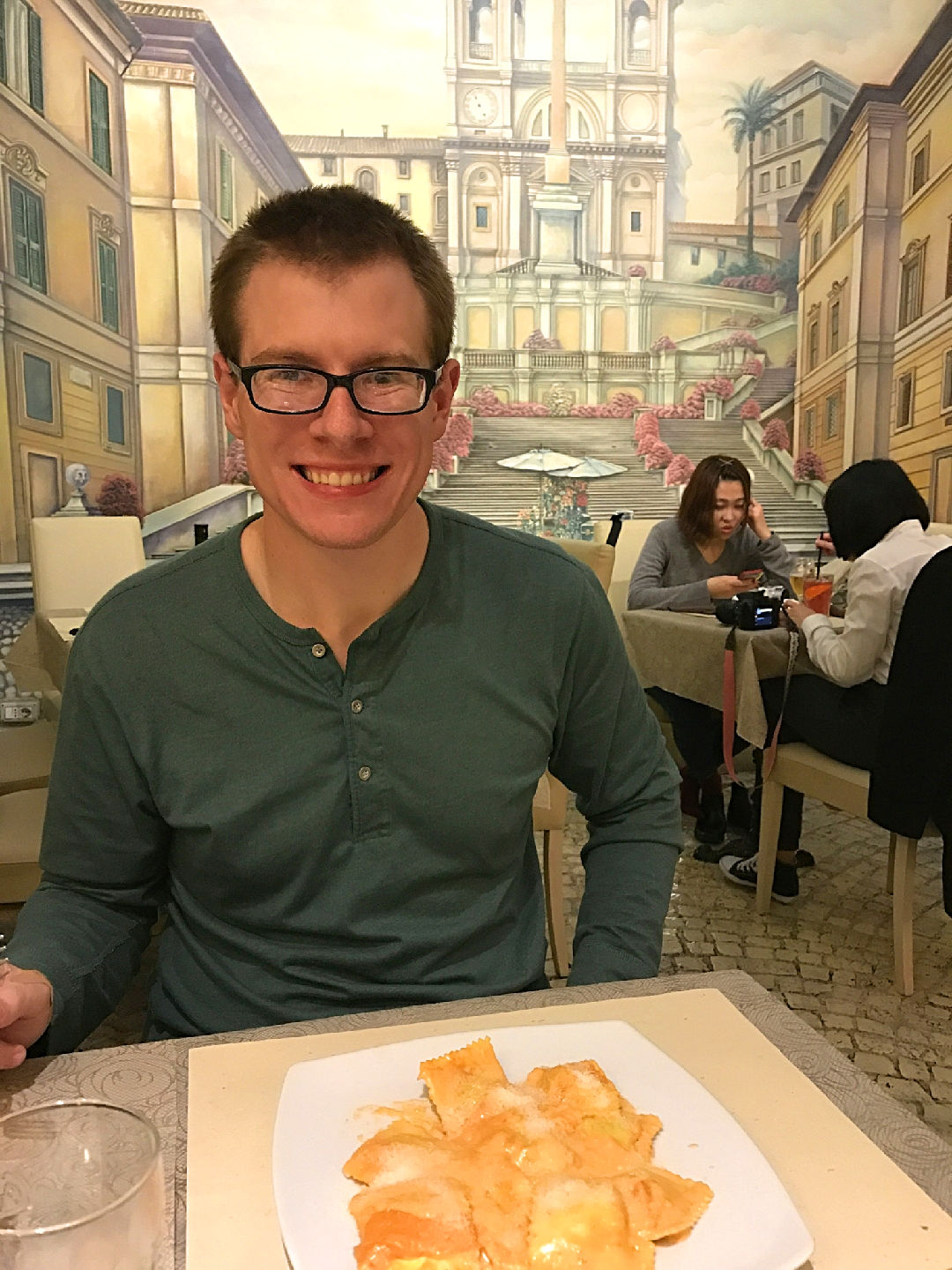 Trevi Fountain:
After a filling lunch, we set out to locate the Trevi Fountain. The fountain is an easy walk from the Spanish Steps. As you make your way through this touristy area of Rome, you can expect to be approached to purchase selfie sticks and various odd souvenirs. If it looks like it might rain, the guys selling the selfie sticks switch to selling umbrellas which was pretty funny to witness.
I I had a couple evenings where I went back to the Trevi Fountain and Spanish Steps area for dinner and to enjoy the atmosphere. These popular places seemed even more magical at night. There were people celebrating and street performers playing music and even singing opera.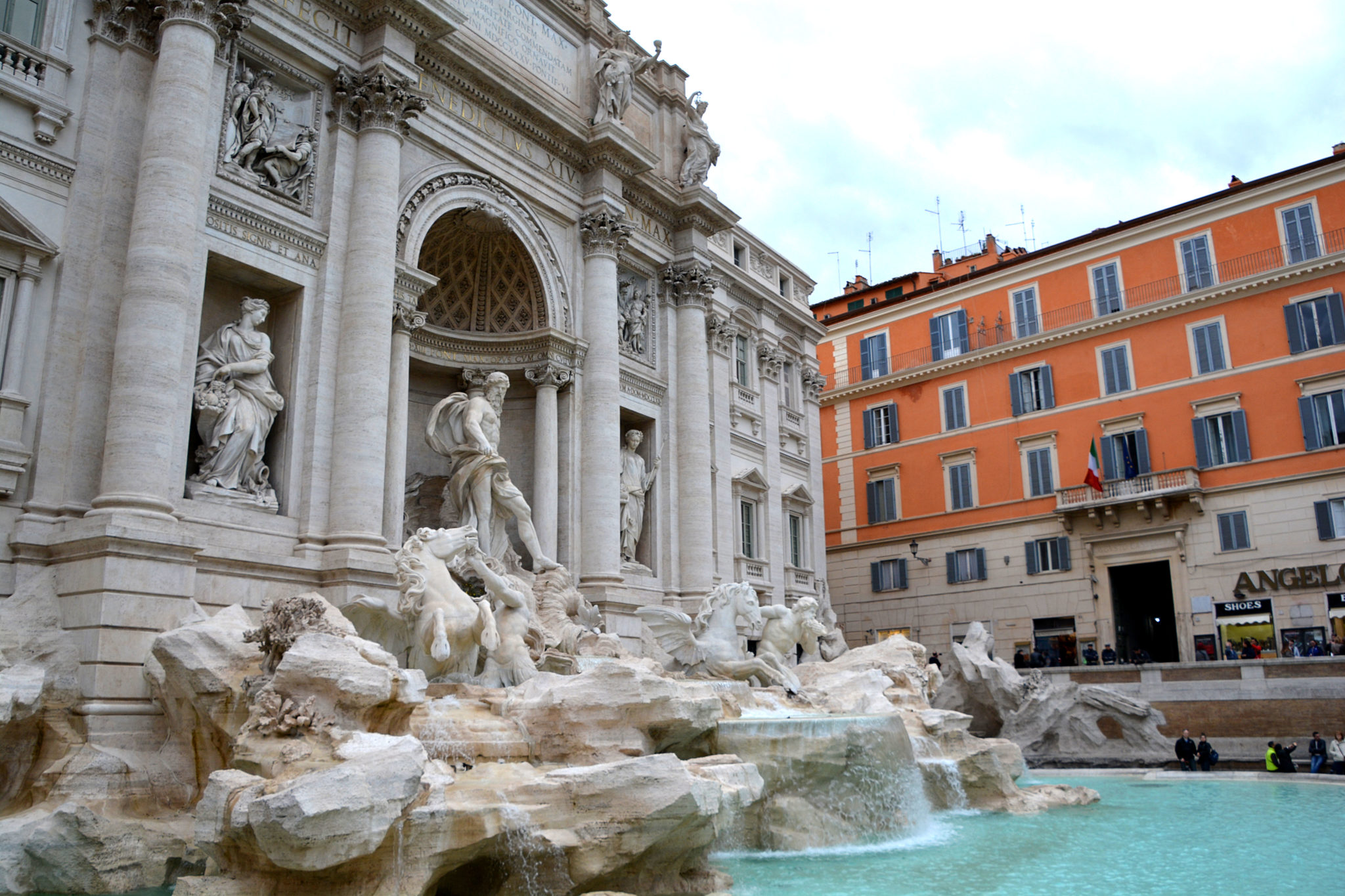 Pantheon:
Next, we made our way on foot to the Pantheon. It was amazing to walk inside a building built around 126 A.D! This day was full of so much history and It was hard to wrap my brain around just how old these massive structures were. If you have enough time, I recommend walking from the Pantheon to Castel Sant'Angelo to discover even more of the incredible historical buildings in Rome.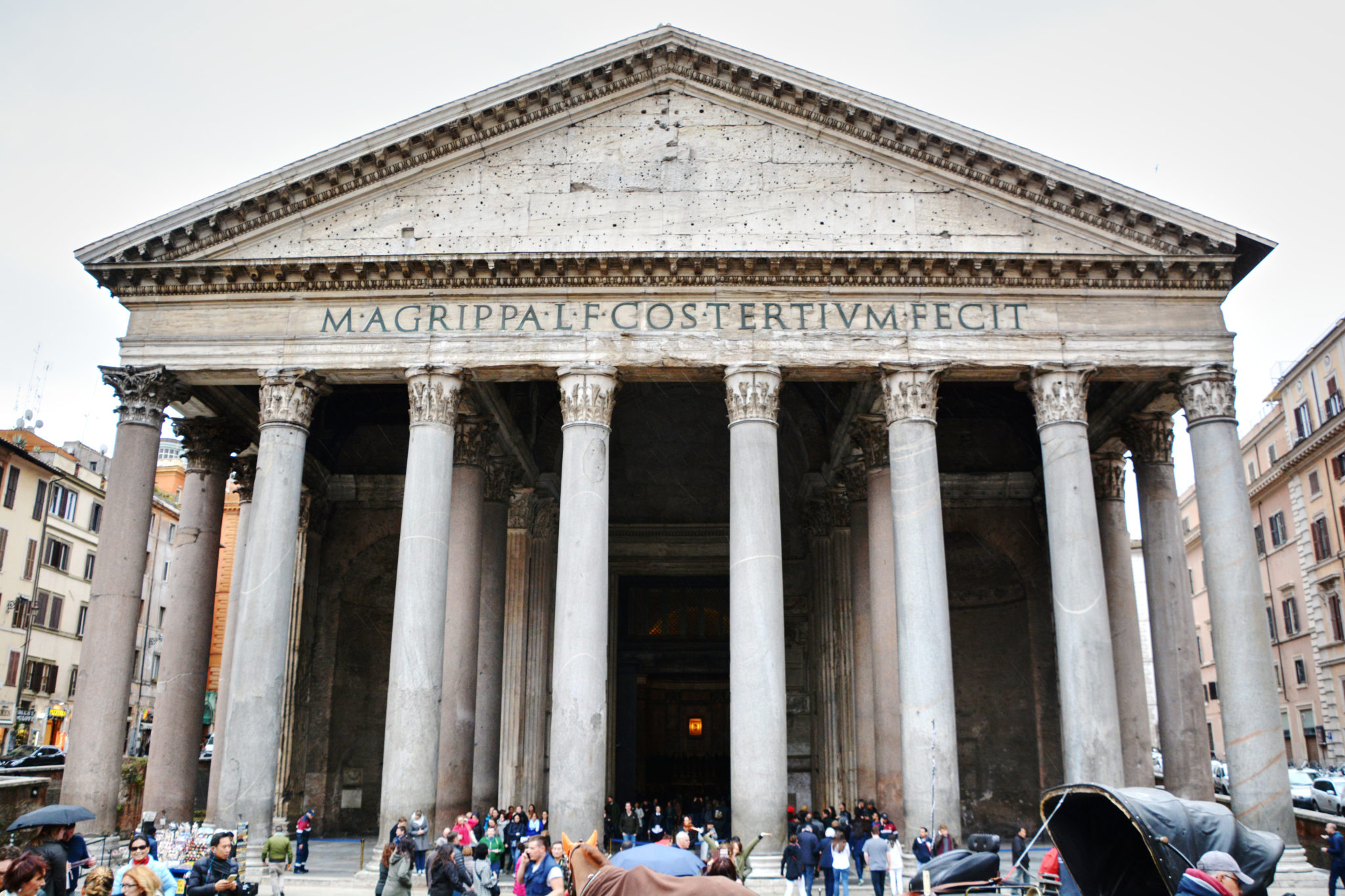 Dinner at Pasta Chef 
One of my favorite things to do when visiting a new city is finding affordable and popular restaurants to try. I had read good reviews about Pasta Chef on Tripadvisor and decided to go there for dinner. The restaurant was a little hole-in-the-wall but pretty easy to find. We were treated with excellent customer service. I ordered the Spinach Ravioli and all I was blown away! This was the best pasta I've ever had in my life. Everything about the pasta was so fresh and rich and nothing like pasta I've had in the states. I think that I will be dreaming about my dinner at Pasta Chef for years to come.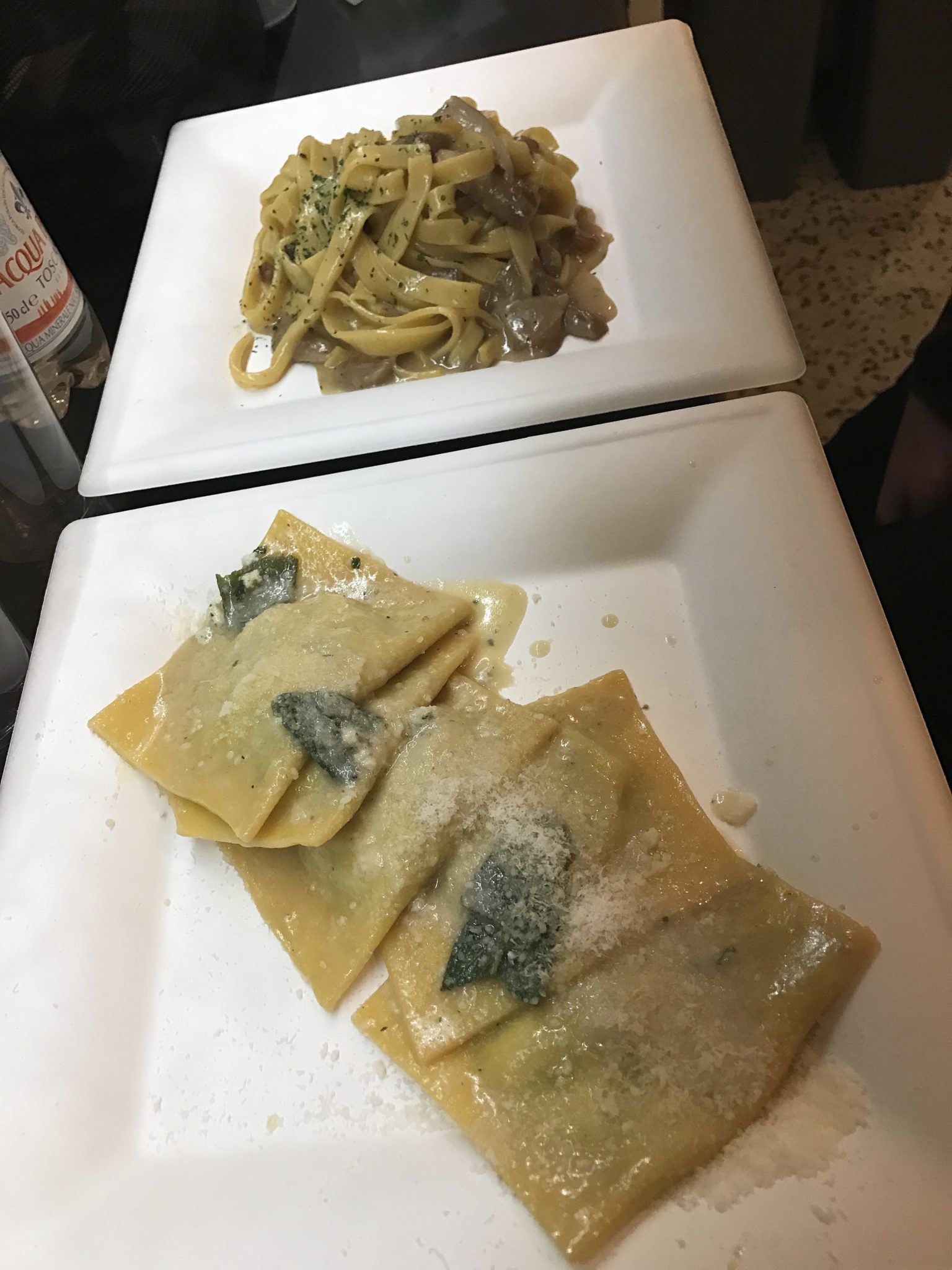 Dessert at Gelateria Valentino:
Since Pasta Chef was so impressive, we decided to read reviews again to locate a great place for Gelato. If you plan to visit the Trevi Fountain, you need to get some Gelato at Gelateria Valentino. I toured all around Florence, Tuscany, Pisa, and Venice, and this was my favorite Gelato that I had while in Italy. I got the Amaretto flavor and it was like eating a dream. The owner was there and when he noticed that I was taking pictures of my gelato he offered to take pictures of me and my husband together in the store. We ate our gelato near the Trevi Fountain before turning in for the night.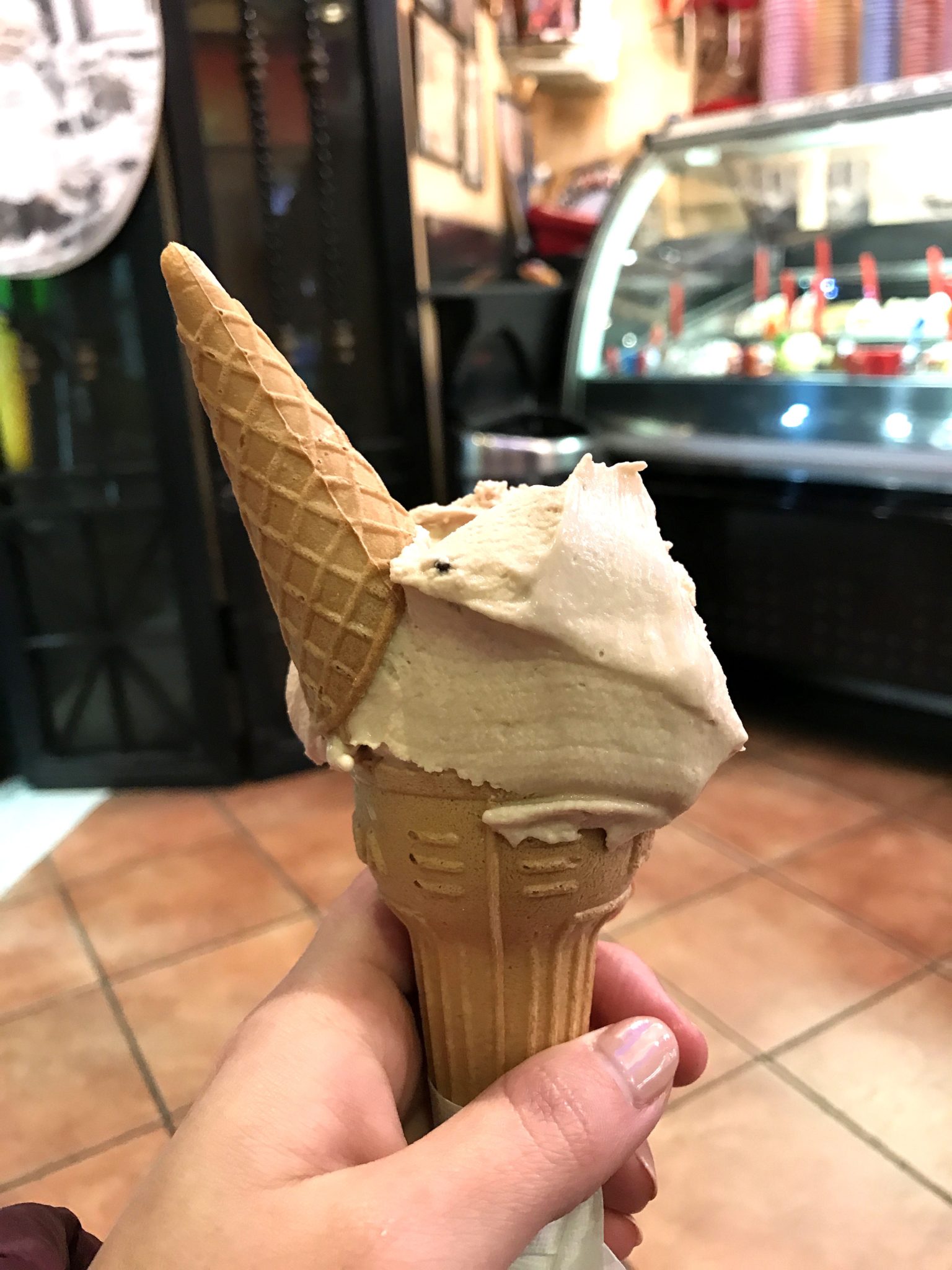 Your Itinerary:
Being a tourist in Rome requires patience with crowds and lots of walking, but if you pack water and continue to keep full with the local pasta then you will have an amazing experience. I've included a free downloadable itinerary that's similar to my day in Rome that you can customize it to meet your needs. The itinerary includes many links that provide you with information on popular attractions so that you can reserve tickets and get directions. All the sights that I visited require you to be on foot for the majority of the day, so don't forget to wear comfortable shoes.
Click Here: Free 1-Day-Itinerary-Rome-Italy

Comments
comments